Motherboards
ASUS ROG Strix B550-I Gaming AM4 Motherboard Review
ROG Strix B550-I Gaming is ready to become your next compact gaming build
Software and Audio
Realtek Audio Control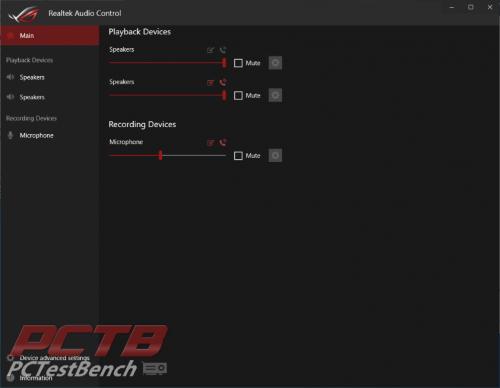 Most audio solutions work out of the box these days with Windows 10, and the Realtek powered solution here does too, to a point. The USB-C Audio port will not work without it. In standard USB mode, our ROG Delta headset worked fine, but not with the power of the software here.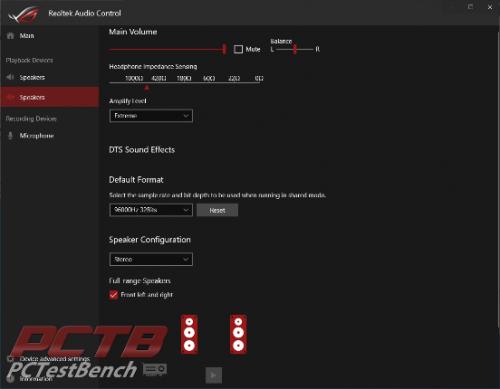 If you have a headset or headphones connected, the respective output will enable and you'll get some configuration options.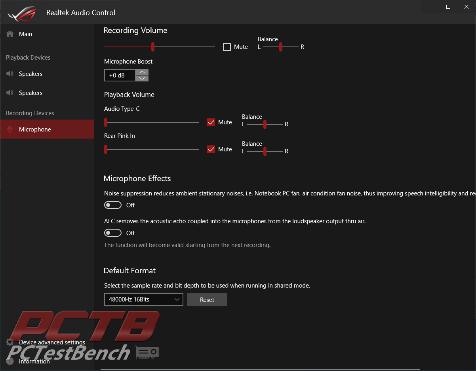 The same can pretty much be said for the microphone.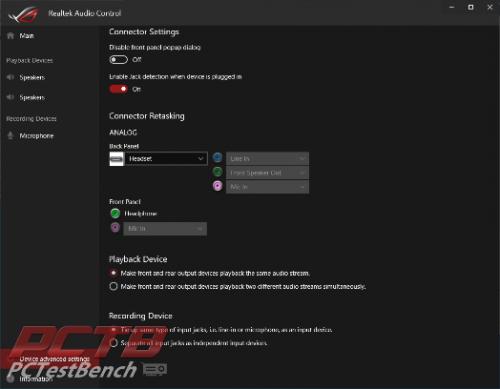 If for some reason, automatic detection doesn't work right, or you need a different setup, you can configure things manually.
We tried a few different headsets from a cheap, kids set of headphones, to a nice Hyper-X gamers headset. You get noticeably more powerful output from the included Type-C adapter on the dedicated Type-C audio port. In case you wondered, the included adapter does support 4-pin headsets as well as 3-pin headphones. In either case, audio quality should satisfy all but the most hard-core audiophile.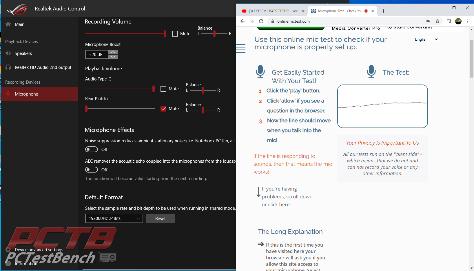 Another fun feature Asus includes here is Ai Noise suppression. With my kids playing in another room (rather loudly in fact) and an air conditioner nearby, you can easily hear all of this in a mic test.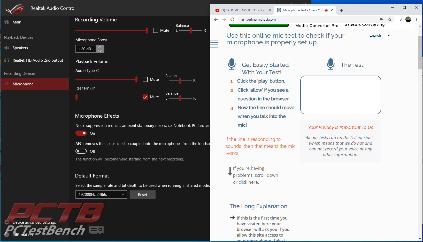 With noise suppression on, the white noise disappears instantly and the overwhelming majority of noise from the other room. If you chat, stream, or otherwise use a mic, you'll want to keep this in mind.
ARMOURY CRATE
The brand-new Armoury Crate portal keeps you updated with the latest drivers and BIOS releases. Its easy-to-use UI can be configured to show a variety of information, including security updates, bug patches, the latest ROG news, gaming events, and special offers.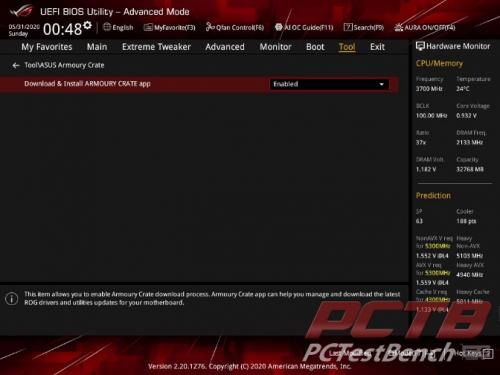 Armoury Crate needs to first be enabled in BIOS but is on by default.
Armoury Crate gives you access to a lot of tools like Aura RGB control, setting profiles based on what game or program you are running, and launch said games.
Hitting the wrench icon lets you install all missing drivers and utilities, or should anyway, nothing showed up for us this time. You also can see the latest ROG news and even deals.
ASUS AURA
 The analog RGB and Digital RGB headers are controlled by ASUS's AURA software on the Strix. There are quite a few effects to choose from, both static and dynamic, but our favorite was the Flash and Dance, as well as the Temperature mode. We wish we could pick an effect for each area.
You can set how many LED's are on your addressable headers as well as adapt Aura to use RGB devices that may have color channels mixed up from the normal G-R-B pseudo standard most of the world has settled on.
Game First VI
The GameFirst VI Application allows you to monitor and control all traffic over all three LAN connections, as well as see statistics and vital information. By default, the application runs in intelligent mode and will prioritize Traffic based on its purpose, but you can switch to Manual mode and take over full control. You can see here while browsing the web and installing games on Steam for bench marking where most of the bandwidth is being used. You can also see what wireless networks are on each frequency so you can avoid them.
Game First lets you keep tabs on everything network-related. You can see a breakdown of what programs and what type of traffic is hitting your various network interfaces.
You can see send and received traffic, as well as a map of where everything is connecting to. This is really handy to see if you happened to be connecting to a server on the other side of the world.
You can keep tabs on other things that can affect gaming performance as well such as utilization and temperatures.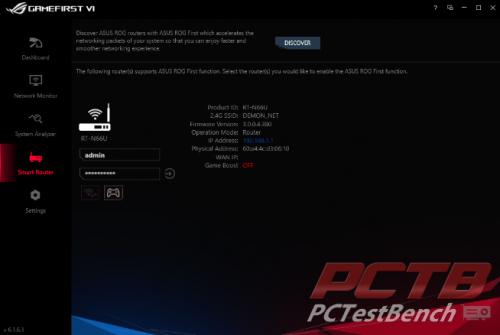 We had an older Asus router laying around, a nearly 10-year-old Asus 'Dark Knight' RT-N66U 802.11n router but it seems to be too old for Game First to tie into it.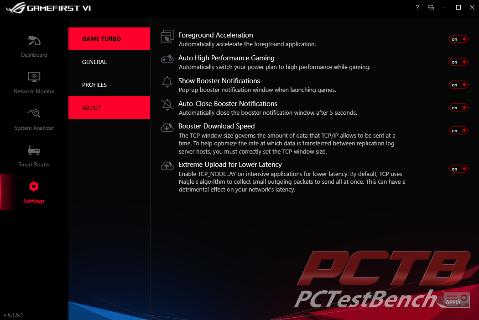 Thankfully, most of the features are not an all-or-nothing setup. You can toggle on and off most aspects of Game First as you see fit.
Dual Intelligent Processors 5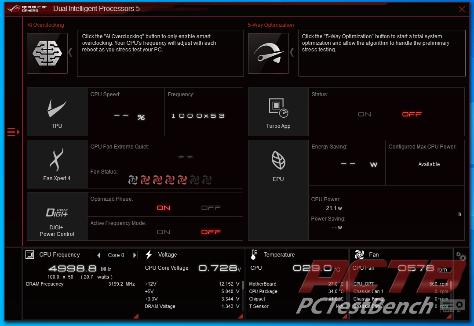 ASUS's Dual Intelligent Processors 5 application is a powerhouse and one you don't want to miss.
Anything related to optimizing performance can be found here, from switching profiles to Auto overclocking to manual overclocking and change voltages and fan settings are here. IT goes so far beyond that though, you have access to the vast majority of settings in BIOS for fine-tuning.
You can adjust fans, set profiles based on what is running, and even clean out temp and other unneeded files in a few clicks all from one application.
Speaking of profiles, you have several to choose from initially.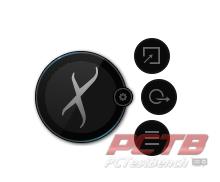 This application also runs similar to a desktop widget, gives you quick access to cooling, performance profiles, and more without opening the full application.
Ram Cache
ASUS's RAMCACHE III carves off a user-selectable portion of system memory to speed up Disk transfers. Even if you have the fastest NVMe drives out there, using your ram as a cache can speed it up significantly.
As you can see, it makes a significant difference in speed and performance at the cost of a few gigabytes of otherwise unused ram. Pay special attention to random 4K QD1 performance here, it represents the majority of your real-world daily usage and we see from a 2.5X to 8X boost in performance here.
Sonic Radar
Sonic Radar is an onscreen overlay that visually represents sound activities according to their positional location. It is designed as a gaming aid for pro/am gamers, those hard of hearing or unable to use in-game audio clearly. It does not interfere with game files, nor does it represent anything more than the game engine produces.
Sonic Studio III
The latest feature in Sonic Studio III is the Ultimate Control Center for dorm room audio. The mapping of different audio streams to different output allows audio to be effectively compartmentalized so that it's easy to share with friends or keep to yourself.
EZ Update
This comes in with the full version of Dual Intelligent Processors 5 but can be installed independently. This will quickly allow you to update drivers and such, but we had already downloaded the latest drivers before this point. We still wanted to point it at as we've used in the past with great success. You can also fire it up every 3-6 months and make sure everything is up to date.