Tech News
AMD Reveals New Details on Upcoming Zen 4 AMD Ryzen 7000 series CPUs, AM5, and AMD 600 Series Chipsets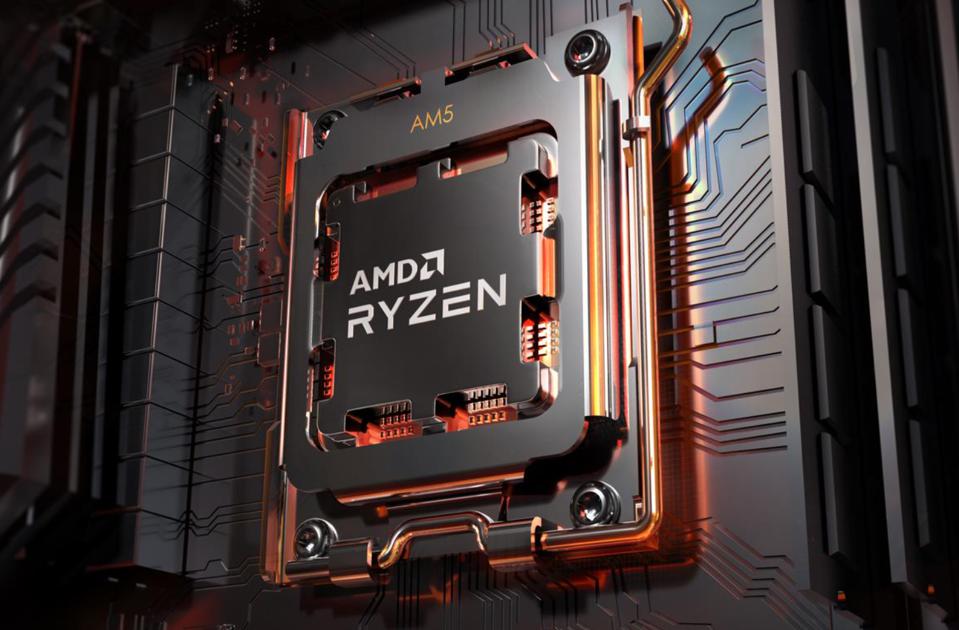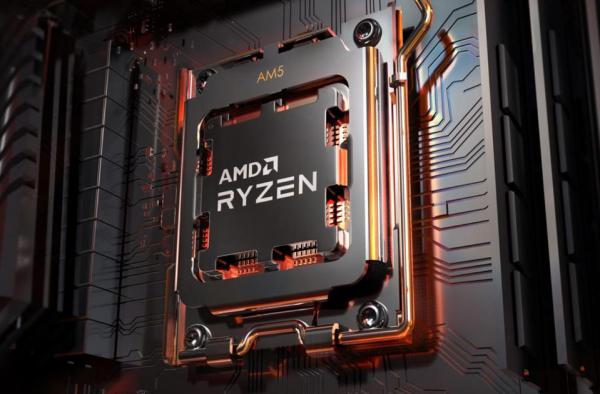 At Computex 2022, AMD's Dr. Lisa Su opened the show with a world class Keynote covering a broad range of AMD's dealings from their recent acquisition of Xilinx, inventor of the Field Programable Gate Array (FPGA) as well as creator of other programable SoC's. A lot of new partnerships and products were touched on around AMD's Ryzen 6000 mobile platform. However, the exciting part you came here to read about is the official unveiling of the next generation ZEN4 architecture and what it means for Desktop PC's.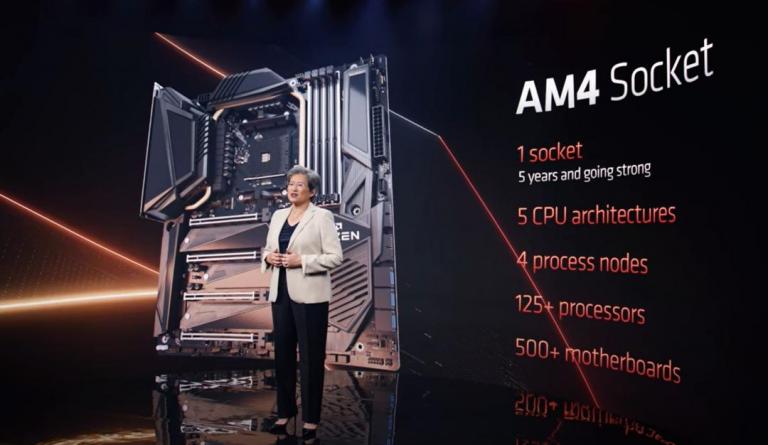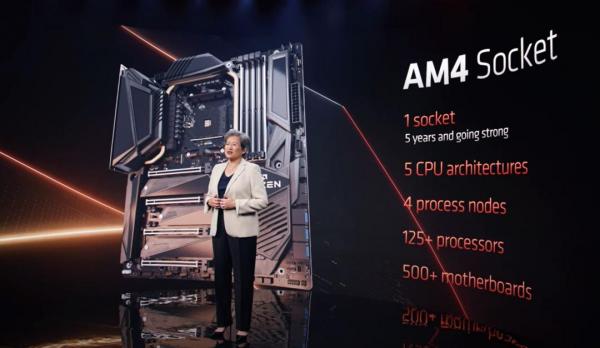 When Ryzen Launched, AMD Promised to keep the new AM4 socket relevant for several generations, and they lived up to that in every way. AM4 has spanned 5 years, multiple CPU architectures, Zen, Zen+, Zen2, and Zen3, 4 different process nodes and more motherboards than one can count. All good things must come to and end, and in this case, for good reason.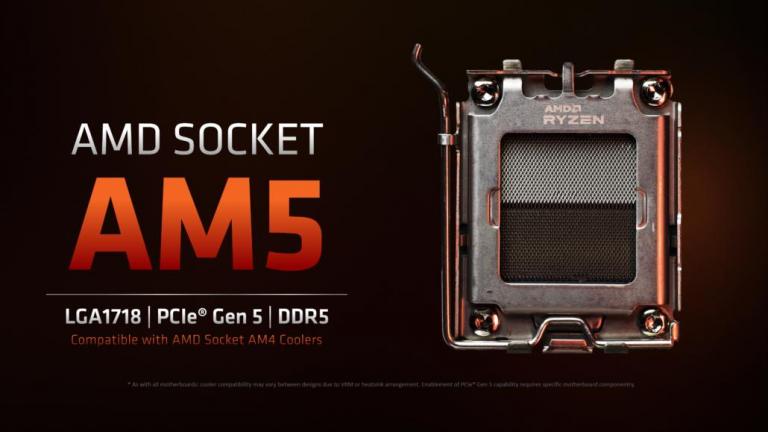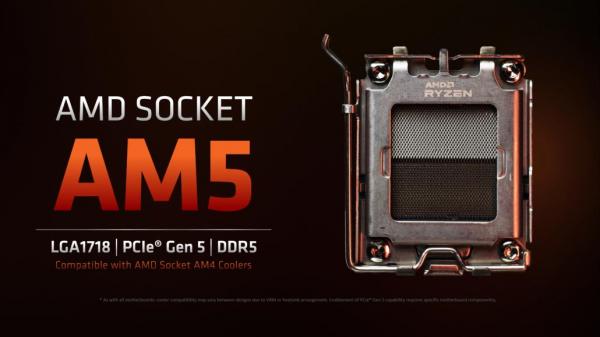 Going forward, AMD is transitioning to the new AM5 Socket. Moving from 1331 holes in a PGA (Pin Grid Array) socket that AMD has used for countless generations to 1718 contacts in a LGA (Land Grid Array) socket similar to what Intel has used for a long time. If you've invested in a really nice cooler, don't fret, AM5 sockets are fully compatible with AM4 Cooling solutions.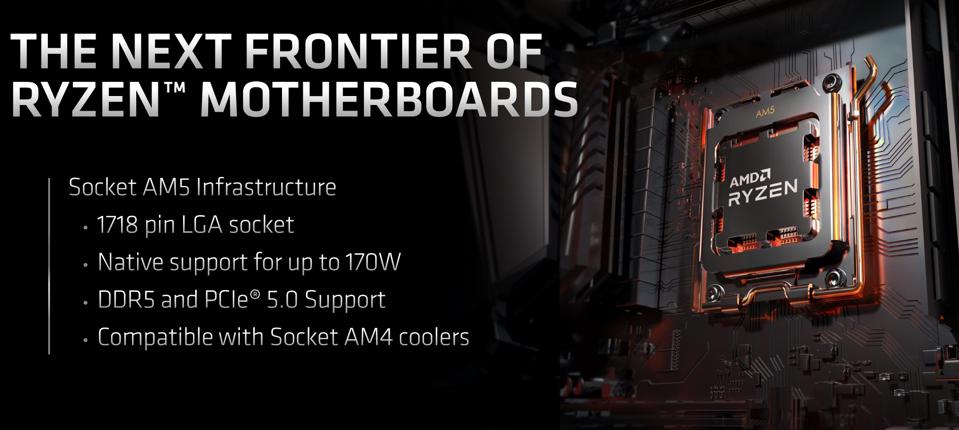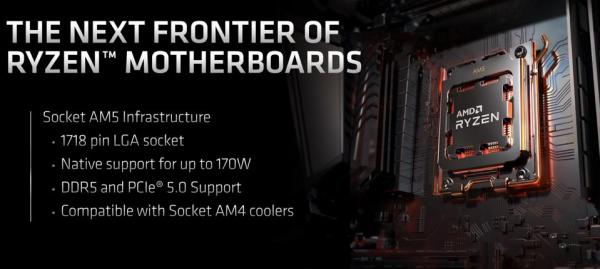 AM5 gives several benefits, the first being support for DDR5 and PCIe Gen 5 interfaces. The new design allows a 170W Power limit, up from the 142W limit on AM4. Most motherboard manufacturers allow you to far exceed that limit on higher-tier boards, but a higher specification certainly allows more breathing room for new processors.  Higher Ryzen AM4 based SKU's will offer up to 24x PCIe 5.0 lanes this go around. That is 16x lanes for Graphics or other Add-in-Cards, and 8x dedicated to storage.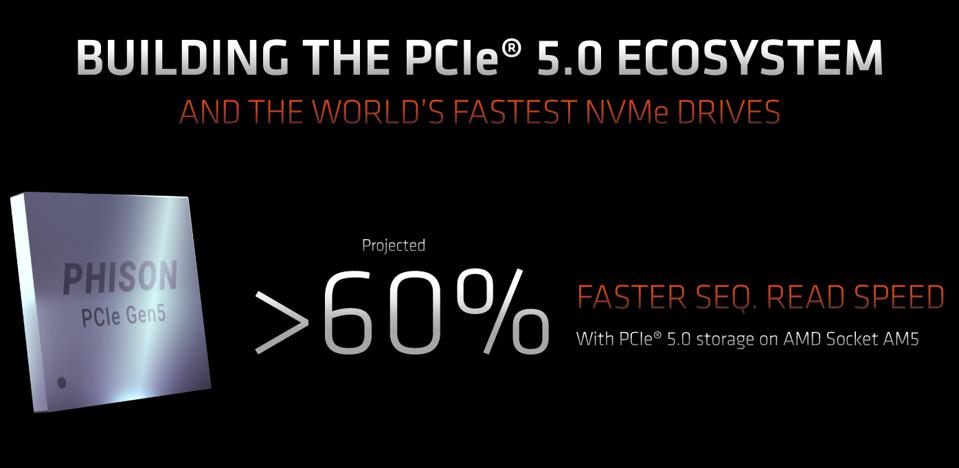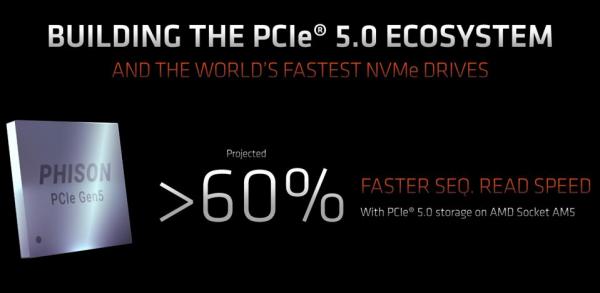 AMD's doubling down on ultra-high-speed storage should help drive market adoption rates which in turn drop prices. New PCIe 5.0 drives could see sequential transfer speeds of 14GB/s or a little more on a single PCIe 5.0 based M.2 drive. Coupled with a compatible graphics card, this could provide a serious boost in AMD's SmartAccess Storage by giving your graphics card direct access to game assets on your SSD rather than waiting for your CPU to carve it up and serve it up in bite-sized chunks.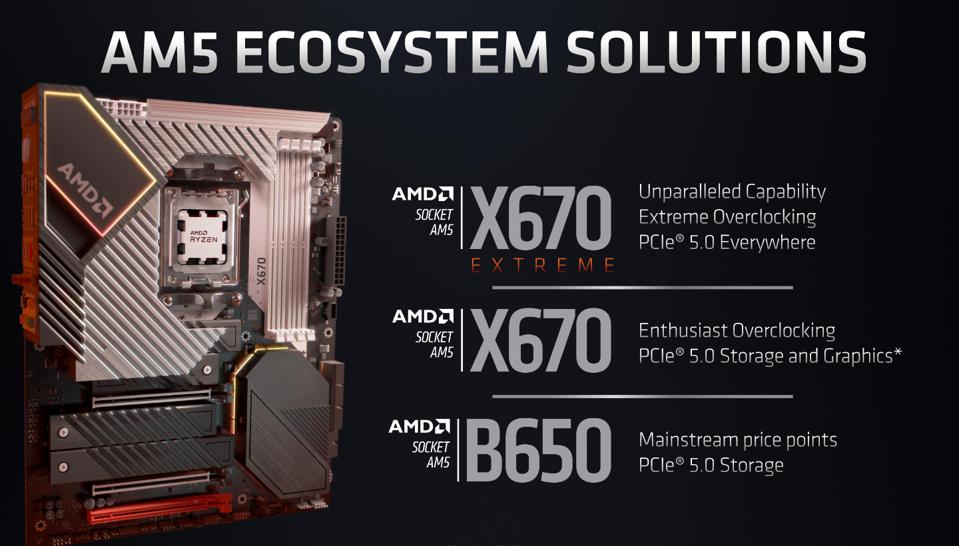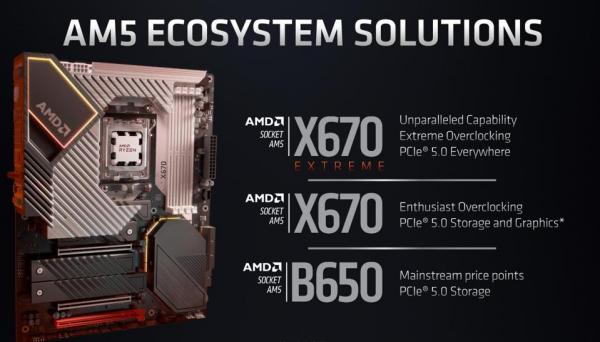 Let's circle around to the chipsets for a moment and discuss limitations. AMD Announced 3 upcoming chipsets. X670 is expected for the high end and offers PCIe 5.0 from your CPU to your Graphics and CPU-connected storage slots, with PCIe 4.0 from the chipset. a new enthusiast-oriented top-tier X570E (Extreme) chipset offers PCIe 5.0 from the chipset itself, so every PCIe device can run up to 5.0 speeds. The new mid tier B650 chipset limits PCIe 5.0 to just your CPU based storage devices, but limits all other interfaces to 4.0 maximum., including your graphics cards. We don't really feel this will be much of a limitation for the overwhelming majority, but if you absolutely want zero compromises, keep your eyes open for X670E boards.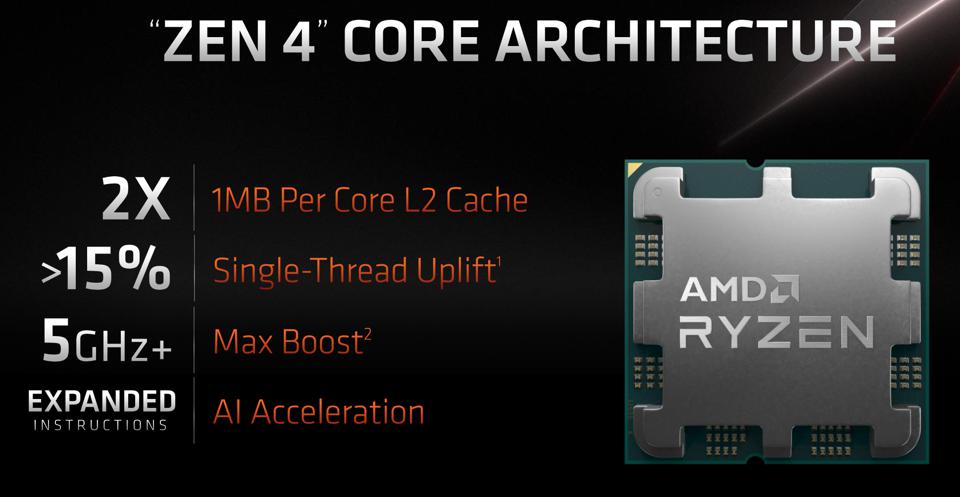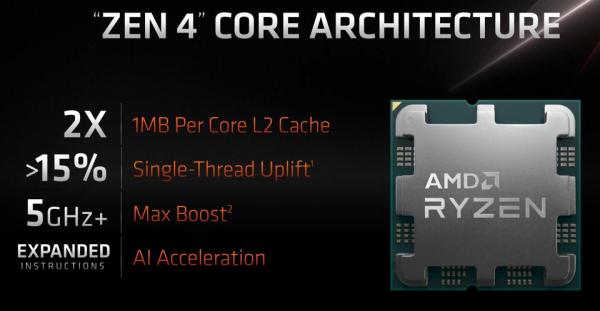 The new Zen 4 CPU's themselves look to offer around 15% uplift in per-thread performance. L2 cache doubles to 1MB per core. A lot of new instructions are added to boost Ai Acceleration. One of the most exciting things is clock speeds. CPU's are expected to have 5GHz+ boost speeds and a pre-launch sample demoed during the keynote hit 5.5GHz.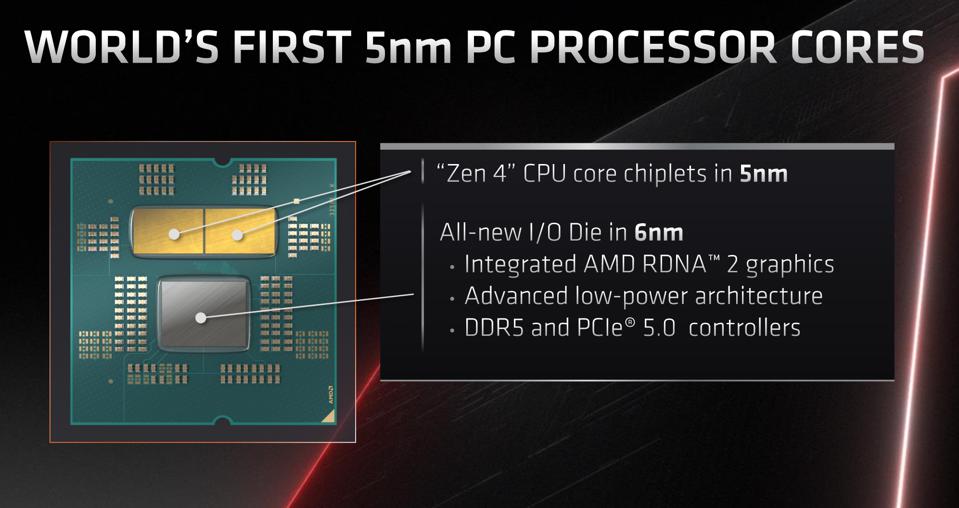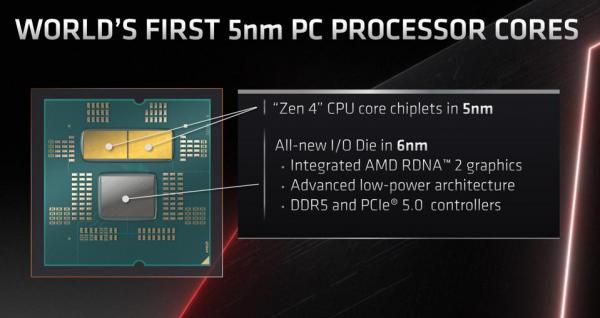 New CCX chiplets have shrunk to TSMC's 5nm node and feature up to 8 cores each. The I/O die shrinks to 6nm and integrates RDNA graphics on all CPU's, not just APU's. The new Integrated GPU supports up to 4 concurrent displays consisting of up to HDMI 2.1 and DisplayPort 2 ports.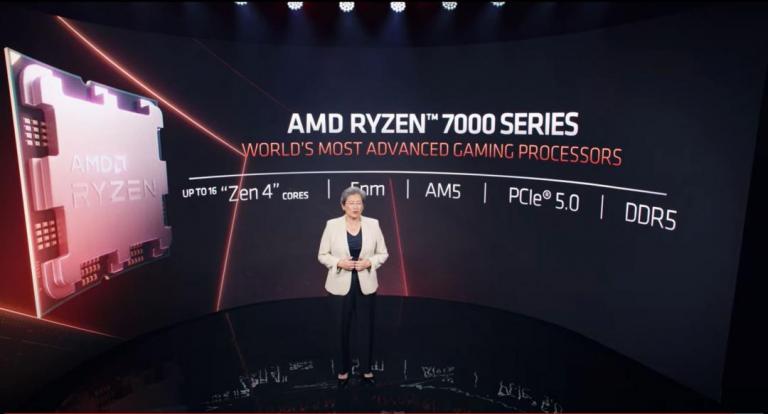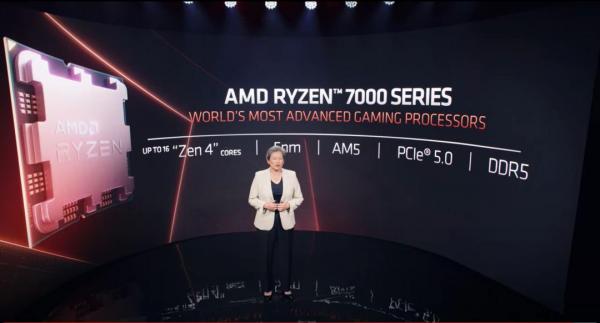 Ryzen 7000 looks to top out at 16 cores based on the background image above still despite early rumors the top chip may feature 24 Cores. While there are still plenty more details to be released and a lot of unknowns still out there, we can confidently say that AMD certainly isn't going to let Intel keep any sort of upper hand very long!
Check out the AMD Ryzen 7 Series
AMD Ryzen™ 7 7700 8-Core, 16-Thread Unlocked Desktop Processor