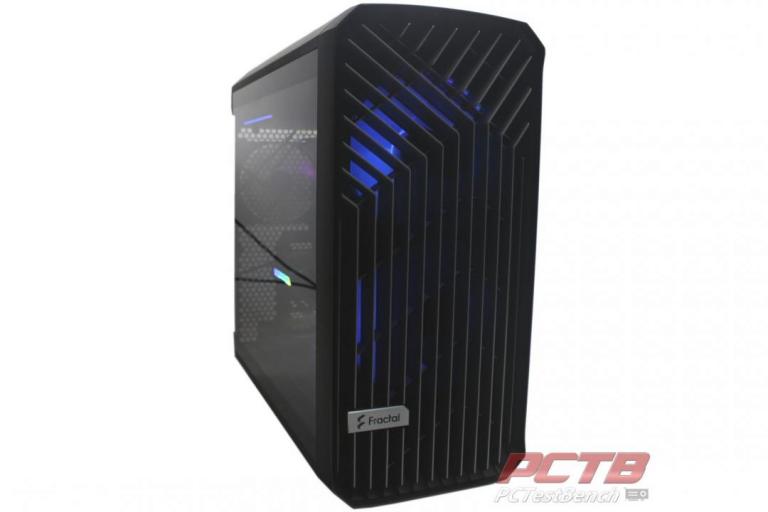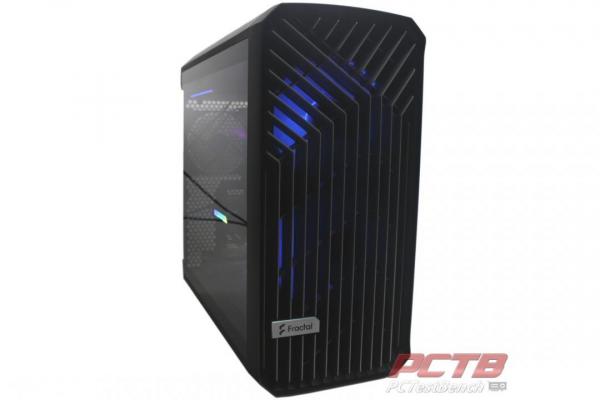 Computers have gotten powerful at a rapid pace with today's high-end desktop machines quite literally eclipsing early, data center-sized supercomputers in raw processing power. The core counts we have available today in a desktop required a multi-socket rack-mount server only a few years ago. The one downside to this meteoric rise in power is a rise in heat output. Granted, efficiency has increased to high levels across the board, but a beefy machine can still pump out hundreds to well over a thousand watts of heat when under full load. No matter your cooling solution, water, air, or something exotic, they all have one thing in common: The need for airflow.  Unfortunately, the trend has been to prioritize glass and raw aesthetics over performance in the case world and that can make things difficult for cooling. Fractal Design has flipped this paradigm on its head with the new Torrent Chassis. Designed entirely with airflow in mind and then polished off in the usual Fractal fashion, the Torrent is more than ready for your most powerful build with the heaviest cooling needs. Out of the box, you get a pair of massive new Dynamic X2 180mmx 38mm fans delivering more than 150 CFM each at a silent 1200 RPM, and a trio of matching 140mm fans bulldoze another 315CFM through the case at the same time. You added that upright, that's more than 600 CFM of cooling power at your fingertips without adding a single fan. How cool is that? Let's find out!
We would like to thank Fractal for not only sending the Torrent over for us to check out but also the Ion+ 2 and Prisma 180mm fans to make a complete build with.
Fractal's take on the Torrent:
The Torrent is a high-performance PC case designed entirely around the objective of delivering the highest possible airflow out-of-the-box with conflict-free support for high-end hardware with unconventionally large cooling solutions.
Standout features include a newly designed component layout with top-mounted PSU compartment and full E-ATX/SSI-EEB support, large open front grille and bottom intakes, and most notably of all, two 180 x 38 mm Dynamic X2 PWM or Prisma ARGB PWM fans (both developed and released in tandem with the Torrent). Another three 140 mm PWM fans come pre-installed in the base for a total of five.
The Torrent also features support for the Flex B-20 Vertical Riser Bracket (available separately), allowing GPUs to be vertically mounted in a central position with excellent access to incoming air.
Key Features:
Open front grille and full-length base intake with 180 mm fan support
Newly developed 180 x 38 mm Dynamic X2 PWM and Prisma AL PWM ARGB fans leverage power, size, and thickness for greatly enhanced air-moving capacity
Streamlined open interior with extra headroom for components and cooling
Top-mounted PSU compartment with an aerodynamic shape and integrated ARGB effects (TG versions only)
Five PWM fans included—three 140 mm and two 180 mm
Both front and bottom panels support extra-thick radiators and push-pull fan configurations up to 420/360 mm
New Nexus 9P Slim PWM fan hub pre-installed
External Velcro tie-downs help manage the power cord and other cables on the rear exterior
Seamless tempered glass panels with a bolt-free top-latching mechanism
Integrated ARGB lighting and Prisma ARGB fans use standard 5V RGB connectors for full software control on motherboards with addressable RGB support
Removable top bezel and cable guides with Velcro ties behind the motherboard plate
Two vibration-damped HDD trays and four dedicated SSD brackets included
Integrated support for water-cooling reservoirs on the motherboard tray
Seven bridgeless expansion slots ensure obstruction-free hookup
GPU support bracket included
Compatible with the Flex B-20 Vertical GPU Riser Bracket (sold separately)
Recessed channels along left and right underside edges of the base for adding LED strips
Quick Specs: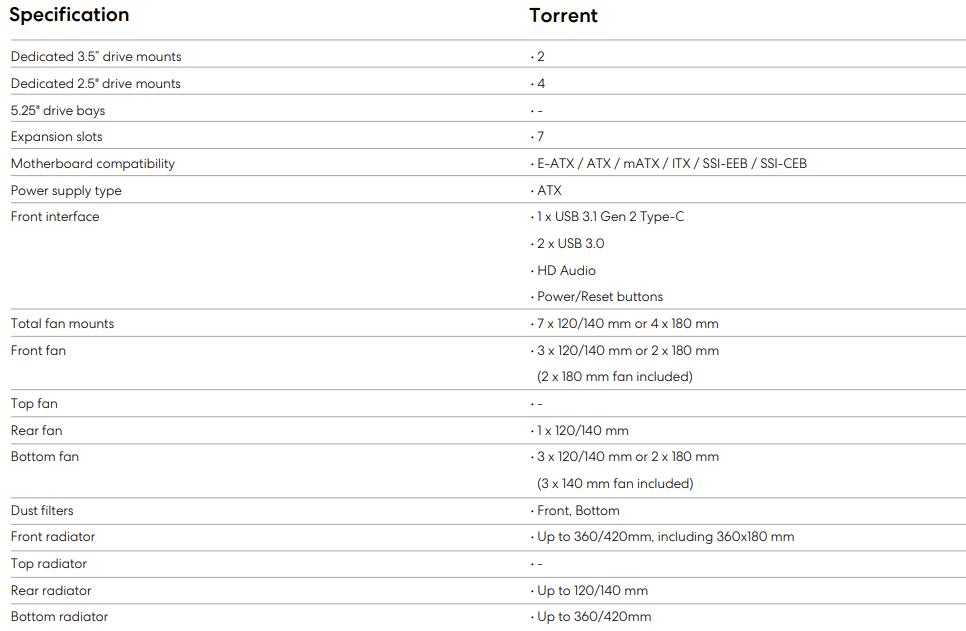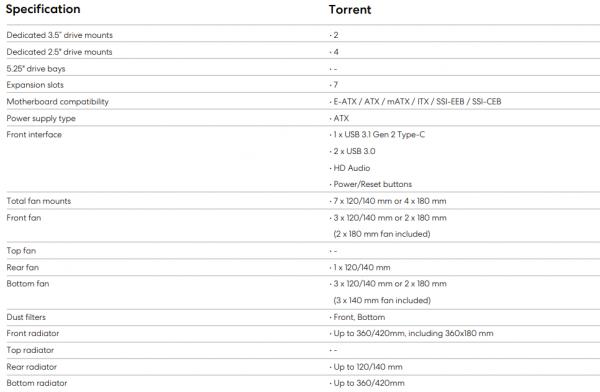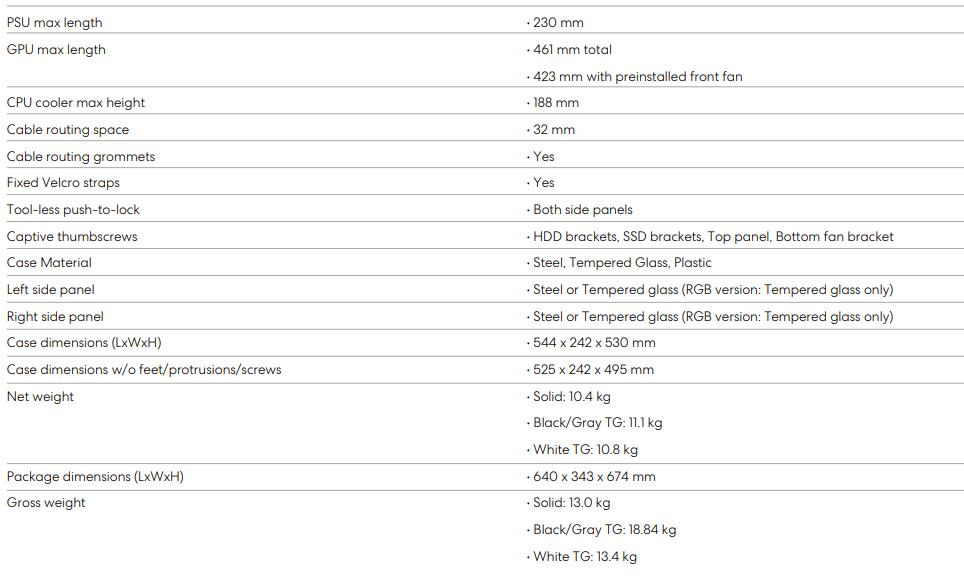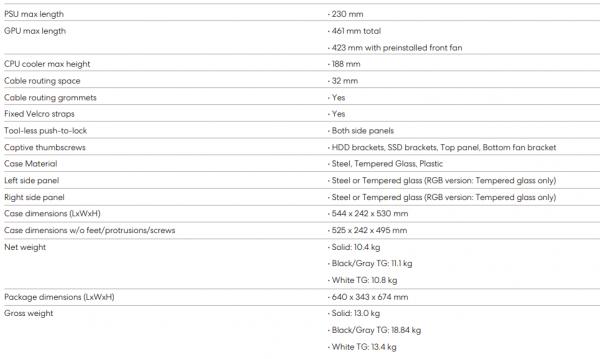 Fan Positions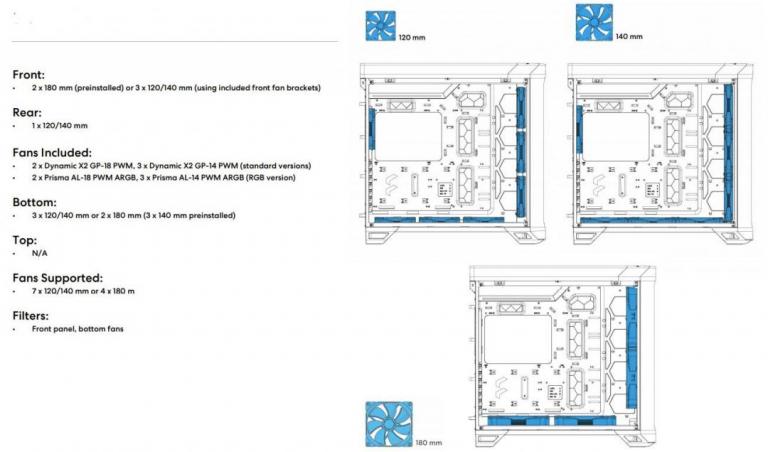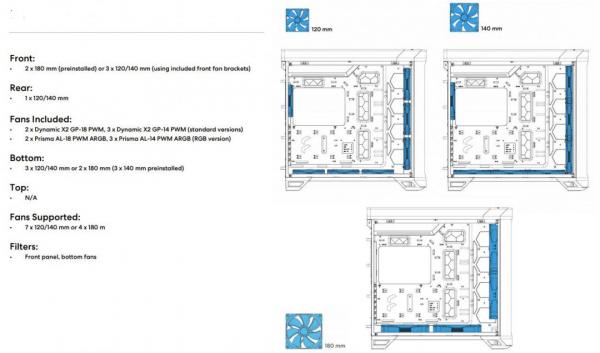 Radiator Support


Exploded View