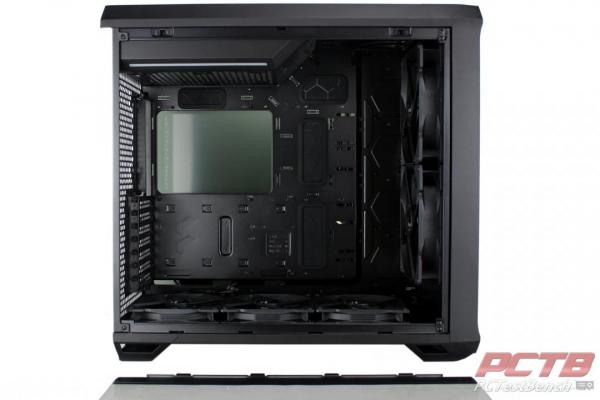 The tempered glass side panels on Fractal Designs Torrent Chassis can be removed easily with a firm tug at the top, and then lifted out of way.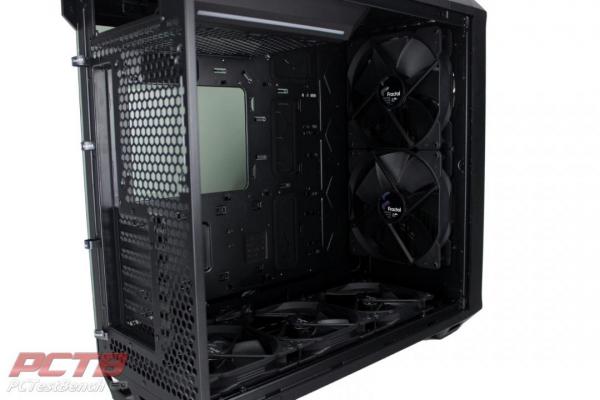 Inside the wind tunnel, we find two utterly massive 180mm Dynamic X2 fans. Not only is the 180mm size huge, but they are also 38mm thick!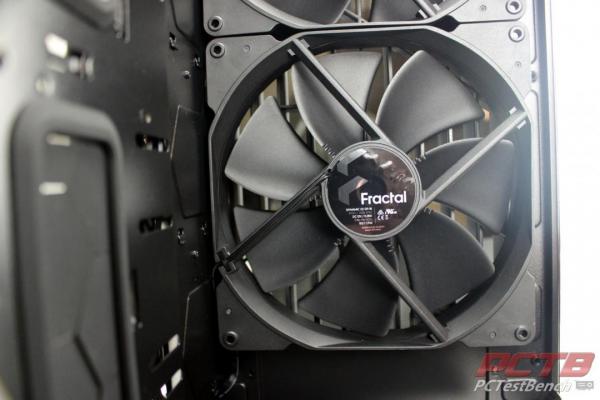 Rated for a peak speed of only 1200 rpm, you wouldn't expect it to move 153 CFM of air with a water-cooling radiator-friendly 2.26mm of static pressure, but indeed they can.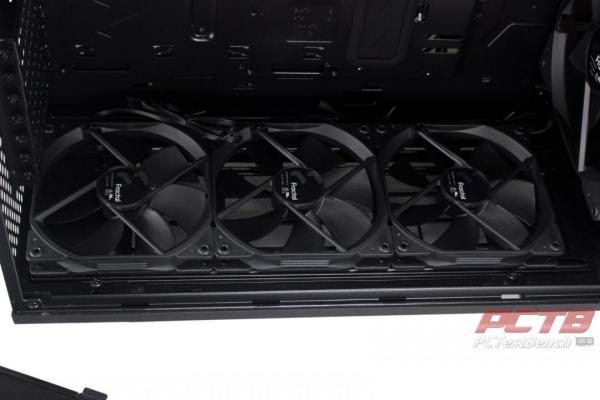 Along the bottom are three matching 140mm variants of the Dynamic X2 in a more standard 25mm thickness.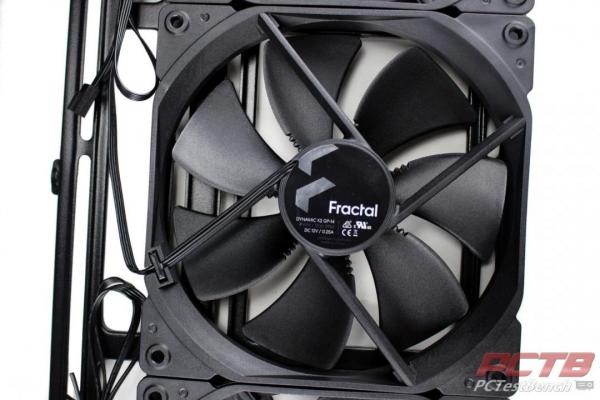 With a robust 1700 rpm max speed range, you can get just over 100 CFM out of each one at a modest 33 dB sound rating.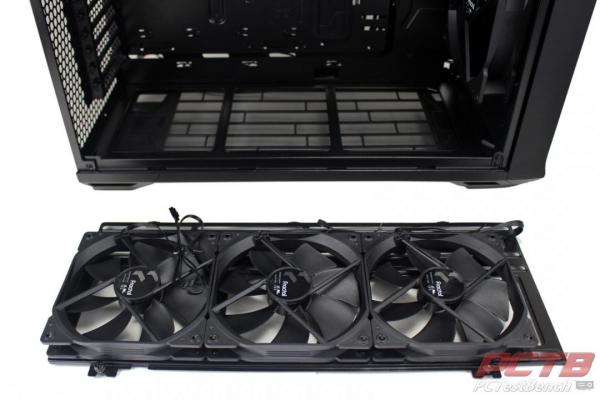 With two thumb-screws, the entire lower mount can be removed from the case for easy fan swaps or cooler installation. The bottom bracket can support 2x 180mm fans, 3x 140mm fans, or 3x 120mm fans. Matching radiators can also be installed.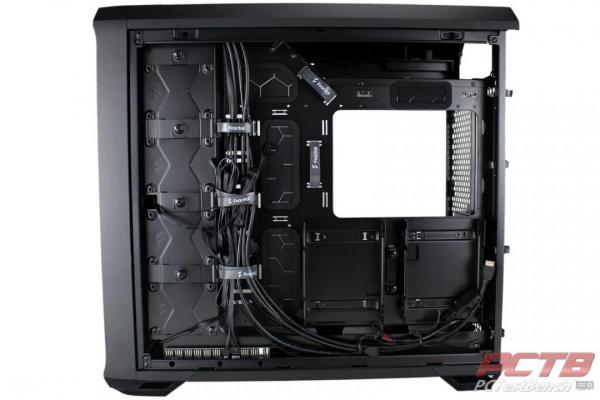 Moving around the back looks pretty familiar for Fractal cases. Lots of cable management needs are handled right out of the box and span cable organizing anchor points, re-usable cable wraps, and rubber grommets covering pass-through holes.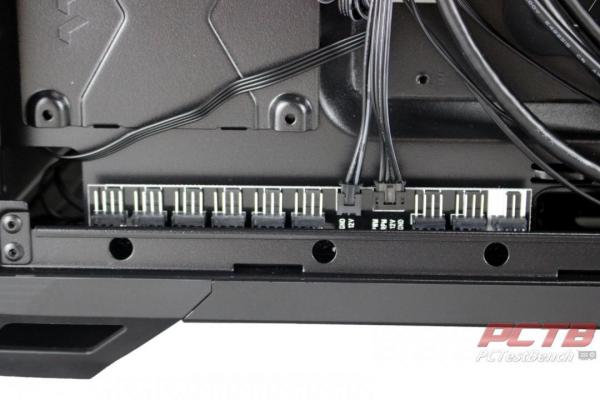 Along the front edge at the bottom is a built-in PWM fan hub. It can directly connect nine fans with a total maximum power of 36W or 3 Amps.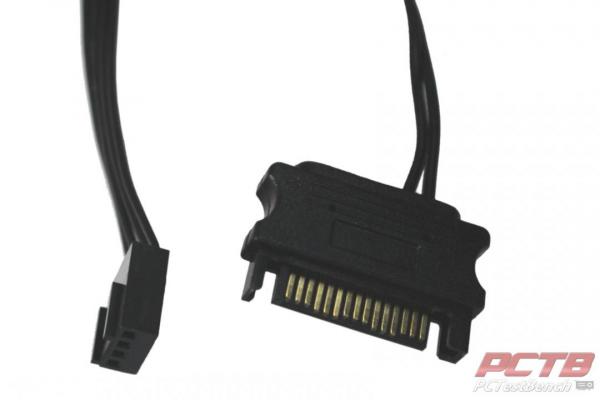 A standard PWM fan header connects to your motherboard to supply PWM commands as well as report the RPM of whatever is connected to fan header one. Additional 12V power is provided from the SATA power plug.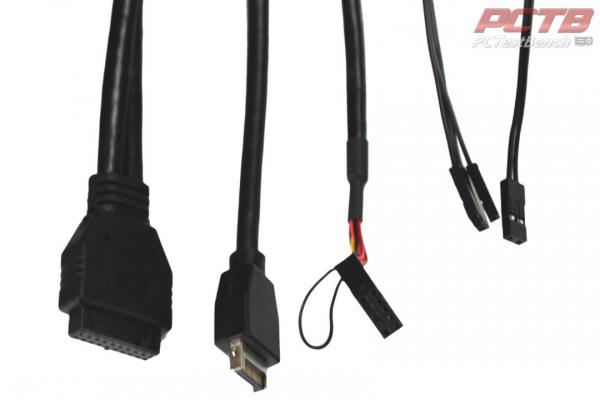 Front I/O Cables are strapped down near the fan hub and include USB 3.0 and Type C connections, Front panel HD Audio and standard I/O cables for power/reset buttons, and power LED. No dedicated drive activity led is included, but who still uses that anyway?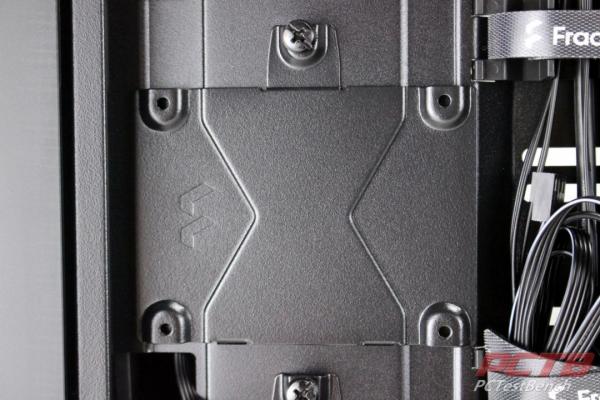 Not as readily obvious back here are four 2.5" drive sleds near the front of the case. Each is held in place with a single thumbscrew.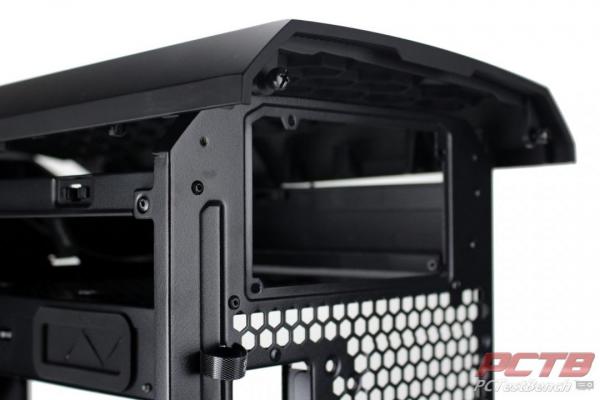 Speaking of thumb screws, two more hold the top cover in place.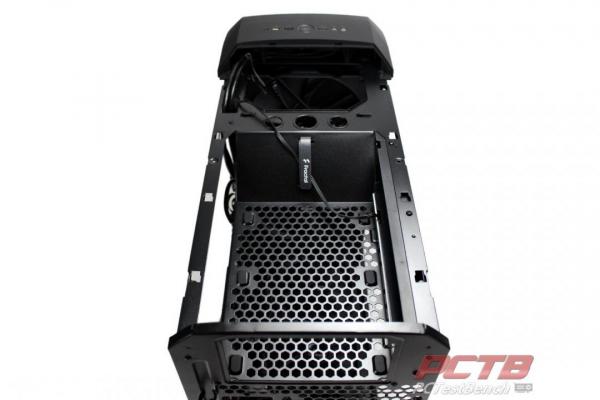 Under it is the power supply area which is also a high airflow mesh shaped similarly to a basket.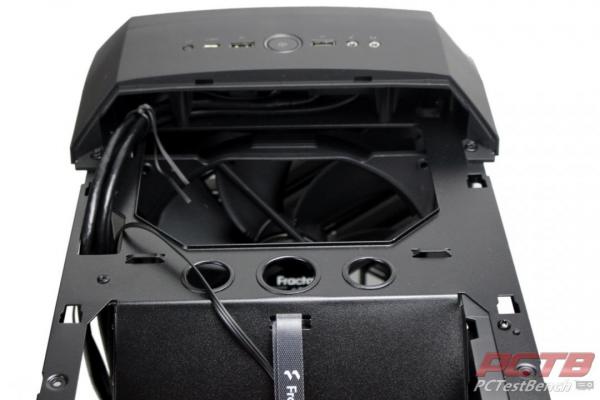 Fractal always has a lot of very welcome features thought out and included and the Torrent is no different. At the top of the case are three spots for things like fill ports. Or possibly vandal style buttons for… Whatever a creative builder needs them for. The center opening is 25.4mm and the two side ones are 21mm.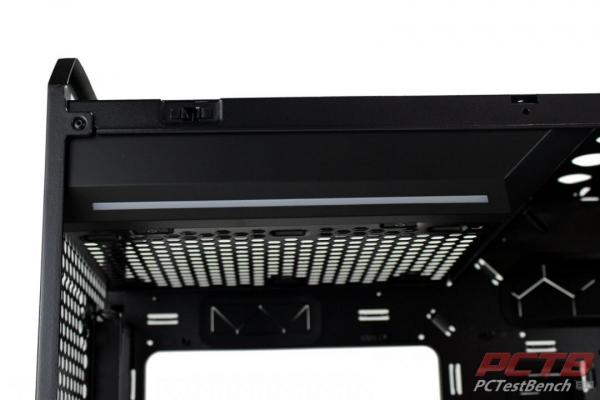 Just inside the case adjacent to the power supply is an ARGB accent strip, seen here in translucent milky white.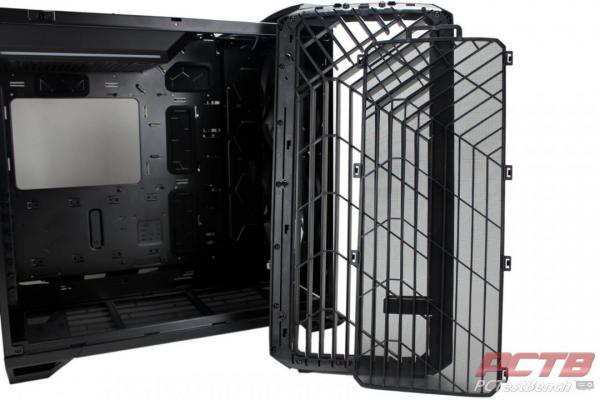 Giving the front of the case a tug at the top pops it loose giving you access to the front intake filter.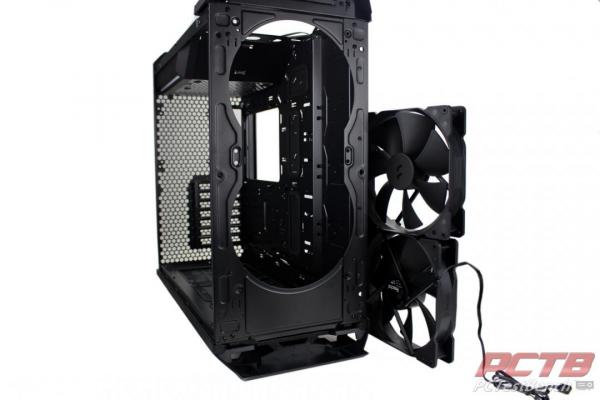 This also gives you access to the front fans. If you want to install something like a 360mm AiO cooler, you can remove the included 180mm fans, and use the included brackets to give you traditional rails for triple 120/140mm fans or coolers.