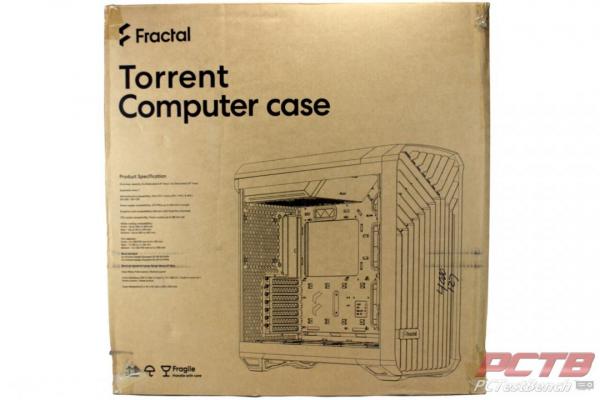 Fractal doesn't waste money on fancy packaging and the new Torrent is no different. You get a heavy double-layer cardboard box in natural brown with black ink printing.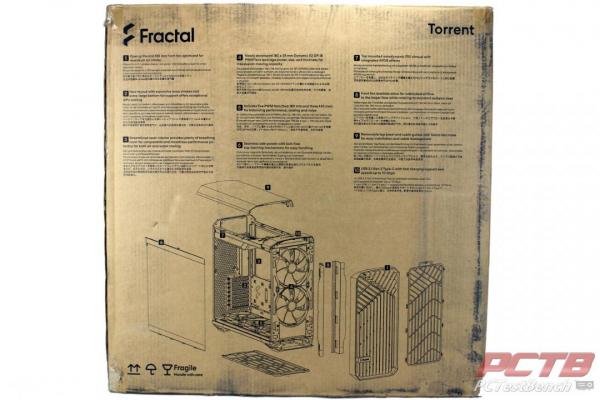 Features are called out on the back in several languages.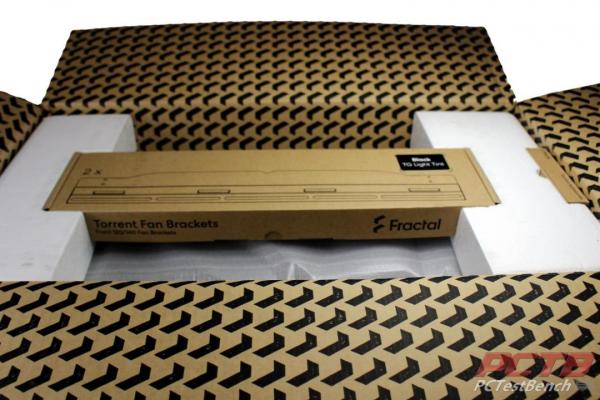 Inside, two smaller boxes are embedded in the two large Styrofoam blocks that cradle the Torrent and its protective bag.
Stuck in the foam on one end, a packet of paperwork is easily overlooked, but you want to make sure to save it. We have to commend Fractal on their User guides as they are always extremely detailed and easy to follow.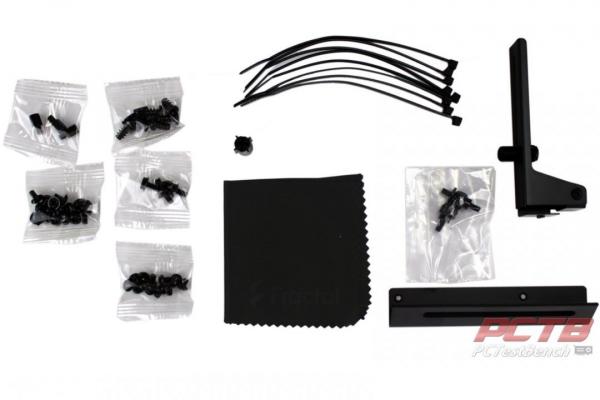 The smaller box contains all the needed hardware, from screws to a standoff tool, and includes a few extras like zip ties and an adjustable GPU brace.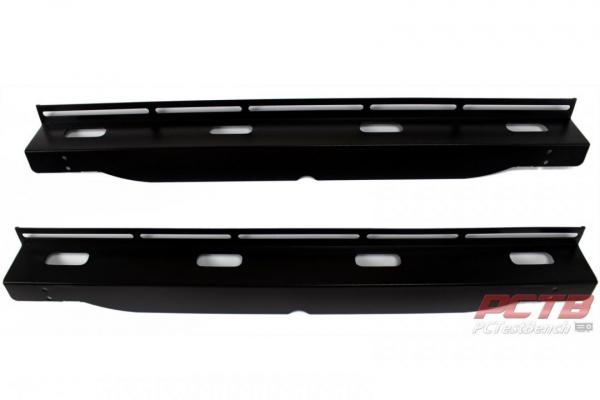 The larger box contains two rails for the front of the case should you decide to move the included 180mm fans to the bottom and use the front intake for a more traditional triple 120/140mm set of fans or cooler.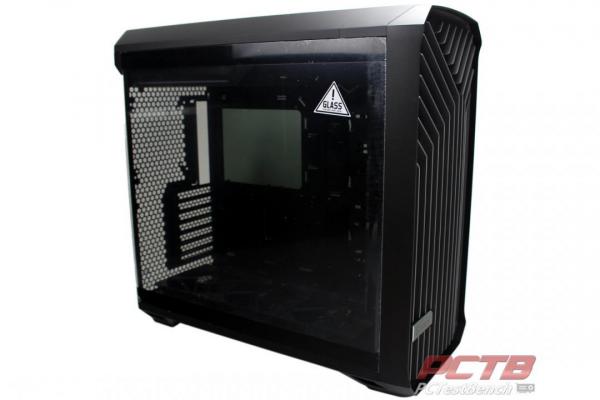 The Torrent Chassis itself is svelte for its larger EATX mid-tower size. The side panels are both tempered glass.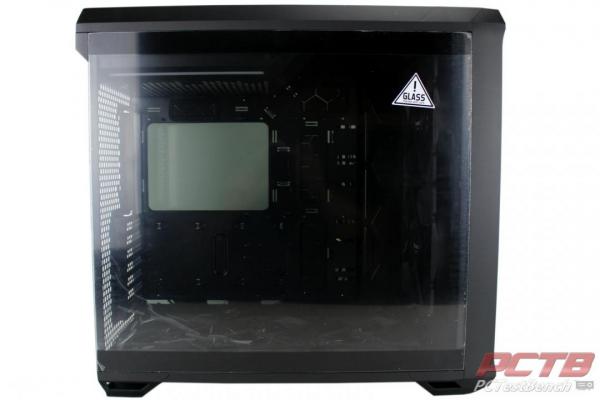 The front grille is a departure from typical smooth panels or Fractal's signature Meshify panels. Narrow but strong ribs run mostly vertically over most of the front with wide gaps between them for massive airflow capabilities. The iconic Fractal badge remains as faithful as ever.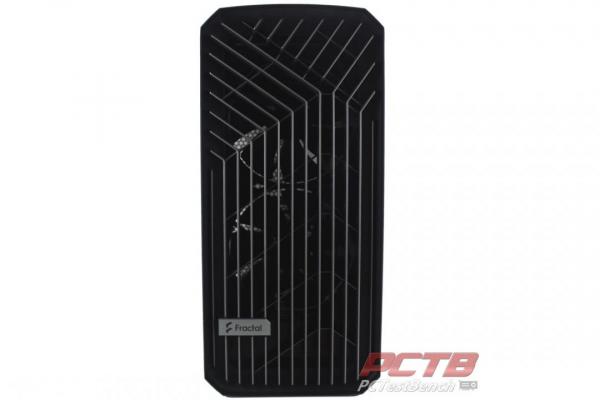 A tempered glass side door is nothing new these days and is all but expected from a case ranging from budget to premium.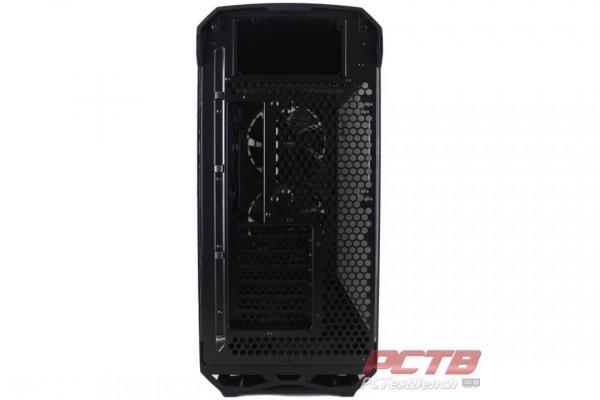 The back is… mesh. Almost every possible inch is covered in a large honeycomb pattern grill, including the I/O expansion slots. Remember, the Torrent is built entirely for maximum airflow. Something a bit more uncommon these days is a top-mounted power supply.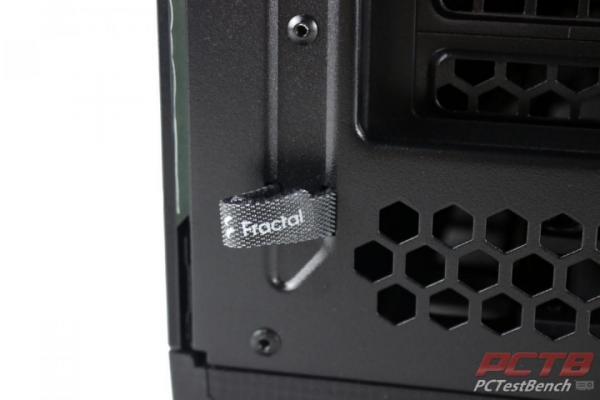 Easily overlooked are a set of preinstalled Velcro cable management wraps along the edge. This allows you to bundle your power, video, and peripheral cables down the edge for an incredibly clean installation.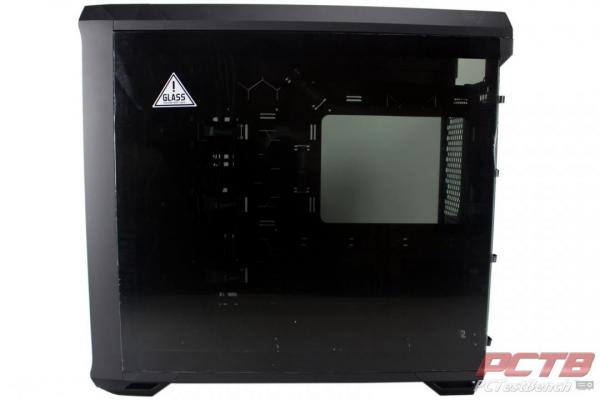 Spinning on around to the side behind the motherboard, we find yet another pane of tempered glass. This is pretty uncommon and may be a boon to users who like to tuck everything behind the motherboard tray like Homer in that infamous Simpsons episode gone meme. Don't fret too much, we'll see in a moment Fractal has this covered.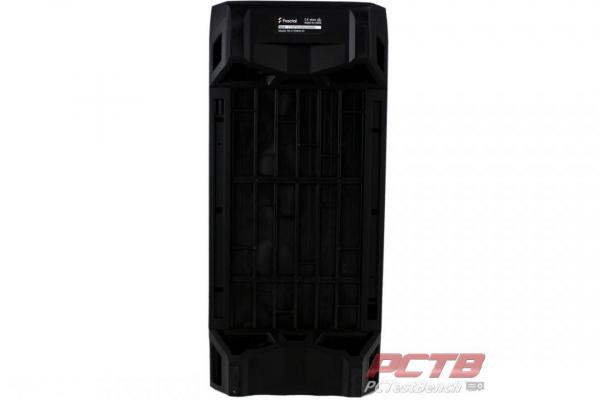 The bottom has four extra-tall skeletal feet which provide plenty of airflow. A removable intake filter can be found on the bottom as well.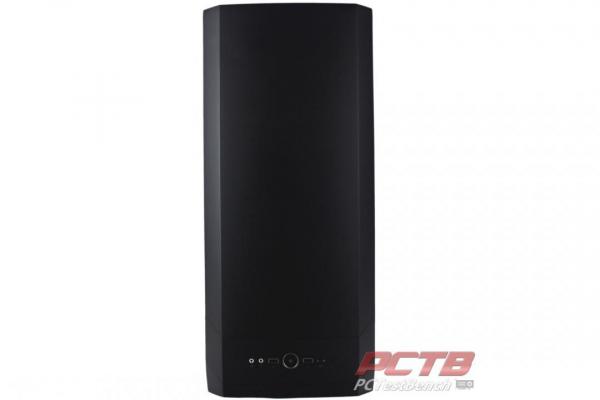 The top is entirely smooth which is pretty strange these days. The top-mounted power supply is hidden up here so the little black dress looks great.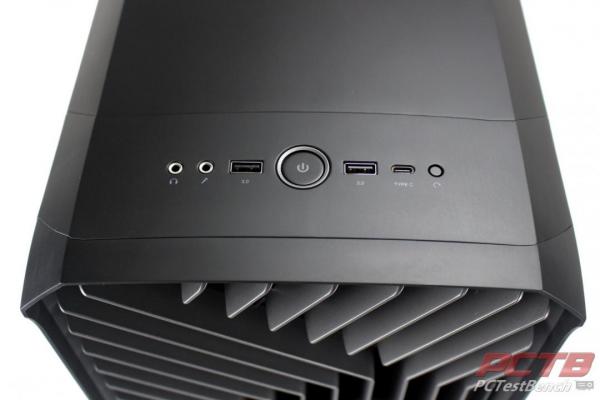 Front Panel I/O is pretty typical of a decent chassis. The lighted power button, reset buttons and ever-persistent 3.5mm audio jacks can be found along with a pair of USB 3.0 ports and a single USB Type-C.