Testing Continued
AIDA64 Engineer Edition
"FinalWire Ltd. today announced the immediate availability of AIDA64 Extreme Edition 1.50 software, a streamlined diagnostic and benchmarking tool for home users; and the immediate availability of AIDA64 Business Edition 1.50 software, an essential network management solution for small and medium scale enterprises.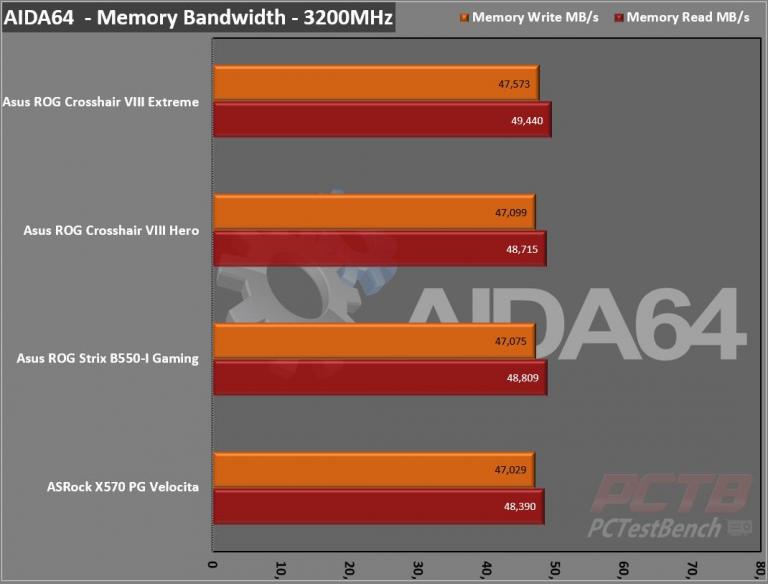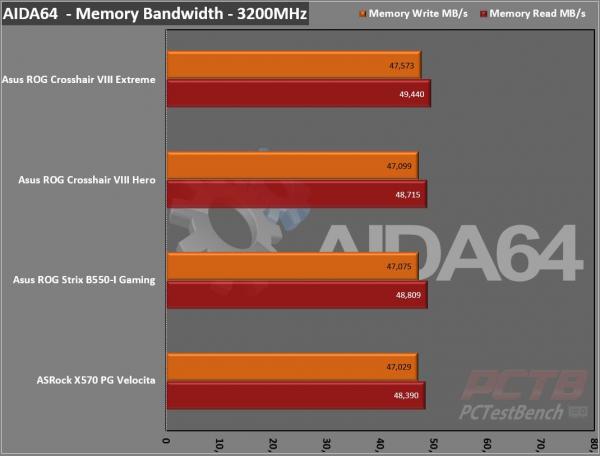 System memory bandwidth comes in right around where we expected with it just edging out other similar platforms.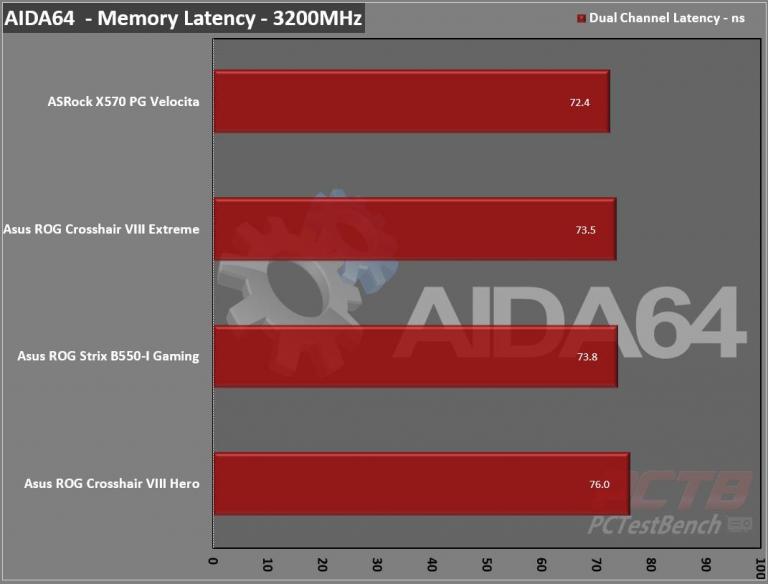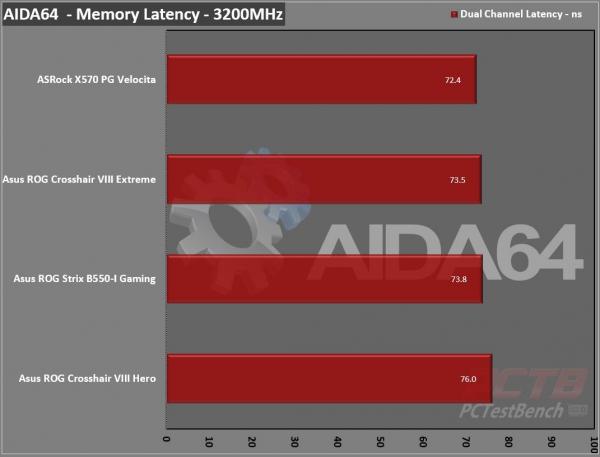 Overall latency can swing a bit based on how the XMP profile is applied as well as board training of tertiary timings not contained in the XMP profile.
Passmark Performance Test – Memory Mark – Threaded
"Fast, easy to use, PC speed testing, and benchmarking. PassMark Performance Test ™ allows you to objectively benchmark a PC using a variety of different speed tests and compare the results to other computers."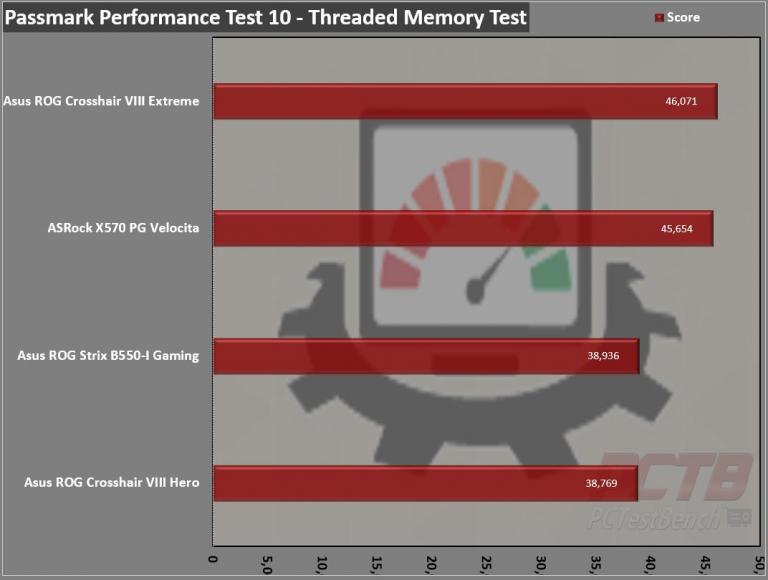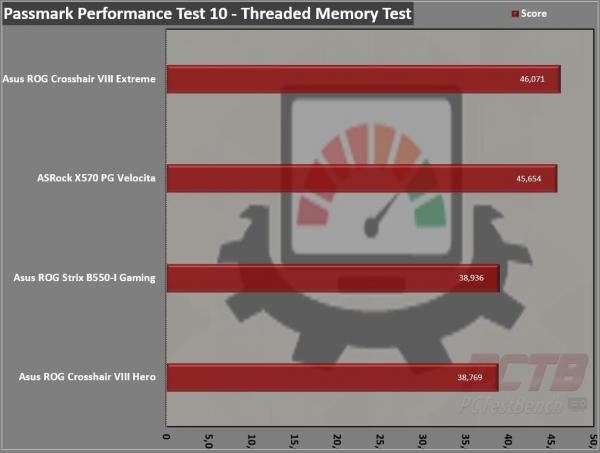 The Crosshair VIII Extreme does quite well in Passmark's threaded memory test with our best score in this category.
SiSoft Sandra – Memory Bandwidth – Aggregate.
"SiSoftware Sandra provides a robust pack
age of diagnostic tools for testing your system and teasing out its problems–or potential headaches."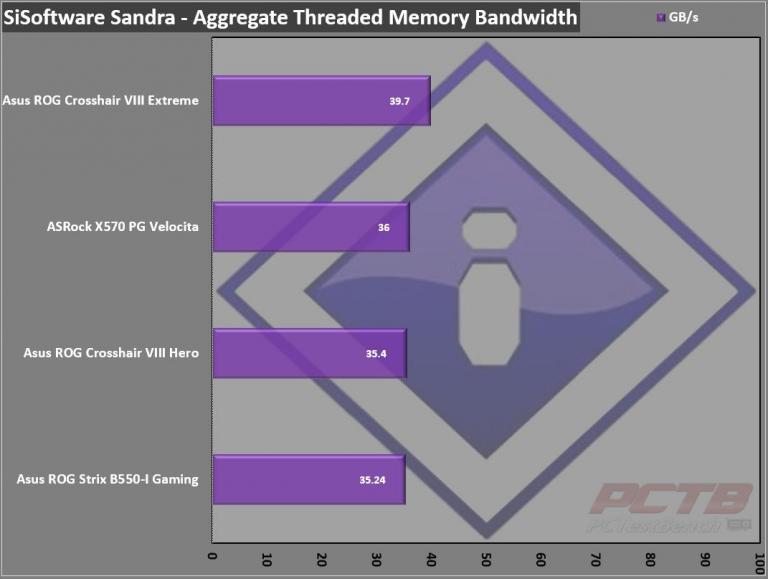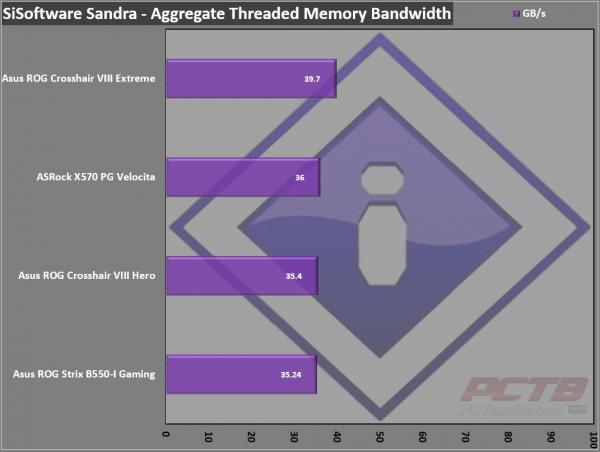 SiSoft's aggregate memory bandwidth makes a strong showing on the Crosshair VIII Extreme with just under 40GB/s.
Synthetic Game Testing
3DMark – Fire Strike
"Fire Strike is a showcase DirectX 11 benchmark designed for today's high-performance gaming PCs. It is our most ambitious and technical benchmark ever, featuring real-time graphics rendered with detail and complexity far beyond what is found in other benchmarks and games today"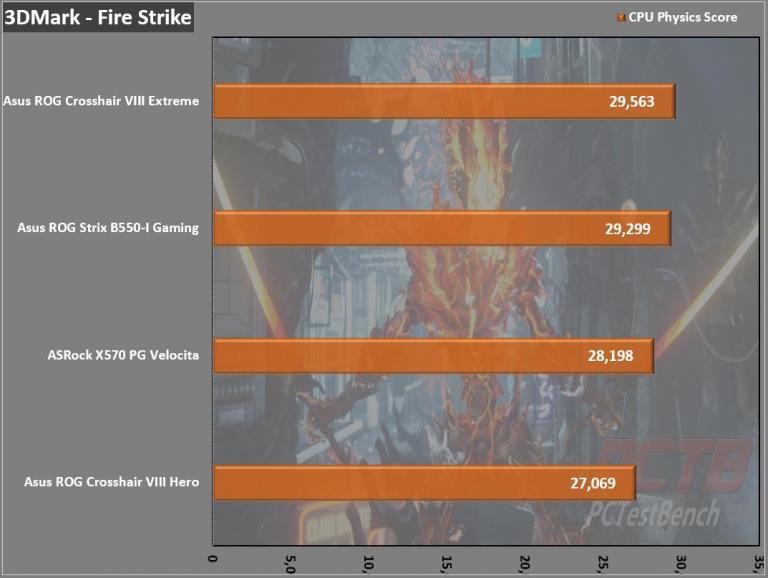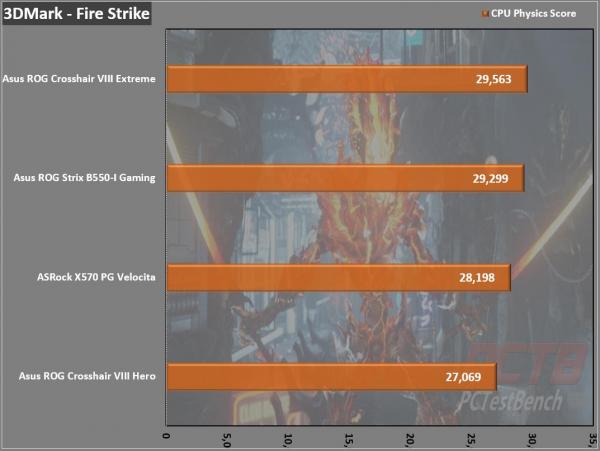 Firestrike's CPU-based physics just slightly favors the Crosshair VIII Extreme with a score of 29,563. This is physics score only and not graphics or overall.
3DMark – Time Spy
"3Dmark Time Spy is a new DirectX 12 benchmark test for Windows 10 gaming PCs. Time Spay is one of the first DirectX 12 apps to be built "the right way" from the ground up to fully realize the performance gains that the new API offers. With DirectX 12 engine, which supports new API features like asynchronous compute, explicit multi-adapter, and multi-threading, Time Spy is the ideal test for benchmarking the latest graphics cards.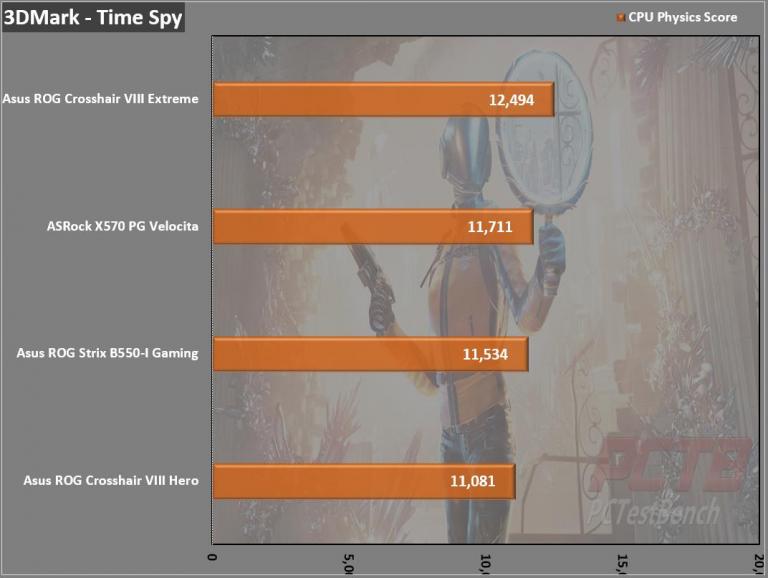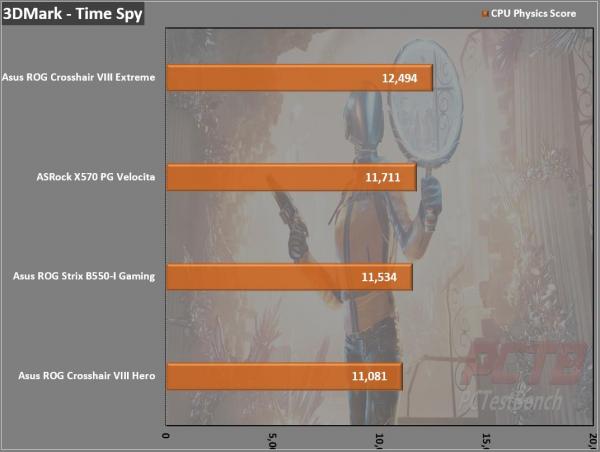 The Crosshair does just as well in Timespy.
Game Testing
Sid Meier's Civilization VI
Originally created by legendary game designer Sid Meier, Civilization is a turn-based strategy game in which you attempt to build an empire to stand the test of time. Become Ruler of the World by establishing and leading a civilization from the Stone Age to the Information Age. Wage war, conduct diplomacy, advance your culture, and go head-to-head with history's greatest leaders as you attempt to build the greatest civilization the world has ever known. Civilization VI offers new ways to engage with your world: cities now physically expand across the map, active research in technology and culture unlocks new potential, and competing leaders will pursue their own agendas based on their historical traits as you race for one of five ways to achieve victory in the game.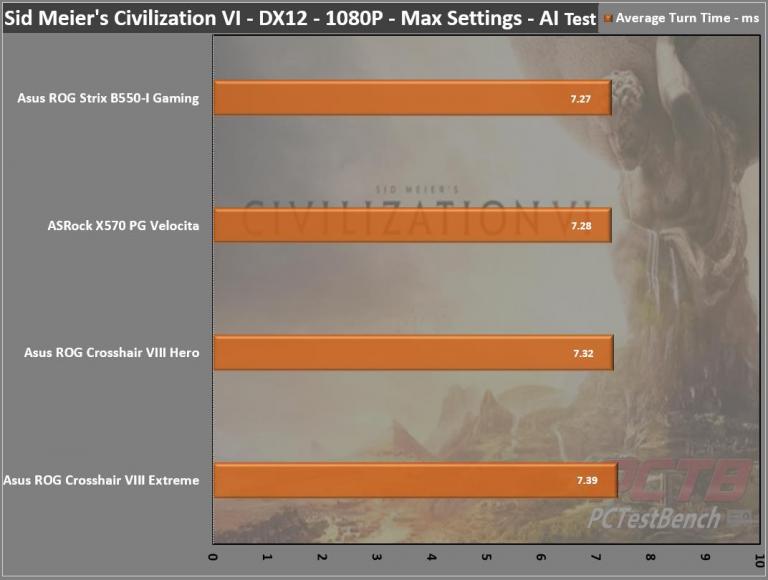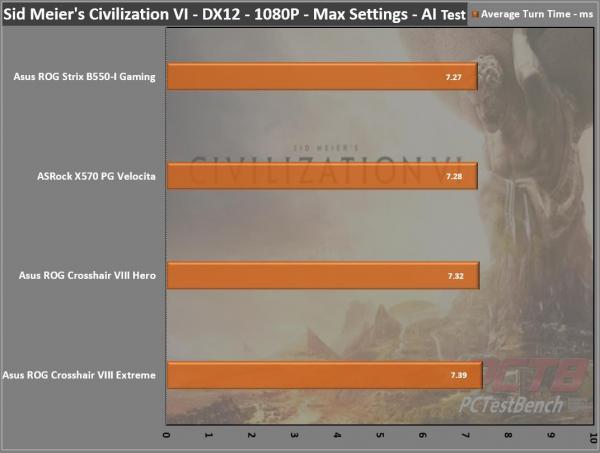 The average turn time on the Crosshair VIII Extreme comes in at 7.39ms, not our best score but right in line with expectations.
Far Cry 5
Anything can happen. Everything will. Welcome to Hope County, Montana, land of the free and the brave, but also home to a fanatical doomsday cult—known as The Project at Eden's Gate—that is threatening the community's freedom. Stand up to the cult's leaders, Joseph Seed, and the Heralds, as you spark the fires of resistance that will liberate the besieged community.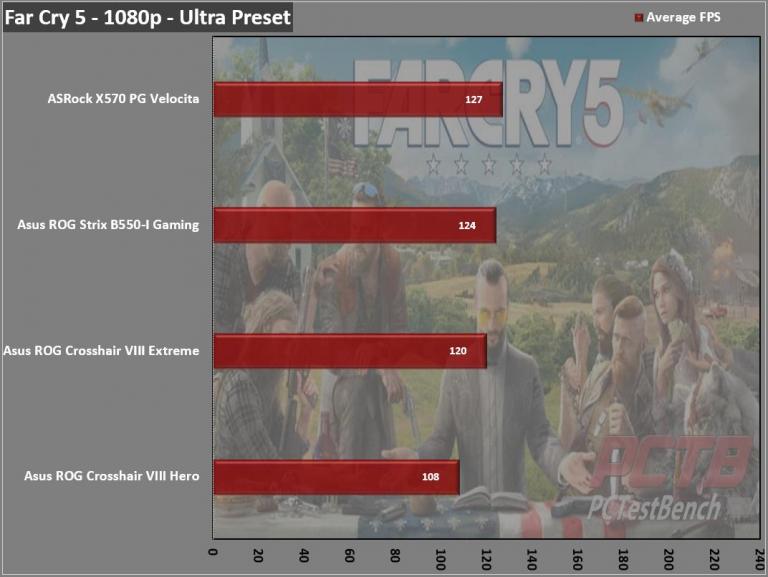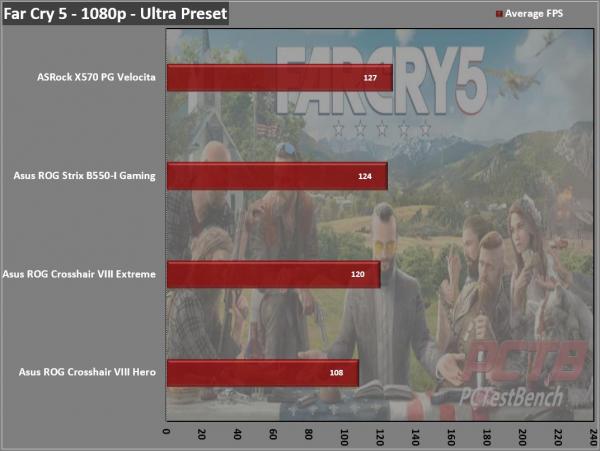 On Far Cry 5, the Crosshair VIII Extreme manages an average of 120 FPS.
Shadow of the Tomb Raider
Experience Lara Croft's defining moment as she becomes the Tomb Raider. In Shadow of the Tomb Raider, Lara must master a deadly jungle, overcome terrifying tombs, and persevere through her darkest hour. As she races to save the world from a Maya apocalypse, Lara will ultimately be forged into the Tomb Raider she is destined to be.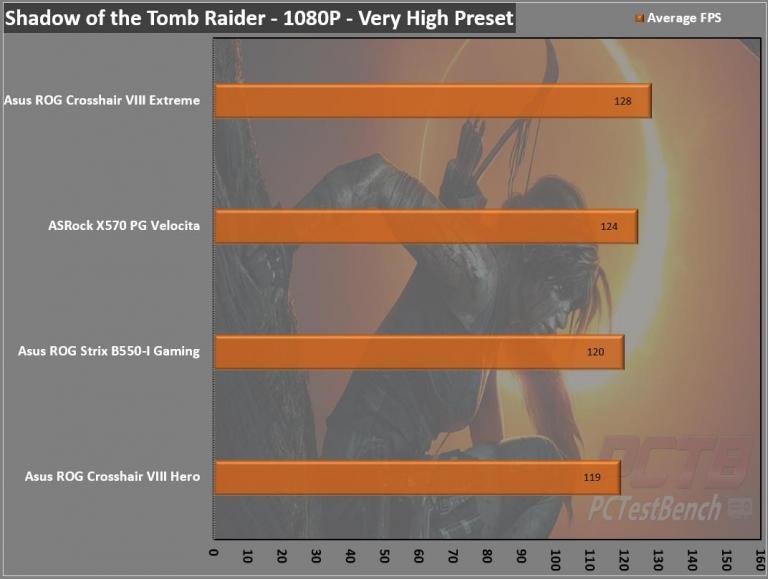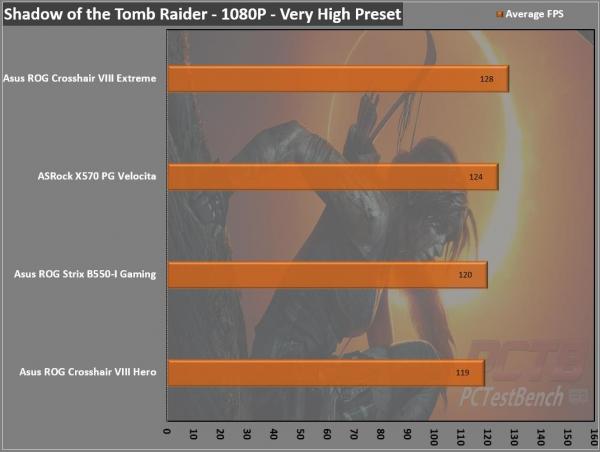 Shadow of the Tomb Raider does well with our best average of 128 FPS going to the Crosshair VIII Extreme.
Ashes of the Singularity
Planet by planet, a war is raging across the galaxy. The technological singularity has given humanity the power to expand further than they ever have before. Now, they compete with each other and their sentient artificial intelligence adversaries for control of newfound worlds.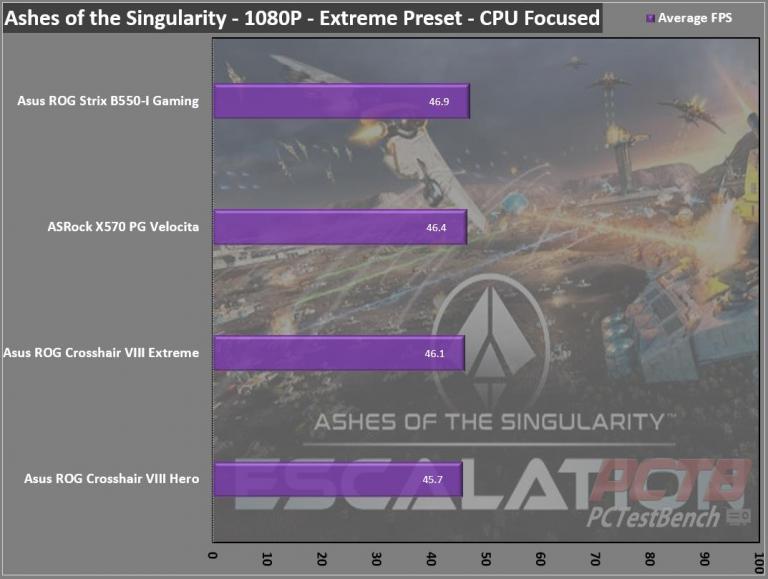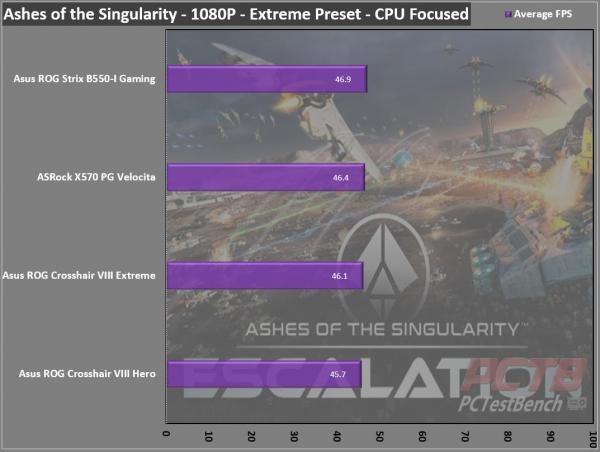 The Crosshair VIII Extreme manages 46.1 FPS in the CPU-focused test in AOTS, right where it should be.