Under the Hood
With all of the stuff crammed under the hood of the ROG Crosshair VIII Extreme, it takes a lot to make it tick, let's take a closer look at what all is hidden under the covers.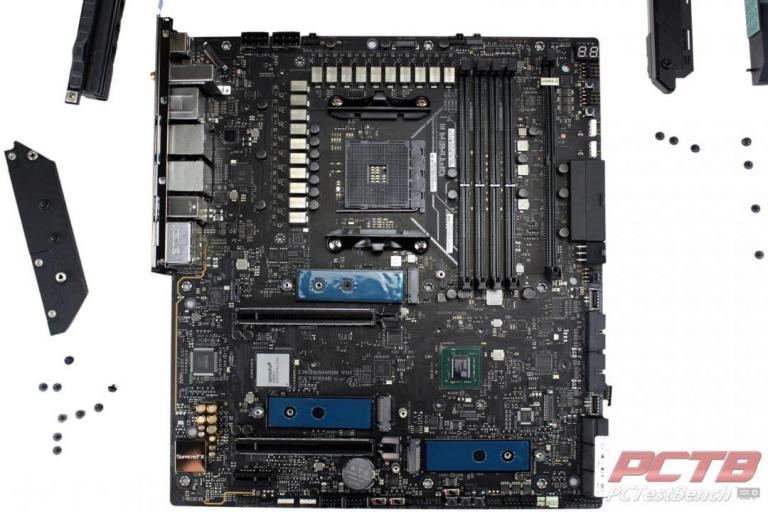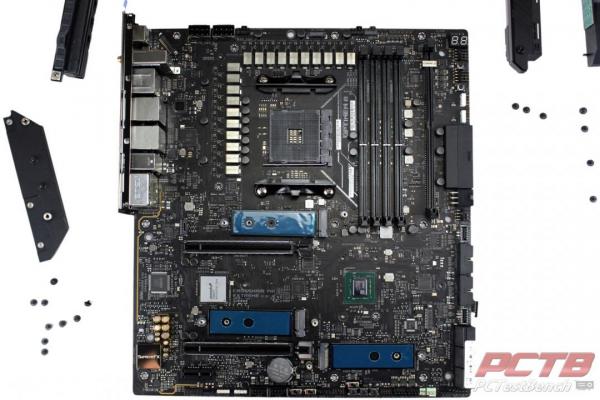 It takes quite a few screws removed to disassemble the massive all-metal covers that Asus uses.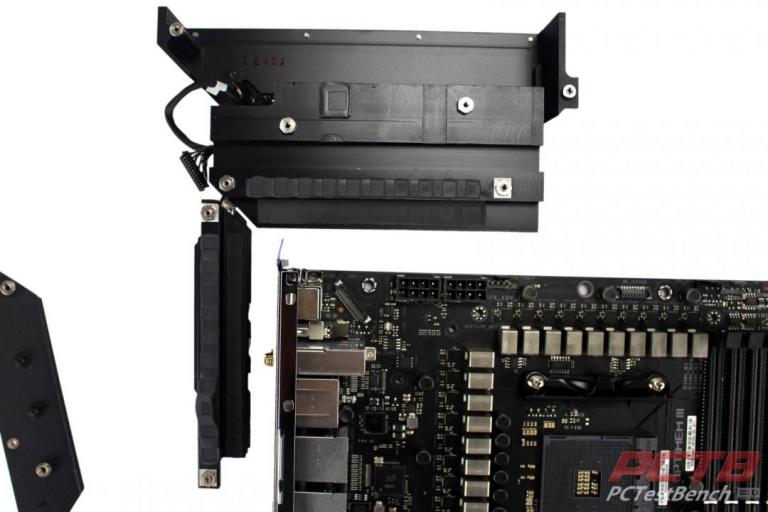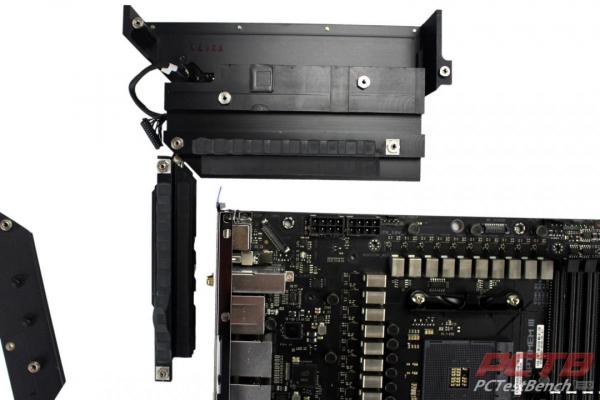 The entire Rear I/O Cover and VRM heatsink assembly is effectively one piece with a large heat pipe tying the two sides together. The thermal pad for the top edge VRM assembly was slightly skewed out of position so we'll adjust that back in place before we reinstall.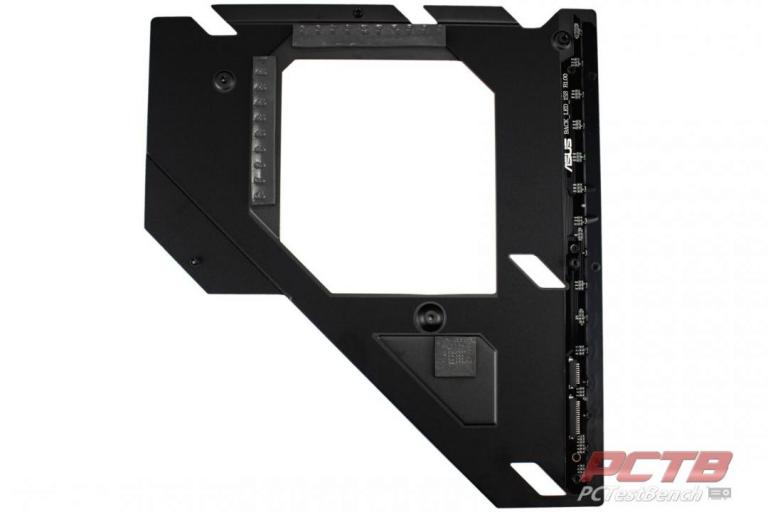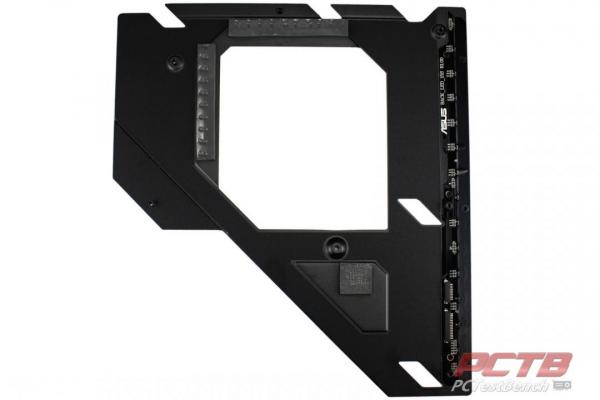 The backplate of the Crosshair VIII Extreme is there for more than just show. Thick thermal pads help dissipate heat from the VRM as well as the chipset through the rear of the board. The front-facing right edge lights up with 15 RGB LEDs.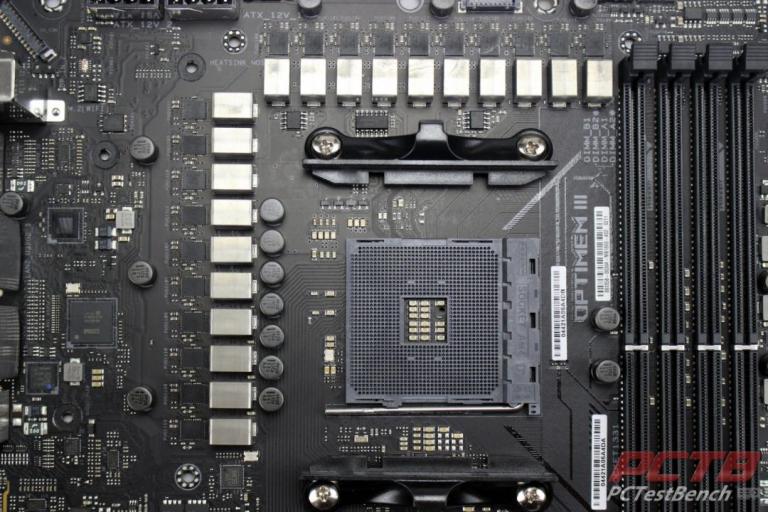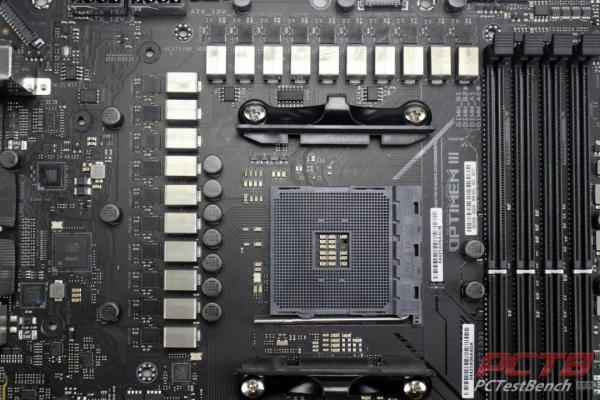 ASUS uses an 18+2 configuration for the CPU VRM.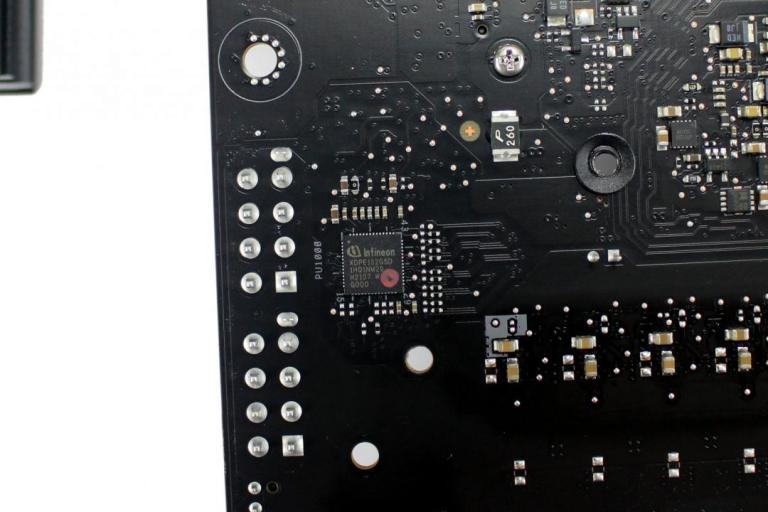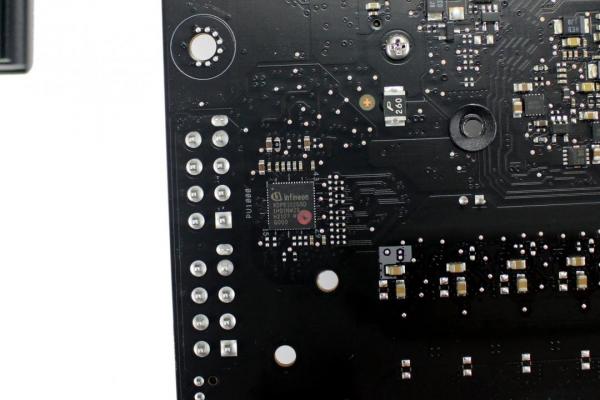 Infineon's latest monster, the XDPE132G5D is a true 16-phase VRM controller and is single-handedly responsible for the CPU's V-core rail control.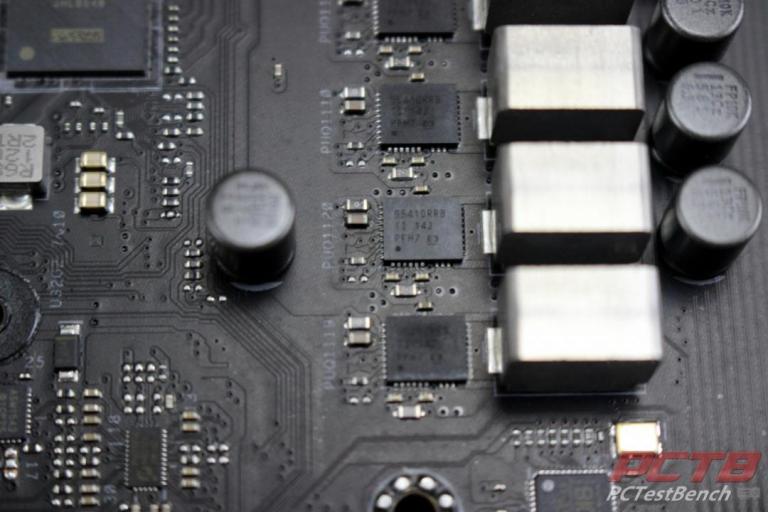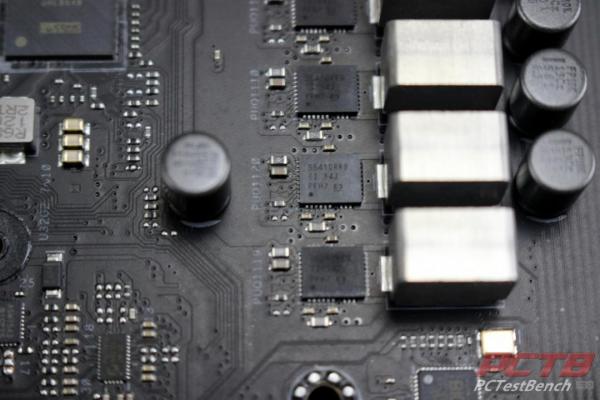 Primary CPU power is provided by eighteen of the Texas Instruments "Dr.Mos" 95410RRB 90A power stages, 16 for the V-core and 2 for the SoC rails. Output from these passes through individual microfine alloy chokes and 10K Japanese-made black metallic capacitors for heavy filtering.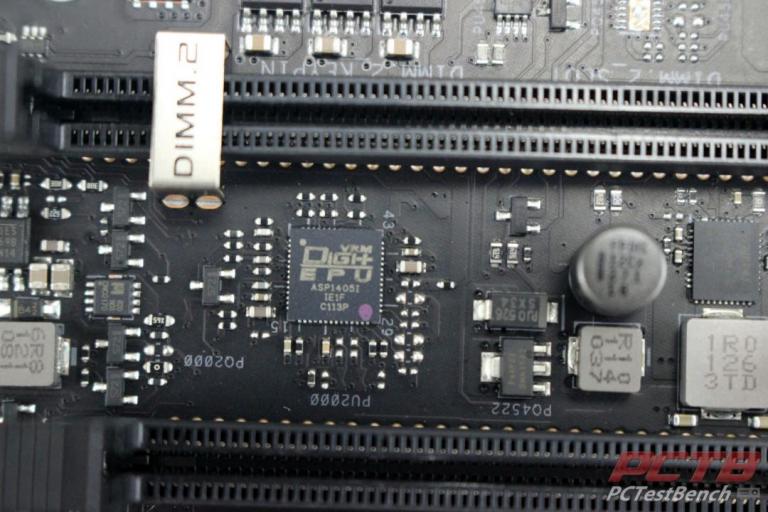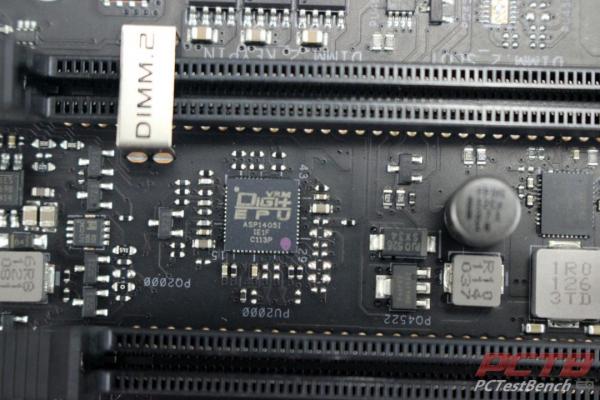 An ASP1405I VRM controller handles other minor rails on the board such as the DDR4 memory.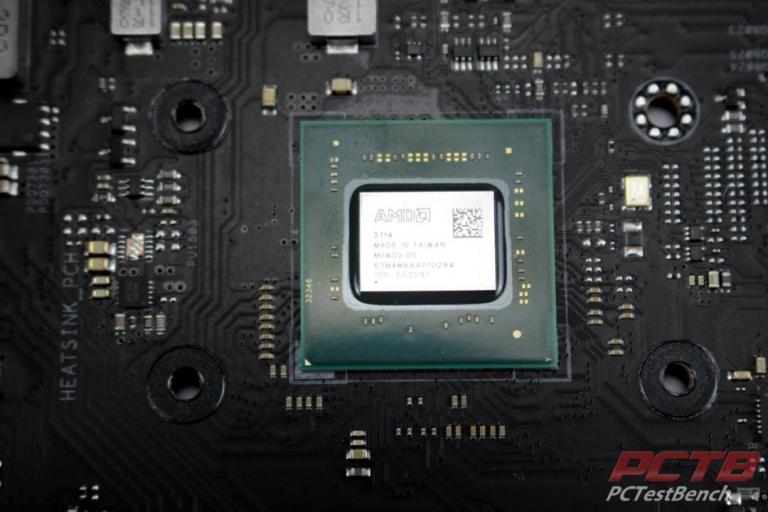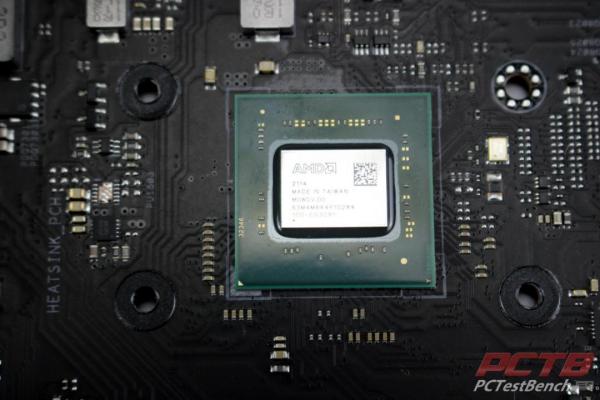 AMD's X570 chipset is hidden under a massive slab of aluminum. Asus has enough heatsink to dissipate the several watts this chipset can make, negating the need for the noisy, miniaturized active cooling solution many vendors are using on their X570 chipsets.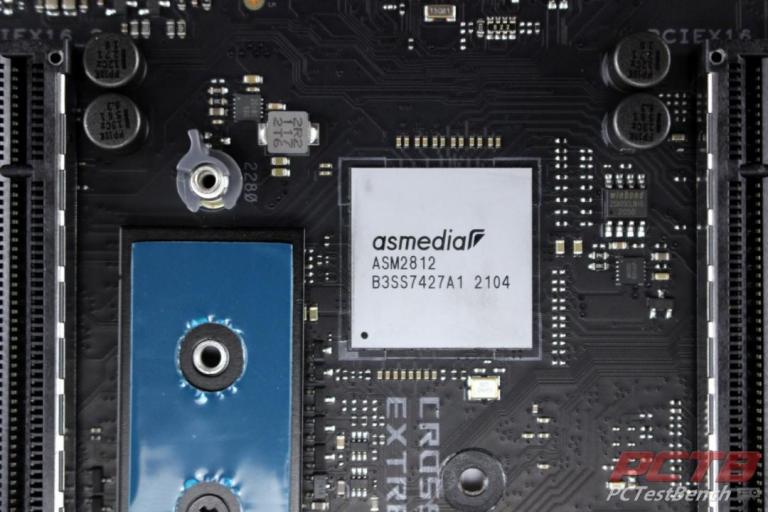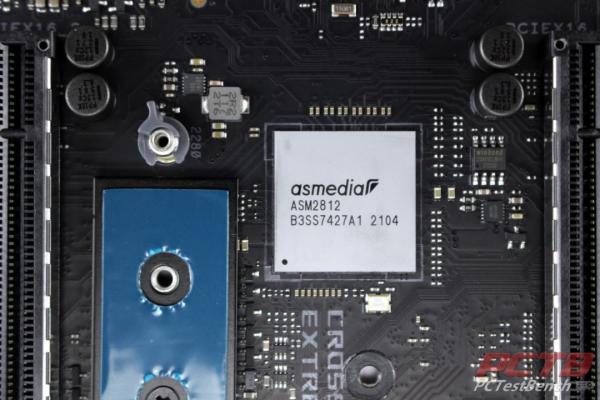 ASMedia's s PCIe 3.0 Switch handles Chipset PCIe lane distribution to a lot of the on-board systems. It is a 12-lane PCIe Gen3 switch.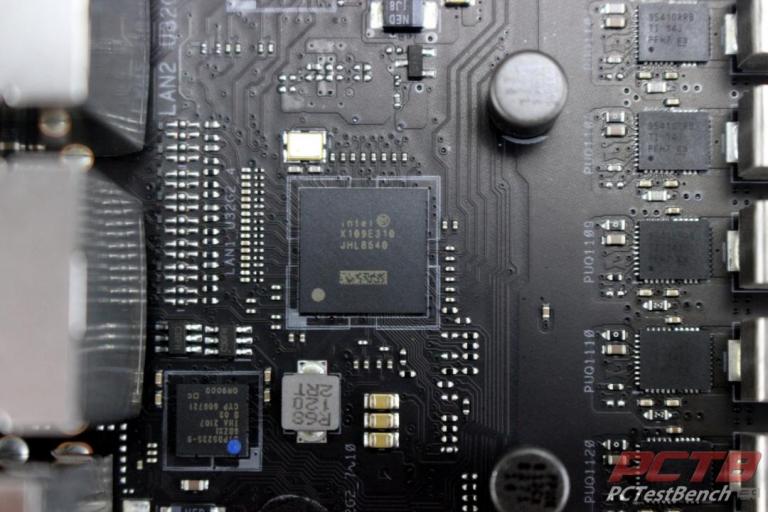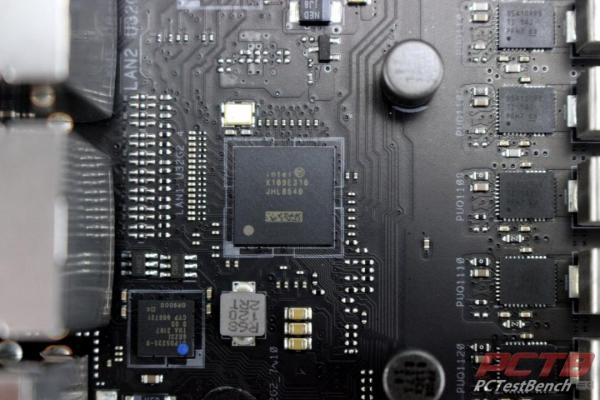 Intel's JHL8540 'Maple Ridge' Thunderbolt 4 controller handles both Thunderbolt 4 ports on the rear I/O.
Below is the Cypress CYPD5225-96BZXI USB Dual Port USB Type-C and Power Delivery controller.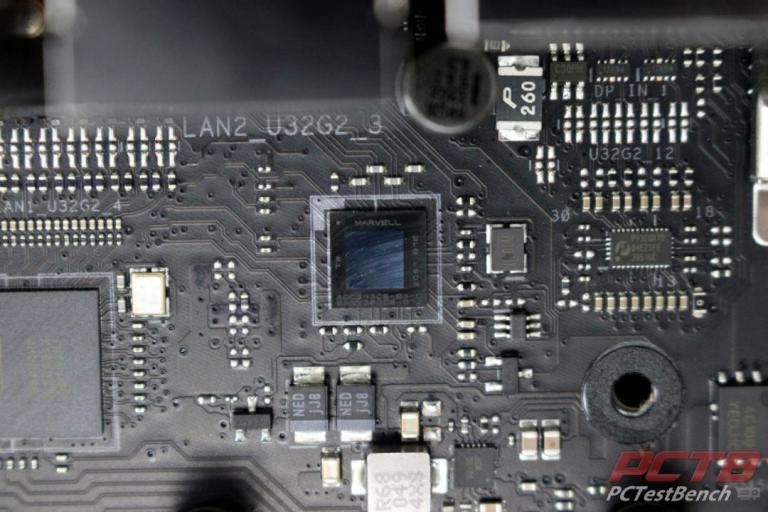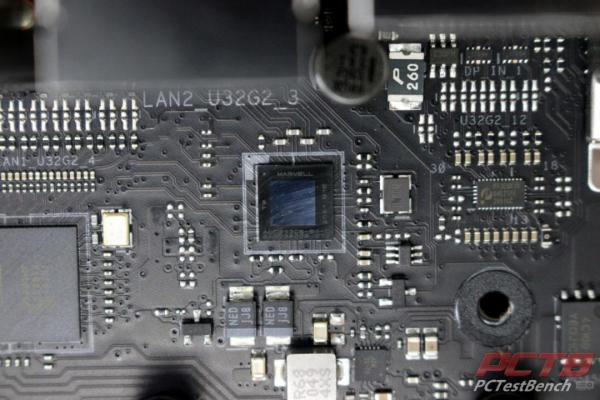 Marvell's Scalable mGig AQC113CS PCIe 4.0 Ethernet controller hides behind the Rear I/O and is actively cooled by the VRM and rear I/O Cover assembly. It handles 10GbE, 5GbE, 2.5GbE & 1GbE as well as 100mbps and 10Mbps Ethernet speeds.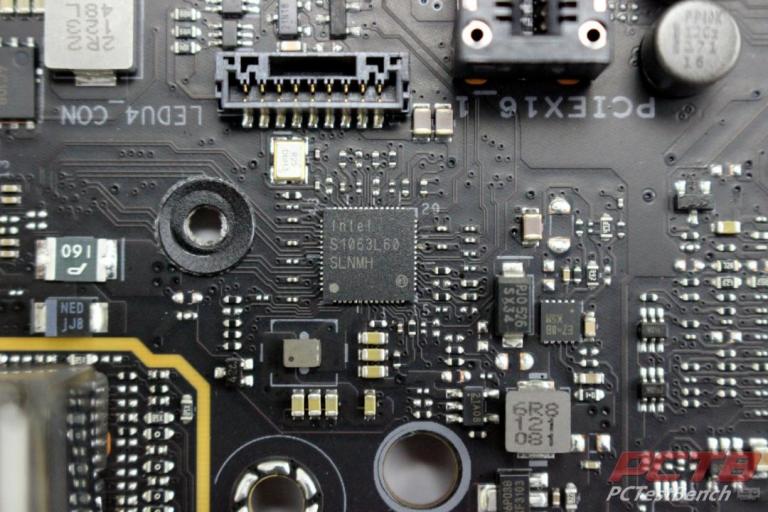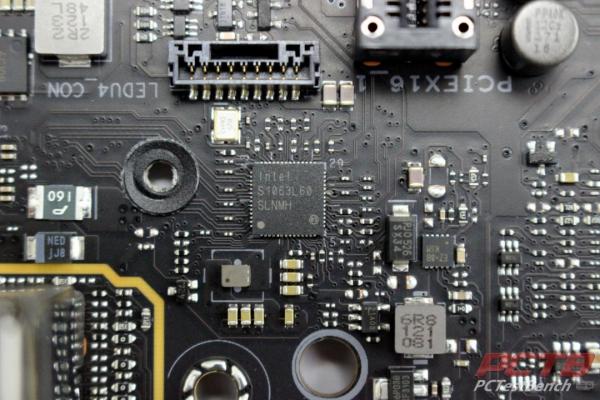 A little lower down the side is Intel's I225-V 2.5Gb Ethernet controller.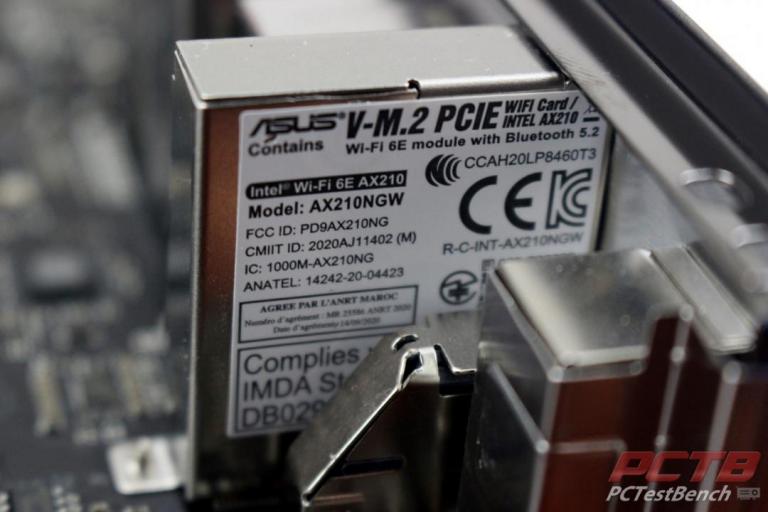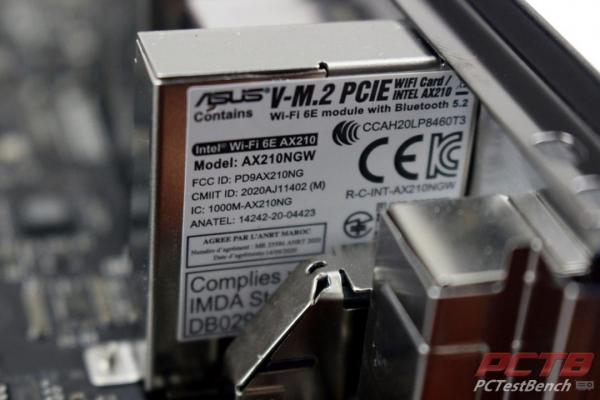 Onboard WiFi is courtesy of Intel's Wi-Fi 6E AX210 (Gig+) Module that provides Wi-Fi connectivity in the 2.4GHz, 5GHz, and 6GHz bands as well as Bluetooth 5.2 connectivity.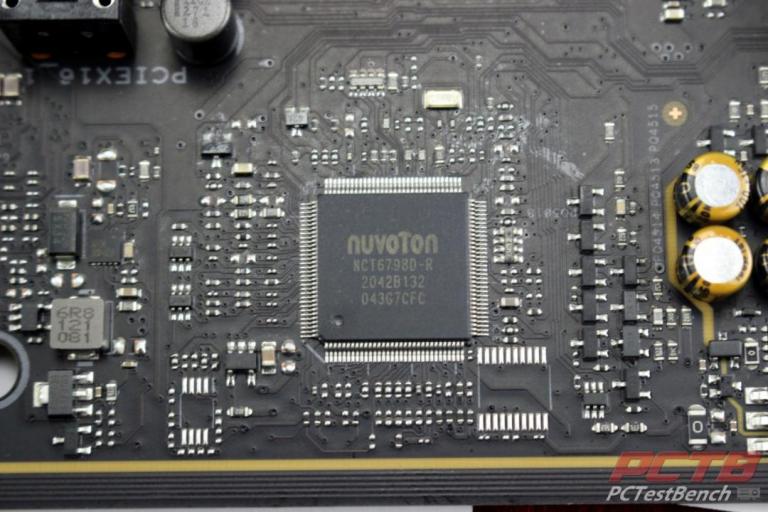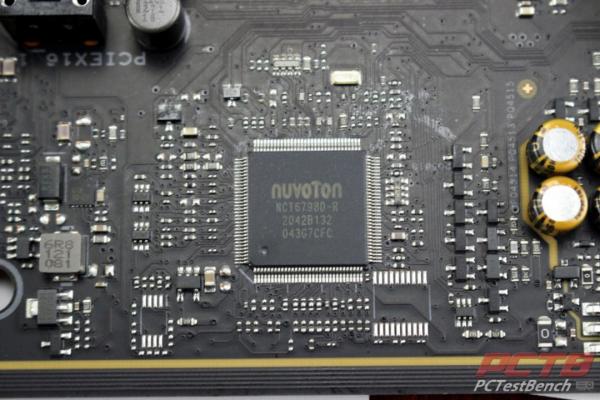 Below the Rear I/O is NuvoTon's NCT6796D Super I/O Controller. This handles a lot of the Voltage monitoring, Debug diagnostics, and similar low-level functions of the board.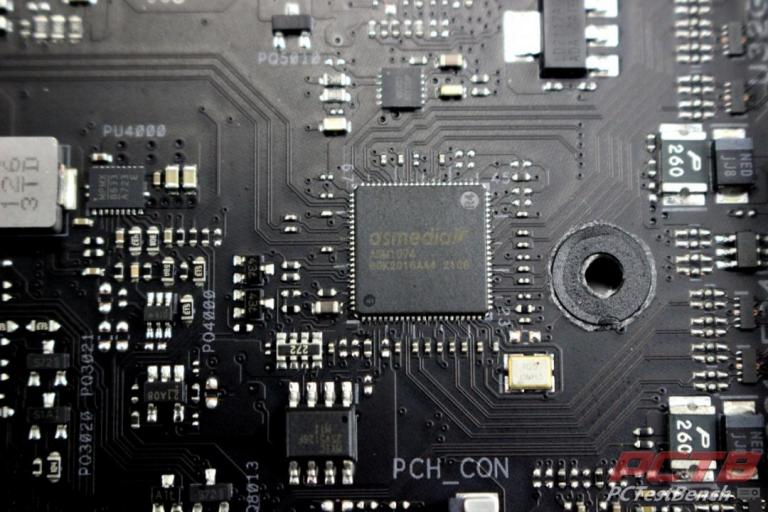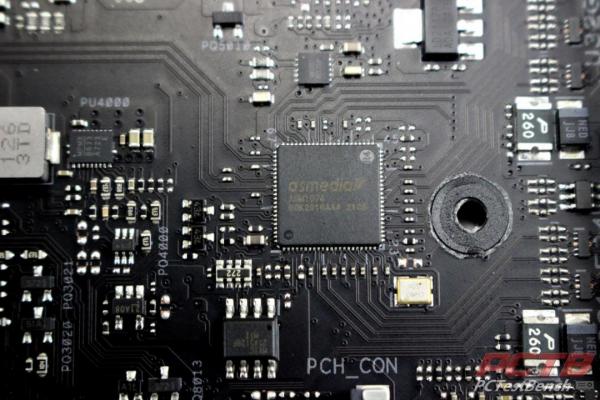 Asmedia's ASM1074 4-port USB 3.2 gen1 Hub provides ports for the front USB 3.2 5Gbps headers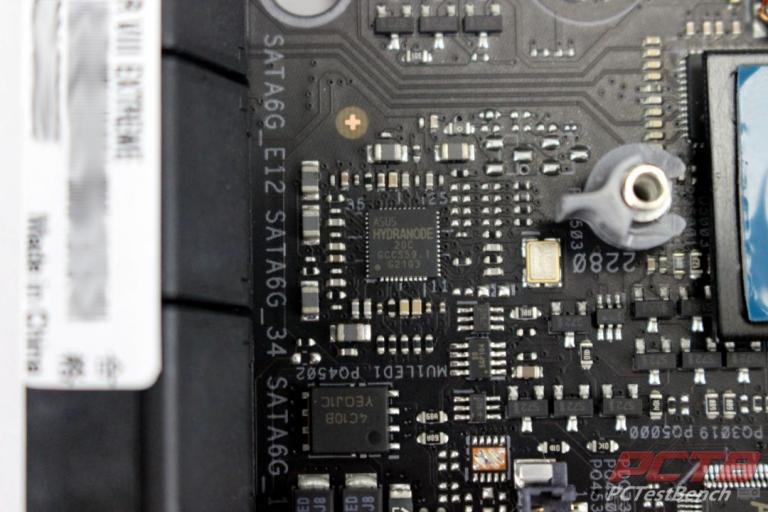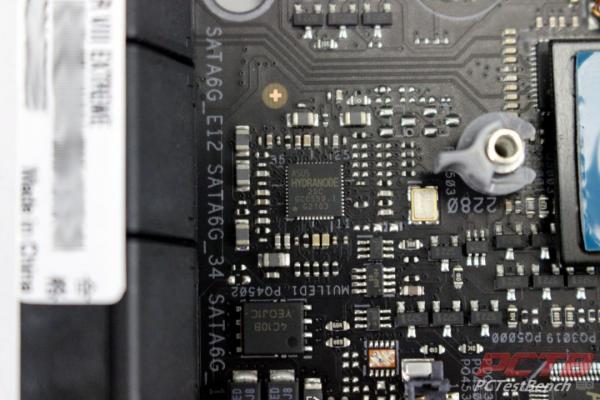 One interesting feature of the ROG Crosshair VIII Extreme is the Asus HYDRANODE fan headers.  Two headers support this feature, CHA_FAN1P, located next to the CPU power connectors, and CHA_FAN2P located next to the auxiliary PCIe power connector. Asus has this to say about Hydranode:
"This ingenious feature lets you connect as many as three fans to one fan header using an off-the-shelf splitter, but unlike with older PWM headers, HydraNode still gives you full control and monitoring of each one—a perfect scenario for huge cases or complex liquid cooling setups. HydraNode control is fully integrated into our Fan Xpert 4 control panel and offers handy information that you can't get from traditional PWM headers, like each connected fan's model name and the number of power-on hours it's logged. We've already teamed up with cooling luminaries SilverStone and BitFenix to build HydraNode-compatible fans, and you can expect more with support for this unique technology soon."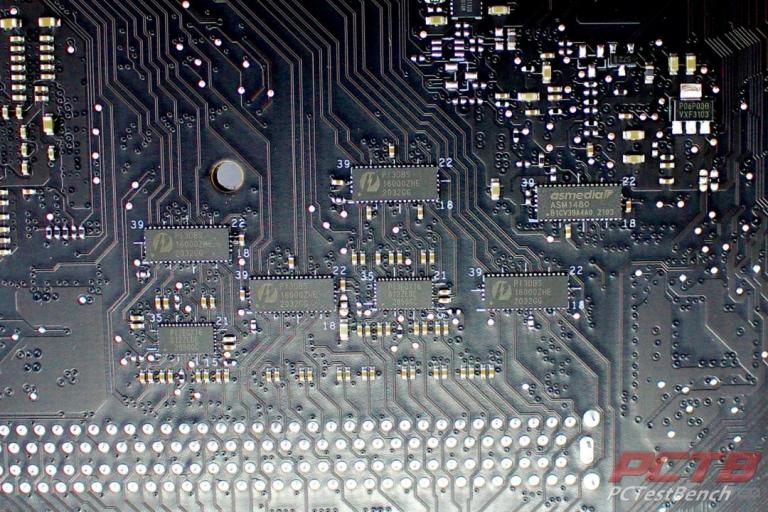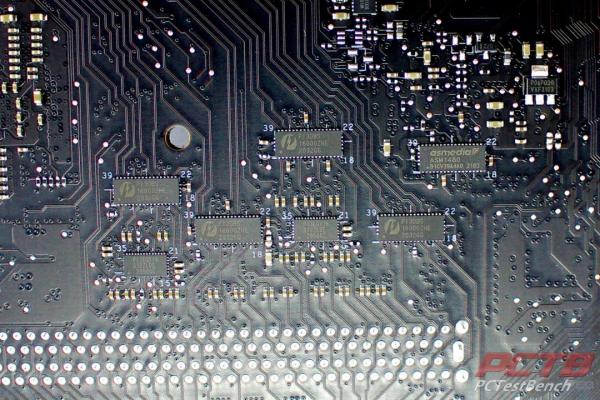 CPU PCIe lanes are delivered to the two main PCIe slots in either x16/x0 or x8/x8 mode. With two cards installed, eight PCIe 4.0 lanes are diverted to the second slot via four Pericom PI3DBS12412A 2-lane Mux/DeMux chips. To maintain PCIe gen4 signal integrity, the second slot lanes run through Pericom PI3EQX16621 PCIe ReDrivers.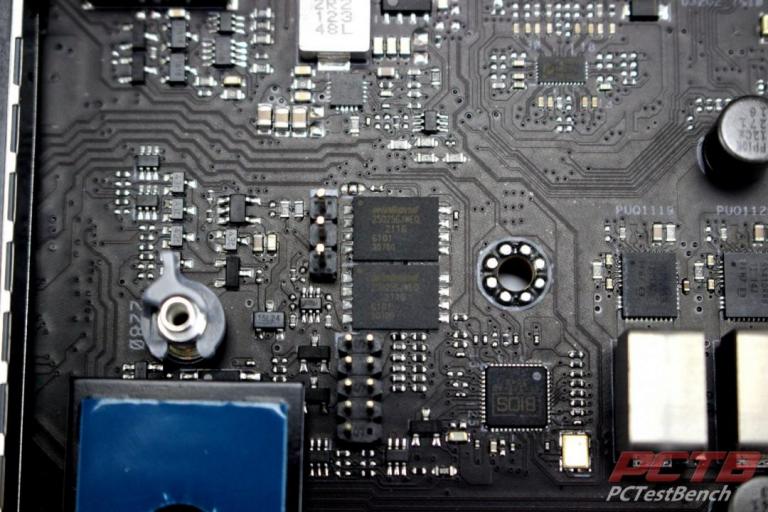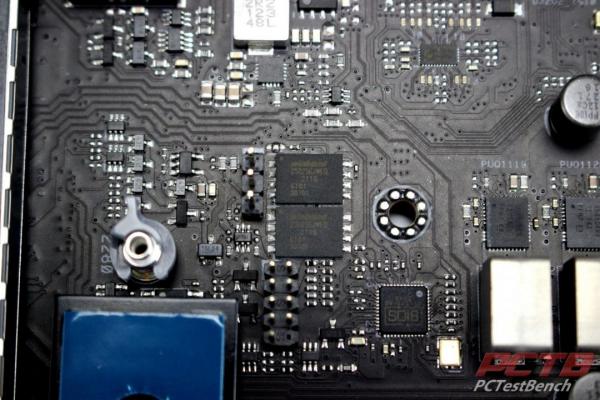 Dual Winbound 256Mb NOR flash storage chips handle user-switchable main and backup BIOS's. either one can be blindly flashed with a USB stick thanks to ASUS's USB BIOS Flashback built into the Crosshair VIII Extreme.