Performance Testing
Test Platform:
CPU – AMD Ryzen 9 3900X
Mobo – ASUS ROG Crosshair VIII Extreme
RAM – 32GB (4x8GB) HyperX Fury RGB 3200MHz C16
GPU – Nvidia RTX 2080 Founders Edition
SSD – Samsung 960 Pro 2TB
PSU – Thermaltake Toughpower Grand RGB Gold 750W
Chassis – Open BenchTable
Cooling – Fractal Lumen S28 (set to manual 100%)
All testing is performed at default settings except for enabling XMP (via D.O.C.P.) (Profile 1: 3200MHz 16-18-18-38 1.35V). We tested several different ram kits and CPUs throughout the review until this point, but the above loadout is used for all testing from here on to give an apples-to-apples comparison to other boards that were tested with the same hardware.
General Performance Testing
PCMark 10
PCMark 10 is the complete benchmark for the modern office. It is the ideal test for organizations that are evaluating PCs for a workforce with a range of performance needs. The tests in this benchmark cover a wide range of activities from everyday productivity tasks to demanding work with digital media content.
PCMark 10 uses a modular approach to build relevant benchmark tests around common end-user scenarios.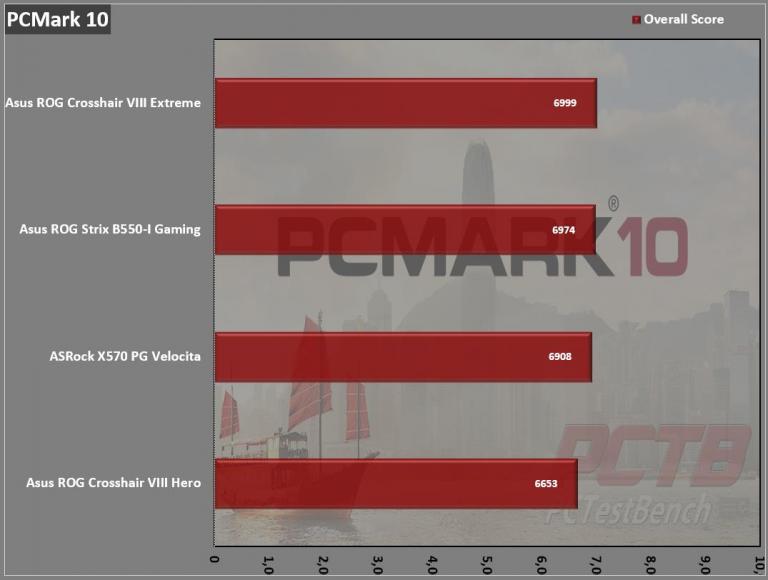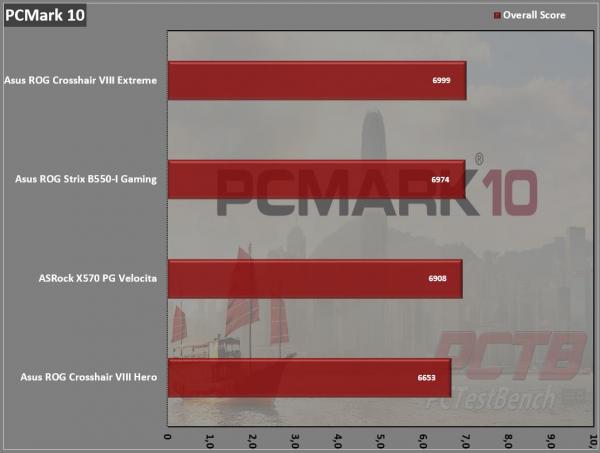 ASUS's ROG Crosshair VIII Extreme does quite well in overall productivity tasks, but let's face it, you didn't consider buying the Extreme for video conferencing and spreadsheets, did you?
WebXPRT 2015
WebXPRT 2013 uses scenarios created to mirror the tasks you do every day to compare the performance of almost any Web-enabled device. It contains four HTML5- and JavaScript-based workloads: Photo Effects, Face Detect, Stocks Dashboard, and Offline Notes.  WebXPRT is run with the latest stable release version of Google Chrome browser, in this case, Version 61.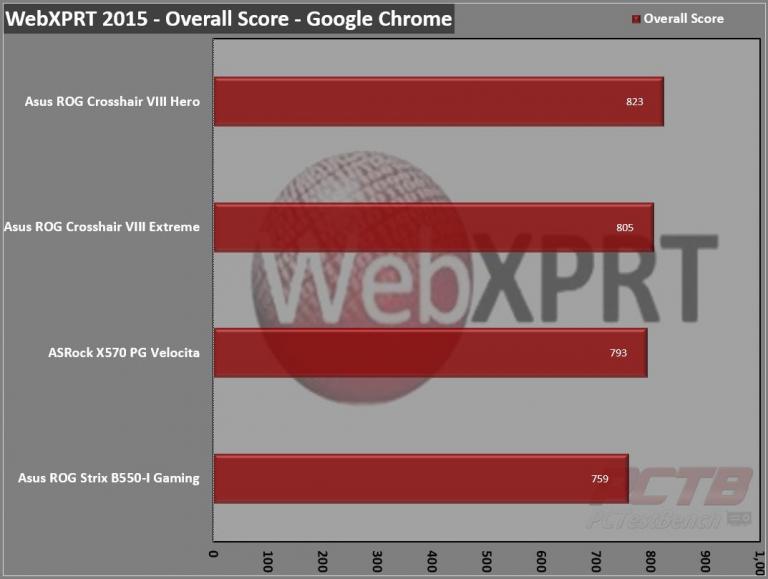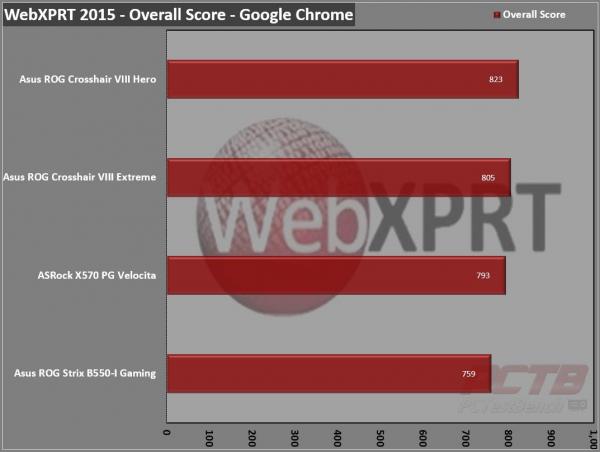 Our browser-based test does decently with a score of 805.
CPU Performance Testing
Super PI Modded 1.5
"In August 1995, the calculation of pi up to 4,294,960,000 decimal digits was succeeded by using a supercomputer at the University of Tokyo. The program was written by D.Takahashi in collaboration with Dr.Y.Kanada at the computer center. This record should be the current world record. (Details are shown in the windows help.) This record-breaking program was ported to personal computer environments such as Windows NT and Windows 95. In order to calculate 33.55 million digits, it takes within 3 days with a Pentium 90 MHz, 40 MB main memory, and 340 MB available storage."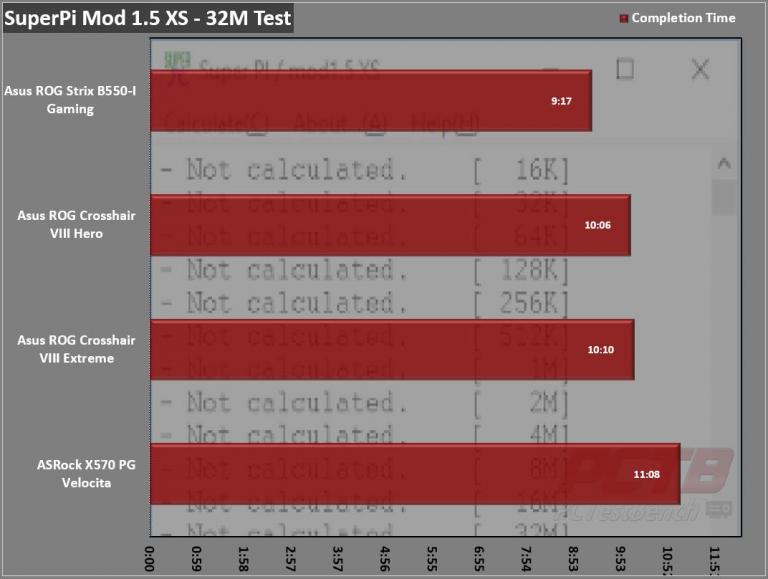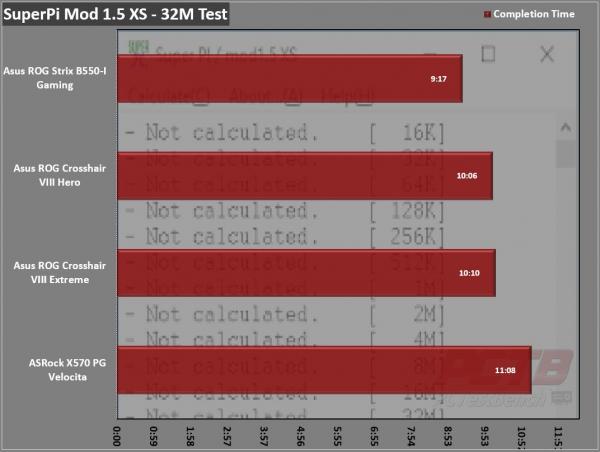 SuperPi completes its run in 10 minutes and 10 seconds, pretty typical for this CPU.
CINEBENCH R20
Cinebench is a real-world cross-platform test suite that evaluates your computer's hardware capabilities. Improvements to Cinebench Release 20 reflect the overall advancements to CPU and rendering technology in recent years, providing a more accurate measurement of Cinema 4D's ability to take advantage of multiple CPU cores and modern processor features available to the average user. Best of all: It's free.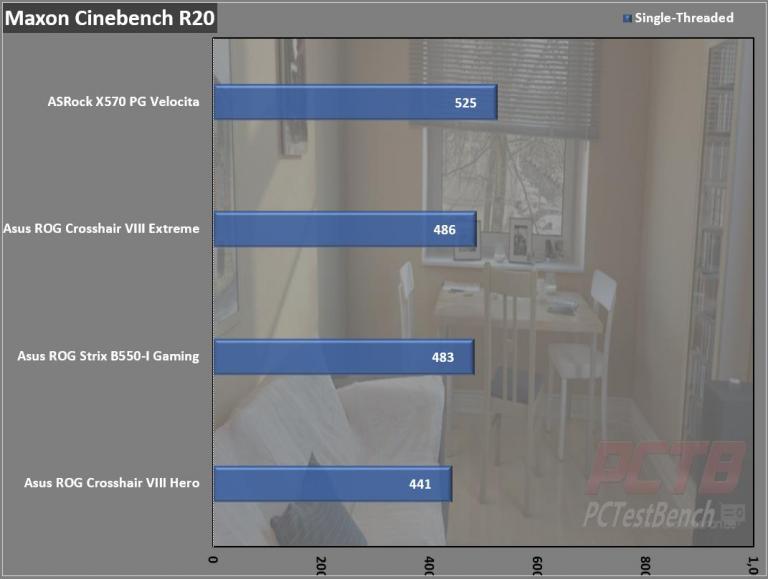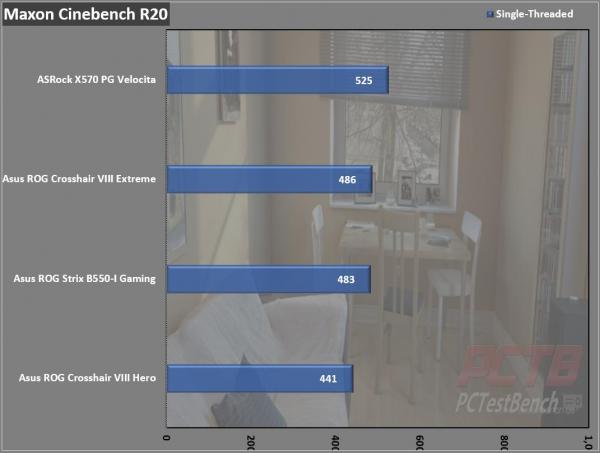 The Crosshair VIII Extreme manages a score of 486 on a single-threaded run.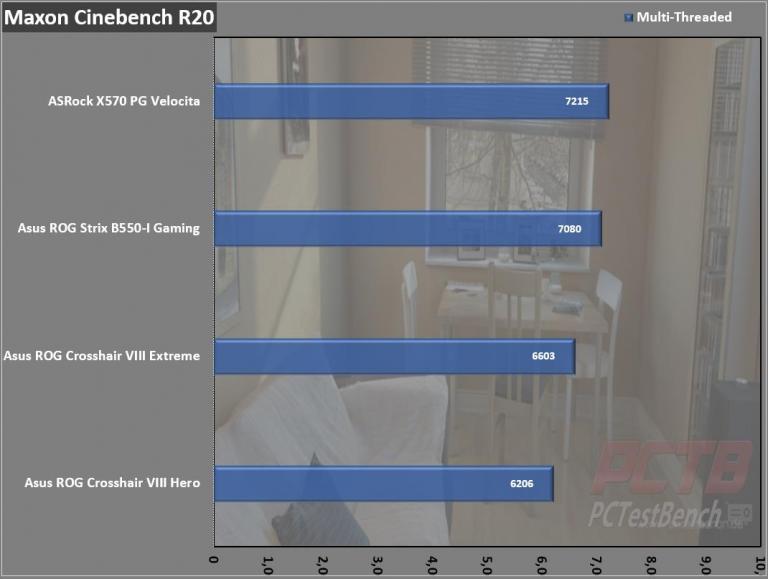 With all 12 cores engaged, we manage 6603 which is a bit lower than expected but not terrible.
Passmark Performance Test – CPU Mark
"Fast, easy to use, PC speed testing, and benchmarking. PassMark Performance Test ™ allows you to objectively benchmark a PC using a variety of different speed tests and compare the results to other computers."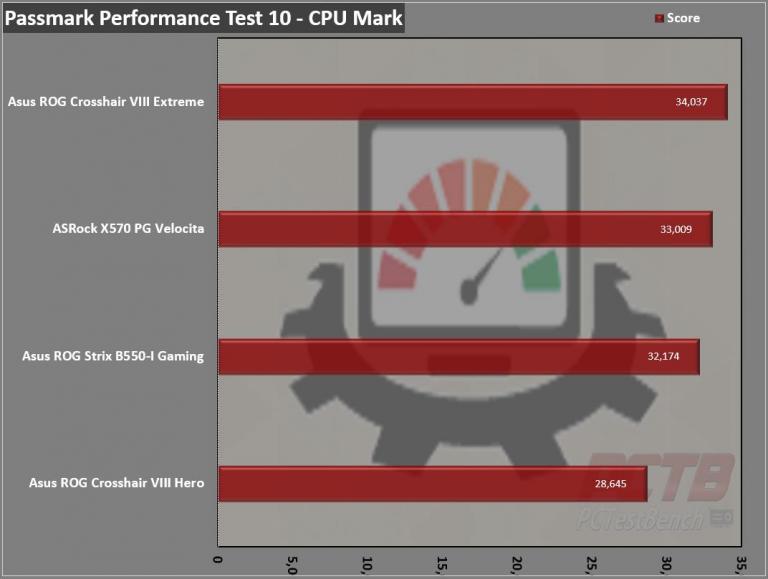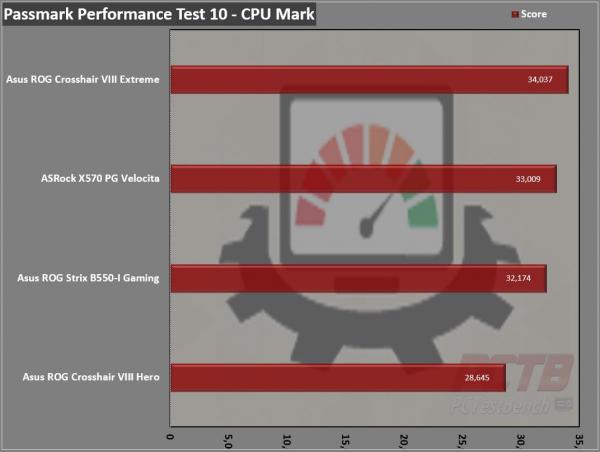 In Passmark, the Crosshair VIII Extreme easily redeems itself with our best score yet, a lead of more than 1000 points.
SiSoft Sandra – Cryptographic Bandwidth
"SiSoftware Sandra provides a robust package of diagnostic tools for testing your system and teasing out its problems–or potential headaches."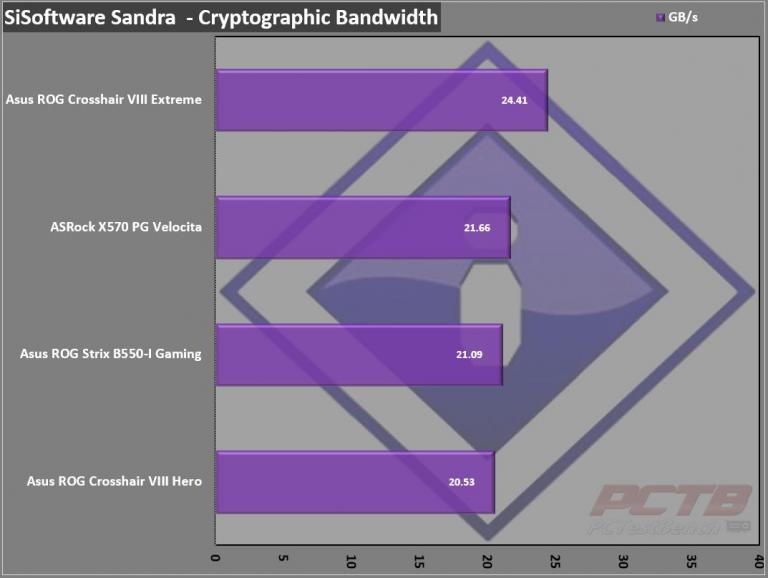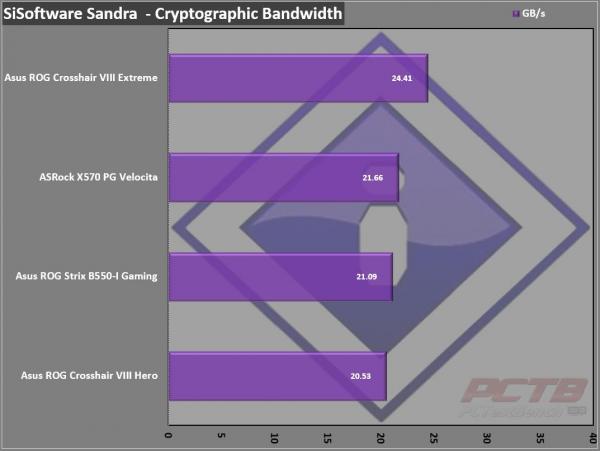 SiSoft's Cryptographic bandwidth test also shows a strong lead with 24.41GB/s.
Black Hole 4.2
Let the beast run and benchmark your system in three different tests (Multithreaded, Single-threaded & 4-Threaded) that will test your CPU to the very limit, and score you among hundreds of other systems that have tested.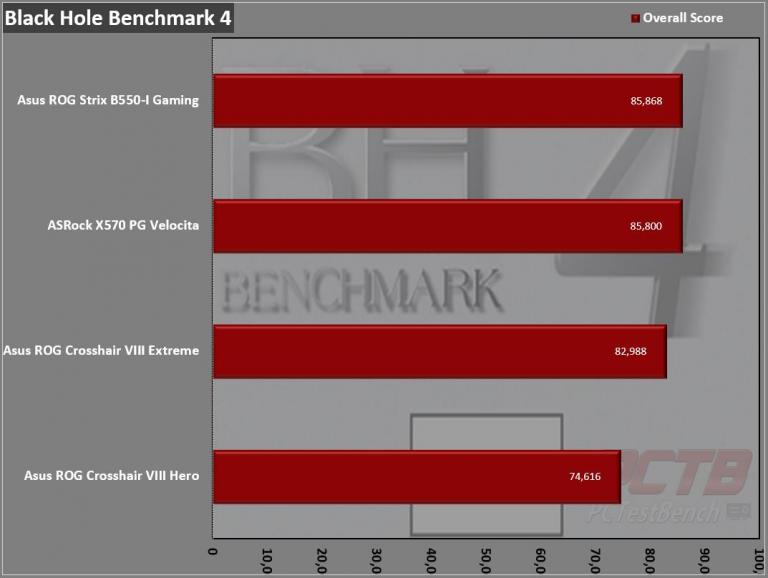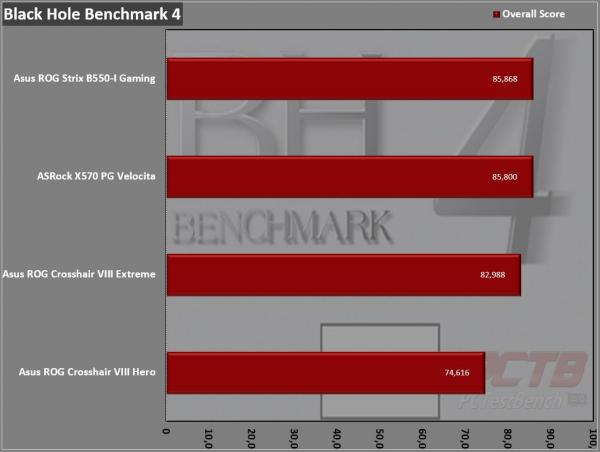 Blackhole swings back a bit the other way with the Crosshair VIII Extreme landing around 83k points total.
7-Zip
The benchmark shows a rating in MIPS (million instructions per second). The rating value is calculated from the measured speed, and it is normalized with the results of the Intel Core 2 CPU with a multi-threading option switched off. So, if you have a modern CPU from Intel or AMD, rating values in single-thread mode must be close to real CPU frequency. There are two tests, compression with the LZMA method and decompression with the LZMA method. Once the total passes reach 50, the score is taken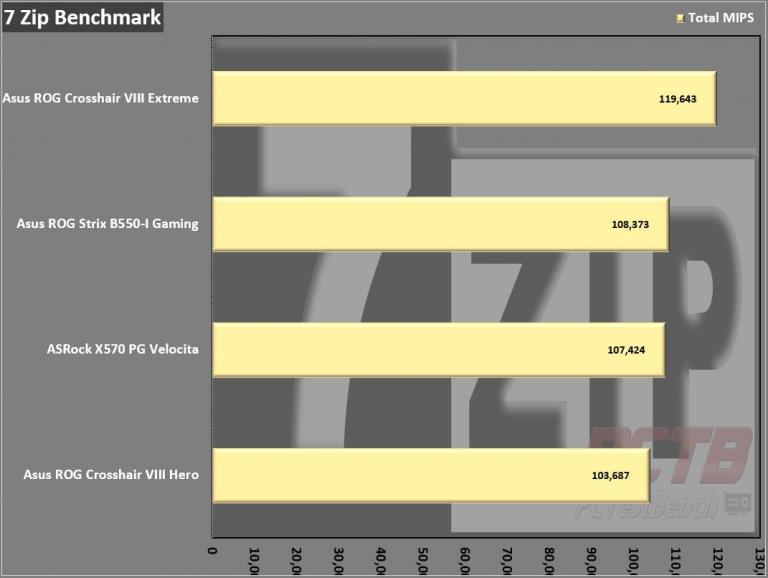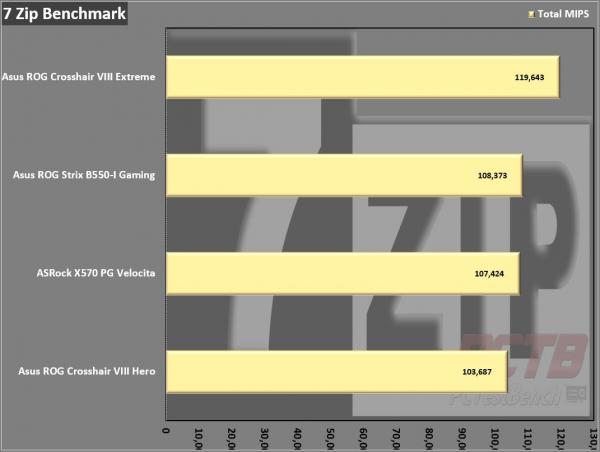 7zip jumps almost off the chart with nearly 120,000 MIPS, our best score by far.