Cases
Fractal Design Meshify 2 XL Chassis Review
A Classic Evolved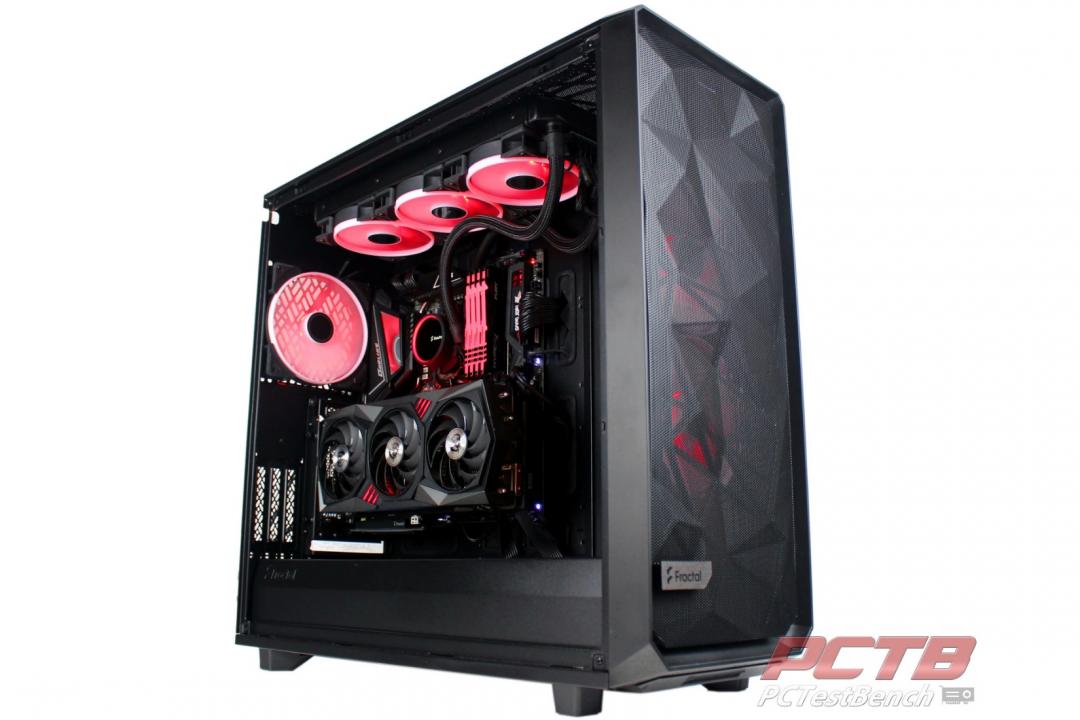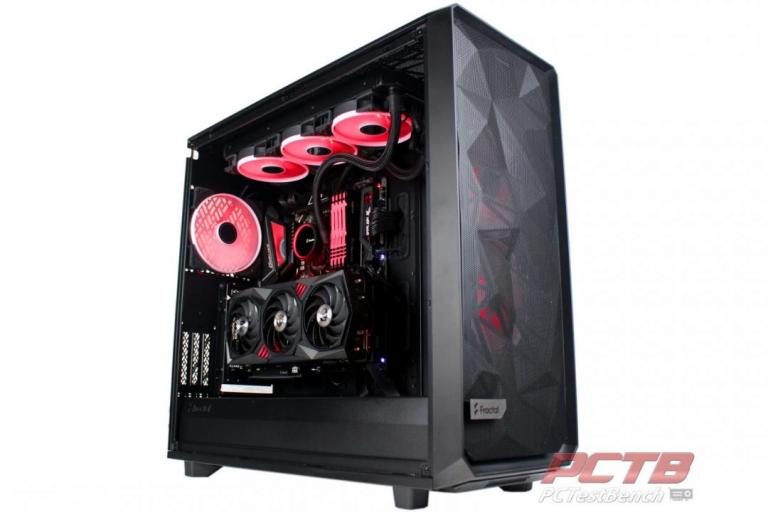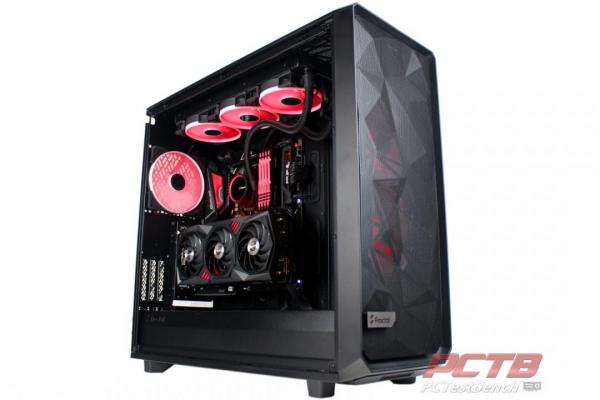 Fractal Design is well known for its iconic compact ITX cases like the Node 202 and the recent Era ITX, as well as Mid-tower ATX cases like the Define family, but the new Meshify 2 XL is one of the few Full Tower ATX cases. Starting with the Define 7 XL's internal design with the combining the Meshify's unique aesthetic, the Meshify 2 XL provides a spacious interior, improved airflow, and room for up to 23 internal drives. Add in support for up to 480mm radiators or up to 11 120mm fans, top-end builds can stay cool. With this kind of space, even the most extreme enthusiast and enterprise builds can come together with no compromise.
We would like to thank Fractal for not only sending the Meshify 2 XL over for us to check out but also the Celsius+ 360 Cooler and Prisma 140mm fans to make a complete build with.
Fractal's take on the Meshify 2 XL:
The Meshify 2 XL marks the first full-tower entry to the Meshify series, a monolithic case that combines the iconic stealthy "Meshify" aesthetic with massive storage capacity, component support, flexibility, and expandability.
Borrowing from the Define 7 XL's core internal design, the Meshify 2 XL features a spacious dual-layout interior with full support for E-ATX/SSI-EEB motherboards. Storage Layout offers expansion up to 16 HDD trays (six included) plus five SSD brackets (two included), and can support a maximum of 23 drives using the two included Multibrackets.
The front panel has been fully redesigned based on community feedback to incorporate Meshify users' most highly requested quality-of-life improvements. The tether-free bezel makes front fans more accessible, and the hinged front mesh panel comes with a less restrictive nylon filter that can be removed easily for regular cleaning or additional airflow. Top-latching side panels and a fully removable top panel assembly allow the case to open up completely on three sides.
With room for the largest enthusiast and enterprise-class components and support 480 mm front or top radiators, multi-GPU setups, and almost two dozen storage devices in Storage Layout, the Meshify 2 XL provides a capable platform for both high-performance and high-complexity builds with as few restrictions as possible.
Key Features:
Iconic angular mesh design with a bold, stealth-inspired aesthetic
Dual-layout design for more flexible configuration options and vastly increased storage capability
Spacious, extensively adaptable dual-layout interior easily accommodates large motherboards up to E-ATX and SSI-EEB
Support for radiators up to 480/420 mm in front, 480/420 mm up top, or 280/240 mm in the base in the default Open Layout
Includes 6 HDD/SSD trays, 2 SSD brackets, and 2 universal Multibrackets for mounting up to 10 drives
Expandable to 16 trays and 5 SSD brackets with 2 Multibrackets installed in the top for a max of up to 23 drives in Storage Layout
Modular chassis design with removable top panel assembly opens up to fully expose the case interior on three sides
New front panel design with hinged removable mesh and tether-free bezel
New front nylon filter can be removed from the mesh to further increase airflow
Outstanding cooling capacity with three preinstalled Dynamic X2 GP-14 fans and a total of 9 x 140 mm or 11 x 120 mm fan mounts
Included Multibrackets convert any unused fan position to an HDD, SSD, pump, or reservoir mount
Three front USB ports including one USB 3.1 Gen 2 Type-C
Ultra-slim Nexus+ 2 fan hub with three PWM and six 3-pin connections logically placed in-line with cable channels
Tool-less, top-latching side panels offer quick access. Optional screws (concealed beneath front bezel) secure TG panels for transit and/or deter unwanted removal
Bridgeless expansion slots ensure obstruction-free connections and allow for a more centered vertical GPU installation via the new Flex B-20 PCIe riser (sold separately)
Three vertical GPU slots for use with the Flex VRC-25 PCIe riser (available separately)
Ventilated PSU shroud with two-part removable cover and additional SSD/multi-bracket mounts
Easy-to-clean high airflow nylon filters on the front, top, and base with full PSU coverage and convenient front access
13 pass-through holes with ten rubber grommets and two removable covers offer ideal cable routing to suit any size motherboard
Detachable PSU cable shield and integrated cable guides with Velcro straps simplify cable management
Quick Specs: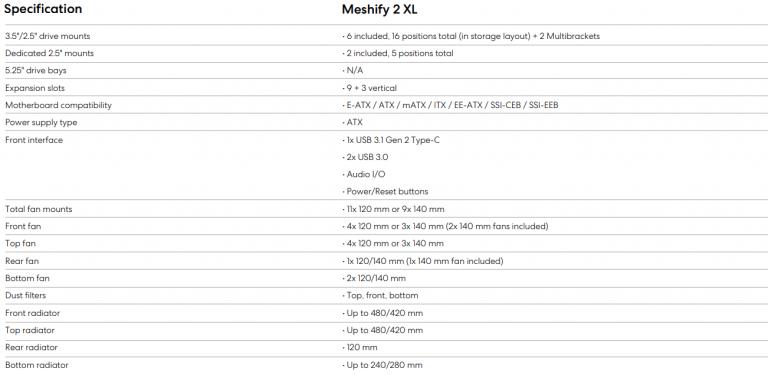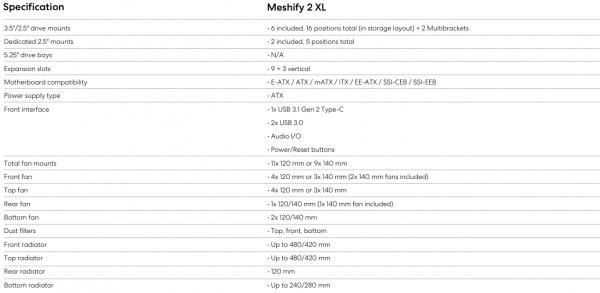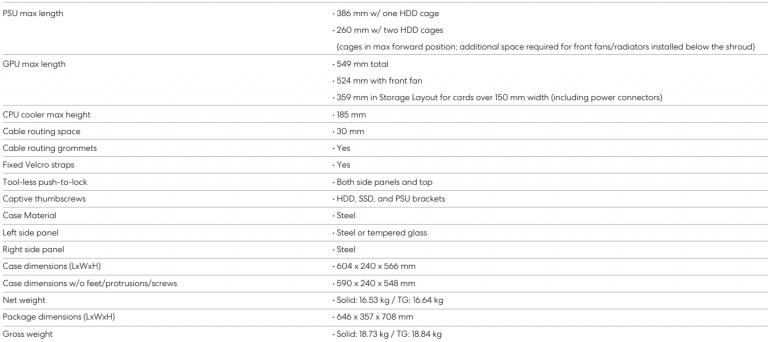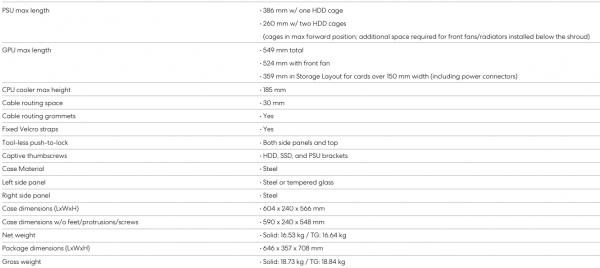 Fan Positions


Radiator Support

2.5/3.5" Drive Support


Dedicated 2.5" Drive Support


Exploded View