Testing Procedures and Test System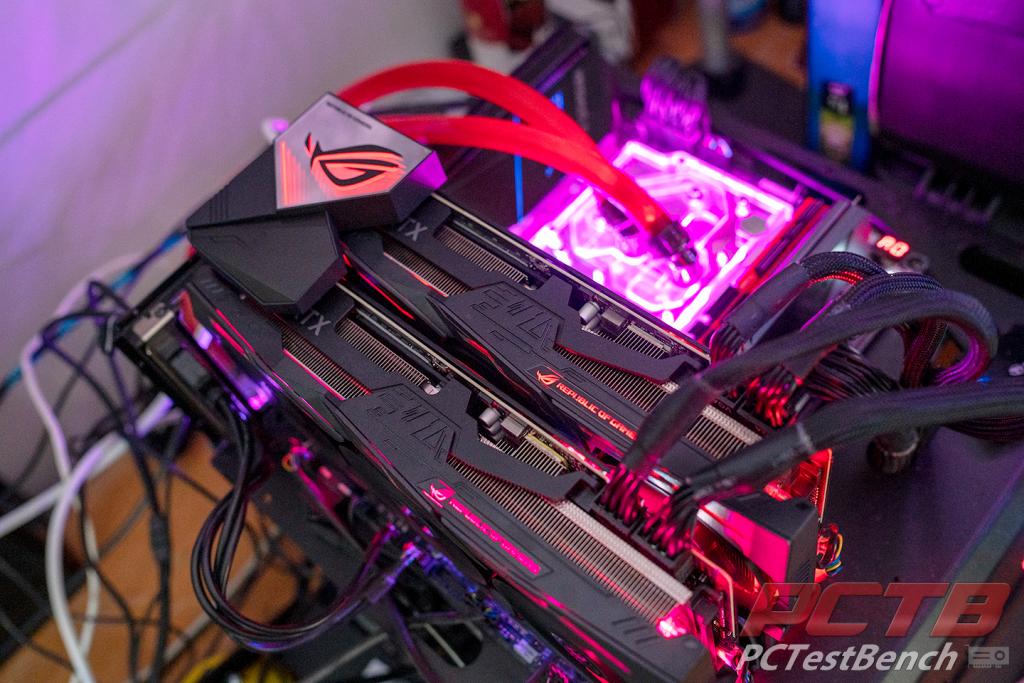 All testing was done with both the CPU and GPU at their stock settings. For the I9-9900K, it was left at its stock speed of 3.6 GHz. Although the base clock is 3.6 GHz, the I9-9900K can boost up to 4.9 GHz. In the case of our I7-9700K, it boosts between 4.7 GHz and 4.9 GHz. Usually, the I7-9700K used in this review runs at a consistent 4.7 GHz. Ambient temperature is kept as close to 20°C (68°f) as possible. When the system was first turned on, it sat idles for about 30 minutes or so before any benchmarks were run, or results recorded. We waited in between each benchmark no less than 30 minutes to give the system time to cool down a bit. Being an open-air system, it does cool down pretty quickly. The I7-9700K used in this review is water-cooled on a custom loop and the GPU used its stock air cooler. The block is the EK Velocity water block. There is a single 360 x 60 mm EK radiator in the loop and a 270 ml reservoir and a D5 pump. The I9-9900k is cooled by a Swiftech H320 X2 Prestige with a Bitspower monoblock for the Maximus XI Apex.
System 1
Processor

Intel Core i9 9900K (Confidential Processor)

Motherboard
Graphics Card

ASUS ROG Strix RTX 2080 TI
ASUS ROG Strix RTX 2080 TI in SLI

Memory

16 GB of G. Skill Trident Z 3200 MHz CAS 14

Storage

1 TB Crucial P1 NVM3 M.2 SSD

Power Supply

1600 Watt EVGA SuperNova P2 80+ Platinum

Cooler

Swiftech H320 X2 (Modified with a Bitspower Monoblock for the Maximus XI Apex)

Case
System 2
Processor

Intel Core I7 9700K (Confidential Processor)

Motherboard
Memory

Aorus RGB Memory 3200 MHz Cas 16

Storage

512 GB Crucial P1 NVM3 M.2 SSD

Power Supply

850 Watt EVGA SuperNova P2 80+ Platinum

Cooler

Custom Cooled
XSPC D5 pump
XSPC Photon 270 ml Reservoir
360 mm x 60 mm Radiator
3 Fractal Design Prisma Fans
3 EK Vardar Fans
EK Vector RGB Waterblock

Case
We do our best to keep our games up to date. So, we recently expanded our in-game testing by added more and newer titles to our suite of games we test. We have also started testing games in other APIs, such as Vulcan, whenever possible. Each game is tested in three resolutions. These resolutions are 1080p, 1440p and 4K. The benchmarks are run three times and each run is three minutes long. The final result is the average of the three runs. Games are played on a 27″ LG 4K 60 Hz monitor. We have recently updated the list of games we test and we have yet to retest all of our old cards. So, we have included results for the ROG Strix RTX 2080 Ti on both the i9 9900K and the I7 9700K. However, the i9 9900K is the processor used on our standard testbench. We have also included some  As for the games we test, they are listed as follows.
Assassins Creed Odyssey
Borderland 3
Deus Ex: Mankind Divided
Far Cry New Dawn
Ghost Recon: Wildlands
Hitman 2
Metro Exodus
Shadow of the Tomb Raider
Strange Brigade
Wolfenstein Young Blood
Red Dead Redemption 2
For synthetic benchmarks, we used the following:
3DMark Time Spy Extreme (DX12)
3DMark Time Spy (DX12)
3DMark Fire Strike Ultra (DX11)
3DMark Fire Strike (DX11)
3DMark Port Royal (Ray-Tracing)
VRMARK Orange Room
VRMARK Cyan Room
VRMARK Blue Room
Unigine Superposition
Unigine Heaven
Blender
FurMark
SLI Testing
Games
Deus Ex: Mankind Divided
Far Cry New Dawn
Strange Brigade
Red Dead Redemption 2
Crysis 3
For 3DMark. We ran DX12, DX11 and Ray-Tracing benchmarks. For DX11, we ran both Fire Strike and Fire Strike Ultra. For DX12, we ran both Time Spy Extreme and Time Spy. Port Royal is the new Ray-Tracing benchmark in the 3DMark suite. Since the 20 series supports real-time ray-tracing, we decided to add the Port Royal benchmark for this review.  In VRMark, we ran all three benchmarks. These are the Orange Room, the Cyan Room, and the Blue Room benchmarks. In Superposition, we ran the 4K Optimized and 8K Optimized tests. We have also included Blender. Within blender, we ran Blender 2.81, the Junk Shop render.
Since we had two cards in the office, we decided to add in a few SLI benchmarks. We tested 3DMark Fire Strike Ultra, Time Spy Extreme and Port Royal with the Strix 2080 Ti in SLI on the 9900K system. In addition, we added a handful of our games, at least the ones that support SLI. For games in our suite that support SLI, we tested Deus EX: Mankind Divided. Far Cry New Dawn, Strange Brigade in both Vulcan and DX12 and Red Dead Redemption 2 in Vulcan. When we tried to run SLI on RDR2 in DX12, the game would just crash. We added in Crysis 3 benchmarks for SLI testing. More just out of my own curiosity. There were several other games and benchmarks that claimed to support SLI. However, we saw little to no difference in the benchmark results. So we decided to not include these results.