Motherboards
ASRock Z490 Phantom Gaming-ITX/TB3 Review
FAST / MYSETERIOUS / UNBEATABLE
Performance Testing
Test Platform:
CPU – Intel Core i9-10900K
Mobo – ASRock Z490 Phantom Gaming-ITX/TB3
RAM – 16GB (2x8GB) HyperX Fury RGB 3200MHz C16
GPU – Nvidia RTX 2080 Founders Edition
SSD – Viper VPR100 RGB 1TB
PSU – Thermaltake Toughpower Grand RGB Gold 750W
Chassis – Open BenchTable
Cooling – Custom Liquid Loop (EKWB Velocity CPU Block, EKWB PE240 Rad, 1x DDC Pump)
All testing is performed at default "out of the box" settings except for enabling XMP (Profile 1: 3200MHz 16-18-18-38 1.35V).
General Performance Testing
PCMark 10
PCMark 10 is the complete benchmark for the modern office. It is the ideal test for organizations that are evaluating PCs for a workforce with a range of performance needs. The tests in this benchmark cover a wide range of activities from everyday productivity tasks to demanding work with digital media content.
PCMark 10 uses a modular approach to build relevant benchmark tests around common end-user scenarios. A Test Group is a collection of workloads that share a common theme or purpose. There are four test groups in PCMark 10, we use three of them.
Essentials: covers the common, everyday ways that people use a PC. The workloads include Web Browsing, Video Conferencing, and App Start-up time.
Productivity: measures system performance with everyday office applications. This test group includes Spreadsheets and Writing workloads.
Digital Content Creation: This test group's workload reflects the demands of working with digital content and media. The tests include Photo Editing, Video Editing, and Rendering and Visualization.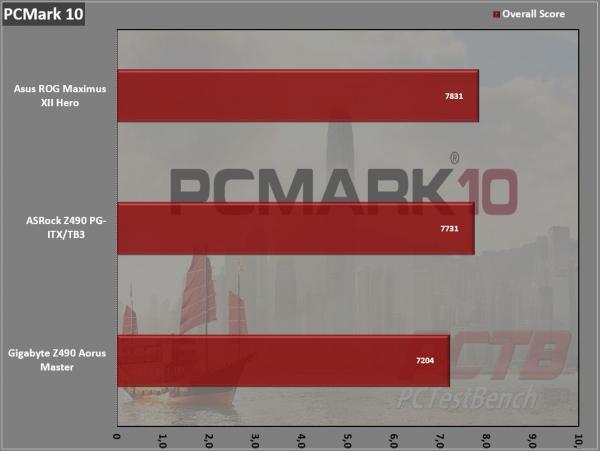 It's always fun to see an ITX board keep up with full-sized boards.
WebXPRT 2015
WebXPRT 2013 uses scenarios created to mirror the tasks you do every day to compare the performance of almost any Web-enabled device. It contains four HTML5- and JavaScript-based workloads: Photo Effects, Face Detect, Stocks Dashboard, and Offline Notes.  WebXPRT is run with the latest stable release version of Google Chrome browser, in this case, Version 61.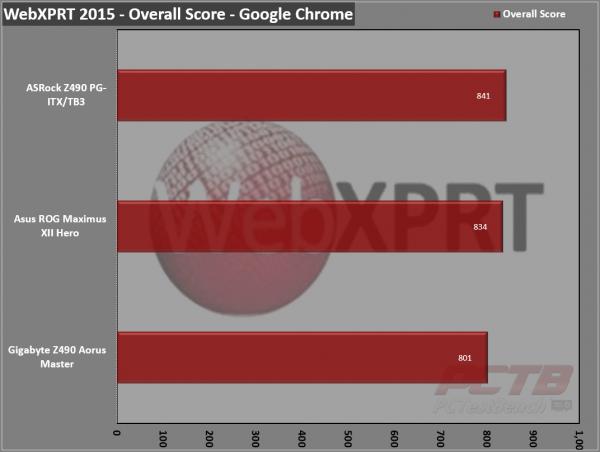 In our browser-based test, the pint-sized Phantom Gaming board actually leads the pack.