Graphics Cards
MSI GeForce RTX 3080 GAMING X TRIO 10G
The Best GAMING experience you can count on
System Config, Software, and PCIe
CPU: AMD Ryzen 9 3900X
GPU: MSI RTX 3080 Gaming X Trio 10G
Mobo: MSI MEG X570 Godlike Gaming
Ram: 32GB HyperX Fury RGB 3200MHz C16
SSD: Corsair MP600 2TB
Chassis: Streacom Open BenchTable
OS: Microsoft Windows 10 Professional 1909
Nvidia Driver: 456.16
 PCIe Bandwidth
Let's start with one of the first questions many users are going to ask. With only the latest upper end Ryzen 3000 based systems having PCIe 4.0, what are you going to lose if you don't have anything better than PCIe 3.0?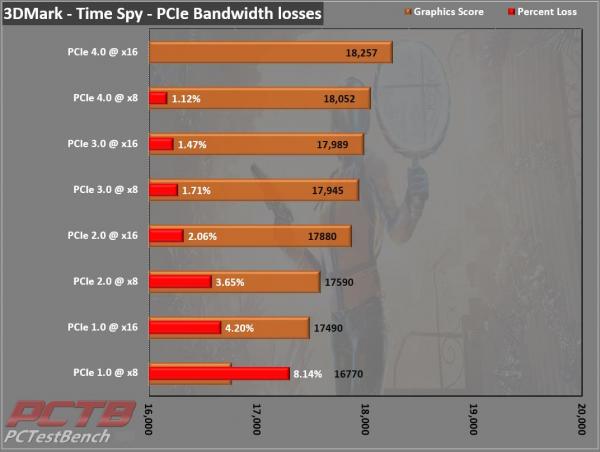 As you can see, PCIe bandwidth isn't much of an issue for gaming. Even dropping clear down to PCIe 3.0 @ x8 is going to lose you less than 2% performance. With as ridiculously powerful as this card is, that's pretty much unnoticeable. It somewhat stands to reason. Nvidia is preparing for RTX I/O, it needs to make sure it has several GB/s available to pull data directly from your high-speed NVMe drives without negatively impacting the performance of the card. We'll have to test this more in-depth once we see some RTX I/O enabled titles hit the market, as reduced PCIe bandwidth could certainly make an impact there.
Power consumption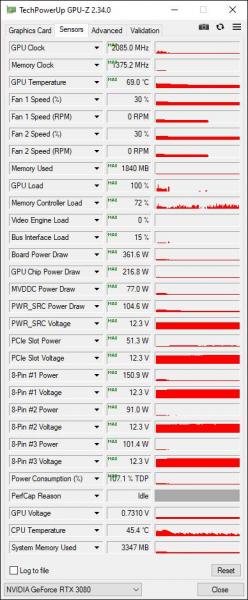 New to the RTX 3000 series cards are some detailed power measurement readouts available to programs like GPUz. We see the card max out at ~360W, with around 80W of that consumed by the 10GB of GDDR6X itself and roughly 220W consumed by the GPU core. This leaves around 60W that is used by everything else on the board, the fans, lighting, Video output ports, PCIe communications, and inefficiency losses in the various VRM stages. Our system consumed a maximum of 560W from the wall, or around 515W from the PSU itself. Minus the GPU, this leaves us at around 155W from the rest of the system, which is about right. We'll wager these readings are pretty accurate.
Clock Speeds
From GPUs above, we see the RTX 3080 Gaming X Trio top out at 2085Mhz on the core, with it hovering around 2040MHz steady state.
MSI Dragon Center
A brand new app integrates MSI Components, Desktop Systems, and Peripheral control and customization into one platform.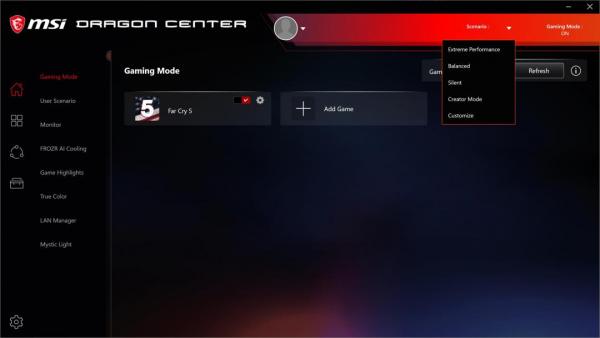 The Gaming Mode system optimizes nearly every aspect of your system with a simple click. One subtle detail here you'll want to make sure not to overlook is the 'Scenario' menu. This profiles optimize your new RTX 3080 Gaming X Trio for you.
Extreme Performance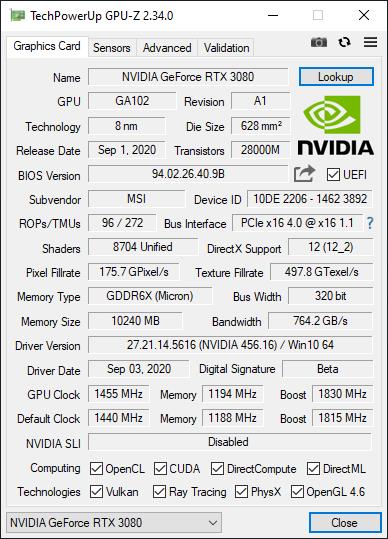 We can see this profile applies a slight overclock on the CPU core and memory.
Silent Mode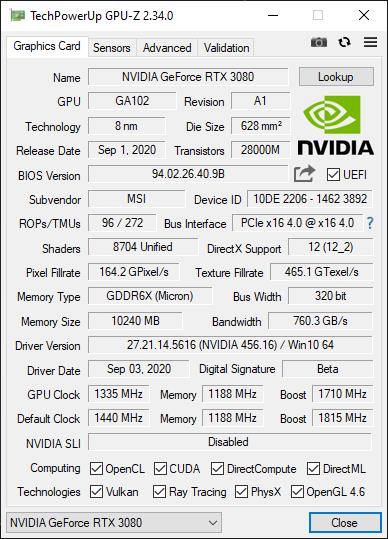 Silent mode downclocks your card so that it can still perform but without the need to ramp up the fans to deal with maximum boost speeds.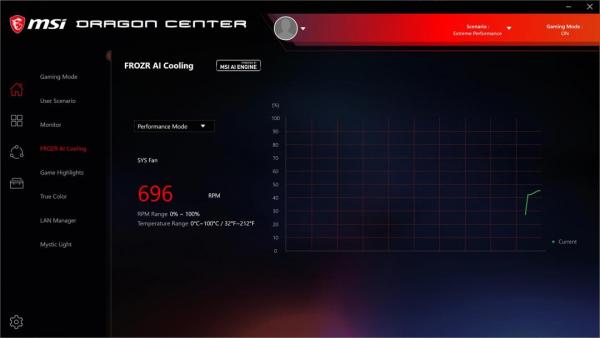 You can also customize your cooling here, running performance or silent fan profiles, or controlling the fans manually.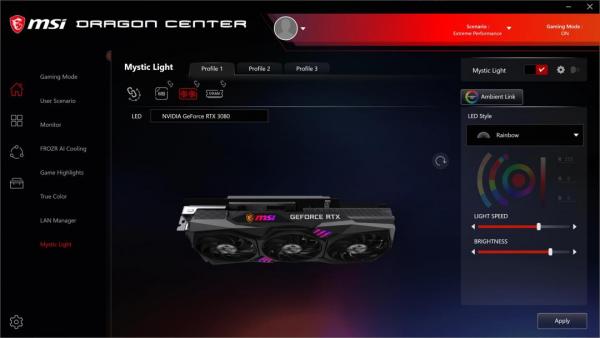 All of your lighting can be controlled from here, independently, or synced as an entire system. Our MSI motherboard is obviously supported, and our HyperX Fury RGB memory can also be controlled.
MSI Afterburner
Long regarded as the best GPU overclocking tool in existence, MSI's Afterburner allows complete control over every aspect of your GPU, it's clock speeds, V/F Curves, Fans, Voltages, and gives live data on every aspect of your card.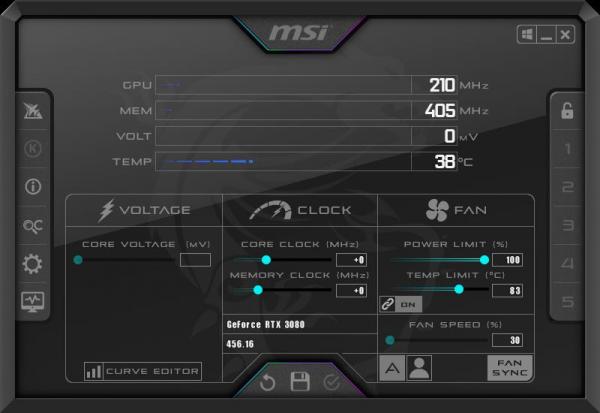 This version defaults with a more modern skin that closely matches the aesthetics of the MSI RTX 3080 Gaming X Trio, but it can be changed to any of the older skins as well if you please. All of your favorite controls and information are still here.