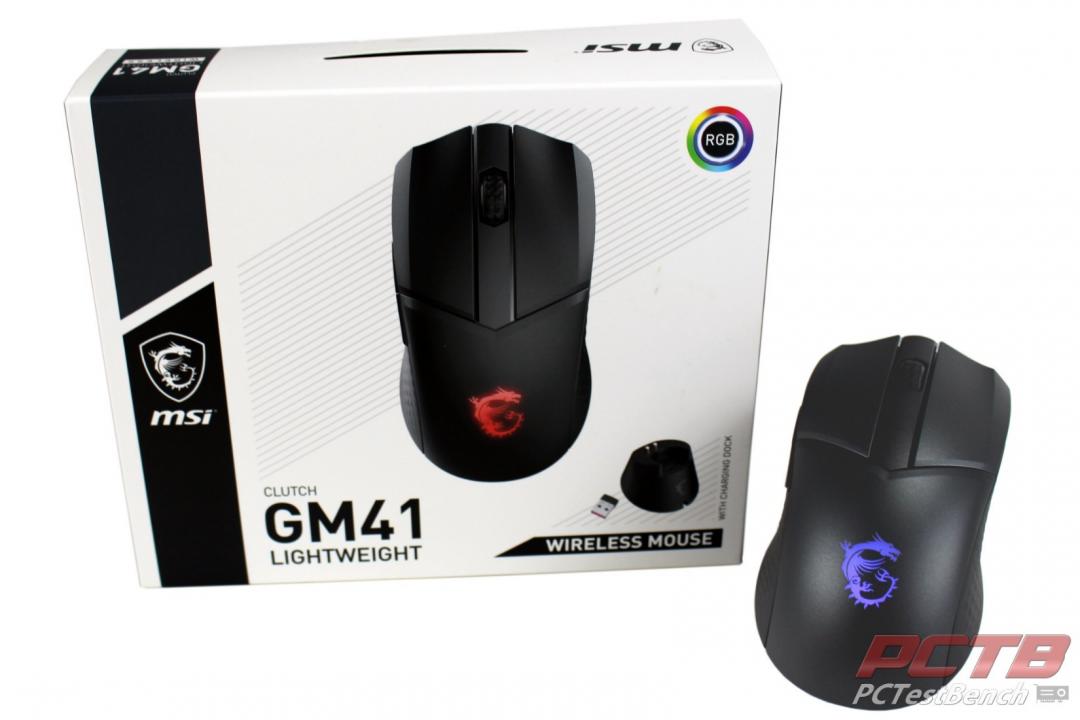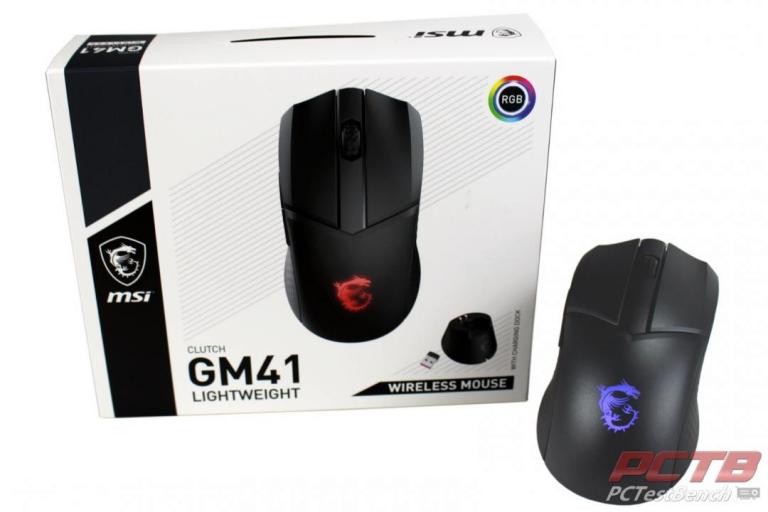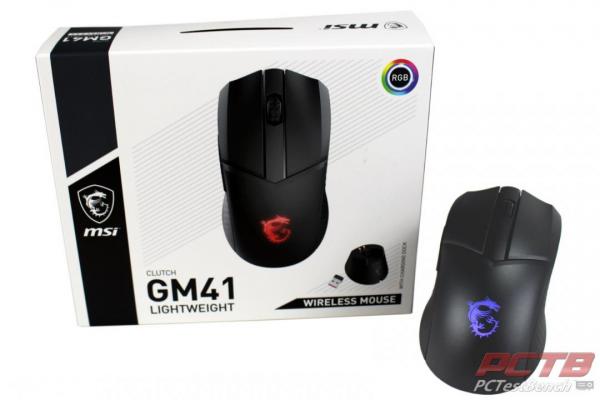 Hot on the heels of the popular Clutch GM41 Light-weight gaming mouse, MSI removes the final barrier for limitless gaming and cuts the cord. The first mouse meant for wireless FPS players, MSI's new Clutch GM41 Wireless weighs a scant 74g, only 9 grams more than the wired GM41 but offers up to 80 hours of battery life. Never worry about running out of battery, onboard RGB lighting gives you constant updates and a full charge from completely dead to 100% takes just 90 minutes. If you need a quick top-up between rounds, 10 minutes on the charger gets you up to 9 hours of playtime. If for some reason you can't stop for days on end, the included 'FRIXIONFREE' cable powering your dock can also directly power the GM41 wireless mouse meaning zero downtime and zero missed points.
On top of an impressive battery and charging system, this new lightweight heavy-hitter packs a serious punch under the hood as well. Every click goes through genuine Omron switches rated for 60 million clicks headshots. Every movement is tracked with PixArt's PAW 3370 at up to 20,000 DPI and 400 Inches Per second tracking speed. The asymmetrical design gives righties and lefties the same grip although the side buttons are only on the left side for right-hand thumb use. It sounds pretty promising, so let's go check it out!
PC Test Bench would like to thank MSI for sending over the Clutch GM41 Wireless for us to check out!
MSI's take on the Clutch GM41 Wireless:
Following the launch of CLUTCH GM41 LIGHTWEIGHT in February 2021, MSI is releasing its first LIGHTWEIGHT WIRELESS Mouse for FPS PLAYERS. This mouse shares the same shape with the wired GM41 LIGHTWEIGHT, praised by review media all around the world. Designed for advanced FPS players, the new GM41 LIGHTWEIGHT WIRELESS is based on a straightforward symmetrical design for grip, comfort, and hygiene (vs. honeycomb design that traps debris) while weighing only 74g.
​Features: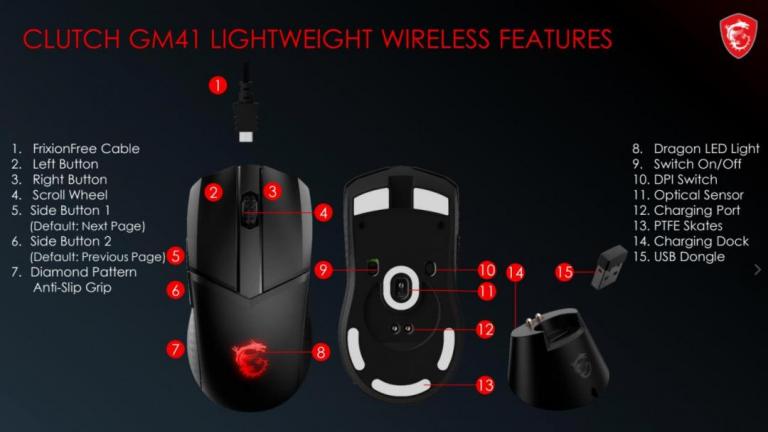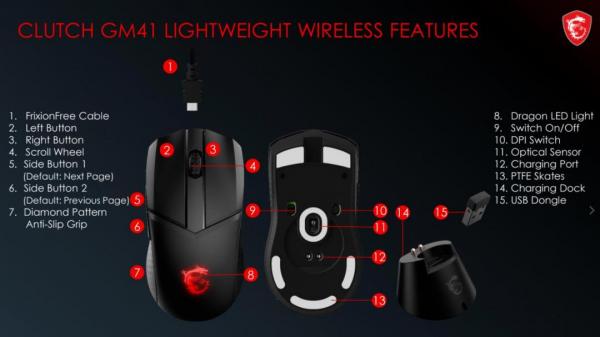 EXTREME ACCURACY AND SPEED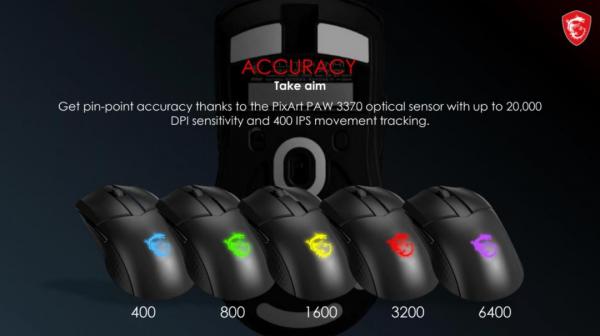 Get pin-point accuracy thanks to the PixArt PAW 3370 optical sensor with up to 20.000 DPI sensitivity and 400 IPS movement tracking.
RELIABLE AND DURABLE for EXTREME GAMING
OMRON switches are rated up to 60 million clicks. These crisp, reliable mechanical switches register every click register with deadly precision.
ULTRA-LOW LATENCY!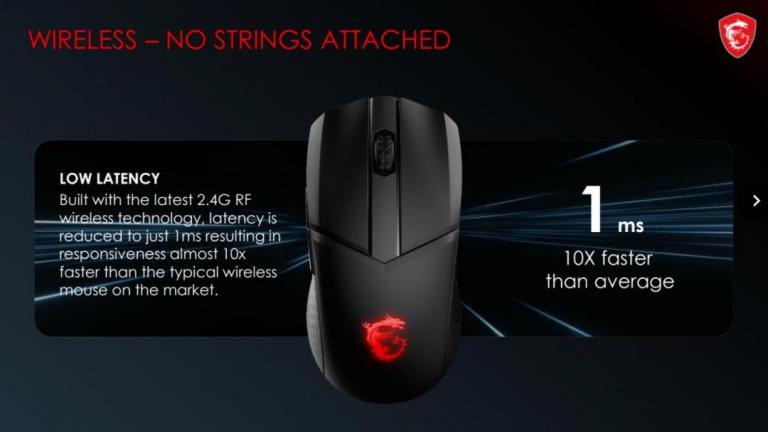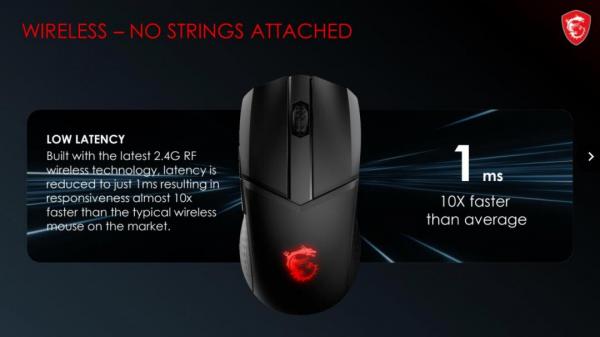 Built with the latest 2.4G RF wireless technology, latency is reduced to just 1ms resulting in responsiveness almost 10x faster than the typical wireless mouse on the market.
GLIDE LIKE NEVER BEFORE
Pure PTFE skates provide a near frictionless glide for accurate high-speed mouse movements. The skates have a single-directional surface texture and double-cut edges to reduce friction.
CHARGING DOCK & USB DONGLE INCLUDED!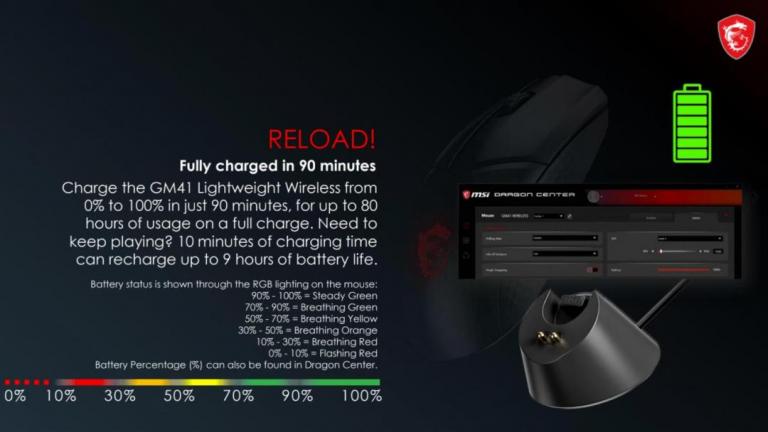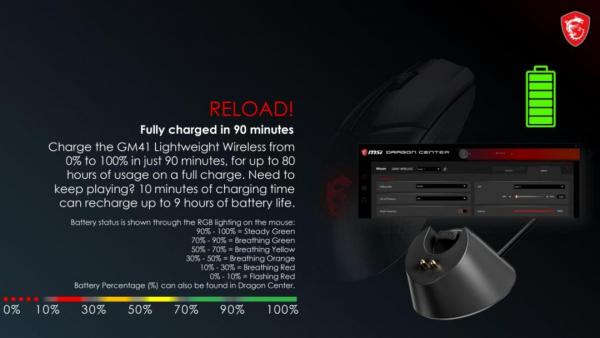 Charge the GM41 Wireless from 0% to 100% in just 90 minutes, for up to 80 hours* of usage on a full charge. Need to keep playing? 10 minutes of charging time can recharge up to 9 hours of battery life. The USB dongle can be stored in the mouse for traveling.
MSI FRIXIONFREE CABLE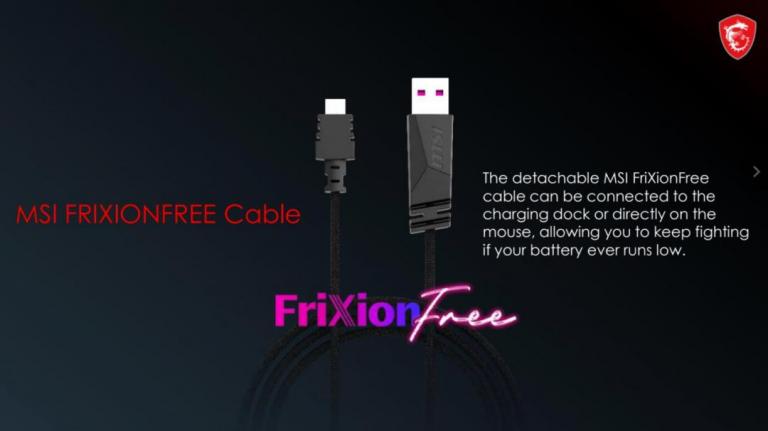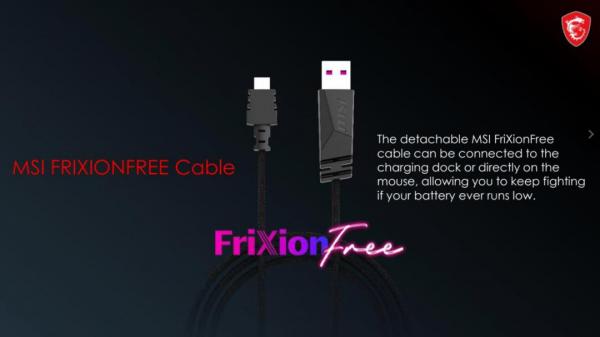 The detachable MSI FriXionFree cable can be connected to the charging dock or directly on the mouse, allowing you to keep fighting if your battery ever runs low.
RGB MYSTIC LIGHT
Light up the battlefield with millions of colors or approach with stealth with the lights turned off. Choose from predefined effects or synchronize lighting with the rest of your RGB setup.
DRAGON CENTER
Access an array of settings such as lighting control, button remapping, precise DPI changes, and macro recording in MSI Dragon Center
OPTIMAL PRICE/PERFORMANCE RATIO
With a $79.99 MSRP, GM41 LIGHTWEIGHT WIRELESS currently offers one of the best price/performance values for a lightweight wireless mouse with a dock included!
Quick Specs: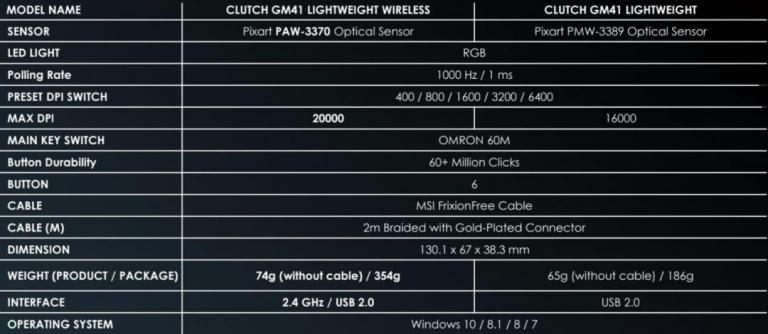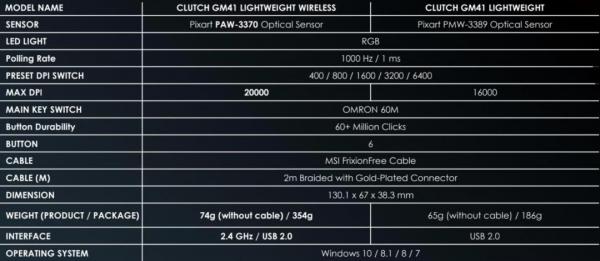 Sensor: PixArt PAW 3370
Sensor Type: Optical
Maximum resolution: 20,000 DPI
Maximum acceleration: 400 IPS
Switch Type: Omron
Switch Lifespan: 60M Clicks
Wireless Type: low latency 2.4GHz RF
Weight: 74g
Charging: Dock (included) and Cable
Cable Type: USB 2.0 Micro B
Run Time:

Gaming: Up to 80 hours
General Use: up to 200 hours

Charge Time: 1.5 hours
Skate Type: PTFE