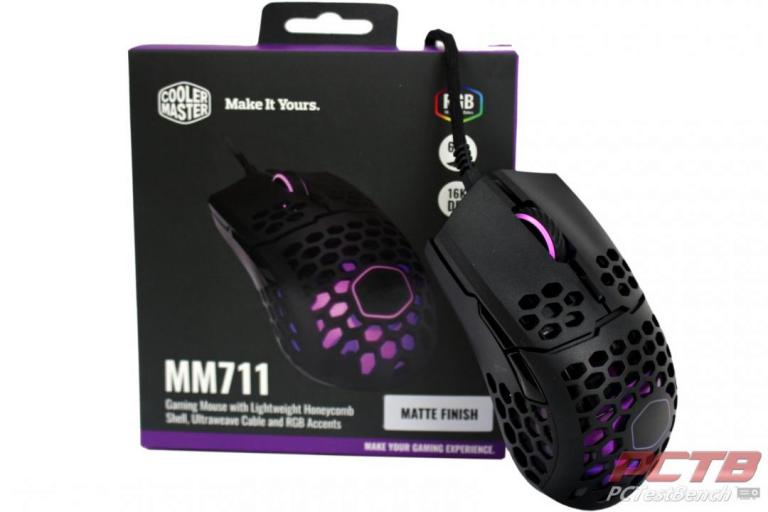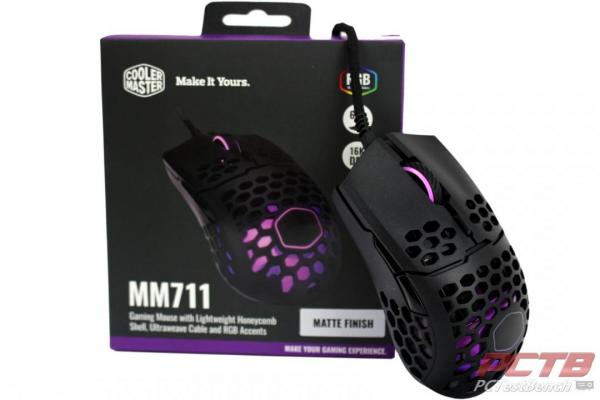 Whether you game competitively or just spend a lot of time on your computer, you'll spend almost all of your time slinging your mouse around. Hour upon hour, day upon day, every gram adds up. Cooler Master's MM711 provides a lot of customizable performance in an extremely lightweight frame. Almost entirely skeletonized, the honeycomb shell gives the mouse a featherlight 60g weight. Combined with PixArt's PMW3389 optical sensor, super flexible Ultraweave cable, and PTFE skates, you get extremely fast and precise moves all day long with no fatigue.
PC Test Bench would like to thank Cooler Master for sending the MM711 Mouse over for us to check out!
Cooler Master's take on the MM711:
The MM711 is a truly innovative mouse that does more with so much less. Along with all the pro-grade features that make our gaming mice deadly in combat, we've also implemented a striking new shell design, lightweight and durable Ultraweave cable, and RGB – all while keeping the overall weight of the mouse to less than 60g. The result is quicker movements, longer gaming sessions, minimal fatigue, and less wrist pain associated with repetitive stress injury.


Features:
Lightweight Honeycomb Shell – New perforated housing is engineered to be supremely durable and lightweight, meaning you can play longer without fatigue
Ultraweave Cable – Innovative ultraweave cable significantly reduces weight and cable pull while swiping. Fight against your enemies, not cable pull.
Gaming-Grade Optical Sensor – Adjustable up to 16000 DPI for greater control, precision, and futureproofing
Stylish RGB Accents – RGB LEDs in the scroll wheel and the logo allow for understated flair — while also serving as a functional DPI indicator.
Ergonomic, Ambidextrous Shape – Optimized for right-handed gaming with two extra buttons for added convenience
Superior Quality Switches – OMRON switches for left and right click are graded for 20 million presses that remain accurate and true till the end.
Superior Mouse Feet – New and improved feet made with PTFE material for low friction and high durability, which provides a smooth, fast glide with maximum responsiveness.
Quick Specs: