A Closer Look
MSI's GM41 Lightweight Wireless Mouse comes in a fairly thin white box with a picture of the mouse, dock, and cable on the front, and features and specs on the back.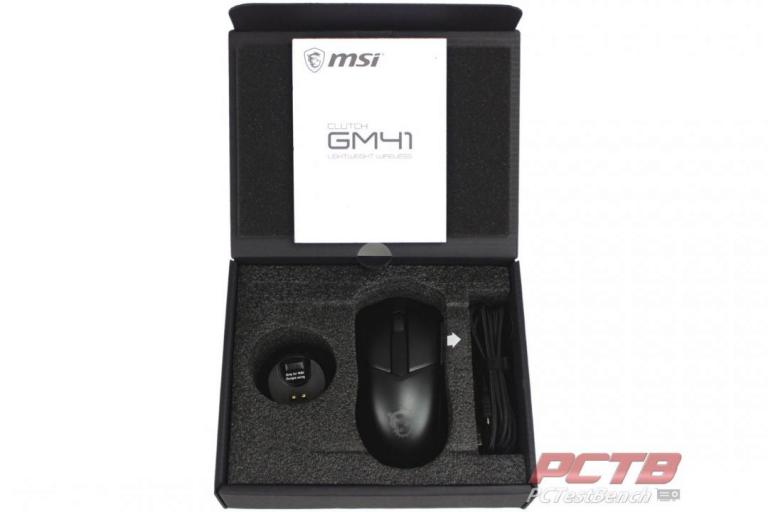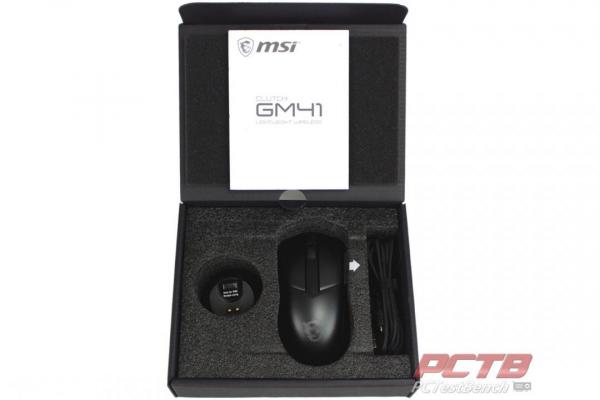 Inside, a black box holds a large block of foam with cutouts of the GM41 Wireless, dock, and cable.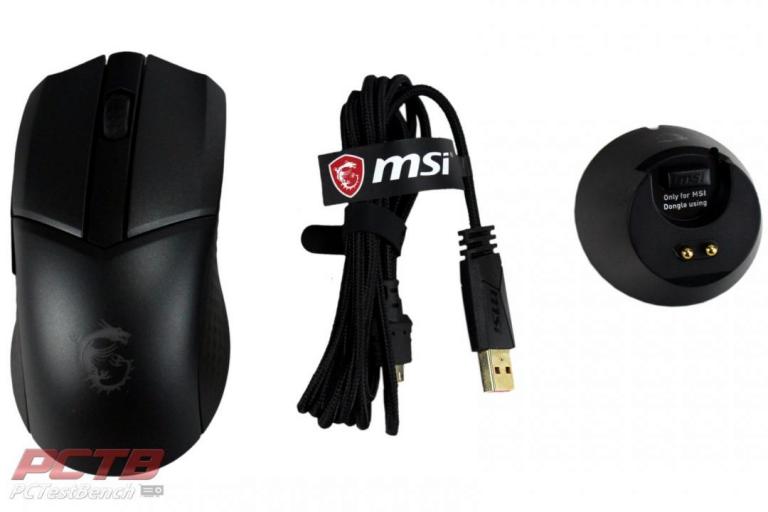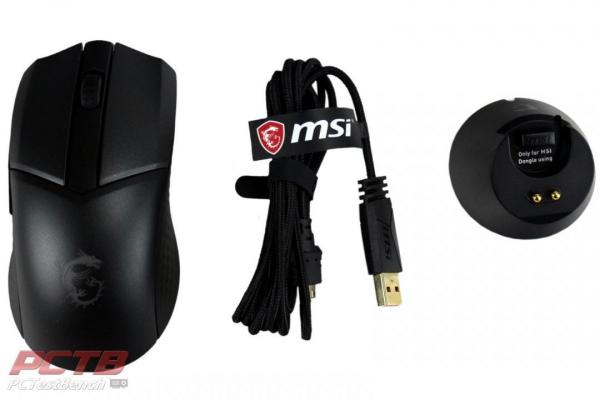 The mouse has a pull tab attached to help get it out of the foam block, but the cradle actually took a few minutes to get out since it narrows at the top and fits in the cut out tight enough to not come out when inverted.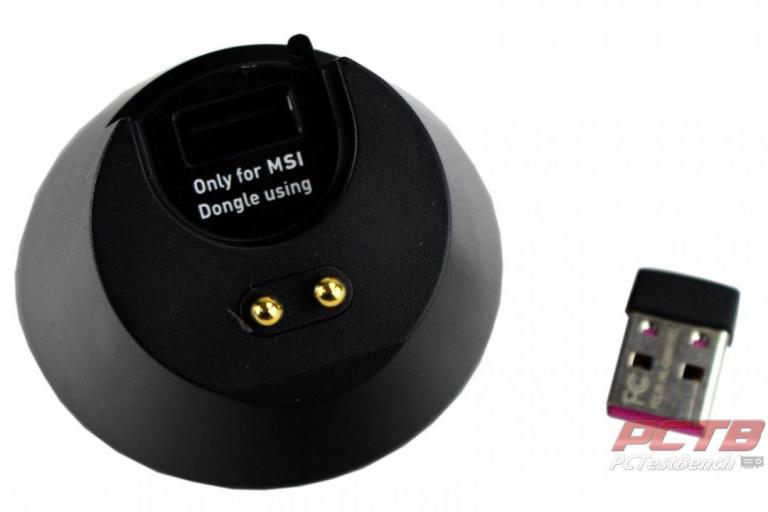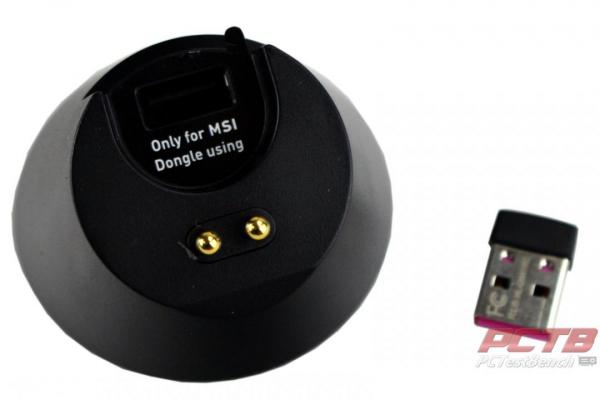 The wireless receiver comes installed in the charging dock. The dock has a scratch sticker around the USB port you can remove. Two spring-loaded gold plated contacts handle the actual charging connection.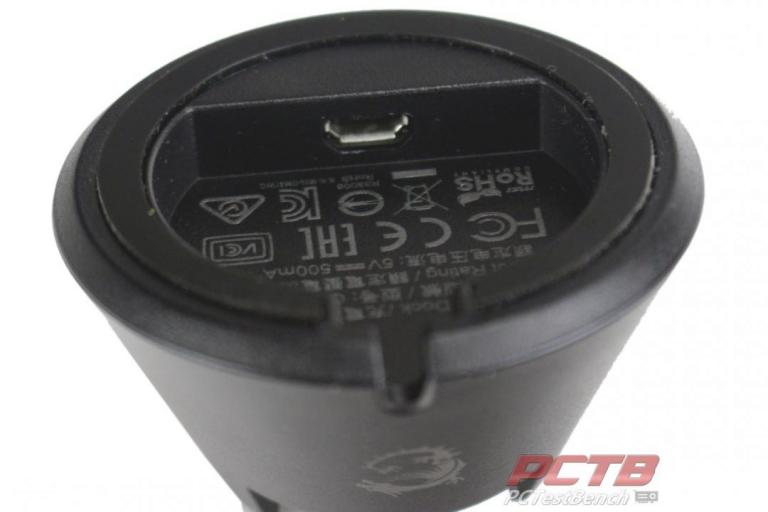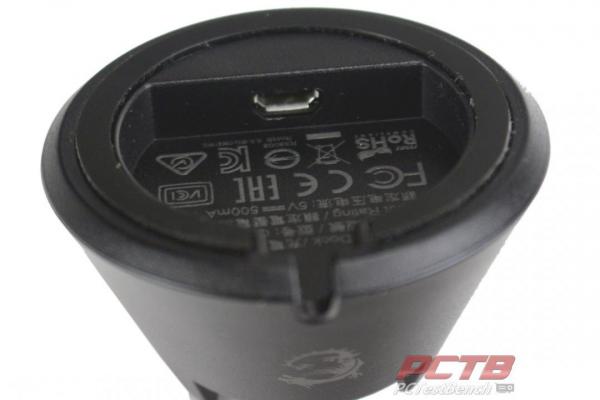 On the bottom of the dock, you find a standard USB 2.0 Micro Type B connection. Since everything is migrating to Type C, we'll guess you have several older charge cords laying around if you need a spare.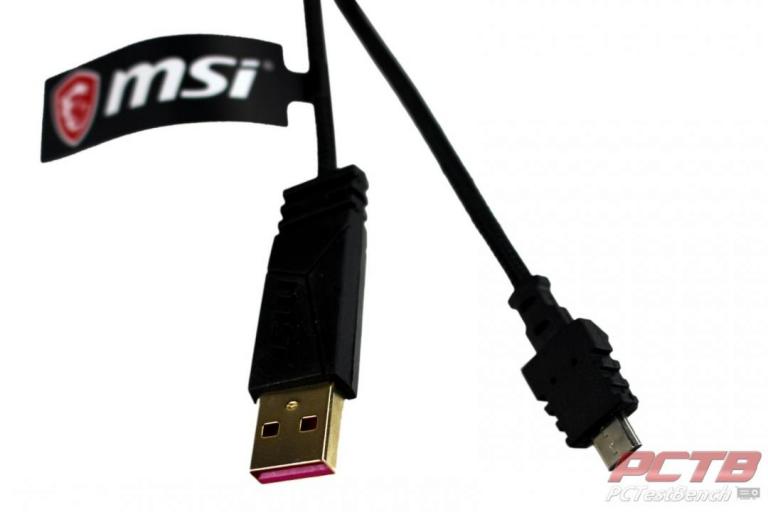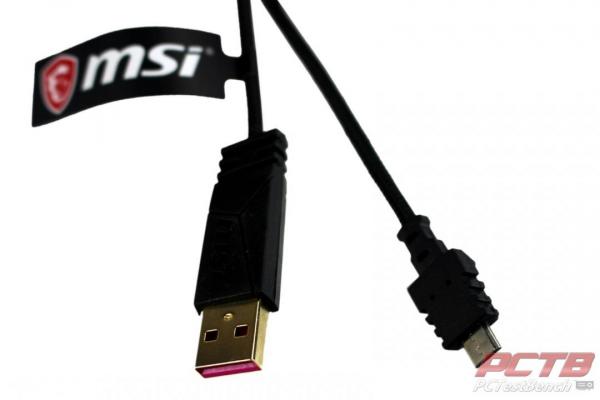 Speaking of cables, the included charging cable is gold plated with the Type A plug a pink color interior. The rubber boots are nicely molded.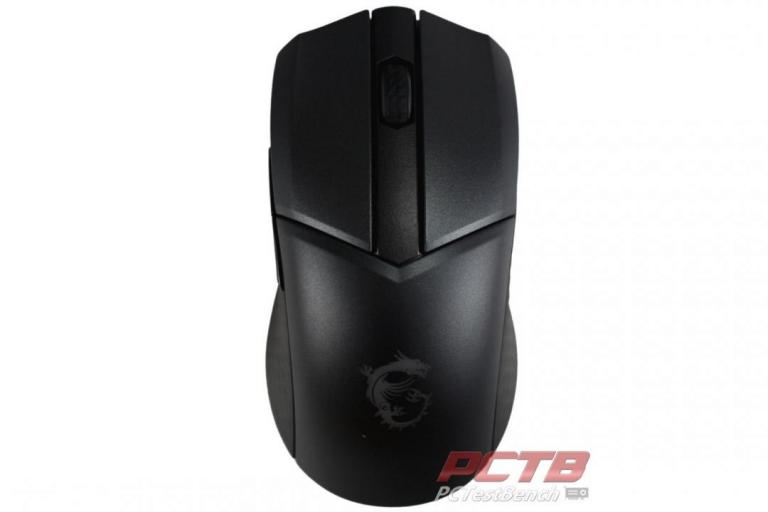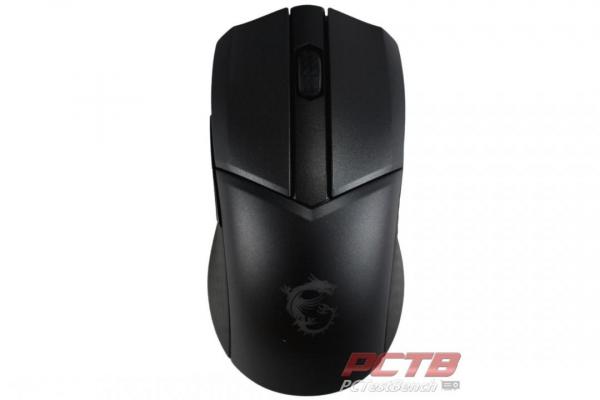 The GM41 Wireless looks rather unassuming at first glance. Two large primary buttons, scroll wheel, long body with a subtle MSI Dragon logo in the palm area, and two standard side buttons. The side areas are a textured rubber and provide a good grip.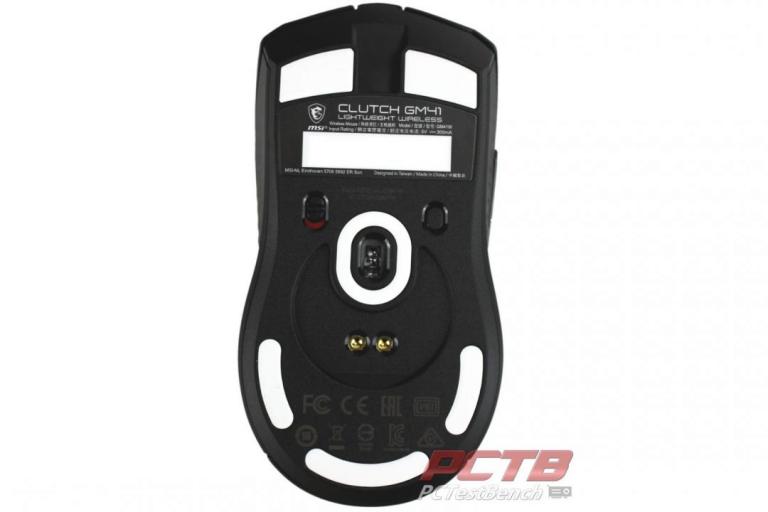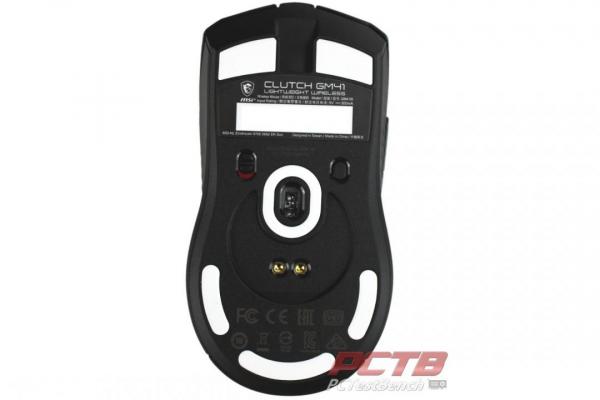 The bottom has two PTFE Skates near the nose, three around the perimeter of the palm area, and one entirely encircling the optical sensor window. The recessed crescent moon area sits on the dock and two gold plated contacts handle charging. Near the sensor is the Wireless on/off switch, and a DPI switch push button. It seems weird to have a DPI switch on the bottom, but this is dedicated. Every other button can be remapped if you prefer this function to also be more readily accessible in-game.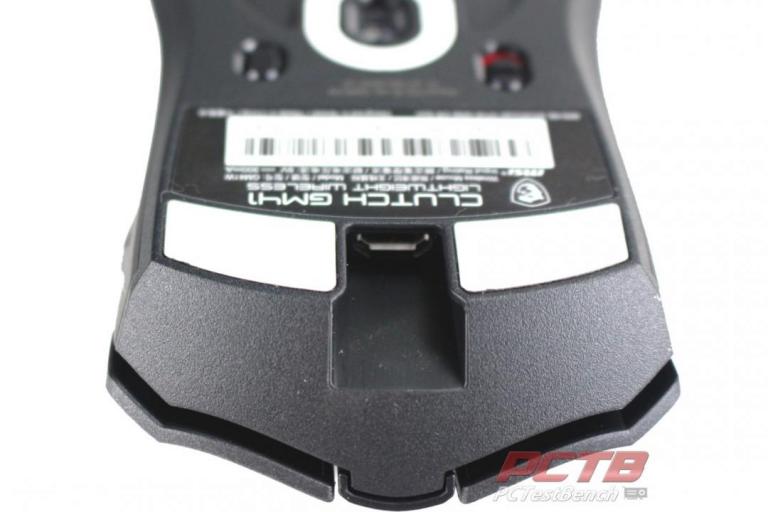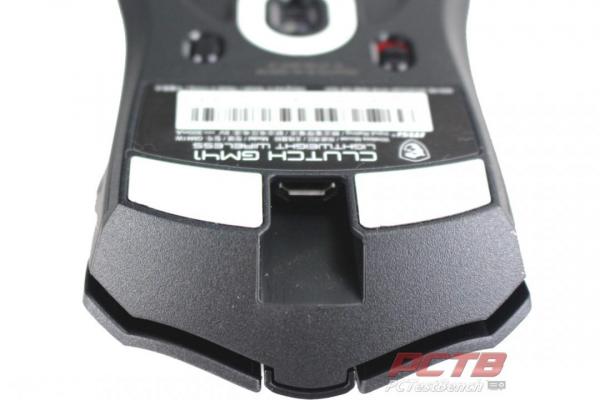 Under the nose, you find a recessed USB Micro B port.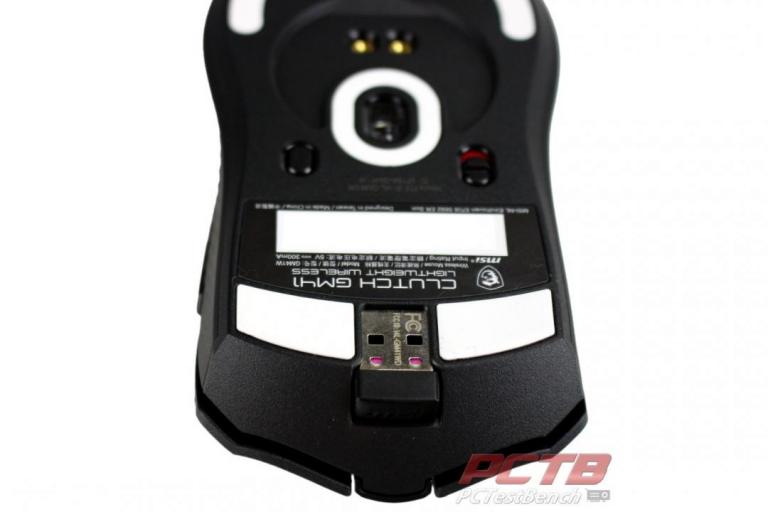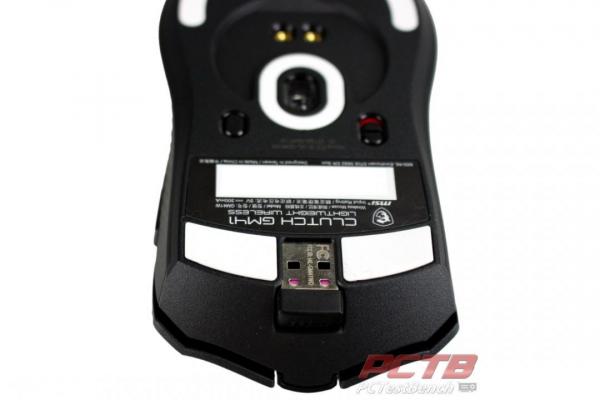 This area can hold the USB receiver for travel.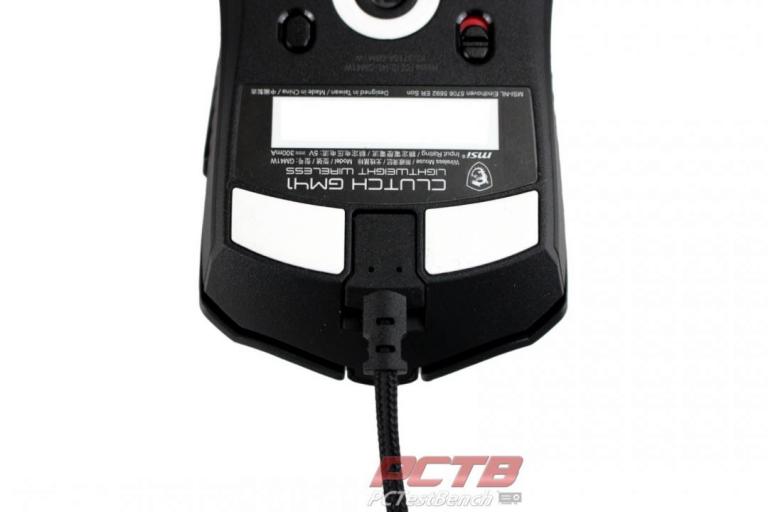 You can also connect the included USB cord and run in wired mode while charging for uninterrupted gaming.
The MSI Dragon logo on the palm area of the GM41 Lightweight Wireless is controllable from MSI's Dragon Center to your taste. Out of the box, the light only comes on when the mouse is moving, and turns off again a few moments later to conserve battery. The color and pattern indicate battery level remains.