Testing
Test Platform:
CPU       Intel Core i9-9900k
Mobo    Asus ROG Strix Z390-I Gaming
RAM      G.Skill TridentZ RGB
GPU       Nvidia RTX 2080Ti FE
OS SSD  Samsung 960 Pro 2TB
Comparison Drives:
Crucial X8 1TB
Orico GV100 512GB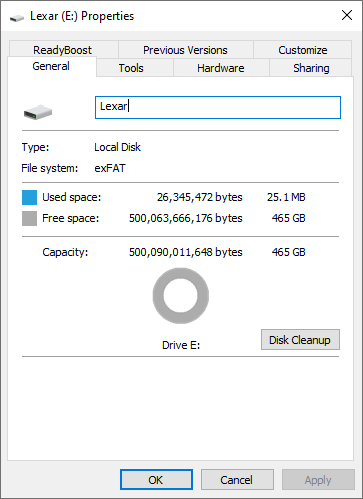 Out of the box, Lexar's SL100 PRO 500GB drive comes with 465GB usable space under its default exFAT formatting with the DataVault software occupying a scant 25MB of that.
CrystalDiskInfo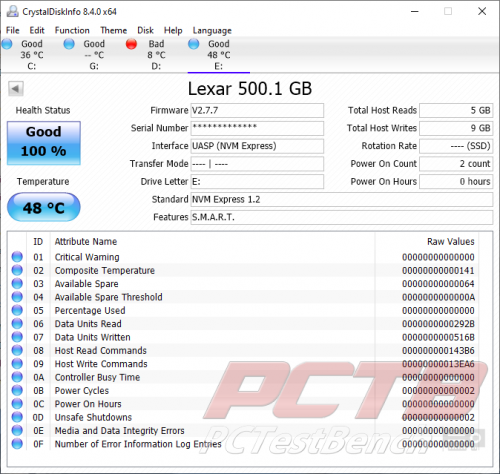 USB Mass Storage drivers are very universal but are garbage for performance. We are pleased to see that Lexar's SL100 Pro can take advantage of USB Attached SCSI Protocol (UASP) to encapsulate NVMe for maximum performance. A couple of quick tests warms the drive up very quickly to the mid to upper 40C range, but it levels out quickly and stays there, which is a good thing for NAND longevity, it likes to be warm. Not hot, but warm.
Sequential Testing – Variable Queue Depth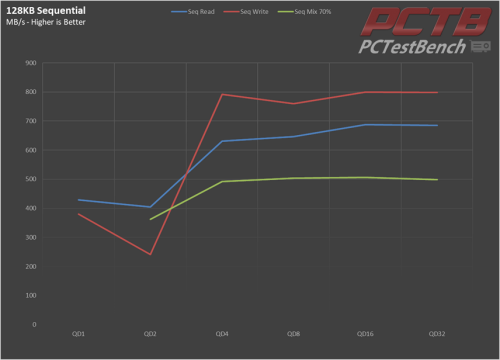 Sequential speeds start around 425MB/s for reads and around 390MB/s for writes at QD1. We see a slight dip at QD2 and then things shoot up at QD4. Most users will never get above QD2, and that's mostly while writing and reading from the drive simultaneously.
Random Testing – Variable Queue Depth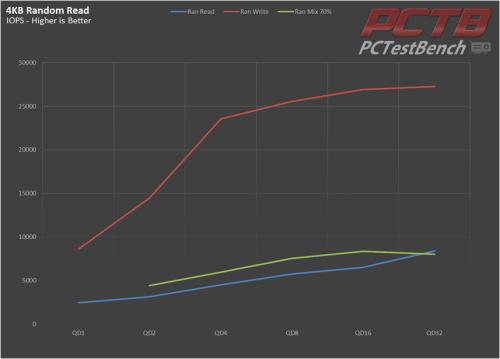 Random performance is really good on the write side, but reads don't climb with queue depth. Simultaneous mixed-use, made up of 70% read and 30% write is also held back by reads. We would expect the larger 1TB model to perform better on reads as it has more NAND flash modules to distribute the commands to at one time.
CrystalDiskMark 7.0
"CrystalDiskMark is designed to quickly test the performance of your hard drives. Currently, the program allows measuring sequential and random read/write speeds."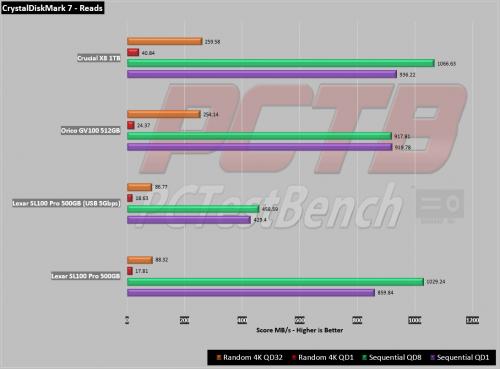 Since not every computer has USB gen 2 ports (10Gbps) available, we also test on a 5Gbps port. The reduced USB bandwidth really doesn't have much of an impact on random performance, but realistic QD1 sequential performance will show a noticeable impact.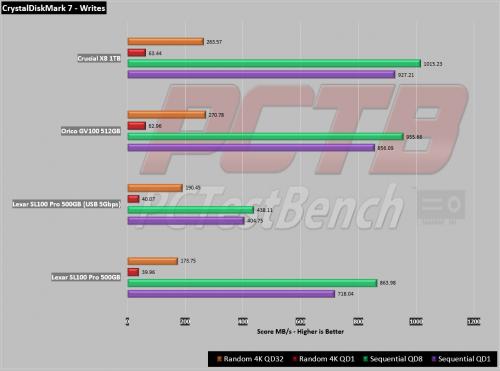 We see random write performance climb pretty significantly, with sequential performance coming in at respectable levels at both USB 5gbps and 10gbps speeds.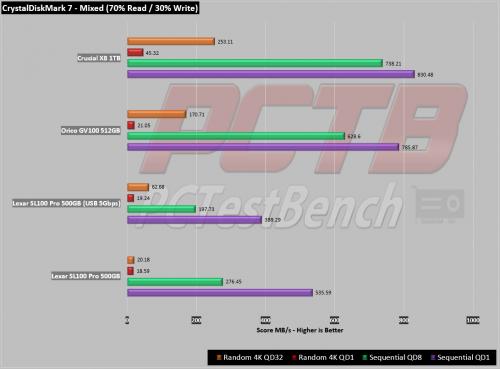 Mixed testing is tough on many drives and we see a noticeable impact. USB 3.x has an advantage over older drives as it supports Full-Duplex communications in contrast to older USB 2.0 drives that can only handle half-duplex. The controller on the SL100 Pro doesn't handle this quite as well as some competing (and more expensive) models but still provides respectable performance.
PCMark 10 Storage Test
PCMark 10 introduces a set of four storage benchmarks that use relevant real-world traces from popular applications and common tasks to fully test the performance of the latest modern drives.
The Full System Drive Benchmark uses a wide-ranging set of real-world traces from popular applications and common tasks to fully test the performance of the fastest modern drives.
The Data Drive Benchmark is designed to test drives that are used for storing files rather than applications. You can also use this test with NAS drives, USB sticks, memory cards, and other external storage devices.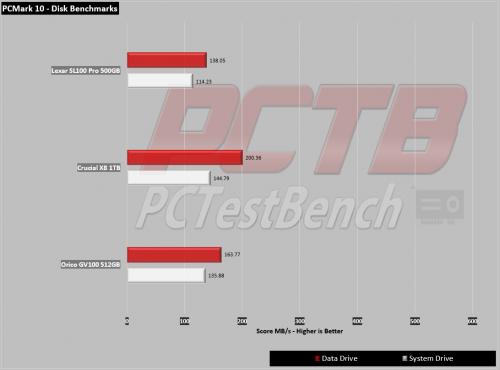 Lexar's SL100 Pro does a decent job on both PCMark 10 Storage tests we use. The System drive emulates common tasks from real-world programs and will make heavy use of random mixed transfers. Here, the SL100 Pro averages ~115MB/s while the more sequential oriented 'Data Drive' testing patterns creep up to nearly 140MB/s.
ATTO Disk Benchmark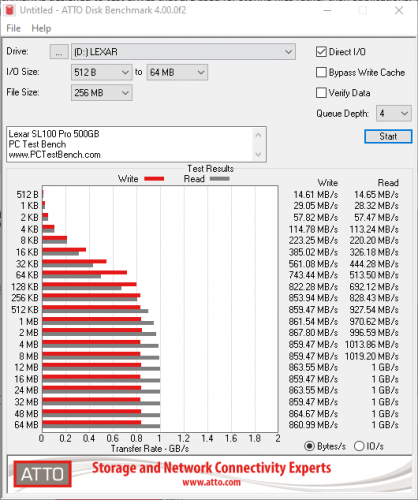 ATTO indicates higher than rated performance on reads and close to rated performance on writes. It's always nice to get a little more than you were expecting!
Anvil's Storage Utilities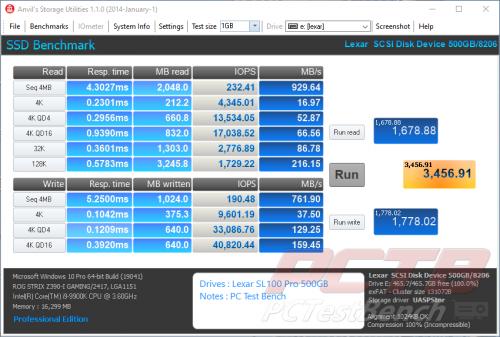 Anvil's Storage Utilities has been around quite a few years now, but still provides a good look at many aspects of SSD's including latency and IOPS. It provides a benchmark score that is easy to compare between drives.
Black Magic Disk Speed Test
Disk Speed Test is an easy to use tool to quickly measure and certify your disk performance for working with high-quality video! Simply click the start button and Disk Speed Test will write test your disk using large blocks of data, and then display the result. Disk Speed Test will continue to test writes and reads from your disk so you can evaluate both performance and readability over time.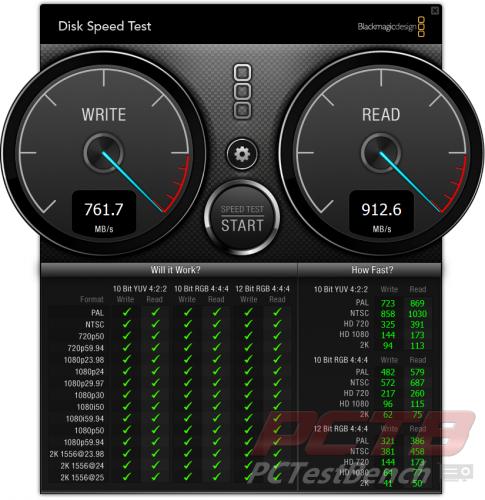 One real-world use case of a portable SSD is content creators editing video on the go. This requires a minimum sustained performance level specific to each codec and resolution. Black Magic's Disk Speed test checks many common ones and Lexar's SL100 Pro easily sustains enough read and write performance for all of them.
Drive Thermals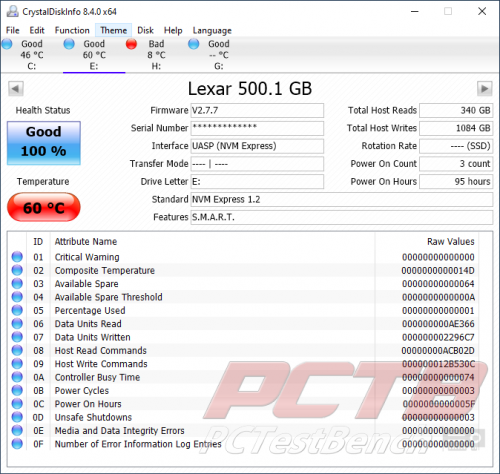 It took about 30 minutes of continuous testing to get the SL100 Pro to the hottest temp we saw, around 60C. It wasn't enough to throttle, but was noticeably warm to the touch, enough so you wouldn't really want to put it in your pants pocket immediately after use.