Game Testing
3DMark – Fire Strike
"Fire Strike is a showcase DirectX 11 benchmark designed for today's high-performance gaming PCs. It is our most ambitious and technical benchmark ever, featuring real-time graphics rendered with detail and complexity far beyond what is found in other benchmarks and games today"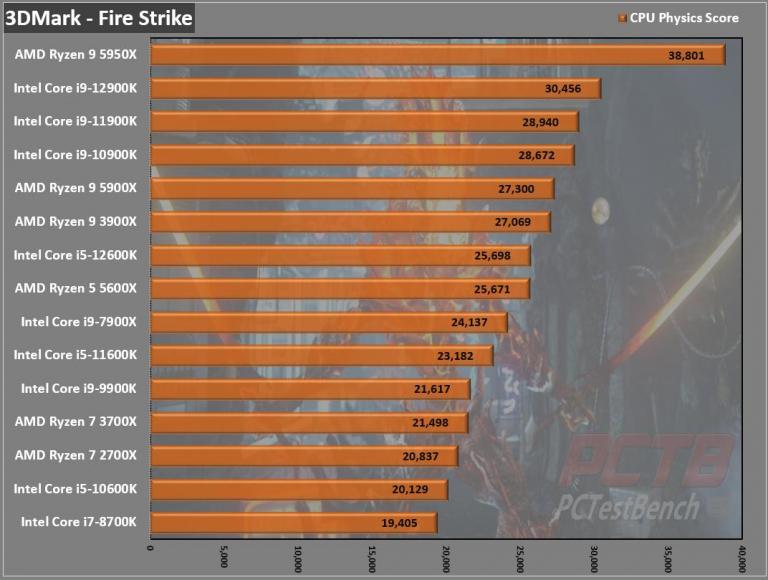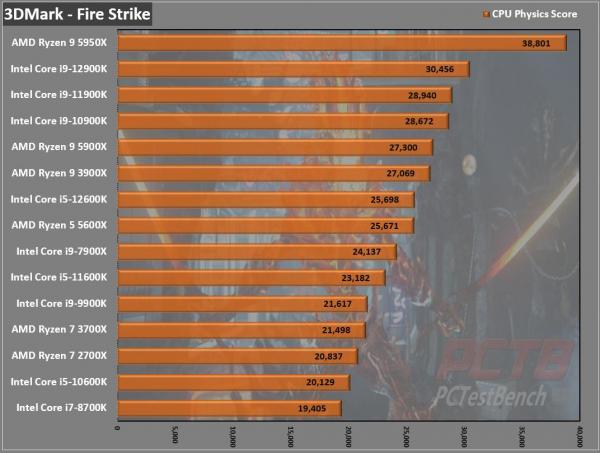 Granted, CPU-based physics only adds a small measure of immersion in most games, but Intel's Core i9-12900K does an excellent job in Firestrike. Firestrike is rendered at 1080p so feeding a powerful CPU takes up more of the CPU's time than physics, hence the 5950X holds a lead here with more threads.
3DMark – Time Spy
"3Dmark Time Spy is a new DirectX 12 benchmark test for Windows 10 gaming PCs. Time Spay is one of the first DirectX 12 apps to be built "the right way" from the ground up to fully realize the performance gains that the new API offers. With DirectX 12 engine, which supports new API features like asynchronous compute, explicit multi-adapter, and multi-threading, Time Spy is the ideal test for benchmarking the latest graphics cards."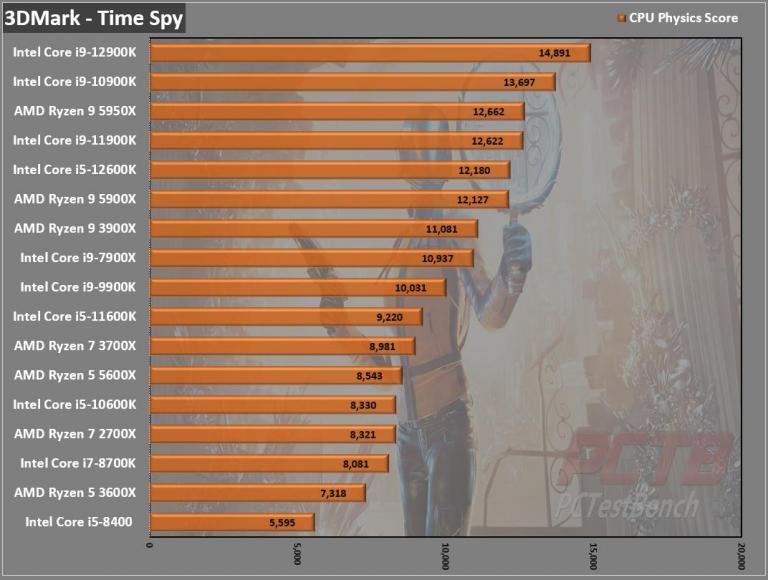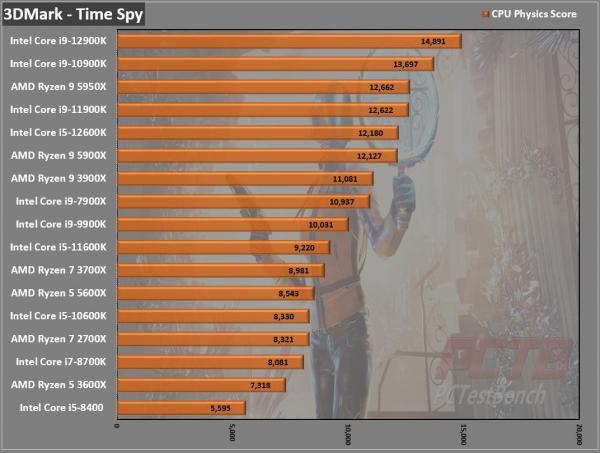 Ramped up to 1440p, the GPU starts shouldering more of the load which lets the i9-12900K do what it does best and it flies away with the best score we've seen.
Sid Meier's Civilization VI
Originally created by legendary game designer Sid Meier, Civilization is a turn-based strategy game in which you attempt to build an empire to stand the test of time. Become Ruler of the World by establishing and leading a civilization from the Stone Age to the Information Age. Wage war, conduct diplomacy, advance your culture, and go head-to-head with history's greatest leaders as you attempt to build the greatest civilization the world has ever known.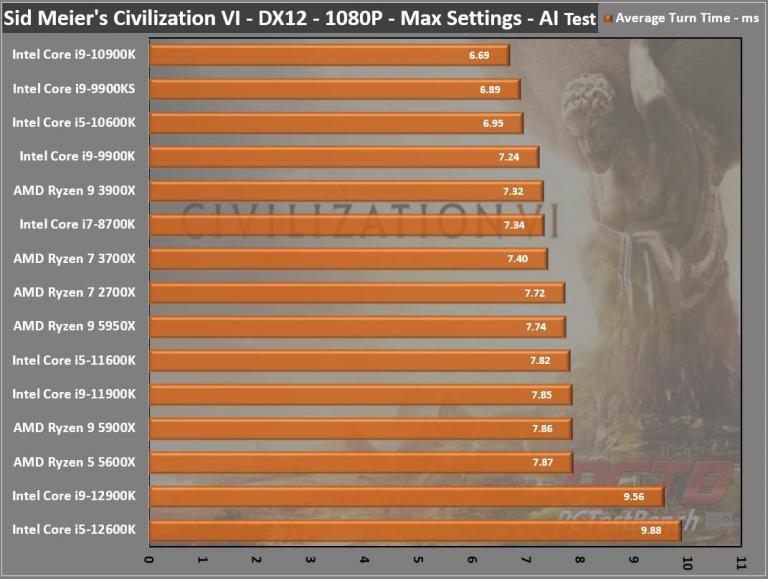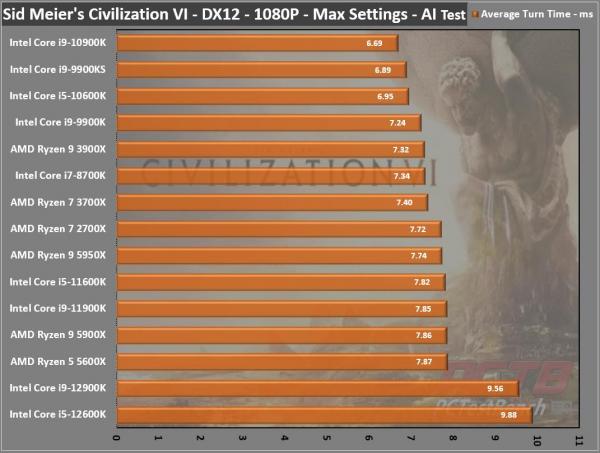 Hmm… well, it seems Sid Meier's latest installment isn't quite sure how to leverage the somewhat radical change in CPU architecture just yet.
Far Cry 5
Anything can happen. Everything will.
Welcome to Hope County, Montana, land of the free and the brave, but also home to a fanatical doomsday cult—known as The Project at Eden's Gate—that is threatening the community's freedom. Stand up to the cult's leaders, Joseph Seed, and the Heralds, as you spark the fires of resistance that will liberate the besieged community.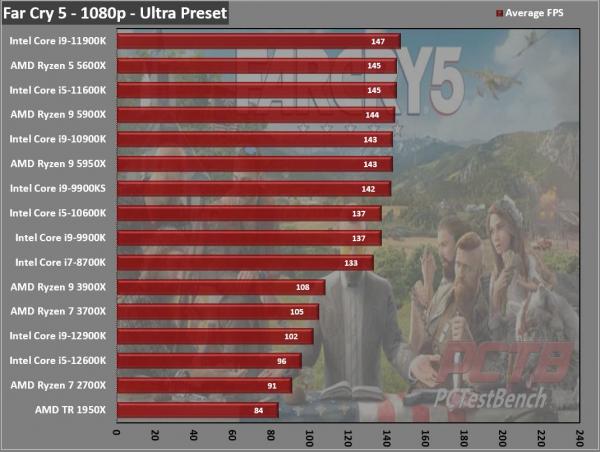 Far Cry 5 has been a staple for us for several years now but has started to really level out the last couple of years with very minor changes to peak frame rates. It was also one of the first mainstream games that was able to effectively spread out over more than 2-3 cores, unlike most prior games. However, spread out reasonably evenly across all 8 P-cores, it doesn't really fly away since the overall load per core is pretty modest and the 12900K really doesn't seem to ramp up to full tilt, only occasionally hitting its all-core Turbo speed while spending more time in the lower to mid 4GHz range.
Shadow of the Tomb Raider
Experience Lara Croft's defining moment as she becomes the Tomb Raider. In Shadow of the Tomb Raider, Lara must master a deadly jungle, overcome terrifying tombs, and persevere through her darkest hour. As she races to save the world from a Maya apocalypse, Lara will ultimately be forged into the Tomb Raider she is destined to be.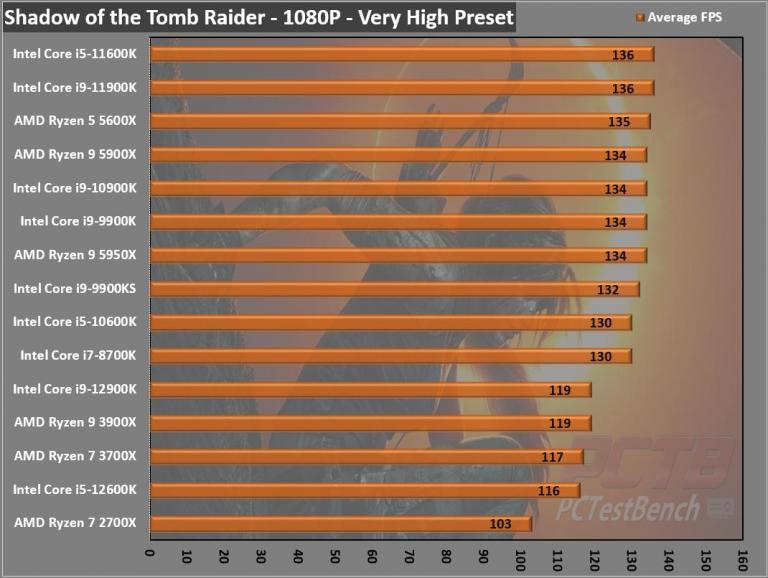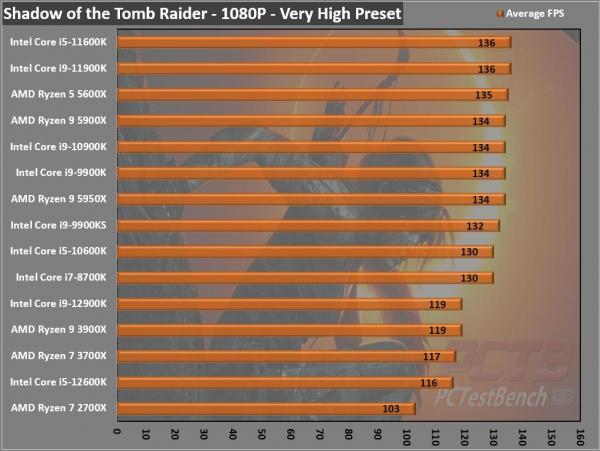 Shadow of the Tomb Raider again does a good job, and provides a very stable experience, but doesn't goad the powerful 12900K into giving it its all.
Far Cry New Dawn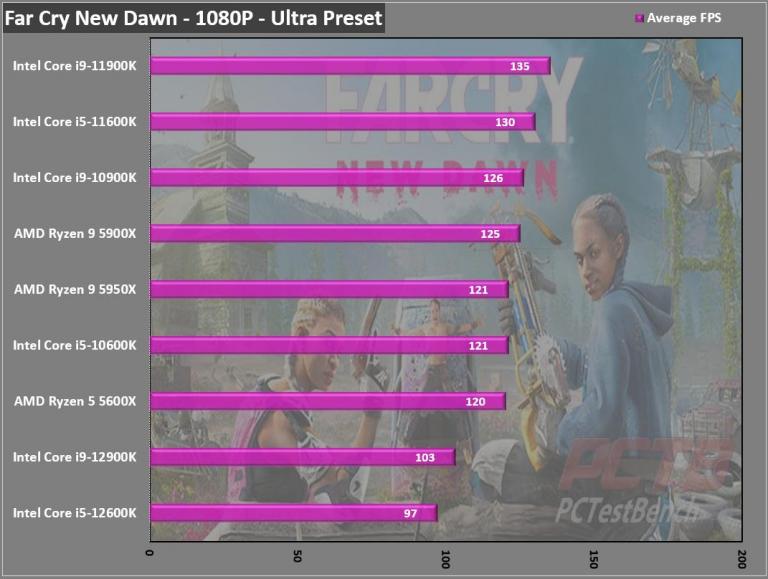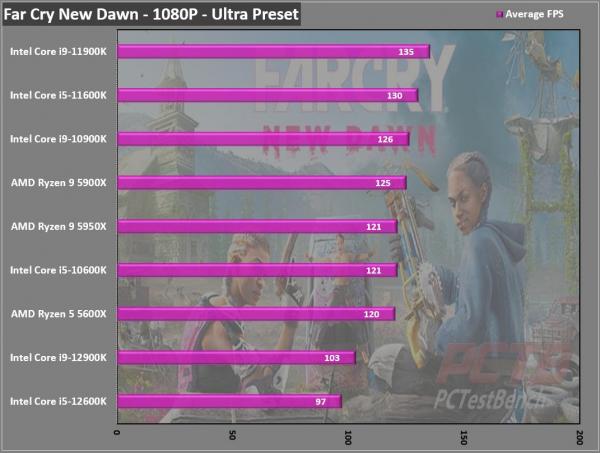 We wanted to give Far Cry one more shot, with the more recent New Dawn, but we see very similar results to Far Cry 5.