Workstation & Productivity Testing
PCMark 10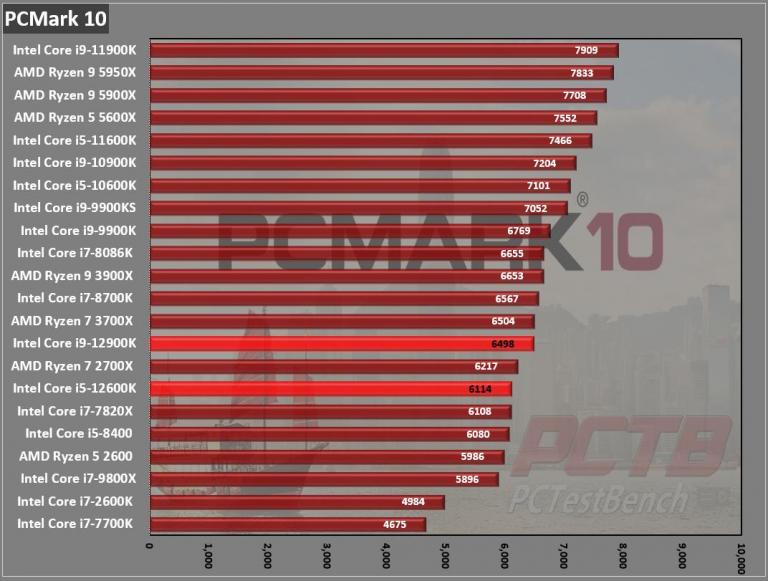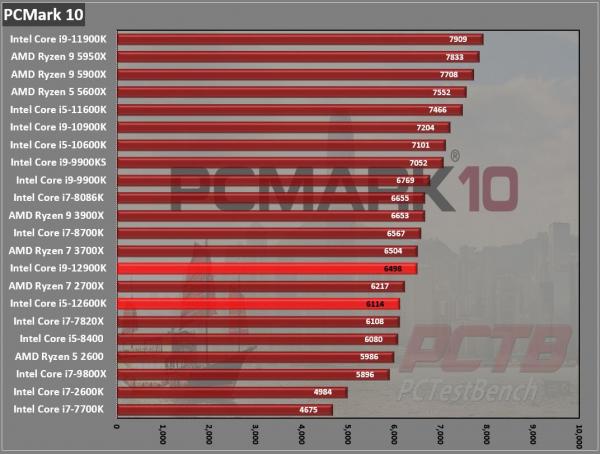 PCMark 10 uses quite a few common scenarios such as photo editing and video conferencing to calculate a score. It's also another benchmark that doesn't stress the Core i9-12900K enough to really throw it into high gear and the scores are artificially deflated.
Blender Benchmark – BMW27
A new platform to collect and display the results of hardware and software performance tests. Aimed at an optimal comparison between system hardware and installations using open-source software and testing content in the public domain.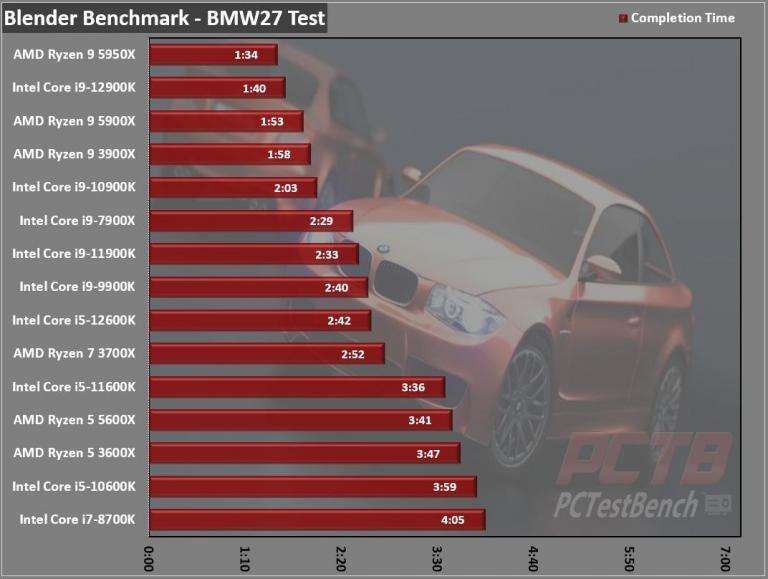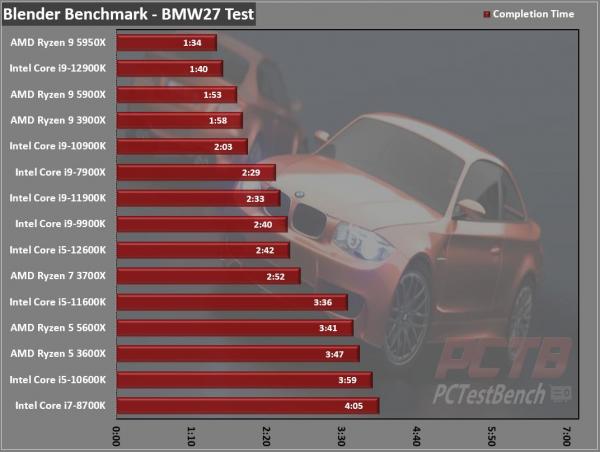 Blender on the other hand makes very good use of the Core i9-12900K with a render time of 1:40, only a few seconds longer than the run made by the 32-thread Ryzen 9 5950X and radically faster than the Core i9-11900K.
POV-Ray 3.7 Standard Benchmark – CPU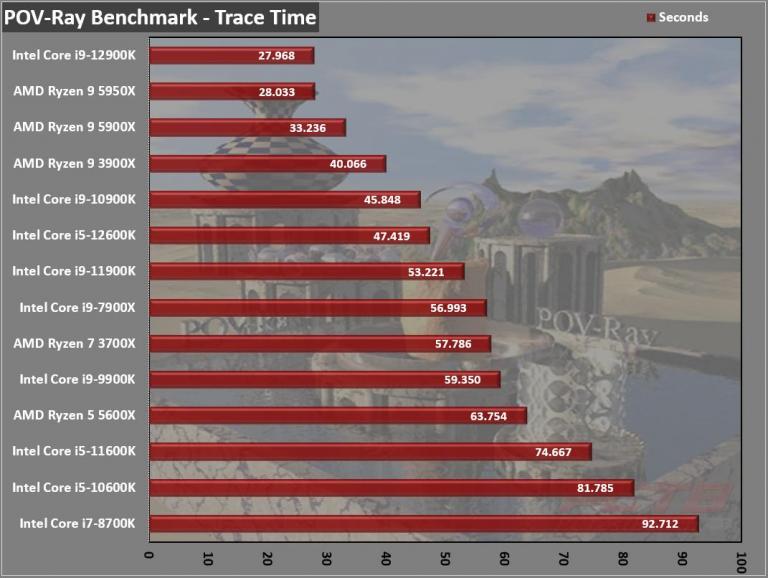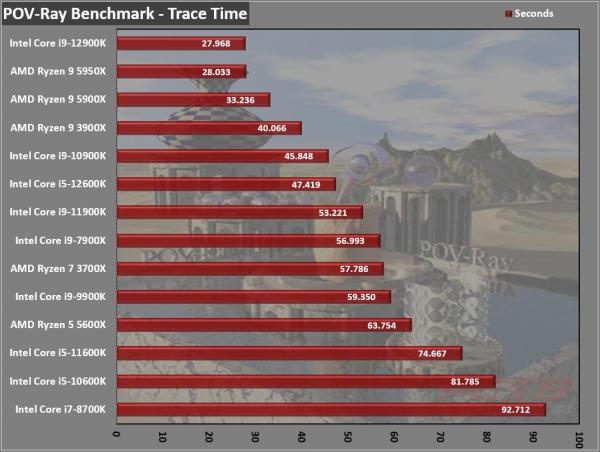 POV-Ray manages its standard benchmark run a hair under 28 seconds, almost a wash with AMD's flagship that technically takes a few milliseconds longer.
x265 HD Benchmark
A benchmark that measures how fast your computer can encode HD (1080p) video in the new H.265 / HEVC format.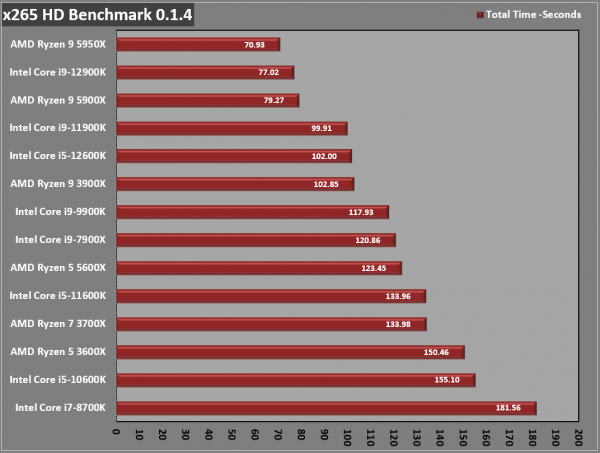 Media transcoding gets a radical leap forward from the 11th to 12th generation with a 4-pass render time of 77.02 seconds. Not quite enough to eclipse team red, but it shaves a quarter of the time off the last generation.
7-Zip
The benchmark shows a rating in MIPS (million instructions per second). The rating value is calculated from the measured speed, and it is normalized with the results of the Intel Core 2 CPU with a multi-threading option switched off. So, if you have a modern CPU from Intel or AMD, rating values in single-thread mode must be close to real CPU frequency. There are two tests, compression with the LZMA method and decompression with the LZMA method. Once the total passes reach 50, the score is taken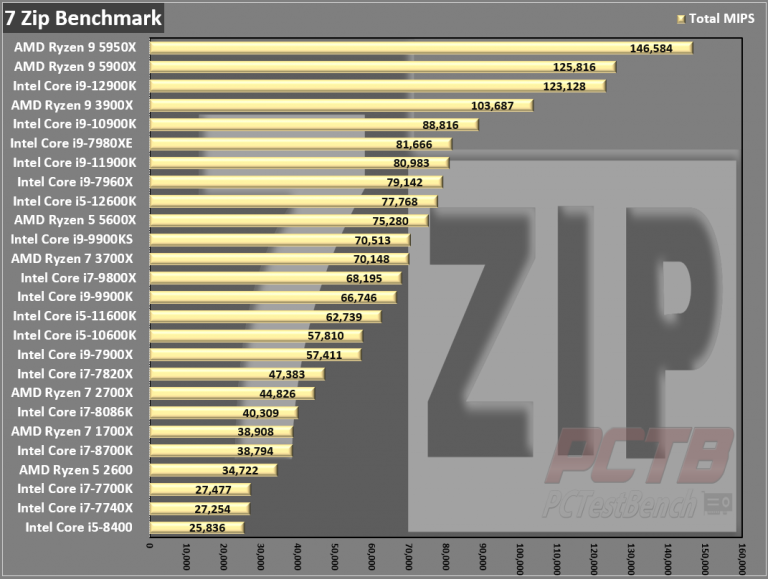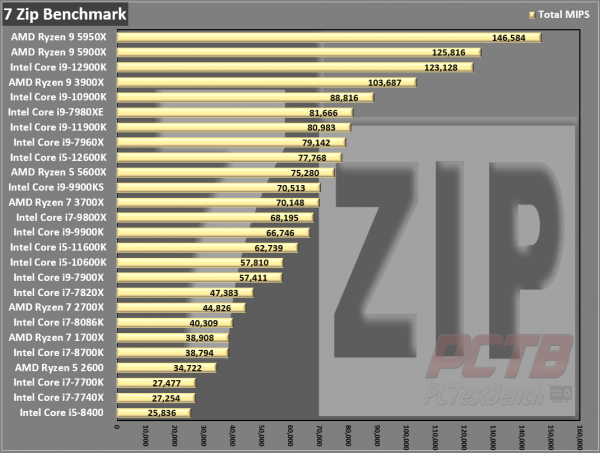 File compression and decompression really favor just raw thread count over IPC, so pulling up even with AMD's 24-thread 5900X isn't overly unexpected.