Tech News
Thermaltake All-in-One Liquid Coolers and Air Coolers are Fully Compatible with Socket LGA 1700 and Intel Alder Lake Processors
Thermaltake All-in-One Liquid Coolers and Air Coolers are Fully Compatible with Socket LGA 1700 and Intel® Alder Lake Processors
Bring on the next generation of gaming with Intel® 12th Gen CPUs and the latest compatible coolers from Thermaltake
Walnut, California- Nov. 1st, 2021-Thermaltake, the leading PC DIY premium brand for cooling, gaming gear, and enthusiast memory solutions, is pleased to announce their product compatibility with the latest Intel® 12th Generation Alder Lake desktop processors and the availability of LGA 1700 mounting kits for its current desktop CPU coolers. All Thermaltake TOUGHAIR and TOUGHLIQUID coolers come bundled with the LGA 1700 socket bracket and fully support users upgrading to the new platform. Thermaltake also provides free upgrade kits for existing CPU cooler customers on qualifying products. Customers will need to contact Thermaltake to get their free LGA 1700 upgrade kit.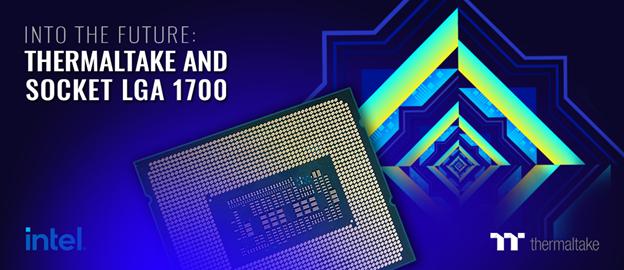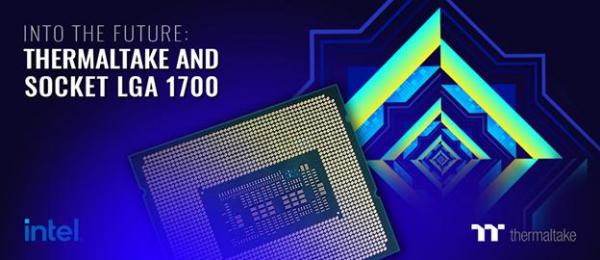 "Thermaltake users are mostly PC hardware enthusiasts and love to experiment with new PC tech products and get the best performance," said Kenny Lin, Thermaltake Founder & CEO. "An excellent CPU cooler is an essential component to a high-performance processor to ensure the best performance. Thermaltake AIO liquid coolers and Air coolers are now fully compatible with Intel® Alder Lake processors," he added.
Intel® Alder Lake desktop processors utilize a new socket, LGA 1700, which has more pins and is more prominent in size than the previous editions, will require a new mounting bracket to be compatible with the existing Thermaltake coolers. In the pursuit of creating the perfect user experience, Thermaltake TOUGHLIQUID and TOUGHAIR are ready for socket LGA 1700 out of the box, and the LGA 1700 bracket is included in the package. Meanwhile, users who have already purchased TOUGHLIQUID and FLOE RC liquid cooler can contact Thermaltake to receive an LGA 1700 free upgrade kit. Thermaltake Customer Support can be contacted by the direct line at +1 (800) 988-1088, live chat, or via request form here:
https://thermaltakeusa.zendesk.com/hc/en-us/requests/new


Thermaltake also offers an LGA 1700 Upgrade Kit solution for the customers with existing Thermaltake coolers. The customers can reference the LGA 1700 bracket kit upgrade for their cooler below:



For more details about Thermaltake LGA 1700 compatible cooling products: https://ttpremium.com/thermaltake/intel_1700.html
Where to buy
Thermaltake official store: https://www.thermaltakeusa.com/catalogsearch/result/?q=+cooler
Amazon: https://amzn.to/3vUq44o
Newegg: https://www.newegg.com/p/pl?d=thermaltake&N=100008008&isdeptsrh=1
About Thermaltake
Thermaltake launched in 1999, first specializing in air cooling and successfully debuting the world's first turbine air cooler, the "Golden Orb". Since then, Thermaltake has taken the world by storm and become the leader in computer hardware and peripherals in the DIY PC market. Homing in on their 3 main lines ("Key 3"), Thermaltake delivers seamless cases, power supplies, and cooling products. The "Key 3 Spirit" represents Thermaltake's promise toward its users; the promise to provide products that display "Quality Performance & Reliability." The "Key 3 Spirit" is the foundation for all Thermaltake products and is the reason for Thermaltake's continuous success worldwide.
Follow Thermaltake USA
Facebook: https://www.facebook.com/ThermaltakeNA
Instagram: https://www.instagram.com/thermaltake_na
Twitter: https://twitter.com/Thermaltake_na
YouTube: https://www.youtube.com/c/ThermaltakeNorthAmerica
Website: https://www.thermaltakeusa.com