Tech News
LIAN LI Launches Galahad AIO UNI FAN SL Edition
LIAN LI Launches Galahad AIO UNI FAN SL Edition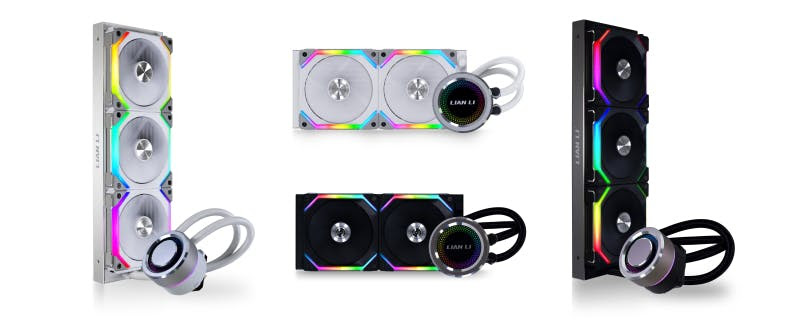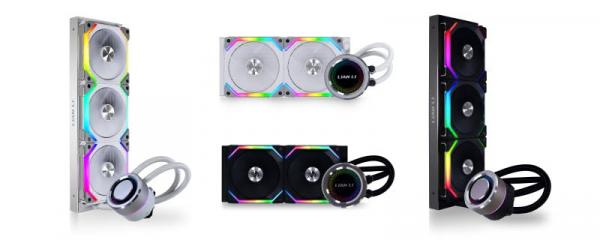 October 29th, 2021, Taipei, Taiwan – LIAN LI Industrial Co. Ltd., a leading manufacturer of chassis and PC accessories, announces the Galahad AIO UNI FAN SL Edition, an upgraded version of the Galahad AIO with UNI FAN SL120 fans. The pair provides a powerful cooling solution with a premium design, fewer cables, and unified RGB that can be controlled via LIAN LI's L-Connect 2 software. The combo includes the cable necessary to connect the AIO's pump RGB to the UNI HUB, making it a better value than if purchased separately.
Already a popular combination amongst LIAN LI users, the Galahad AIO, an outstanding all-in-one CPU cooler, and the UNI-FAN SL120, an innovative interlocking fan that reduces cable clutter, previously required the additional purchase of the ARGB cable kit for users wanting to manage their pump's RGB via L-Connect 2.
Galahad AIO
Featuring a unique triple chamber pump design, the Galahad AIO can deliver optimal thermal performance and noise management with operation at less than 20 dBA. The special design eliminates water flow dead zones while providing a direct path and maximum pressure over the fins of the cold plate, which results in fast heat dissipation.
UNI FAN SL120
Designed as PWM high static pressure fans, the UNI FAN SL120 offers great performance with speeds ranging between 800 to 1900rpm, and low noise levels at a maximum of 31 dBA, thanks to the fluid dynamic bearing technology. While providing sufficient airflow, the addressable LEDs provide a unique and customizable lighting effect that is visible front and back.
Including the best of both products, the Galahad AIO UNI FAN SL Edition comes with the cable and hub necessary to unify the RGB management via L-Connect 2 software. The Galahad AIO UNI FAN SL Edition will be available in black or white and in 240 or 360 sizes.
In addition, the Galahad AIO UNI FAN SL Edition will include the mounting hardware compatible with the new INTEL LGA 1700 socket.
The Galahad AIO UNI FAN SL Edition is available for pre-order starting October 29, on NEWEGG at an MSRP of $159.99 ($149.99 global) for the 240, and $199.99 ($189.99 global) for the 360.
For more information about the LIAN LI Galahad AIO UNI FAN SL Edition, please visit the product page: https://lian-li.com/product/galahad-aio-uni-fan-sl-edition-240-360/
SPECIFICATIONS
GALAHAD AIO
RADIATOR MATERIAL
Aluminum and plastic
RADIATOR DIMENSION
360: (D)27mm x (W)123.5mm x (L)395.7mm
240: (D)27mm x (W)123.5mm x (L)273mm
PUMP DIMENSION
Height: 61.8mm
Diameter: 74mm
PUMP MTTF
70,000 Hours
PUMP NOISE LEVEL
< 20 dBA
PUMP RATED VOLTAGE
12V DC
COMPATIBLE CPU SOCKETS
Intel: LGA 115X, LGA 1366, LGA 775, LGA 1200, LGA 2011, LGA 2066, LGA 1700
AMD: AM4
UNI FAN SL120
FAN DIMENSION
120 x 120 x 25mm
RATED VOLTAGE
DC 12V (FAN) & 5V (LED)
FAN SPEED
800~1900RPM
MAX AIR PRESSURE
2.54mmH2O
MAX AIRFLOW
58.54CFM
MAX NOISE LEVEL
31 dBA
LOCKED CURRENT
>= 50mA
BEARING TYPE
Fluid Dynamic Bearing (FDB)
START-UP VOLTAGE
DC 6.0V
INPUT CURRENT
180mA (FAN) / 600mA (LED)
INPUT POWER
5.16Watt
The Galahad AIO UNI FAN SL EDITION is available at NEWEGG:
https://www.newegg.com/p/2YM-002Y-00007
The LIAN LI Intel 12 Gen LGA 1700 Kit is available at AliExpress:
https://www.aliexpress.com/item/1005003370699155.html?spm=a2g0o.store_pc_home.slider_6001916164572.0
About LIAN LI
LIAN LI Industrial Co. Ltd is one of the world's leading consumer brands for PC chassis. With over 20 years of experience in designing and manufacturing PC chassis under its own name and community projects, the company has produced some of the most iconic designs to date. LIAN LI's award-winning products are sold worldwide to PC enthusiasts, builders, and gamers. To learn more about LIAN LI, please visit http://www.lian-li.com/. You can also visit LIAN LI on Facebook, Instagram, and YouTube.