Cooling
Thermaltake TOUGHLIQUID 240 ARGB Sync AiO Liquid Cooler Review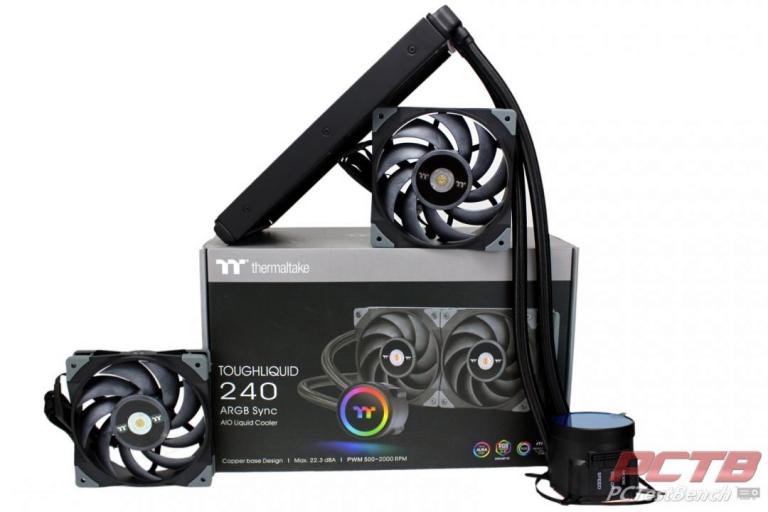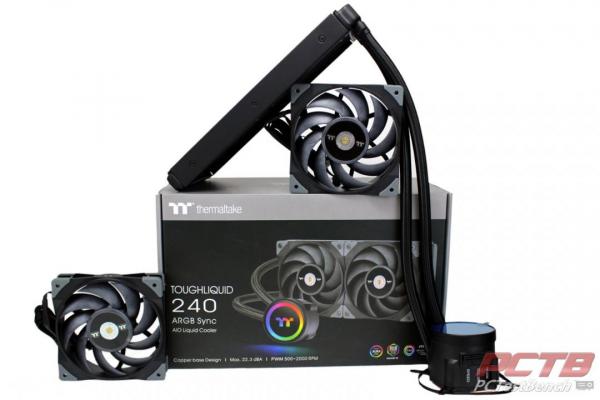 Liquid cooling was a niche for brave enthusiasts not that long ago. Liquid and expensive electronics must be a recipe for disaster right? Well, while you can certainly find some horror stories online, the technology has matured to the point that you can install a high-performance liquid cooler with little more effort than a run-on-the-mill air cooler. Thermaltake's ToughLiquid 240 ARGB Sync is the result of years of cooling advancements from risky niche hobby to main-stream drop in cooling.
'Bolt On' liquid cooling is a great way to achieve maximum performance from the latest processors and Thermaltake's ToughLiquid 240 ARGB Sync cooler is designed to provide years of maintenance-free cooling without any complexity or worry. Two ToughFan 12 fans provide high-performance cooling with up to 2000 RPM of power and a rotatable cover plate with ARGB Synced lighting keeps it looking classy no matter how you install your cooler. Your system doesn't have ARGB yet? That's fine, The ToughLiquid can stand on its own with built-in speed and lighting controls. If you have a little bit larger case to fill, the ToughLiquid also comes in 280mm and 360mm variants as well. Does it perform as well as it sounds? Let's find out!
PC Test Bench would like to thank Thermaltake for sending over the TOUGHLIQUID 240 ARGB Sync All-In-One Liquid Cooler for us to check out!
Thermaltake's view on the TOUGHLIQUID 240 ARGB Sync:
TOUGHLIQUID 240 ARGB Sync AIO Cooler is a TOUGHFAN 12 equipped all-in-one liquid cooler with a built-in controller and rotational cap with 6 LEDs, which can be controlled by 5V RGB compatible motherboards.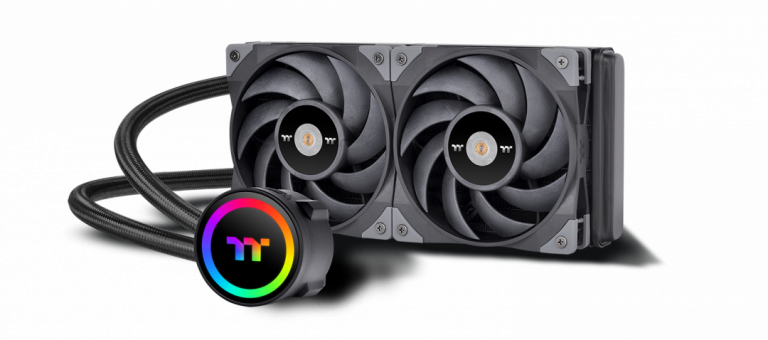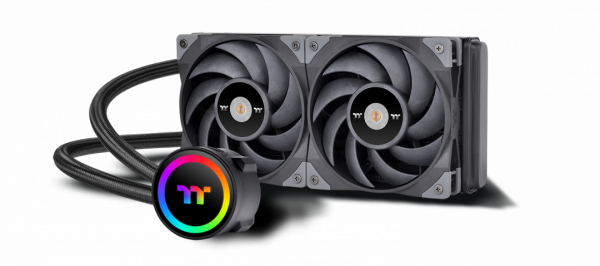 Features:
Rotational Cap
TOUGHLIQUID 240 ARGB features a rotational cap that allows users to rotate the cap easily even after installation, so the TT logo faces the right direction to present the overall aesthetic of the build.
Switch Lighting Effects
The mirror-finished water block is designed with a built-in controller, which grants easy control of the water block's lighting mode, speed, and color, creating effortless cable management while enjoying the lighting effects with direct access.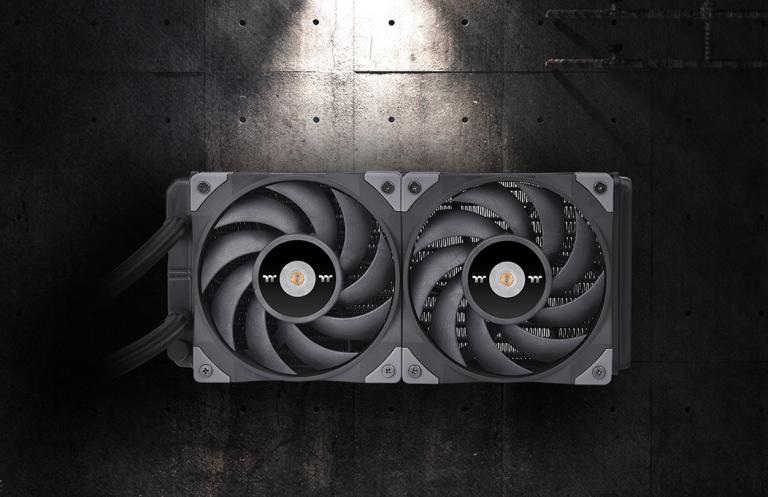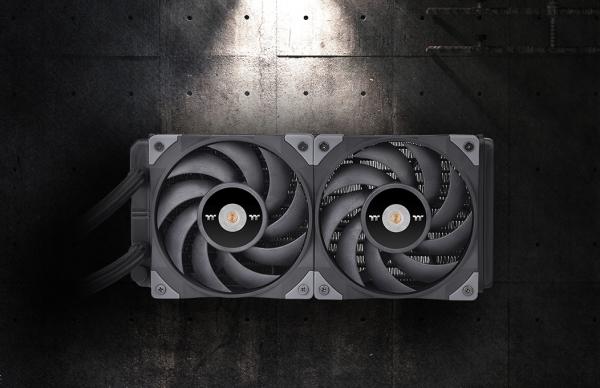 TOUGHFAN 12 Equipped
Equipped with two TOUGHFAN 12, the TOUGHLIQUID 240 ARGB Sync now provides a fan speed of up to 2000 RPM, ensuring the best cooling results.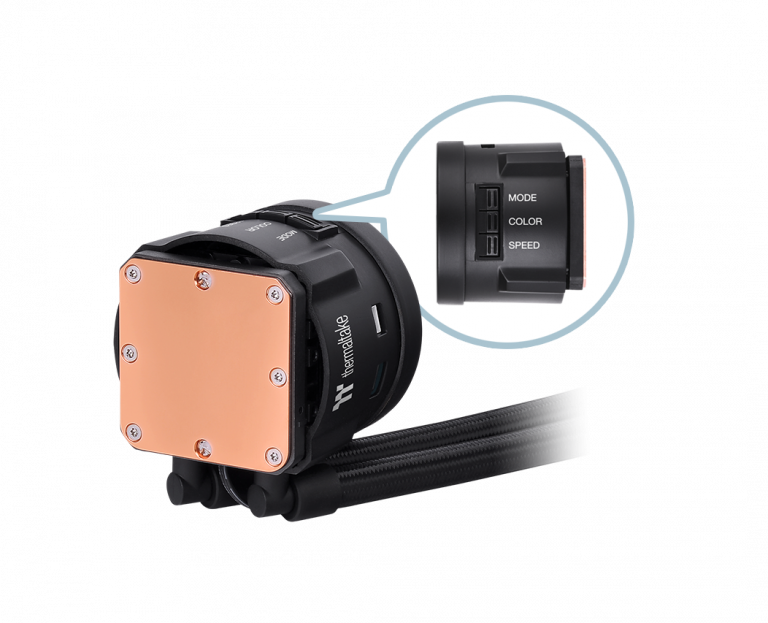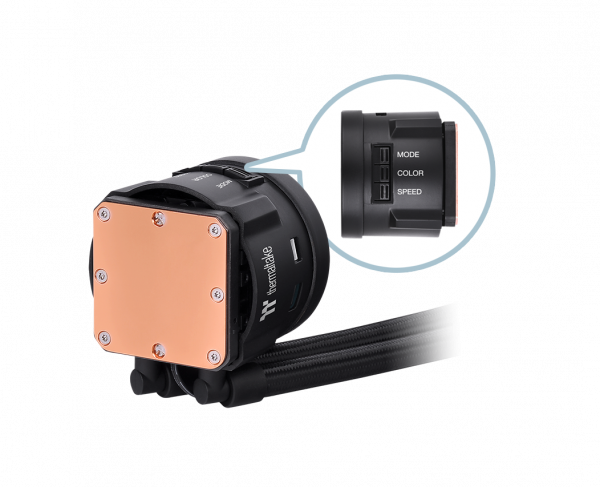 High-Performance Waterblock
The high-performance copper base plate accelerates heat conductivity. The high-quality and reliable pump enables maximum water circulation, keeping the copper plate continuously cool. The low evaporation tube effectively decreases the loss of coolant; therefore no refill is required.
Universal Compatibility
TOUGHLIQUID 240 ARGB Sync All-In-One Water block supports Intel and AMD universal brackets, allowing different CPU users to enjoy fantastic lighting effects after a quick installation.
Quick Specs:
PUMP

Speed : 3300 R.P.M
Rated Voltage : 12 V & 5V
Rated Current : 0.38A & 0.26A
Power Input : 4.56W & 1.3 W

WATER BLOCK
FAN

Dimension : 120 x 120 x 25 mm
Speed : 500~2000 R.P.M
Noise Level. : 22.3 dB-A
Rated Voltage : 12 V
Rated Current : 0.12A (one fan)
Power Input : 1.44W (one fan)
Air Flow. : 58.35 CFM
Pressure. : 2.41 mm-H2O
Connector : 2510 – 4 Pin

TUBE

Length : 400 mm
Material : Rubber

RADIATOR

Dimension : 273 x 120 x 27 mm
Material : Aluminum

COMPATIBILITY

Intel

LGA 2066/2011-3/2011/1366/1200/1156/1155/1151/1150

AMD

AM4/AM3+/AM3/AM2+/AM2/FM2/FM1