Cooling
Thermaltake TOUGHLIQUID 240 ARGB Sync AiO Liquid Cooler Review
Test Platform:
CPU – Intel Core i9-10900K
Mobo – Asus ROG Strix Z490-I Gaming
RAM – 16GB (2x8GB) Viper Elite II 4000MHz
GPU – Nvidia RTX 2080Ti Founders Edition
SSD – Corsair MP600 2TB
PSU – Corsair SF750 750W
Chassis –  Sliger Cerberus X
All testing is performed at default settings except for enabling XMP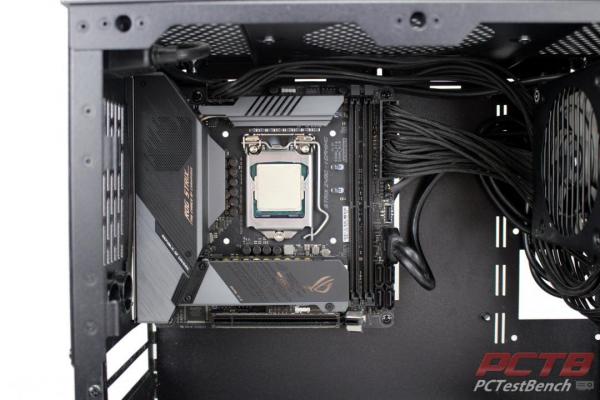 Installation is pretty straightforward. Our case has a cutout behind the board that makes it easy to get to the rear of the socket, so we'll go ahead and mount it in the case and wire it up, along with installing the CPU and Storage.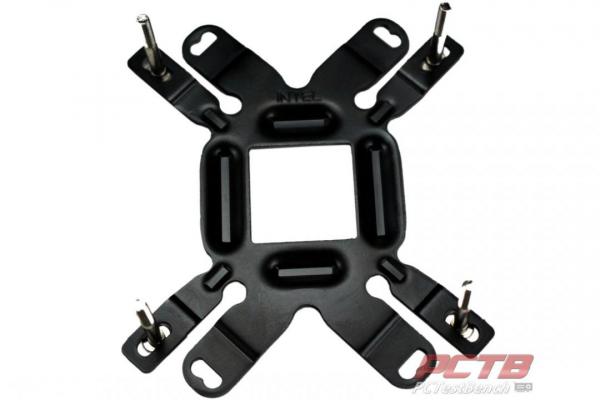 With the universal backplate oriented with the Intel logo facing you, install the mounting studs in the appropriate positions.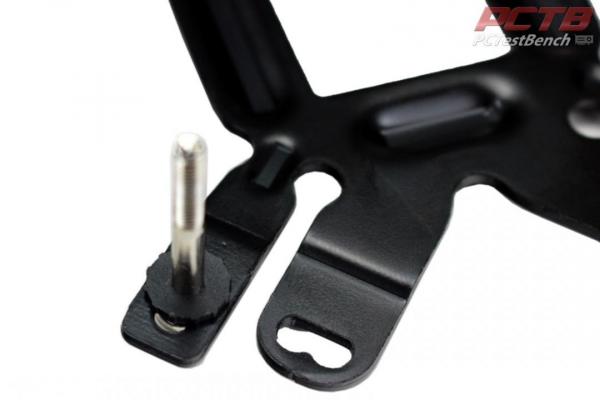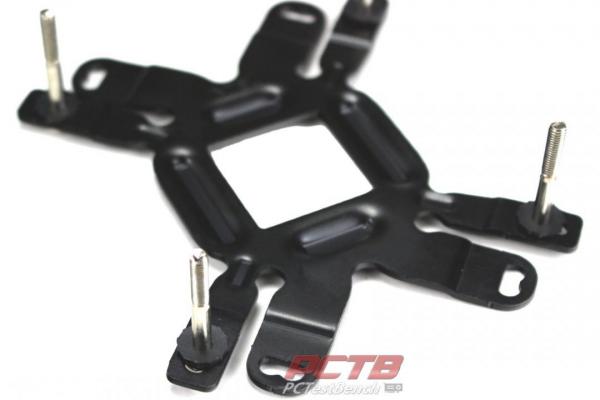 Plastic washers go on next to prevent shorts.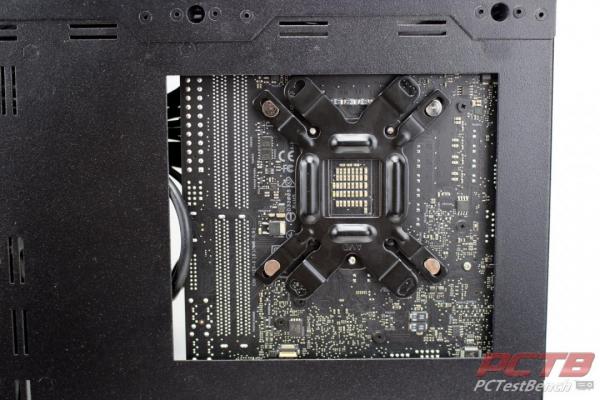 The entire assembly just pokes through the holes in the motherboard and sits against the socket backplate.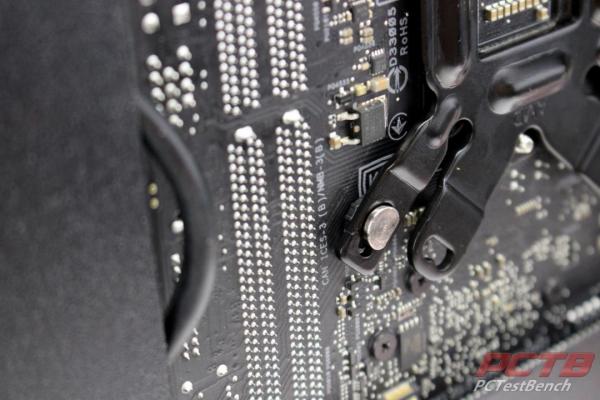 The socket backplate and plastic washers keep the metal bracket from touching anything.
On the front, 4 plastic spacers are installed, one on each protruding stud.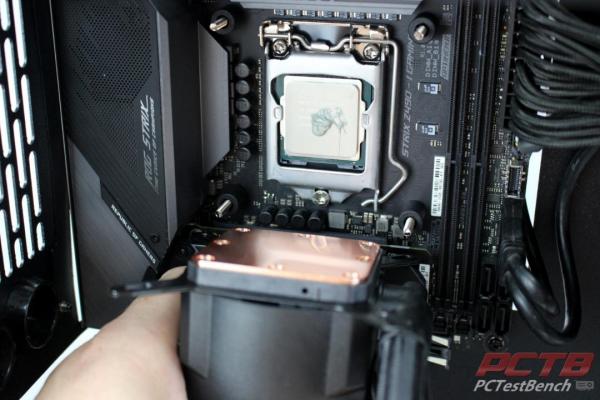 A little blob of included thermal paste and the removal of the protective film on the cold plate are next.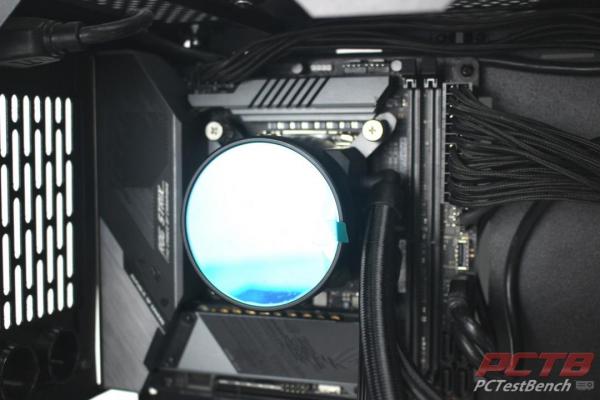 The cooler goes on easily with 4 thumb screws holding it in place.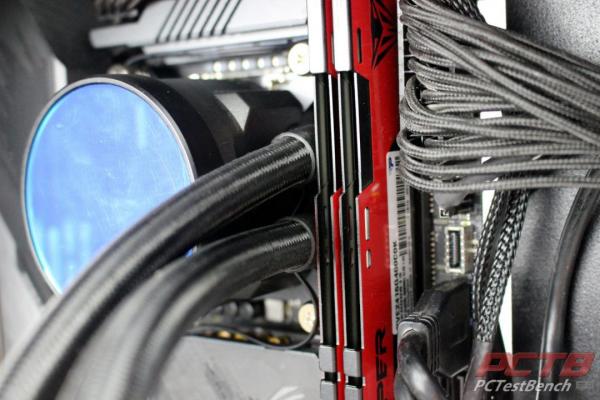 The ToughLiquid ARGB Sync touches our ram kit when installed. It's close, it is touching, but it's not putting pressure on the closest stick so there are no issues here.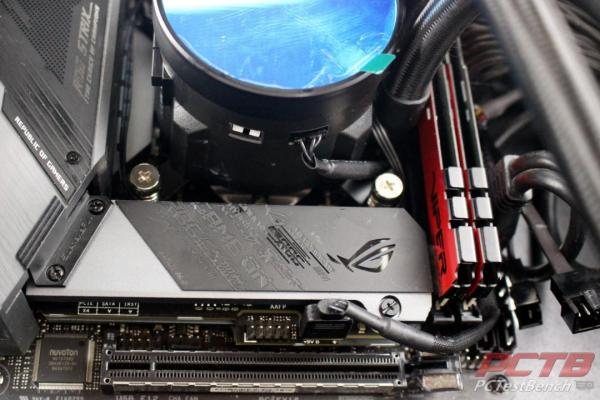 Since we have an ARGB compatible motherboard, we'll connect the ARGB Sync cable and run it down to the ARGB header o the motherboard.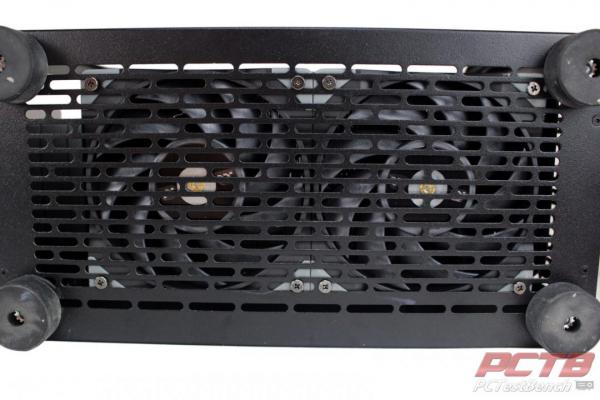 In our particular case, we'll be installing the radiator on the bottom of the case, on top of the fans that will push air up through the radiator from under the case.
This leaves us plenty of room to install our GPU. The ToughLiquid Cooler is filled very well with no noticeable air in the loop when moving it around or running, so installation like this isn't going to hurt anything. You've probably seen the extensive coverage on this subject recently online, and while in general, it is true, it's not an issue here with how full TT fills their coolers.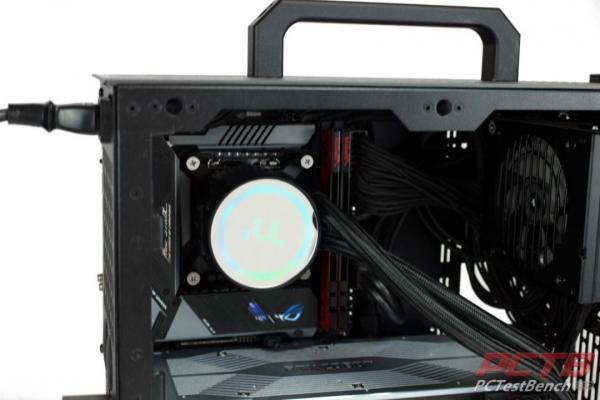 When powered on, We noticed our TT logo was just a little off….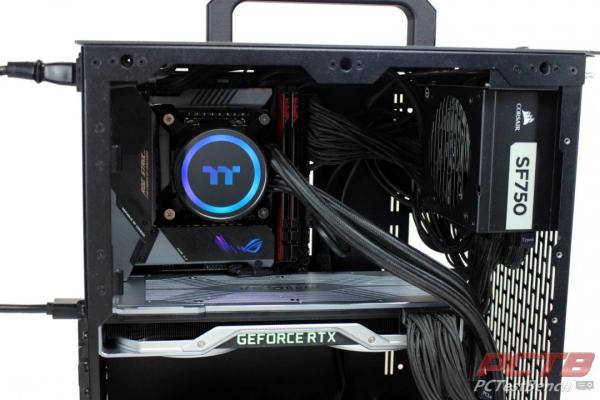 Thankfully, you can just rotate it around any way you want to make it look correct.