CPU Testing
Test Platform:
CPU – Intel Core i9-12900K
Mobo – MSI MPG Z690 Carbon WiFi
RAM – 32GB (2x16GB) Crucial 4800MHz DDR5 C40
GPU – Nvidia RTX 2080 Founders Edition
SSD – Teamgroup Cardea A440 1TB
PSU – Thermaltake Toughpower Grand RGB Gold 750W
Chassis – Open BenchTable
Cooling –MSI MPG CoreLiquid K360 AiO
OS – Microsoft Windows 11 Professional
All testing is performed at stock settings except for enabling XMP (Profile 1: 4800MHz 40-39-39-76 CR2)
Super PI Modded 1.5
"In August 1995, the calculation of pi up to 4,294,960,000 decimal digits was succeeded by using a supercomputer at the University of Tokyo. The program was written by D.Takahashi in collaboration with Dr.Y.Kanada at the computer center. This record should be the current world record. (Details are shown in the windows help.) This record-breaking program was ported to personal computer environments such as Windows NT and Windows 95. In order to calculate 33.55 million digits, it takes within 3 days with a Pentium 90 MHz, 40 MB main memory, and 340 MB available storage."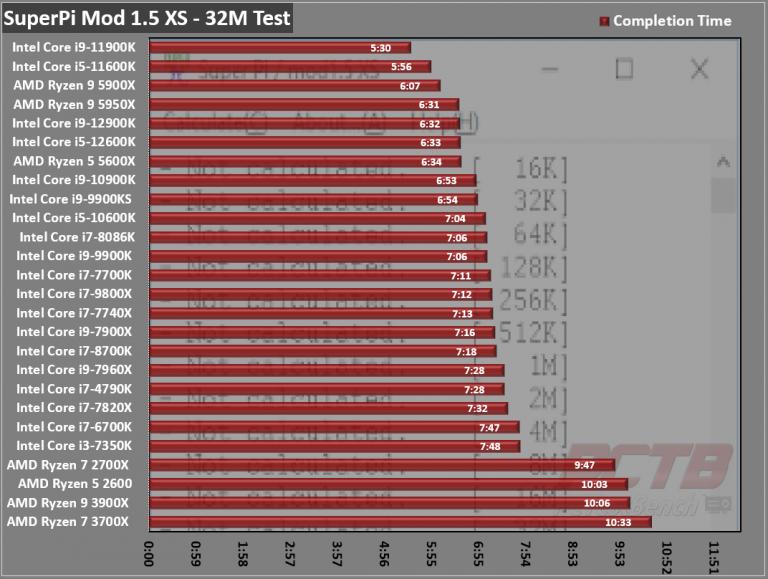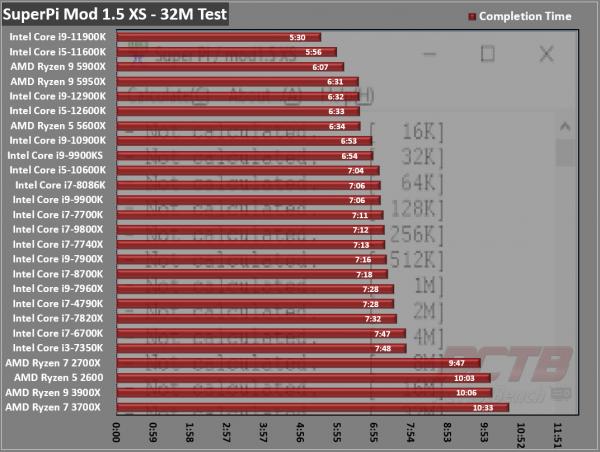 Our first single-core test doesn't look very impressive at first glance. A 32M test time of 6 minutes and 32 seconds is fast but doesn't set any records. This caught us a little off guard as the previous generations i9-11900K smoked this test over a minute faster and easily ran away with the crown.  It turns out, this workload, while correctly assigned to a P-core, doesn't trigger the CPU to boost up to maximum speed. Our clock speed on the core under load hovered around the 4.7Ghz mark for the duration of the test while other threads would randomly boost well north of the 5Ghz mark.
CINEBENCH R15
"CINEBENCH is a real-world cross-platform test suite that evaluates your computer's performance capabilities. CINEBENCH is based on MAXON's award-winning animation software CINEMA 4D, which is used extensively by studios and production houses worldwide for 3D content creation. MAXON software has been used in blockbuster movies such as Iron Man 3, Oblivion, Life of Pi or Prometheus, and much more.
CINEBENCH is the perfect tool to compare CPU and graphics performance across various systems and platforms (Windows and OS X). And best of all: It's completely free."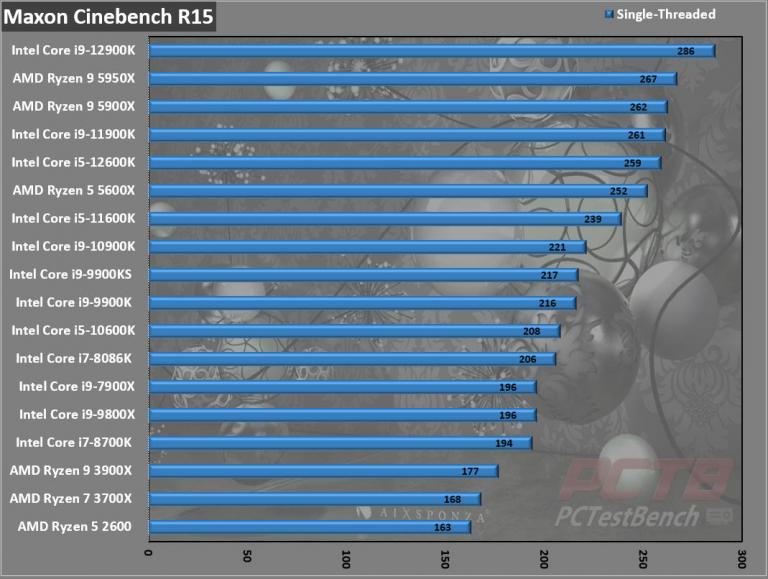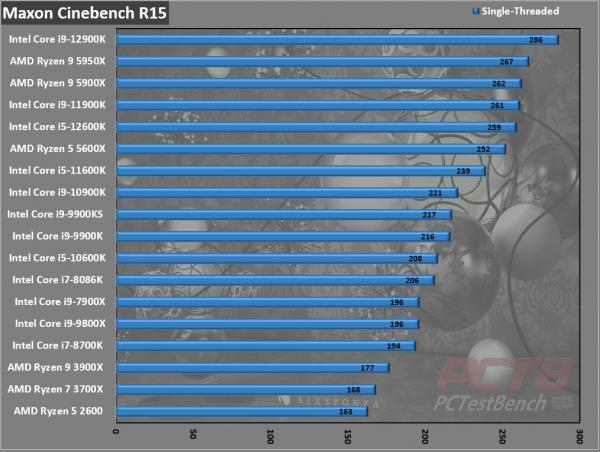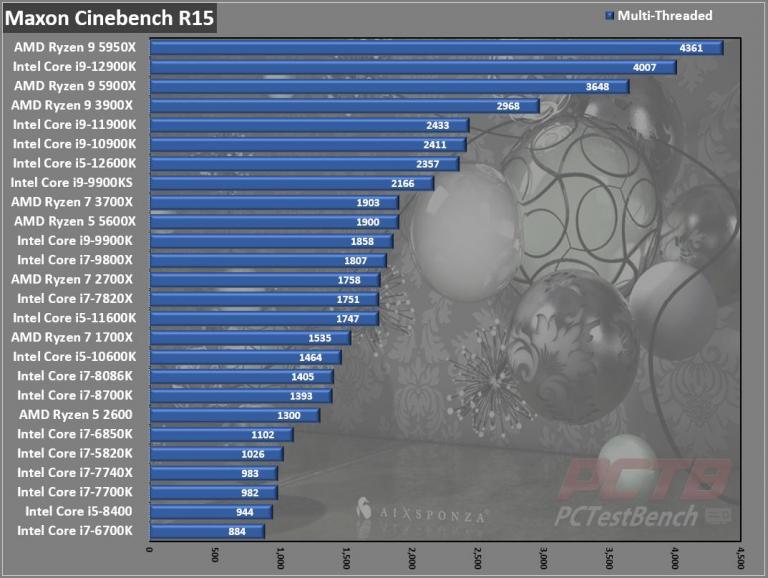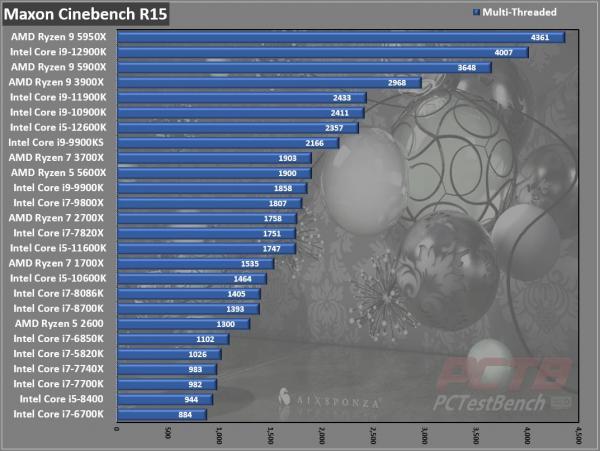 While Cinebench R15 is getting rather long in the tooth, we wanted to give it a spin for an apples-to-apples test against more previous generations dating back to Intel 8th generation and 1st generation AMD Ryzen. We get very powerful single-threaded performance with the best score we've seen, while the 24 threads of the 12900K easily eclipse the 24 threads of the Ryzen 5900X and are hot on the heels of the 32-thread Ryzen 5950X.
CINEBENCH R20
Cinebench is a real-world cross-platform test suite that evaluates your computer's hardware capabilities. Improvements to Cinebench Release 20 reflect the overall advancements to CPU and rendering technology in recent years, providing a more accurate measurement of Cinema 4D's ability to take advantage of multiple CPU cores and modern processor features available to the average user. Best of all: It's free.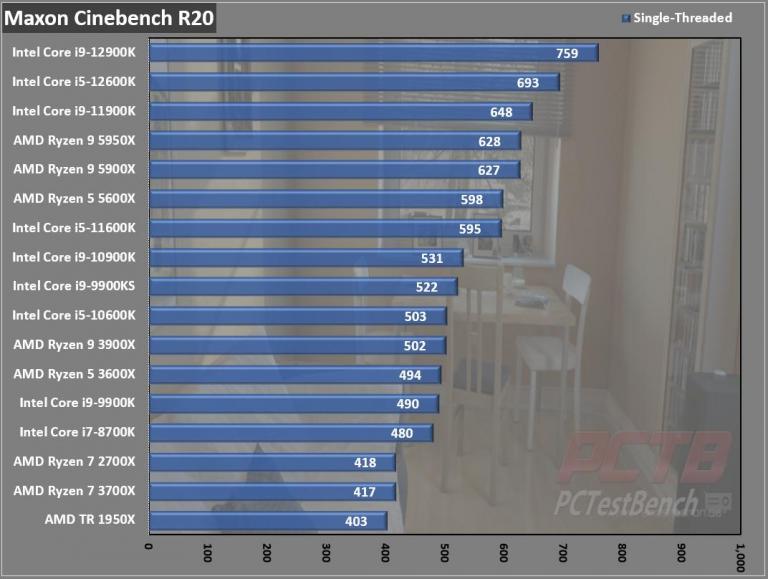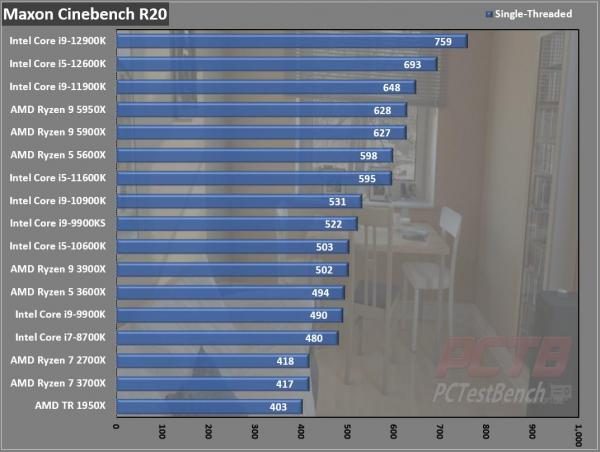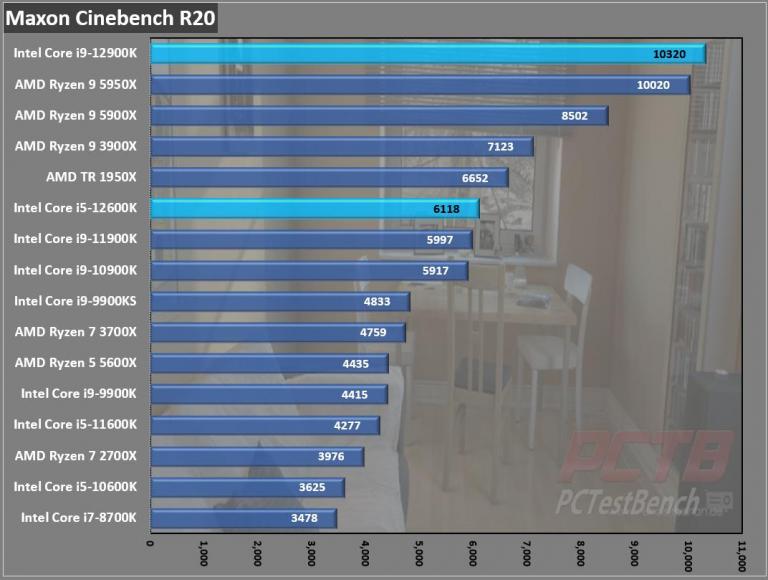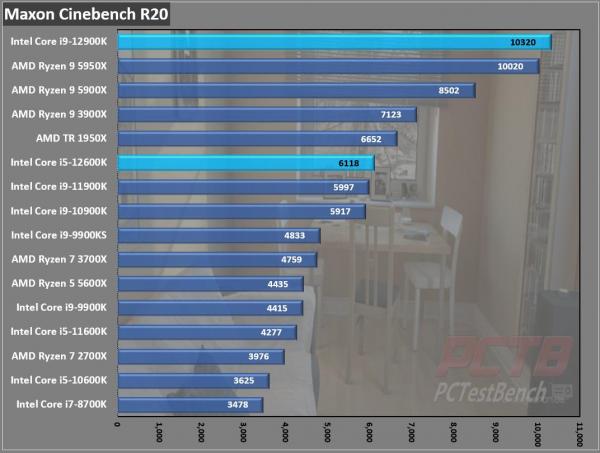 We see a similar pattern in Cinebench R20 with the 12900K taking the crown in single-threaded performance, but it gains a bit in multi-threaded and just edges out the red champion, the Ryzen 9 5950X.
Passmark Performance Test – CPU Mark
"Fast, easy to use, PC speed testing, and benchmarking. PassMark Performance Test ™ allows you to objectively benchmark a PC using a variety of different speed tests and compare the results to other computers."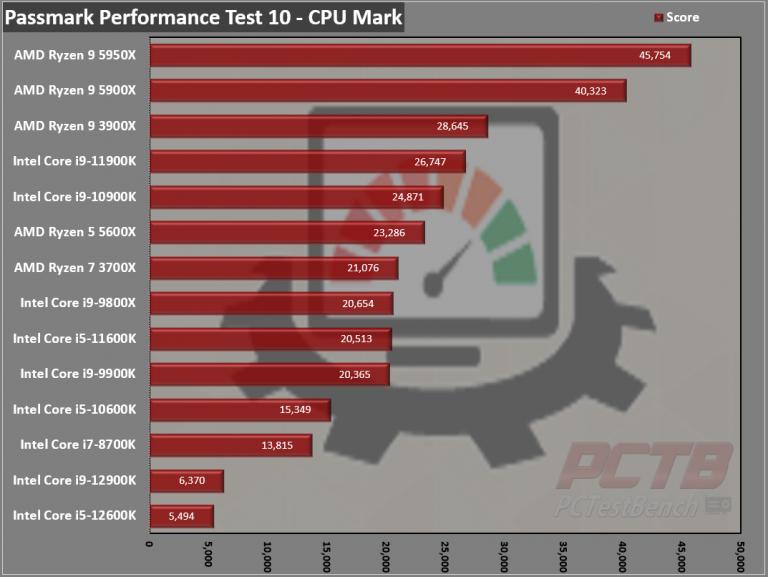 Passmark's PerformanceTest 10 CPU Mark looks terrible at first, but this is likely due to it not fully supporting Alder Lake just yet. Let's look a little deeper.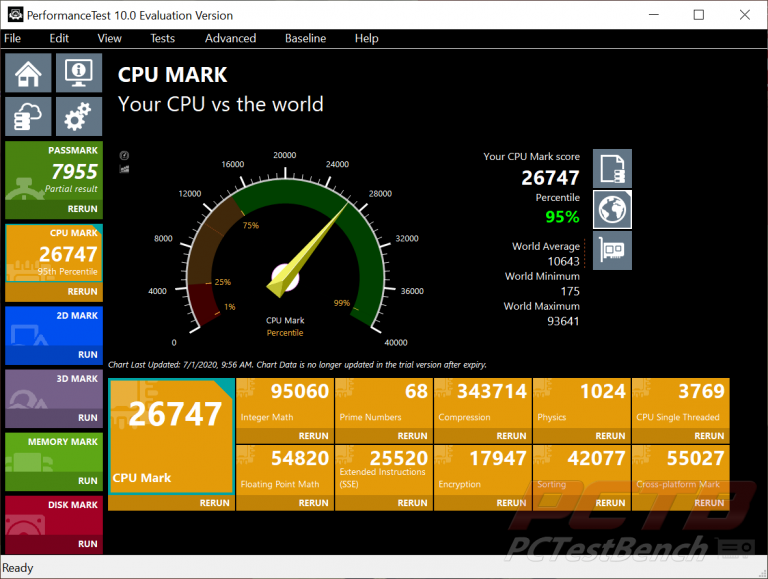 This is one test run from The Intel i9-11900K.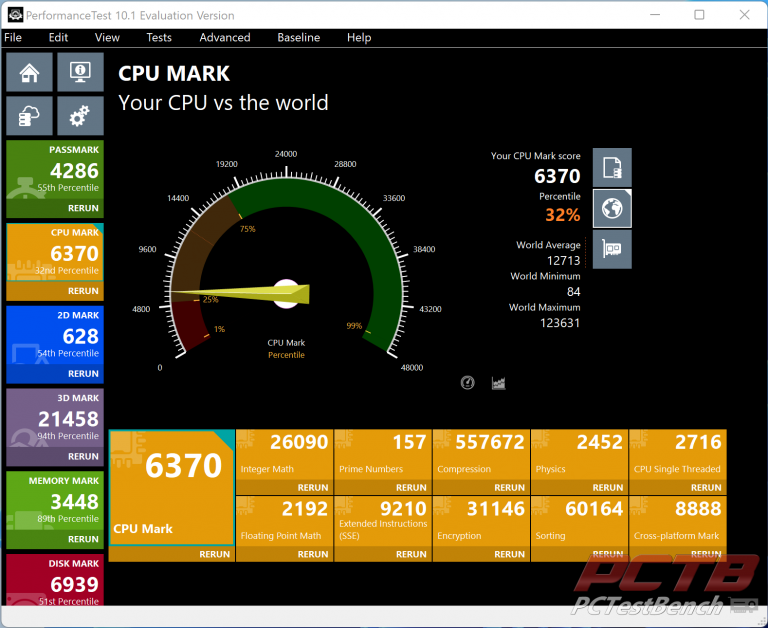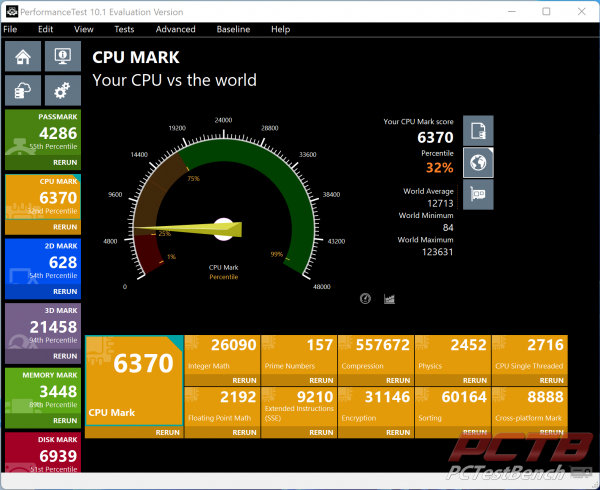 Looking at the sub-categories of the test, something is seriously wrong with Integer Math, Floating Point Math, SSE Instructions, and Cross-Platform given the extremely low scores. This likely indicates an incompatibility with Alder Lake and the current PerformanceTest version available that will get fixed in a future update. It's the rest of the categories we want to look at though. Physics, Encryption, Sorting, and Compression functions all show amazing increases in scores from the last generation.
SiSoft Sandra – Cryptographic Bandwidth
"SiSoftware Sandra provides a robust package of diagnostic tools for testing your system and teasing out its problems–or potential headaches."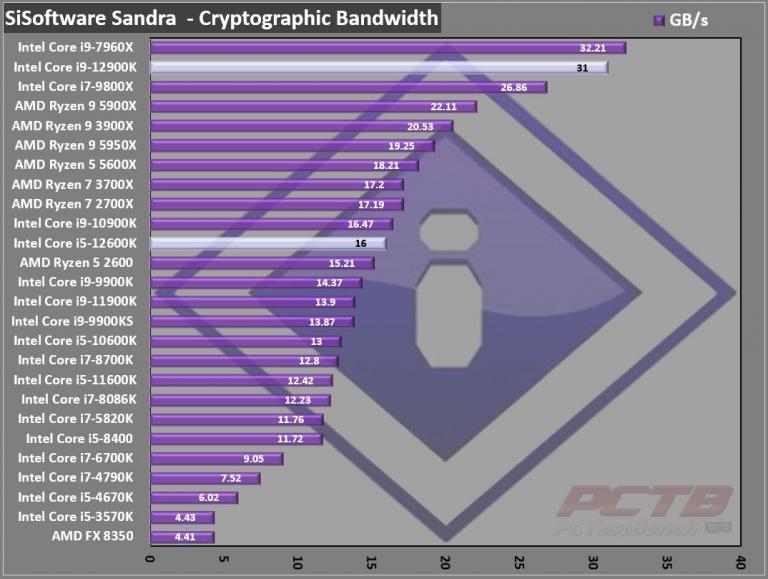 SiSoft's Cryptographic bandwidth paints a very rosy picture. Intel's Core i9-12900K just obliterates everything in the Mainstream desktop category and everything but the 16-core, 32 thread HEDT oriented Core i9-7960X in our chart overall.
Y-Cruncher
Written by Alexander J. Lee "From a high-school project that went a little too far…" y-cruncher, (y for gamma) is a number-crunching program that can compute various mathematical constants.
It was originally a small program specialized for computing the Euler-Mascheroni Constant. (Which uses gamma as its symbol, hence the name). It has since gained the ability to compute other constants.
It is the first of its kind that is multi-threaded and scalable to multi-core systems. Ever since its launch in 2009, it has become a common benchmarking and stress-testing application for overclockers and hardware enthusiasts.
We tested using the built-in benchmarks to compute Pi to 1 Billion Digits in both single and multi-threaded mode and recorded the Total Computation time at the end of the run. Y-Cruncher is also able to take advantage of AVX512 instructions in compatible CPUs.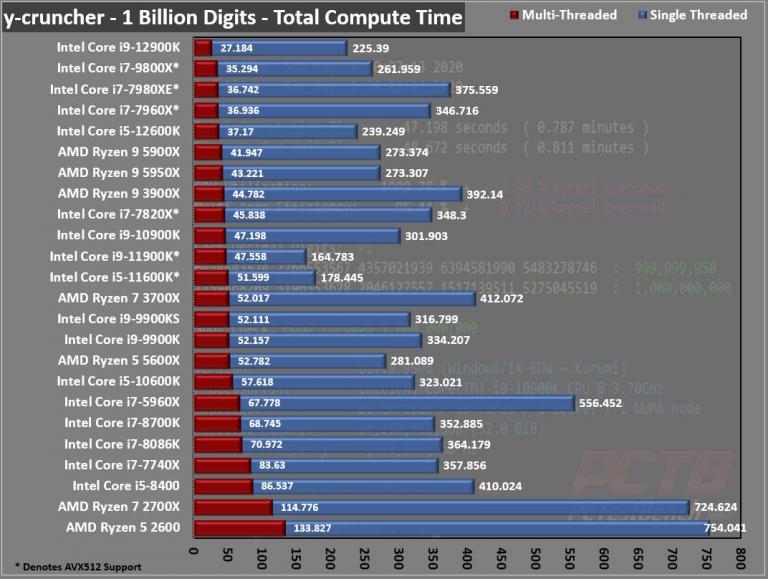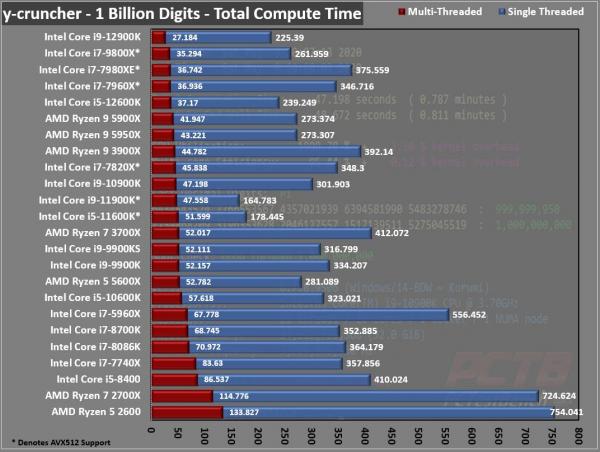 y-cruncher is an interesting benchmark because it is one of the few that can take advantage of AVX-512 instructions to accelerate compute time. Intel, on the flip side, has foregone AVX-512 support on 12th generation chips, even after enabling it on the previous 11th generation for the first time in its mainstream segment. 11th gen chips have the fastest single-threaded solve time thanks to AVX-512 but 12th gen is able to close the gap and then some for the fastest multi-threaded benchmark runs we've ever seen.
Black Hole 4.2
Let the beast run and benchmark your system in three different tests (Multithreaded, Single-threaded & 4-Threaded) that will test your CPU to the very limit, and score you among hundreds of other systems that have tested.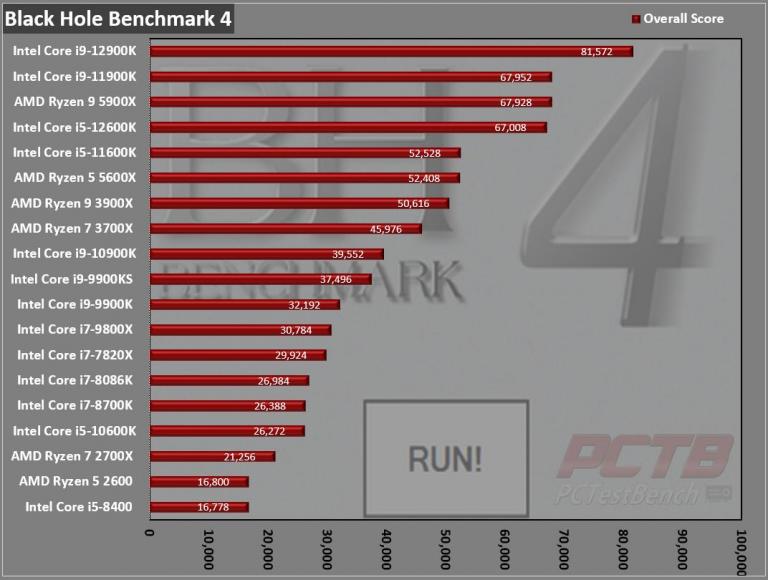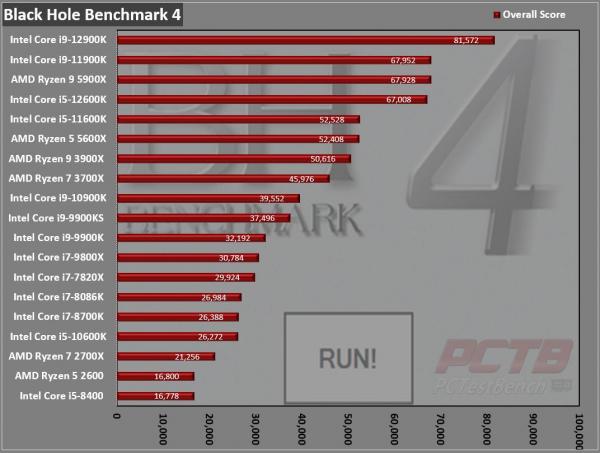 Interestingly, Black Hole Benchmark registers a very low 4-core sub-score of 1164 points on this run, down about 7500 points from the run performed by the Core i9-11900K but makes up for it so much in the single-threaded and multi-threaded runs that it blows the overall score right out of the water.