CPU
Intel Core i9-10900K CPU Review
A new King of Gaming is born
Synthetic Testing
Test Platform:
CPU – Intel Core i9-10900K
Mobo – Aorus Z490 Master
RAM – 32GB (4x8GB) HyperX Fury RGB 3200MHz C16
GPU – Nvidia RTX 2080 Founders Edition
SSD – Kingston KC1000 1TB
PSU – Thermaltake Toughpower Grand RGB Gold 750W
Chassis – Open BenchTable
Cooling – Custom Liquid Loop (EKWB Velocity CPU Block, EKWB PE240 Rad, 1x DDC Pump)
All testing is performed at stock settings except for enabling XMP (Profile 1: 3200MHz 16-18-18-38 1.35V) and Aorus's Multicore Enhancement disabled in the BIOS.
Super PI Modded 1.5
"In August 1995, the calculation of pi up to 4,294,960,000 decimal digits was succeeded by using a supercomputer at the University of Tokyo. The program was written by D.Takahashi in collaboration with Dr.Y.Kanada at the computer center. This record should be the current world record. (Details are shown in the windows help.) This record-breaking program was ported to personal computer environments such as Windows NT and Windows 95. In order to calculate 33.55 million digits, it takes within 3 days with a Pentium 90 MHz, 40 MB main memory, and 340 MB available storage."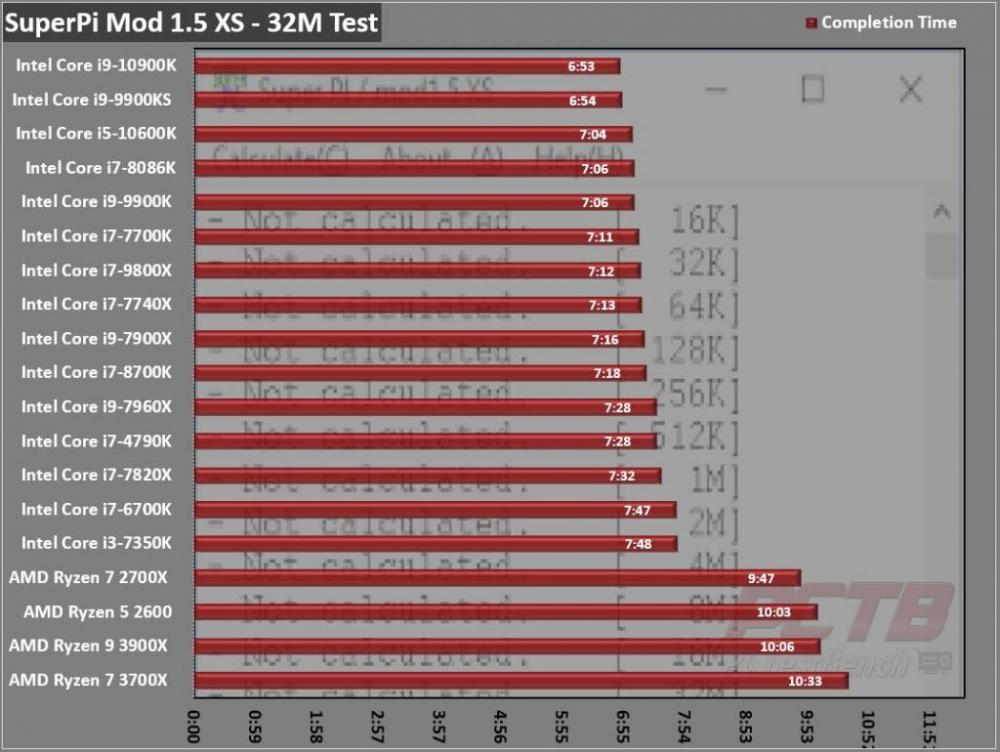 As this test is entirely single-threaded, it's no surprise the Core i9-10900K lands a win here with single thread clock speeds able to hit a staggering 5.3GHz.
CINEBENCH R15
"CINEBENCH is a real-world cross-platform test suite that evaluates your computer's performance capabilities. CINEBENCH is based on MAXON's award-winning animation software CINEMA 4D, which is used extensively by studios and production houses worldwide for 3D content creation. MAXON software has been used in blockbuster movies such as Iron Man 3, Oblivion, Life of Pi or Prometheus, and much more.
CINEBENCH is the perfect tool to compare CPU and graphics performance across various systems and platforms (Windows and OS X). And best of all: It's completely free."
Again we see single thread speeds pull in a decent win here with multi-core testing only loosing out to the 12-core Ryzen 9 3900X as expected.
CINEBENCH R20
Cinebench is a real-world cross-platform test suite that evaluates your computer's hardware capabilities. Improvements to Cinebench Release 20 reflect the overall advancements to CPU and rendering technology in recent years, providing a more accurate measurement of Cinema 4D's ability to take advantage of multiple CPU cores and modern processor features available to the average user. Best of all: It's free.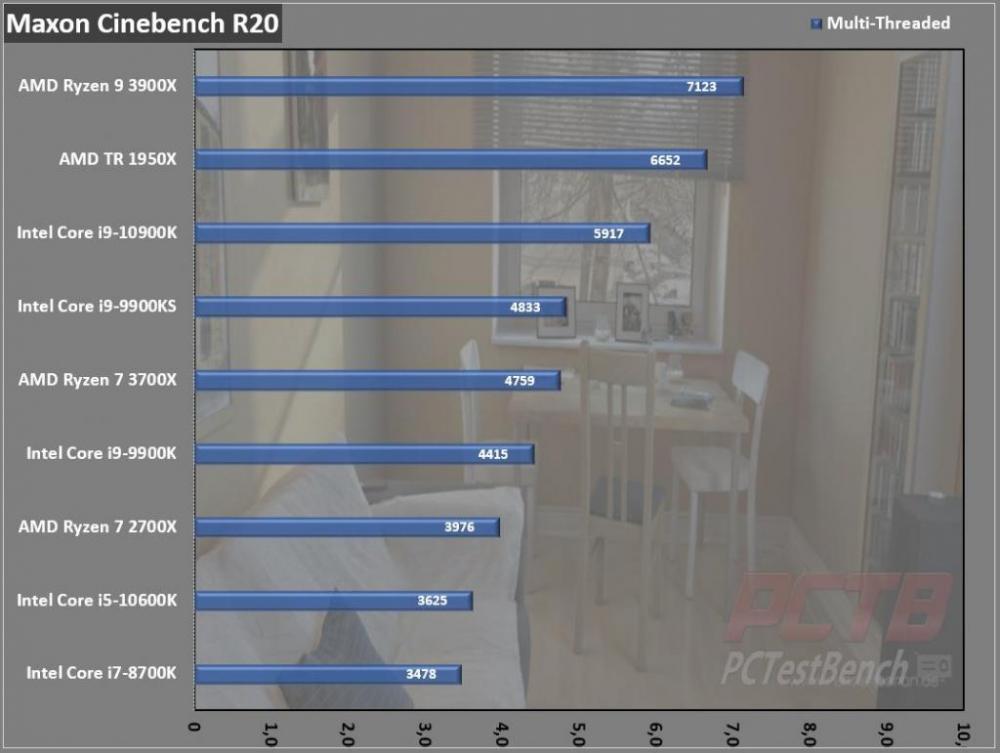 In the newer Cinebench R20, we see a similar pattern with the 10-core i9-10900K only falling behind the 12 and 16-core chips in our testing.
Passmark Performance Test – CPU Mark
"Fast, easy to use, PC speed testing, and benchmarking. PassMark Performance Test ™ allows you to objectively benchmark a PC using a variety of different speed tests and compare the results to other computers."
Passmark's Performance Test 10 really scales with thread count rather than raw clock speed, so you see almost perfect scaling from 6 to 8 to 10 to 12 cores here with the i9-10900K almost reaching 25K points.
SiSoft Sandra – Cryptographic Bandwidth
"SiSoftware Sandra provides a robust package of diagnostic tools for testing your system and teasing out its problems–or potential headaches."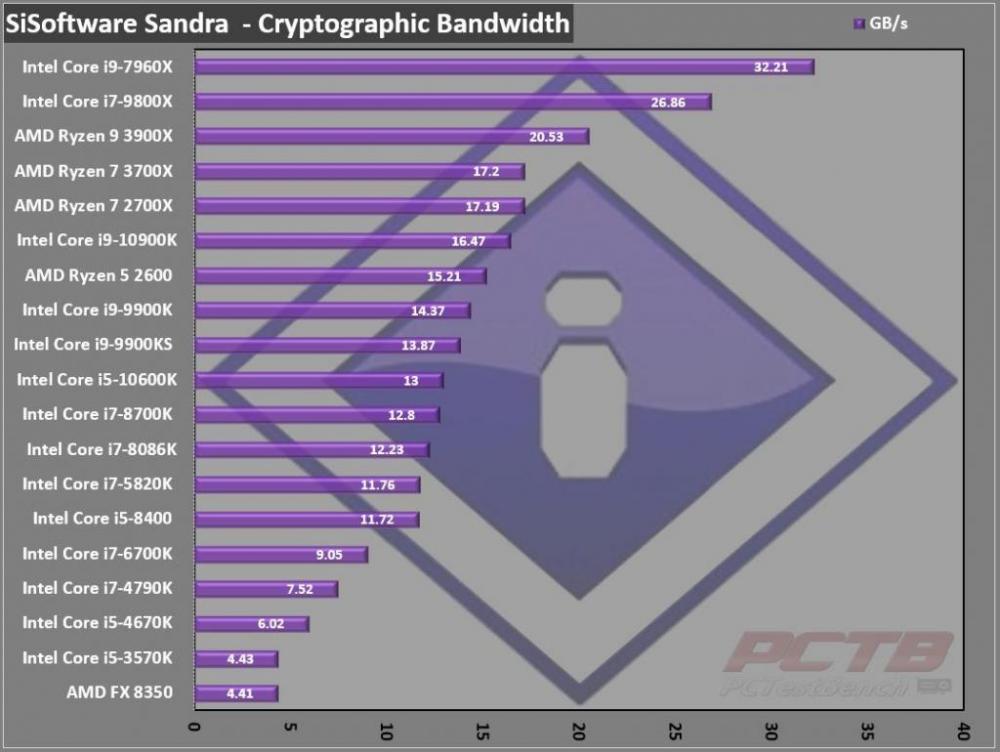 SiSoft's CPU Cryptographic Bandwidth really favors team red's architecture here but some of Intel's HEDT chips hold the top spot. We do see a pretty significant increase over the last gen's 8-core parts.
Y-Cruncher
Written by Alexander J. Lee "From a high-school project that went a little too far…" y-cruncher, (y for gamma) is a number-crunching program that can compute various mathematical constants.
It was originally a small program specialized for computing the Euler-Mascheroni Constant. (Which uses gamma as its symbol, hence the name). It has since gained the ability to compute other constants.
It is the first of its kind that is multi-threaded and scalable to multi-core systems. Ever since its launch in 2009, it has become a common benchmarking and stress-testing application for overclockers and hardware enthusiasts.
We tested using the built-in benchmarks to compute Pi to 1 Billion Digits in both single and multi-threaded mode and recorded the Total Computation time at the end of the run. Y-Cruncher is also able to take advantage of AVX512 instructions in compatible CPU's.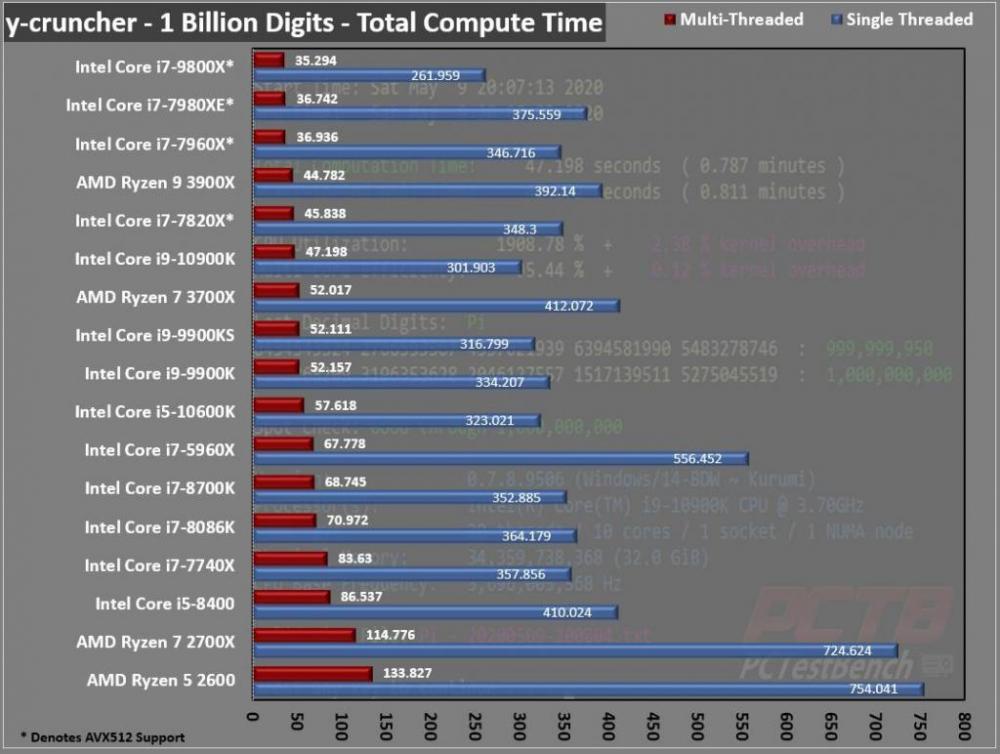 Core counts matter here and the i9-10900K only falls behind the mainstream 3900X and HEDT parts that sport AVX512 support in multi-threaded. The new chip lands the fastest non-AVX512 single-threaded speed in our lineup by a fair margin though.
Black Hole 4.2
Let the beast run and benchmark your system in three different tests (Multithreaded, Single-threaded & 4-Threaded) that will test your CPU to the very limit, and score you among hundreds of other systems that have tested.
Multithreaded will test your CPU's efficiency of running more than one thread without major system lag. The higher you score on this one, the more threads your CPU can handle with a comfortable speed. High multithreaded scores generally mean you can render things faster.
4-Threaded tests your CPU's performance in games since most games currently run on 4 threads.
Single-threaded evaluates how fast the CPU can handle a single, dedicated thread for processing.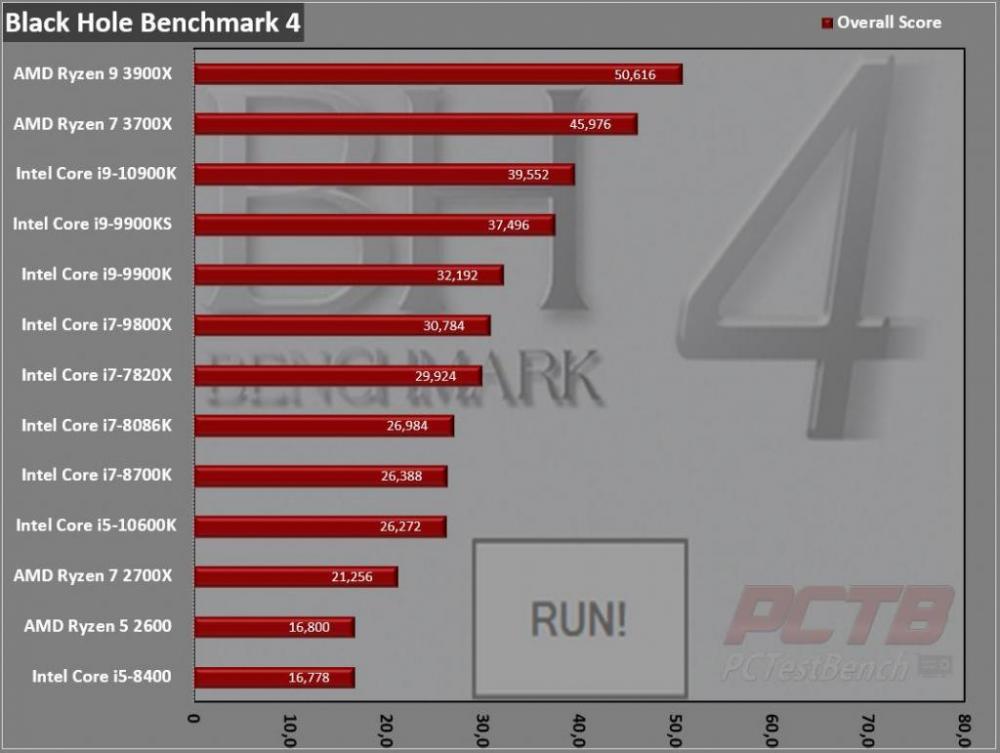 This is another test that shows decent scaling from prior 8-core parts, but again see's AMD's architecture holding a pretty noticeable advantage, even with fewer cores.