Motherboards
ASRock H470 Steel Legend Motherboard Review
Get Endless Performance Possibilities with Steel Style
System Memory Testing
AIDA64 Engineer Edition
"FinalWire Ltd. today announced the immediate availability of AIDA64 Extreme Edition 1.50 software, a streamlined diagnostic and benchmarking tool for home users; and the immediate availability of AIDA64 Business Edition 1.50 software, an essential network management solution for small and medium scale enterprises. The new AIDA64 update implements AVX-optimized benchmarks for the upcoming Intel Sandy Bridge processors, adds a brand-new video encoding benchmark, and supports the latest AMD and NVIDIA graphics processors."
Aida64 shows us the weak point of the H470 chipset on ASRock's H470 Steel Legend. The platform limits memory speed to 2933MHz which has a notable impact on bandwidth and latency vs. 3200Mhz.
Passmark Performance Test – Memory Mark – Threaded
"Fast, easy to use, PC speed testing, and benchmarking. PassMark Performance Test ™ allows you to objectively benchmark a PC using a variety of different speed tests and compare the results to other computers."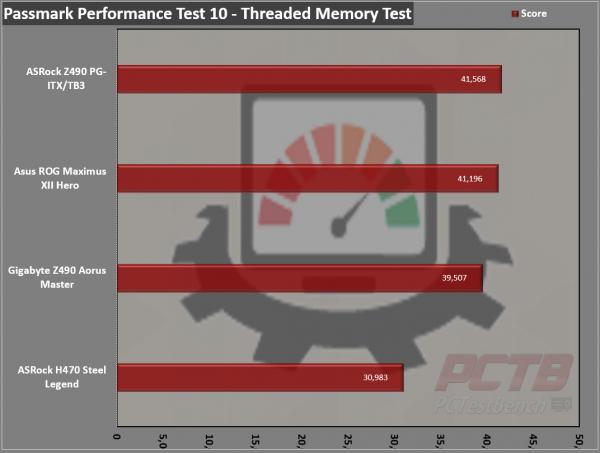 Passmark's Threaded Memory Mark test shows again, the reduction in performance when running a 10-core CPU with slower memory.
SiSoft Sandra – Memory Bandwidth – Aggregate.
"SiSoftware Sandra provides a robust package of diagnostic tools for testing your system and teasing out its problems–or potential headaches."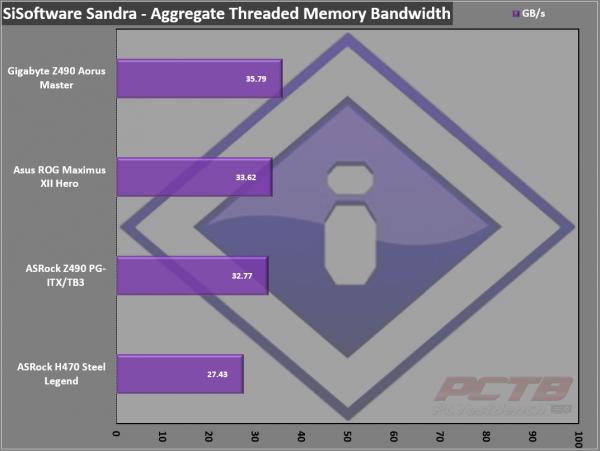 SiSoft again shows what we already know.