Motherboards
ASRock H470 Steel Legend Motherboard Review
Get Endless Performance Possibilities with Steel Style
A Closer Look
Inside the box, you get the following inclusions:
Quick Installation Guide
Software Setup Guide
Steel Legend Postcard
Support CD
2 x Serial ATA (SATA) Data Cables
Rear I/O Shield
Screws for M.2 Sockets
Reusable Cable wraps
Sticker sheet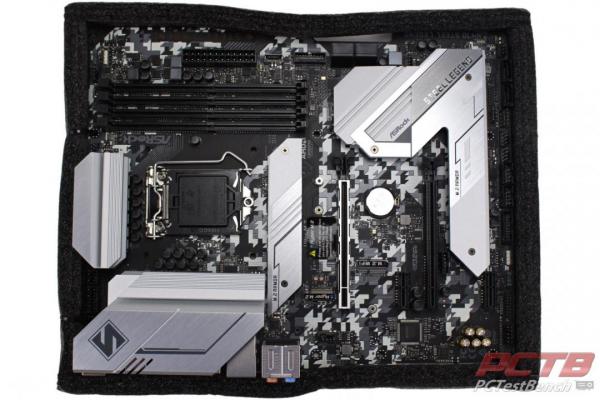 ASRock ships most, if not all of its motherboards these days zip-tied into a foam sheet. This does a great job of protecting the board, as well as the fragile pins along the edge.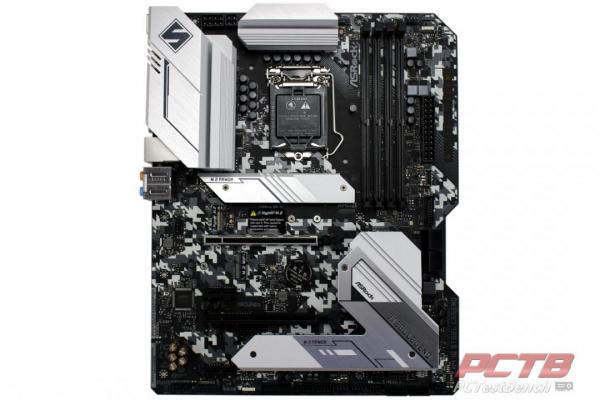 ASRock's H470 Steel Legend occupies the traditional ATX footprint, but angled corners and cutouts keep it from needing the rightmost column of mounting posts, so be sure to watch for extra mounting posts when installing in your case.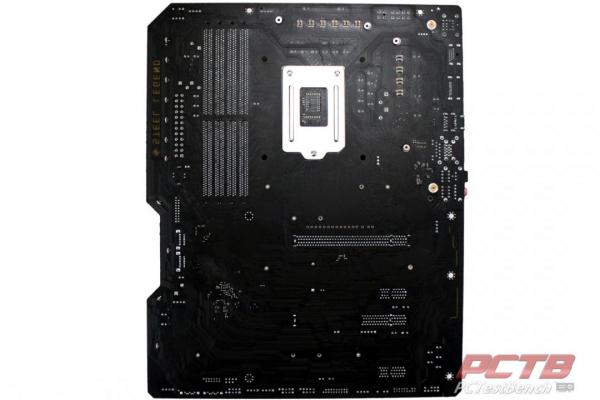 There is very little to note on the rear of the board. We'll point out the row of LED's top left here that light the translucent Steel Legend logo on the edge.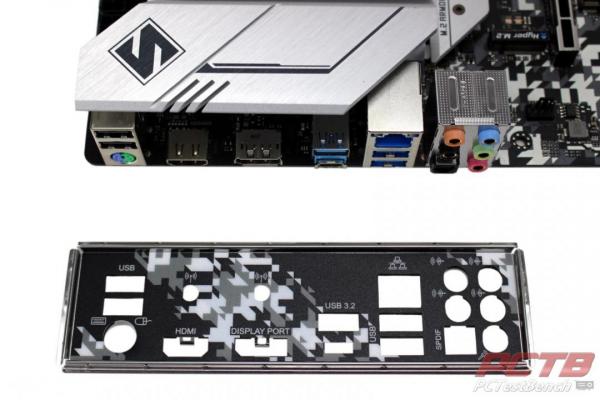 While the Rear I/O Shield isn't pre-mounted like higher tier offerings, it is painted to match the theme.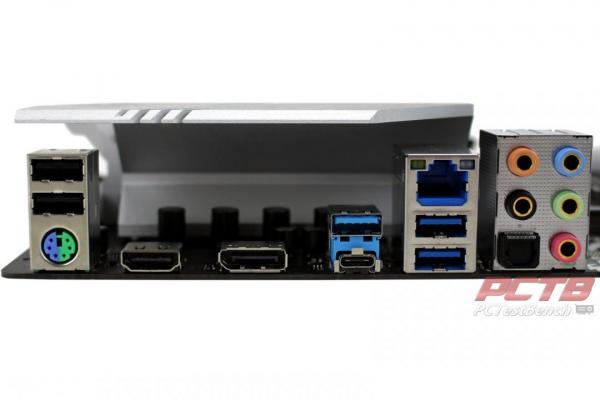 Rear I/O consists of the following:
PS/2 Mouse/Keyboard Port
HDMI Port 1.4 (4K/30Hz max)
DisplayPort 1.4 (4K/60Hz max)
Optical SPDIF Out Port
2 x USB 2.0 Ports (Black)
2x USB 3.2 Gen2 10 Gb/s (Light Blue/Type-C)
2 x USB 3.2 Gen1 5Gb/s (Dark Blue)
1 x RJ-45 LAN Port
HD Audio Jacks
ASRock also lists '2 x Antenna Mounting Points' in the specifications but the holes are actually in the Rear I/O Shield and do not mount to the board in any way. While this is functional, it would require the end-user to be very careful installing a WiFi solution.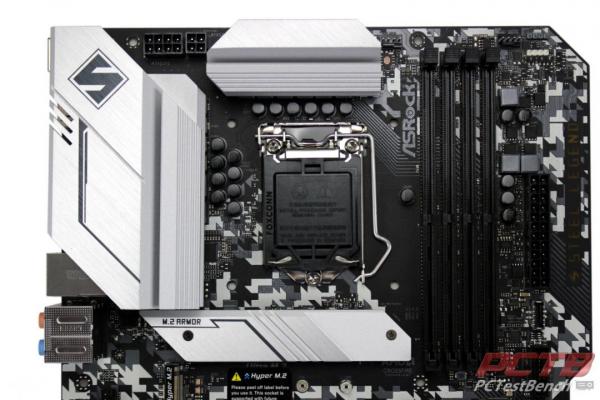 The top half the board has Intel's LDA1200 socket right where you expect it, flanked by four DDR4 slots.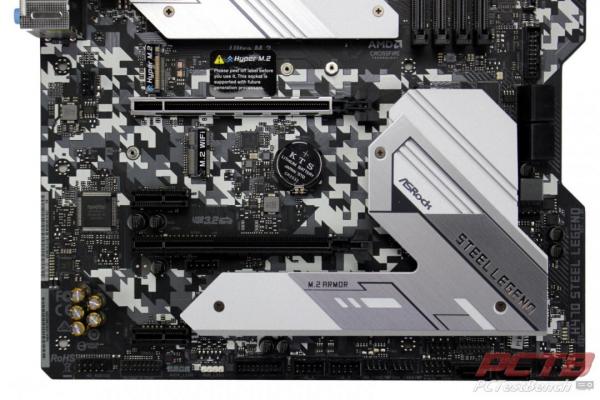 The lower half of the board has a single shielded PCIe x16 slot, connected to the CPU, two PCIe X1 slots, and a PCIe x4 (x16 physical) connected to the chipset. Two chipset connected M.2 slots hide under heatsinks, while a CPU connected M.2 slot sits out in the open, for future use as 10th gen CPU's don't support this feature yet. There is also an M.2 E-key slot for a WiFi Adapter if you want to install one.
On the bottom edge, we have front panel audio, a TPM module header, RGB and ARGB headers, a USB 3.0 and USB 2.0 connector, and hiding up near the second PCIe x16 slot, a Thunderbolt 3 header for add-in cards.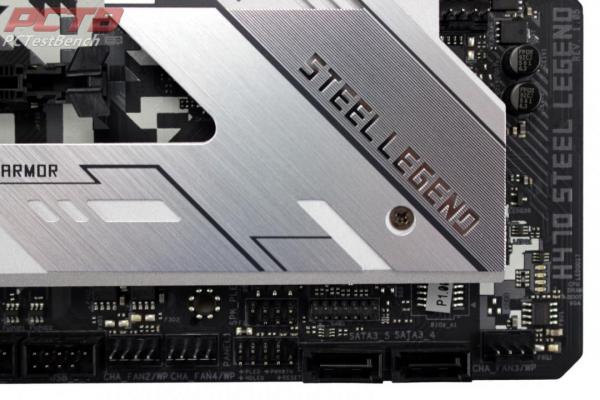 Forward of those, we have two fan/pump headers, front panel I/O, a pair of SATA ports, and another fan header. Almost invisible here are four diagnostic LEDs just above the rightmost fan header. These indicate POST issues with your CPU, RAM, VGA, and Boot OK respectively.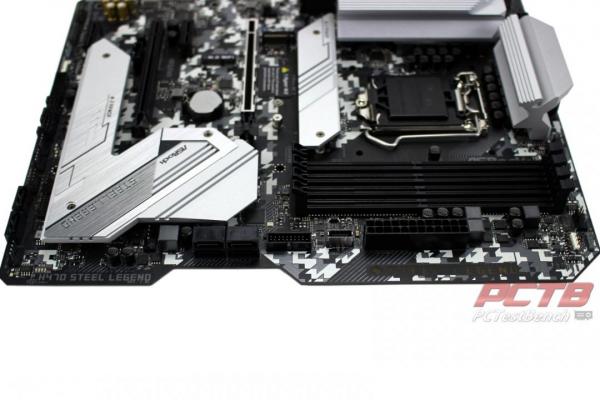 Along the front edge are another fan header, four more SATA ports, a USB 3.0 and Front Type-C header, and the main 24-pin power.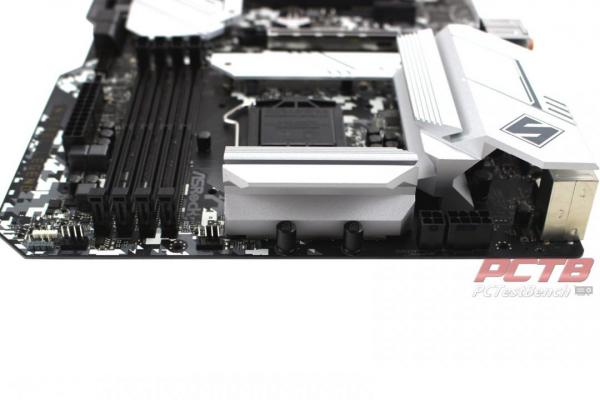 On the top edge are another set of RGB and ARGB headers, two fan headers, and the CPU's 8-pin EPS and auxiliary 4-pin power connections.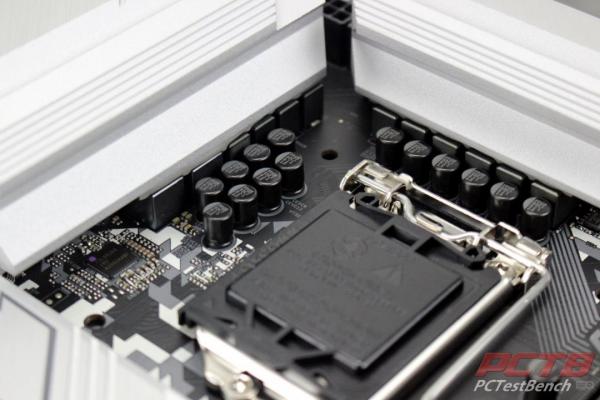 The CPU is fed from an 11-phase power system in an 8+2+1 configuration. With the vCore and VSoC made up of Dr. MOS 50A power stages and VccSA using traditional high/low MOSFETs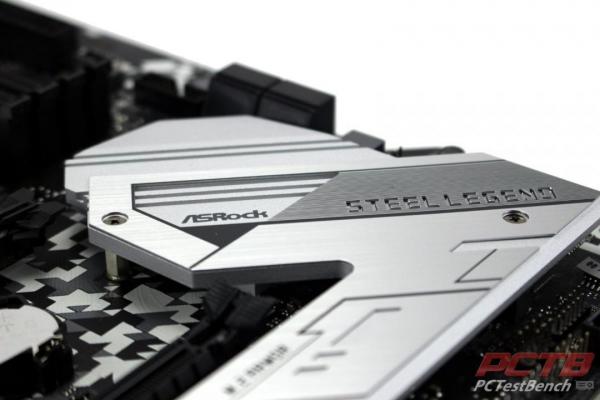 The silver accents are mostly brushed, and help the Steel Legend aesthetics.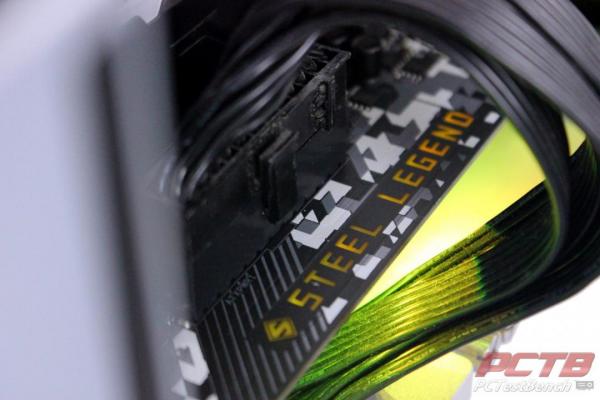 With power applied, we can see the Steel Legend logo lighting up from below. As most builds will have the main 24-pin power covering this, it may not always be that visible.