Motherboards
ASRock H470 Steel Legend Motherboard Review
Get Endless Performance Possibilities with Steel Style
CPU Performance Testing
Super PI Modded 1.5
"In August 1995, the calculation of pi up to 4,294,960,000 decimal digits was succeeded by using a supercomputer at the University of Tokyo. The program was written by D.Takahashi in collaboration with Dr.Y.Kanada at the computer center. This record should be the current world record. (Details are shown in the windows help.) This record-breaking program was ported to personal computer environments such as Windows NT and Windows 95. In order to calculate 33.55 million digits, it takes within 3 days with a Pentium 90 MHz, 40 MB main memory, and 340 MB available storage."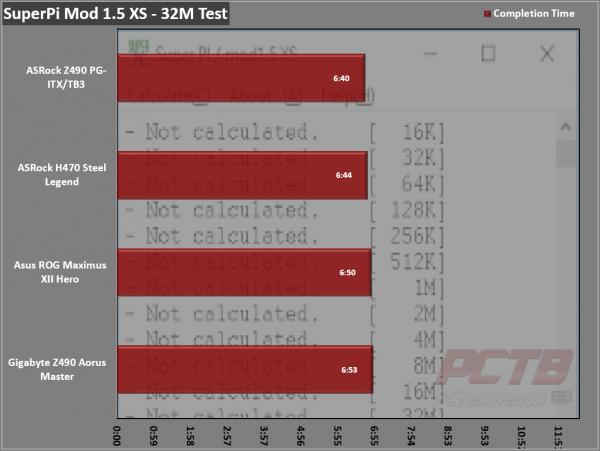 The Steel Legend does a great job here, coming in just a few seconds behind our other ASRock 400 series boards, and well ahead of the competition.
CINEBENCH R15
"CINEBENCH is a real-world cross-platform test suite that evaluates your computer's performance capabilities. CINEBENCH is based on MAXON's award-winning animation software CINEMA 4D, which is used extensively by studios and production houses worldwide for 3D content creation. MAXON software has been used in blockbuster movies such as Iron Man 3, Oblivion, Life of Pi or Prometheus, and much more.
CINEBENCH is the perfect tool to compare CPU and graphics performance across various systems and platforms (Windows and OS X). And best of all: It's completely free."
The Steel Legend falls right in, In first place in multi-threaded within the margin of error, and a mere 5 points from first place in single-threaded mode.
CINEBENCH R20
Cinebench is a real-world cross-platform test suite that evaluates your computer's hardware capabilities. Improvements to Cinebench Release 20 reflect the overall advancements to CPU and rendering technology in recent years, providing a more accurate measurement of Cinema 4D's ability to take advantage of multiple CPU cores and modern processor features available to the average user. Best of all: It's free.
Cinebench R20 has very similar results, with the H470 Steel Legend just a couple of points from first place, well within the margin of error.
Passmark Performance Test – CPU Mark
"Fast, easy to use, PC speed testing, and benchmarking. PassMark Performance Test ™ allows you to objectively benchmark a PC using a variety of different speed tests and compare the results to other computers."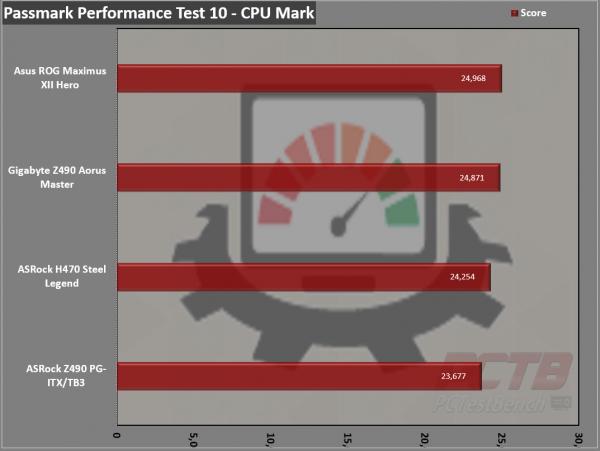 In Passmark's Performance Test 10, both ASRock boards in our sample set fall a few points behind the others but still do well.
SiSoft Sandra – Cryptographic Bandwidth
"SiSoftware Sandra provides a robust package of diagnostic tools for testing your system and teasing out its problems–or potential headaches."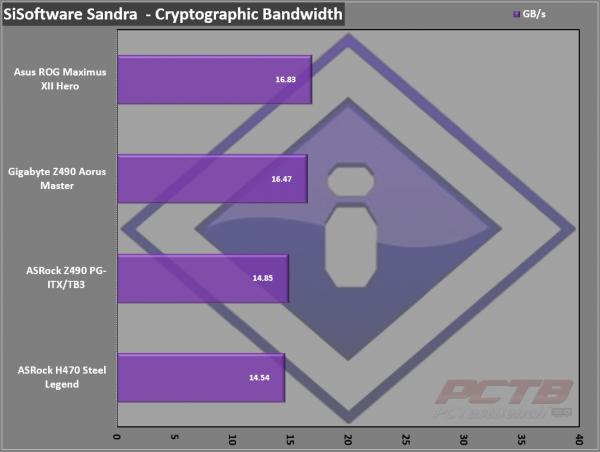 The H470 Steel Legend comes in close to the same score as the Z490 Phantom Gaming ITX we tested previously.
Black Hole 4.2
Let the beast run and benchmark your system in three different tests (Multithreaded, Single-threaded & 4-Threaded) that will test your CPU to the very limit, and score you among hundreds of other systems that have tested.
Multithreaded will test your CPU's efficiency of running more than one thread without major system lag. The higher you score on this one, the more threads your CPU can handle with a comfortable speed. High multithreaded scores generally mean you can render things faster. 4-Threaded tests your CPU's performance in games since most games currently run on 4 threads. Single-threaded evaluates how fast the CPU can handle a single, dedicated thread for processing.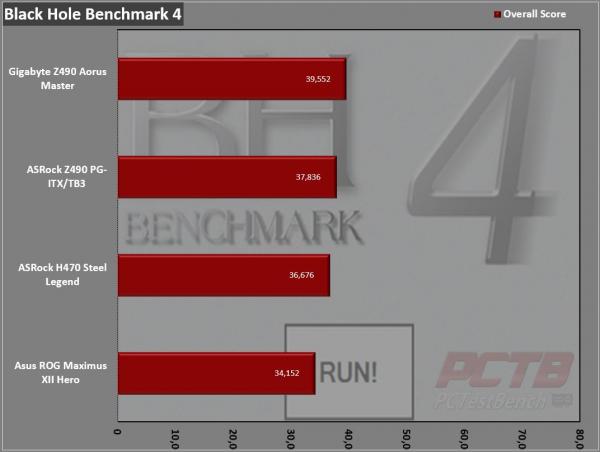 We see a similar trend with the Black Hole Benchmark, with ASRock's boards hanging close together.