Cooling
Lian Li UNI FAN SL120 Fan Review
CABLE-FREE, HASSLE-FREE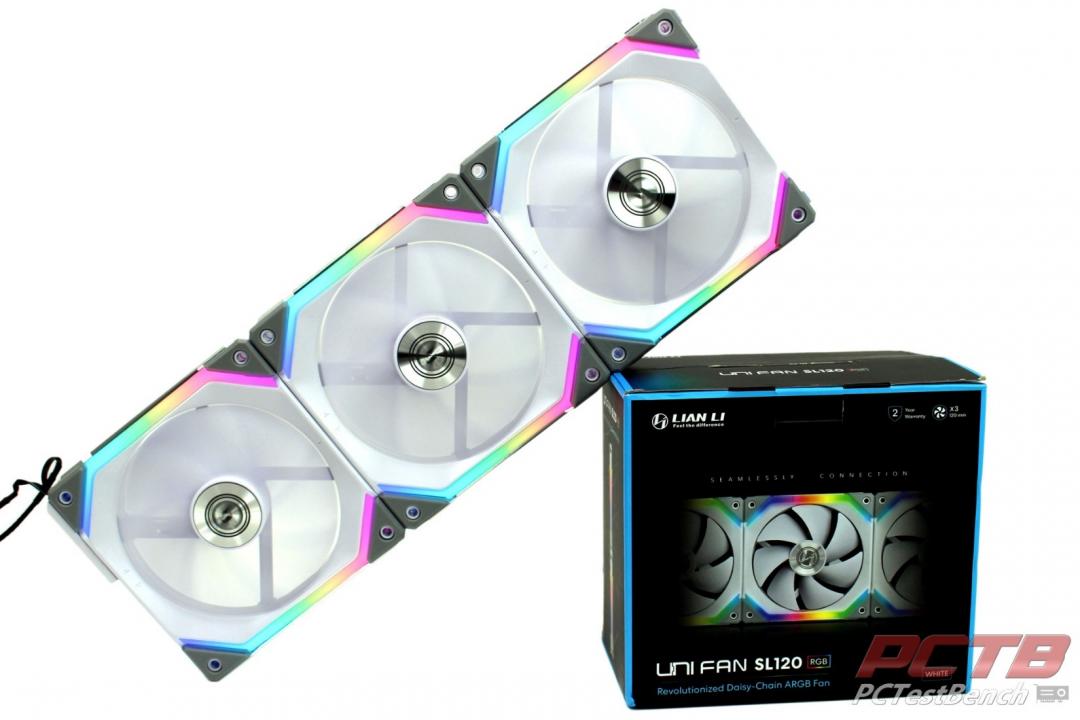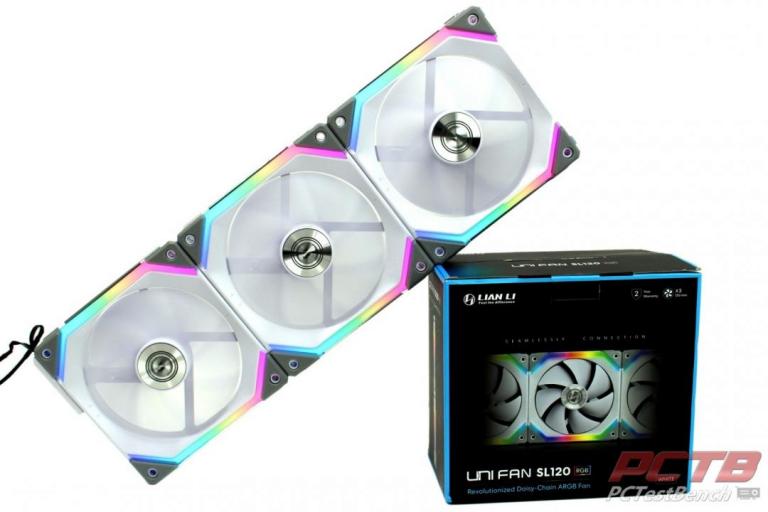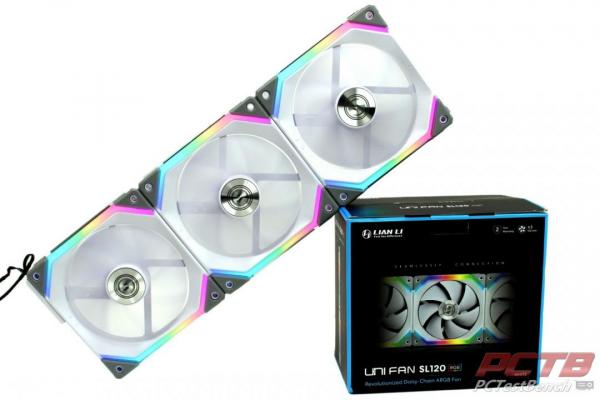 Lian Li's new UNI FAN SL120 fans have been something we've been anxious to get our hands on since CES 2020 where we had a chance to check out early prototypes. RGB fans are a dime a dozen these days, so it takes something special to stand out from the crowd. Lian Li does this with the UNI FAN SL120's with a rather ingenious way to connect them together. While there have been a few daisy-chainable fans, and even a single frame 120 x 360mm triple fan from Cooler Master recently, Lian Li has a very unique approach. The new UNI Fans lock together to allow up to four fans to be used as a single device with a single set of cables. The power and lighting signals are passed along to the next fan in line without the need of short daisy-chain cables. Each UNI FAN runs up to 1900 RPM, pushing over 58CFM of air with a water-cooling friendly 2.54mm H2O of static pressure. Each fan includes 32LED's in two mirrored groups down each side. If that isn't enough, the included controller independently handles up to 4 groups of fans. For those counting, that's up to 16 fans with a staggering 512 LEDs and over 900CFM supported by a single controller.
PC Test Bench would like to thank Lian Li for sending us over a UNI FAN 3 pack with the controller to check out!
Lian Li's take on the UNI FAN:
The all-new UNI FAN SL120 is an addressable RGB fan which features daisy-chaining, thus saving users' neck by eliminating the need for unnecessary cable management. Together, the customizable RGB lighting shining through the high-static pressure fans and the L-Connect Software provides quick access to fan speed and lighting effect control, making your dream build more accessible than ever.
Features
Daisy-Chain Design for Unprecedented Flexibility
The daisy-chain structure ensures a pain-free installation process by eliminating the need to unclutter your PC from all the pesky cables. By simply interconnecting the UNI FANs together, users can easily create a cluster of up to 4 fans and control its RPM, colors, brightness, and lighting effects in one go. Compared to most fans on the market that come with at least two cables per fan, it takes only one cable module for 4 UNI FANs to receive power and signals, allowing users to create a neat and clean internal configuration effortlessly.
A Designated UNI FAN Controller to Easily Manage 16 Fans in One Go
The included UNI FAN controller contains 4 designated UNI FAN ports. Each port can connect to a cluster of 4 UNI FANs via the cable module, allowing users to control up to 16 UNI FANs in one go. Together, the cable module and controller help reduce cable clutter and provide for an organized and well-managed connectivity, which lets the user easily create a minimalistic design focused on aesthetics and simplicity.
L-Connect Software for Intuitive Fan Control
The L-Connect software enables users to control and adjust fan RPM, colors, brightness, and lighting effects with extreme ease. The clean and straightforward layout of the L-Connect interface enables users to intuitively control either a single cluster of UNI FANs or all 4 clusters in one go. By dragging the toggle located on the top right, users can also create a synchronized system by passing over the control of the fans to the motherboard software.
EXTREME COOLING CAPABILITY
The UNI FAN SL120 is a high-static pressure fan that can effectively force the heat to dissipate through the tight fin spacing of high-density radiators. With a maximum fan speed of 1900 RPM and the ability to operate silently at full speed, efficient thermal management can be achieved effortlessly
Maximum Static Pressure: 2.54 mm H2O
Maximum Fan Speed: 1900 RPM
Maximum Airflow: 58.54 CFM
Industrial-Grade Motor
Each of the high-static pressure fans is propelled by an industrial-grade motor that enables the fans to operate silently at full speed.
Fluid Dynamic Bearing (FDB) Technology
Each high-static pressure fan feature fluid dynamic bearing technology, which provides a thin layer of oily fluid to supports the load of the fan blades to effectively reduce the friction caused by the moving parts in contact with the bearings.
Extra Magnetic Support
Extra magnetic force has been added to the center hub to support the fan blades, reducing the vibration level of each fan and thus ensuring a low noise level while in operation.
SOPHISTICATED RGB LIGHTING
Apart from being capable of delivering sufficient airflow in and out of the system silently, the UNI FAN SL120 is also a quick and easy add-on to adorn your build with vivid RGB lighting. 32 addressable RGB LEDs embedded in each fan (16 LEDs on either side of the frame) ensure brighter and more complex lighting effects.
AVAILABLE IN TWO COLORS
The UNI FAN SL120 is available in black or in white and is scheduled to launch on August 19th at a price tag of US$79.99 for a 3 pack (fan controller included), and US$24.99 for a single pack (fan controller excluded). Without the pesky cables slithering and floating around within the build, building a one-of-a-kind PC is a breeze.
Specifications
| | |
| --- | --- |
| Fan Dimension | 122.8 X 122.4 X 25mm |
| Rated Voltage | DC 12V (FAN) & 5V (LED) |
| Fan Speed | 800~1900 RPM |
| Air Pressure | 2.54 mmH2O (Maximum) |
| Airflow | 58.54 CFM (Maximum) |
| Acoustic Noise | 17 ~ 31 dB |
| Locked Current | >= 0.5mA |
| Bearing Type | Fluid Dynamic Bearing (FDB) |
| Operation Voltage | DC 12V & 5V |
| Start-Up Voltage | DC 6.0V |
| Input Current | 0.18A(FAN) / 0.6A (LED) |
| Input Power | 3.5Watt |