EVGA's X17 arrives in an all-black box display the X17 through a clear molded plastic shell. Opening the box in addition to the X17 mouse we find a quick start guide, as well as a small EVGA, branded black case.
Peeking inside the small case reveals five weights each measuring in at 5g. These can be used to increase the base weight of 103g of the X17's to a maximum of 128g.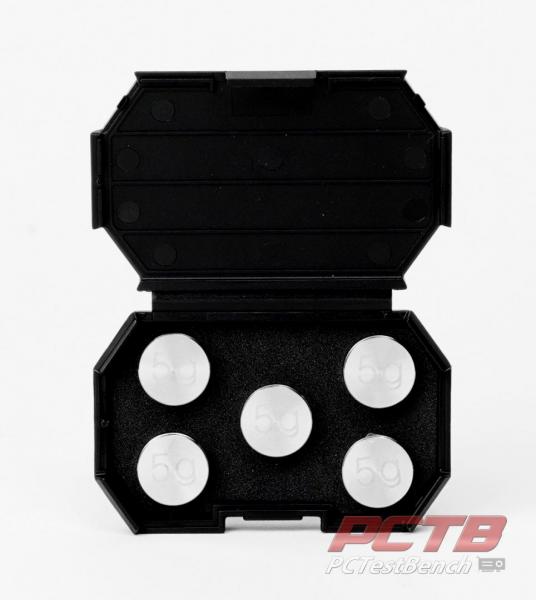 With the X17 now fully unboxed and in our hands the first thing that we noticed was how contoured it was. It instantly felt that it belonged in our hand and was extremely comfortable out of the gate. Checking out the right side of the X17, we find two side buttons, an FPS sniper button, and an LED indicator. The LED indicator is used to identify the selected DPI setting by seeing which LEDs are lit up. In addition to the button full side is also covered in soft textured rubber which feels great in hand and gives you a great gripping area.
Move to the other side, it is also covered in the same textured rubber to prevent the X17 from slipping from your hands.
Moving to the top of the X17, unlike the sides the surface is extremely smooth and contains 4 buttons and a scroll wheel. Like many mice, the X17 has both right/left click buttons and has two additional ones in the center that are used to cycle profile/DPI settings by default. Taking a closer look at the scroll wheel, it uses the same texturized rubber as the side for grip, has an RGB LED on both sides, and can be pressed down as a button.
Towards the back of the mouse, there is the second RGB lighting element which lights up an EVGA logo.
Moving to the front of the mouse is the last of the three RGB elements with 3 light bars on either side of the cord.
It's nice to see the X17 went with a braided cord as it adds a premium feel to it and is much better than its plastic counterpart seen in cheaper mice. EVGA has also included a Velcro strap to neatly manage the X17's cord which is a nice addition.
Flipping the X17 on its back we get a view of the bottom of the mouse which sports four ultra-low friction feet, two LOD sensors, a primary 16,000 DPI optical sensor, and a hidden compartment for the included weights.
If you a fan of heavy mice and the X17 103g is a little light to you pop off the magnetically attached cover and place up to five weights into the X17. This can bring the X17 up to a maximum weight of 128g by filling all 5 slots with a 5g weight.
Once we plugging in the X17 for the first time each of the three RGB zones lit up in "Rainbow" mode.