Graphics Cards
XFX Radeon RX 5600 XT THICC II Pro Boost
The next NAVI-10 GPU is here from AMD
Component

Product Name
Provided By
Processor
Intel Core i7-9700KF (Retail)
Motherboard
Aorus Z390 Pro
Gigabyte
Memory
G.Skill SniperX 2x8GB @ 3400MHz 16-16-16-36 (XMP)
G.Skill
Drive
Samsung 240 EVO 256GB SSD, Crucial MX500 1 TB SATA III SSD
Samsung/Crucial
Video Cards
Gigabyte Radeon RX 5500 XT, AMD Radeon RX5700 (reference), Aorus RX 580 8G, EVGA GeForce RTX 2060 KO, EVGA GeForce GTX 1060 SC,
XFX/AMD/ Aorus/Nvidia/EVGA
Monitor
BenQ EL2870U 28 inch 4K HDR Gaming Monitor 3840×2160 @ 60 Hz
Case
DimasTech EasyXL
DimasTech
Power Supply
Cooler Master Silent Pro M2 1500W
Cooler Master
Operating System
Windows 10 1909 x64 Pro with latest patches and updates
Testing Methodology:

There are many ways to benchmark GPUs. With these benchmarks our goal is to do two things: first to show the performance of the card and secondly to make them easy to replicate. With a similarly configured system, you should be able to get similar results to compare your current graphics card against. There will always be a variance from system to system. All games for this review are tested with the HIGHEST IN-GAME  PRESET with VSync and Frame Limiters turned off unless otherwise specified. A fresh build of 1909 and all drivers and games were installed. No changes were made from the defaults in the BIOS, Windows 10 operating system, or provided manufactures software.
Game frame rates are averaged from the results of 3 benchmark runs at each resolution.
NOTE – We are currently in the process of changing the games we test with. As we go, there will be more GPUs added and sorted in the charts.
At the 11th hour, AMD released a new BIOS that further unlocked the performance of the GPU. However, XFX didn't release the BIOS update until 6 am on January 21st. I attempted it install the new BIOS and was presented with errors, etc. Eventually, I was able to get the provided BIOS installed however, again it was wrong. The BIOS that was provided was for the XFX THICC III version of the RX 5600 XT. While that specific version of the BIOS worked, it pushed the clock speeds high enough that temperatures were reaching 90­°C. All the BIOS versions were eventually sorted out and the GPU was retested.
Synthetic Tests
3DMark Firestrike from Futuremark is a Semi-synthetic DirectX11 benchmark designed for high-performance gaming PCs. Firestrike performs advanced geometry, illumination and particle tests with its Graphics benchmark and performs physics simulations using the CPU. Firestrike Ultra Kicks it up a notch and ratchets up the resolution to 4K and turns the quality up a bit.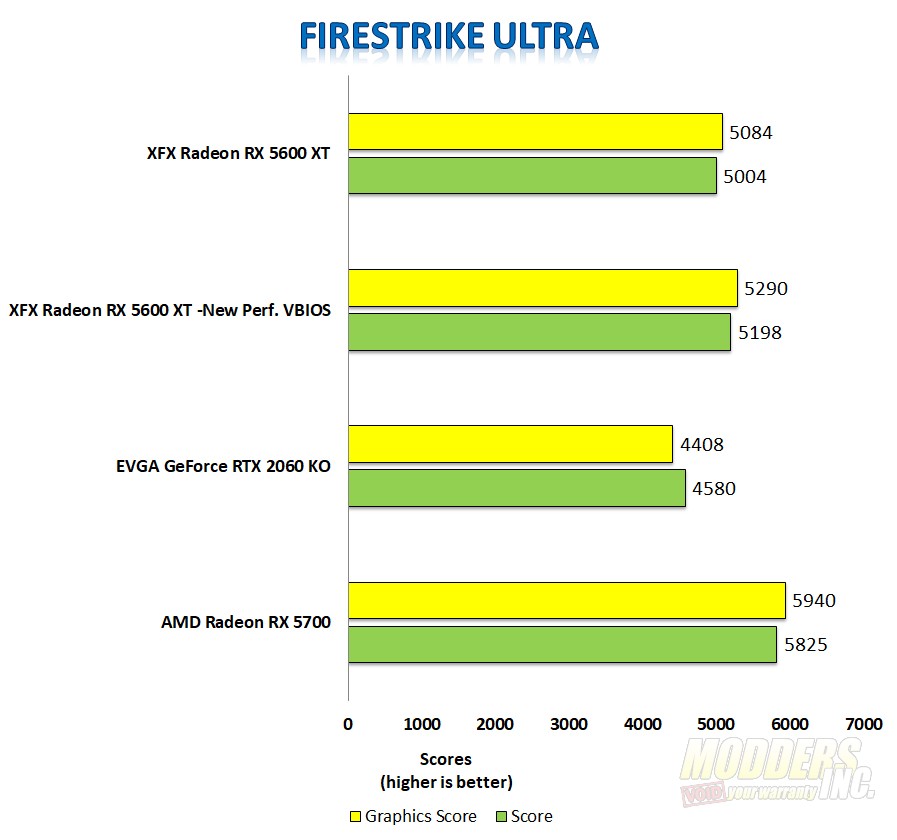 In Firestrike, the RX5600 XT does well against the RTX 2060 KO. The new vBIOS unlocks a bit more performance with an overall score of 5198 and a graphics score of 5290.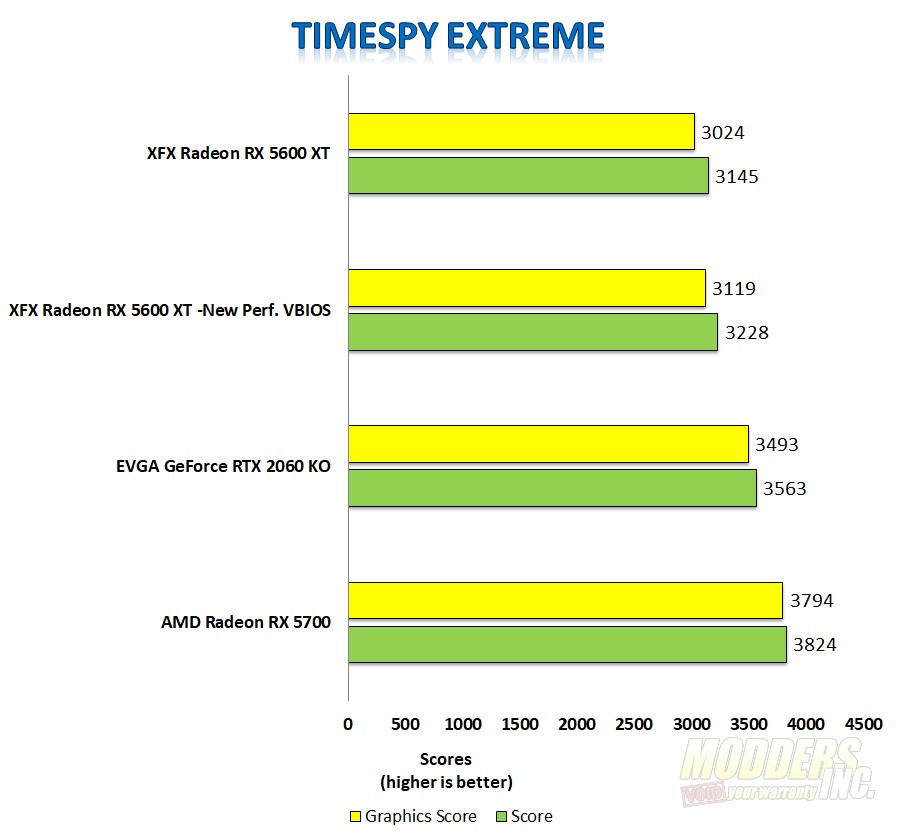 Timespy extreme shows the RX 5600 XT lagging a bit behind the RTX 2060 KO with a graphics score of 3119 compared to the RTX's score of 3493. The new BIOS unlocks a bit more performance and brings the graphics score up a bit from the original score of 3024.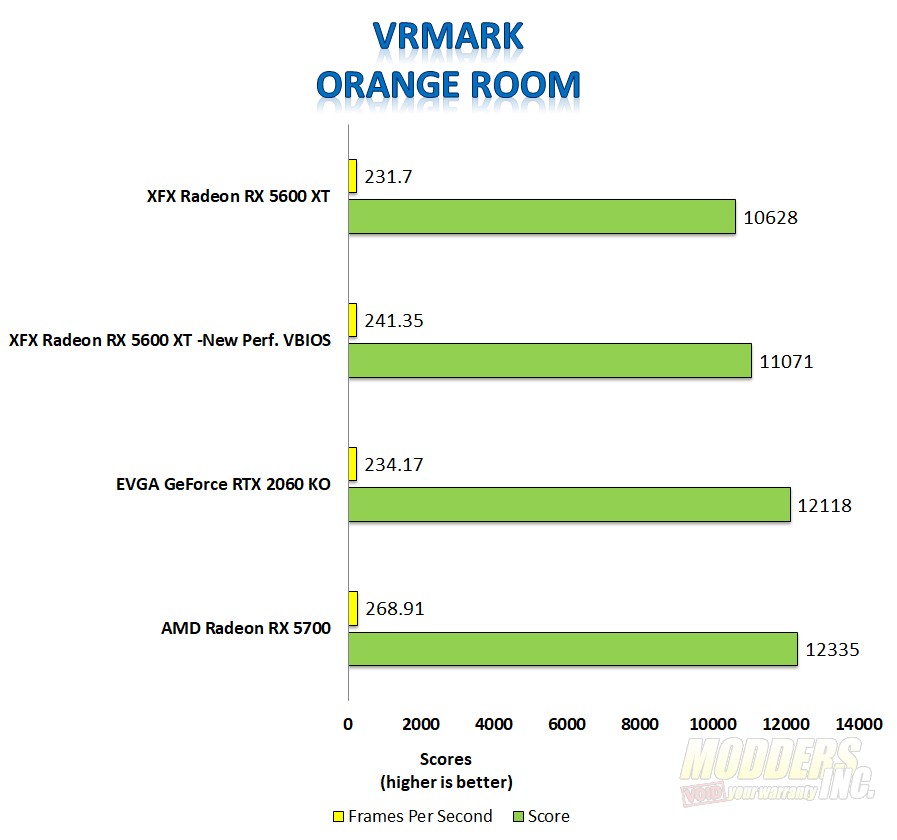 All GPUs beat the 109 target frame rate in the Orange room VR Test. The new BIOS update allows the 5600 XT to exceed the 234.17 FPS the RTX 2060 KO scored.
Cyan room is tougher on the GPUs than Orange room. The RTX 2060 paces the RX 5600 with a frame rate of 170 to 158.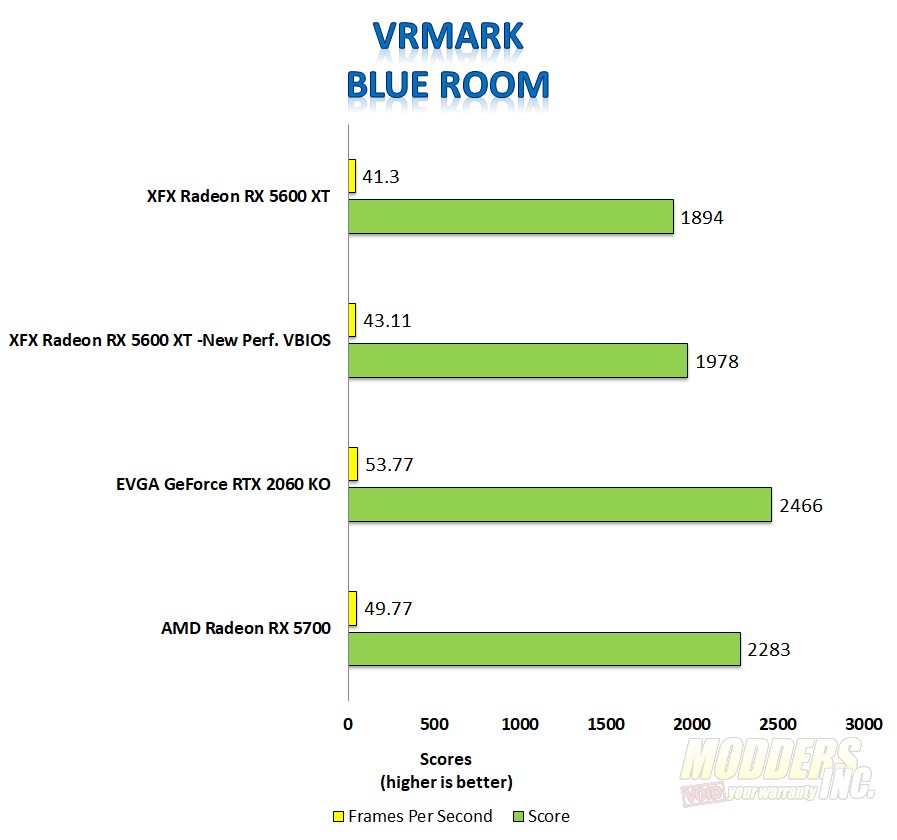 Blue room is the toughest test in the VR Mark suite. 10 frames per second separate the RX  5600 XT and its direct competitor the RTX 2060 KO.