Graphics Cards
XFX Radeon RX 5600 XT THICC II Pro Boost
The next NAVI-10 GPU is here from AMD
The next NAVI-10 GPU is here from AMD in the form of the RX 5600 XT. AMD has been on quite a roll with their CPU and GPU releases as of late. They continue to release solid hardware with good performance. Driver stability has improved with the latest version of Adrenalin 2020 and continues to improve. The sample I received is the XFX RX 5600 XT THICC II Pro Boost. There won't be a reference card directly from AMD for the RX 5600 XT. Cards will only be available from board partners. The RX 5600 XT is launched at $279 market and according to AMD is designed to chew through 1080p games at the highest in-game settings while still maintaining a playable frame rate. According to the research AMD has done at the market where this card is specifically targeted, AMD chose to use 6 GB of RAM vs. 8 GB. Specification wise, the RX 5600 XT is really close to the RX 5700 with the RX 5700 having higher clocks and 2 GB more RAM.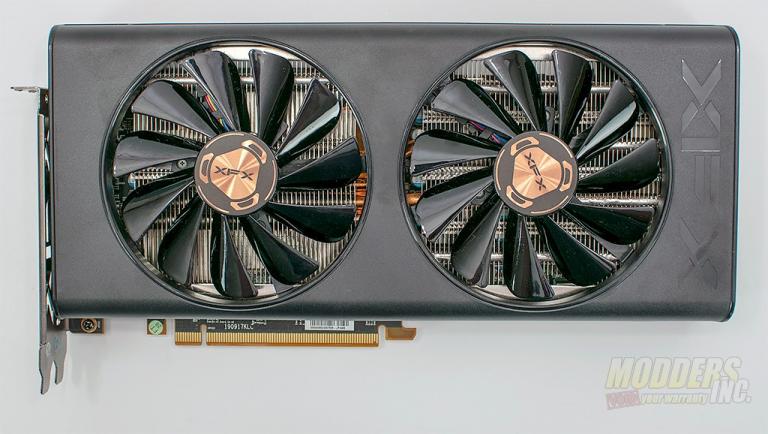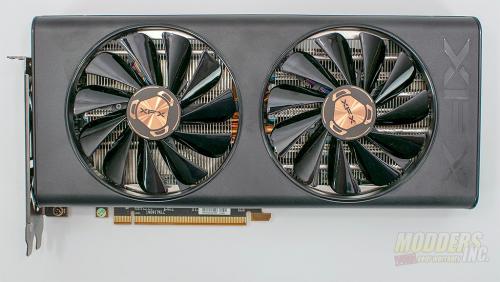 Specifications
| | |
| --- | --- |
| | Radeon RX 5600 XT |
| Architecture | Navi |
| Manufacturing Process | 7 nm |
| Transistor Count | 10.3 billion |
| Die Size | 251 mm2 |
| Compute Units | 36 |
| Stream Processors | 2304 |
| Game GPU Clock | 1375 MHz (Up to 1560 MHz – – New BIOS) |
| Boost GPU Clock | Up to 1560 MHz (Up to 1620 MHz – New BIOS) |
| Peak SP Performance | Up to 7.19 TFLOPS |
| Peak Half Precision Performance | Up to 14.4 TFLOPS |
| Peak Texture Fill-Rate | Up to 99.8 GP/s |
| Memory | 6 GB GDDR6 |
| Memory Bandwidth | 288 GB/s |
| Memory Interface | 192-bit |
| Board Power | 150 W |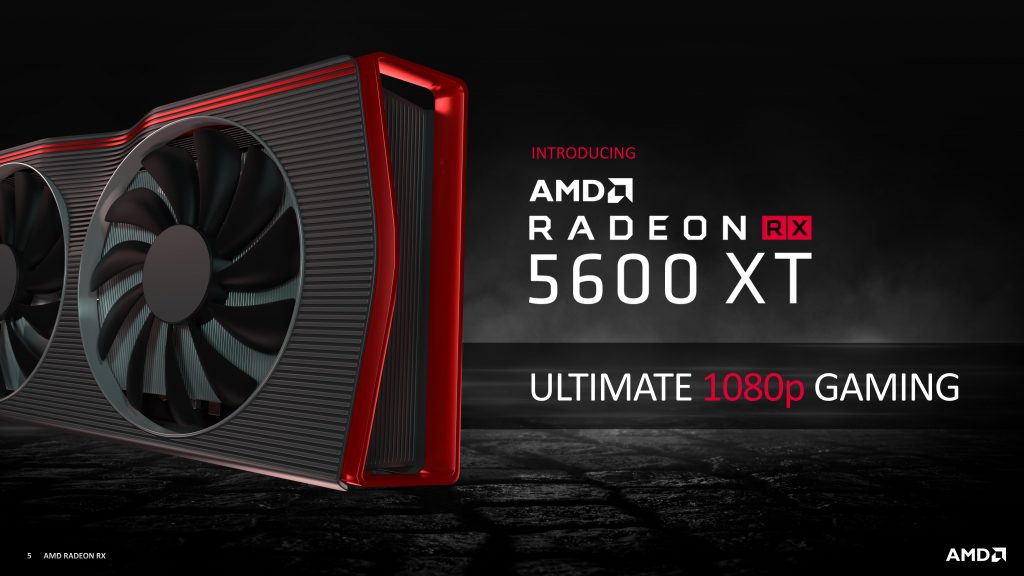 AMD is launching the Radeon RX 5600 XT with the aim of filling the gap in the 1080p market. The Radeon RX 5500 XT was geared towards 1080p gamers playing at low, medium, and sometimes high image quality settings. The Radeon RX 5600 XT is aimed at gamers playing at 1080p but want to max out the image quality.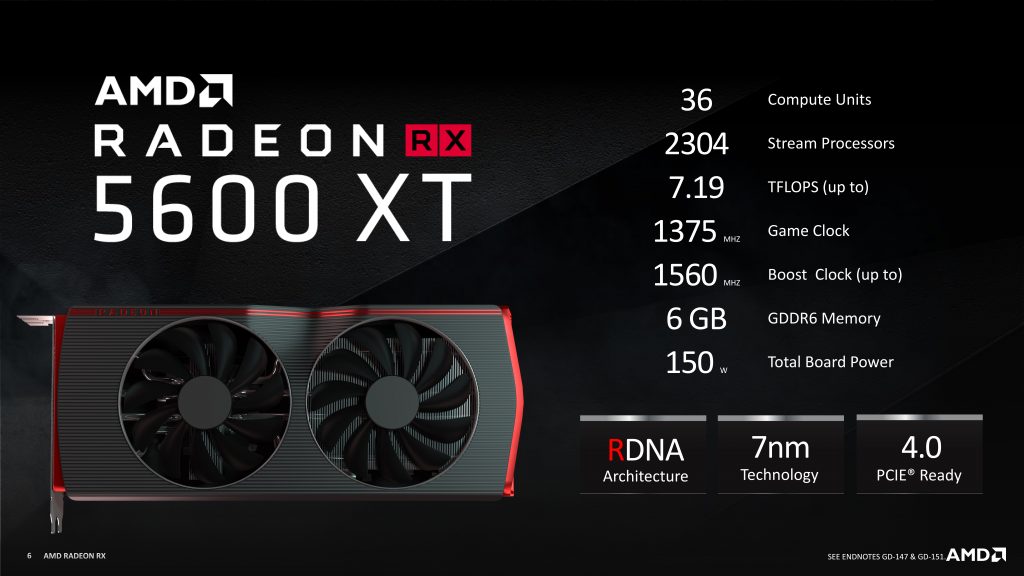 The Radeon RX 5600 XT sports 36 compute units and 2304 stream processors. The GPU has 6 GB of RAM onboard running at 12 GB/s. If these specifications look a bit familiar, then you'll be remembering the RX 5700. The RX 5600 and RX 5700 both have the same amount of computing units and stream processors. The RX 5600 XT is limited by 2 GB less RAM onboard, memory interface is reduced to 192-bit, and board power of 150 watts.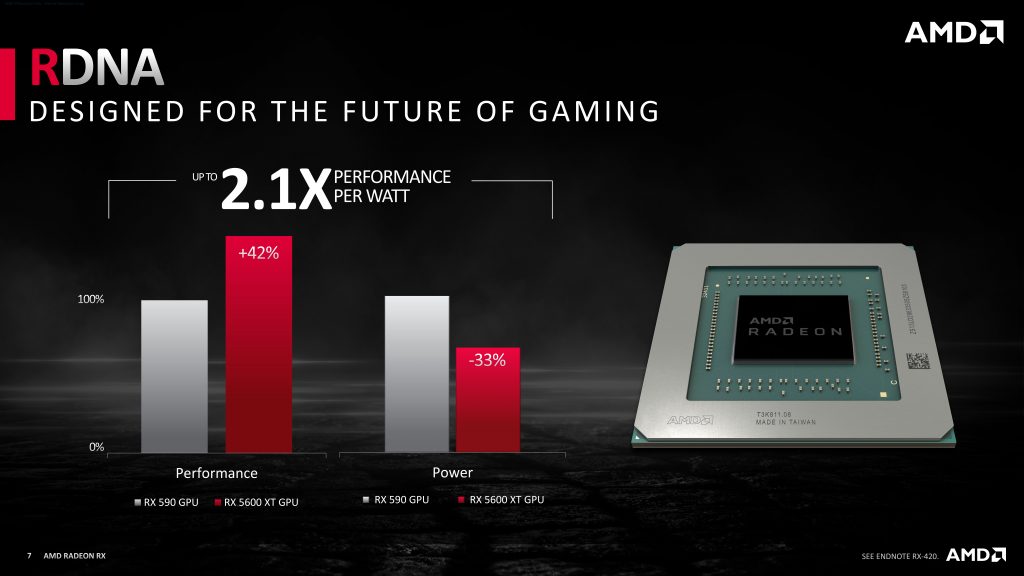 AMD has been chasing power efficiency as well. Compared to the previous generation RX 500 series, the NAVI GPUs offer more power per watt. In this case, AMD claims a 2.1x increase in performance per watt.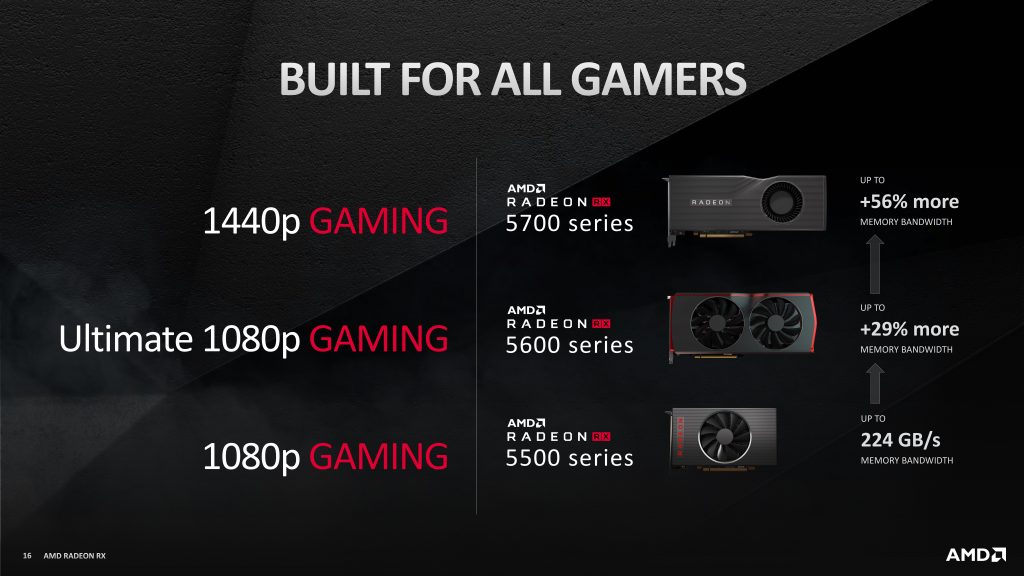 AMD has been targeting the 1080p and 1440p markets with the NAVI GPUs released to this point. The RX 5700/5700XT is geared towards players with resolutions at 1440p and higher. The 5500XT/5600XT series is geared towards 1080p with the RX 5600 XT pushing higher framerates with high and max image quality.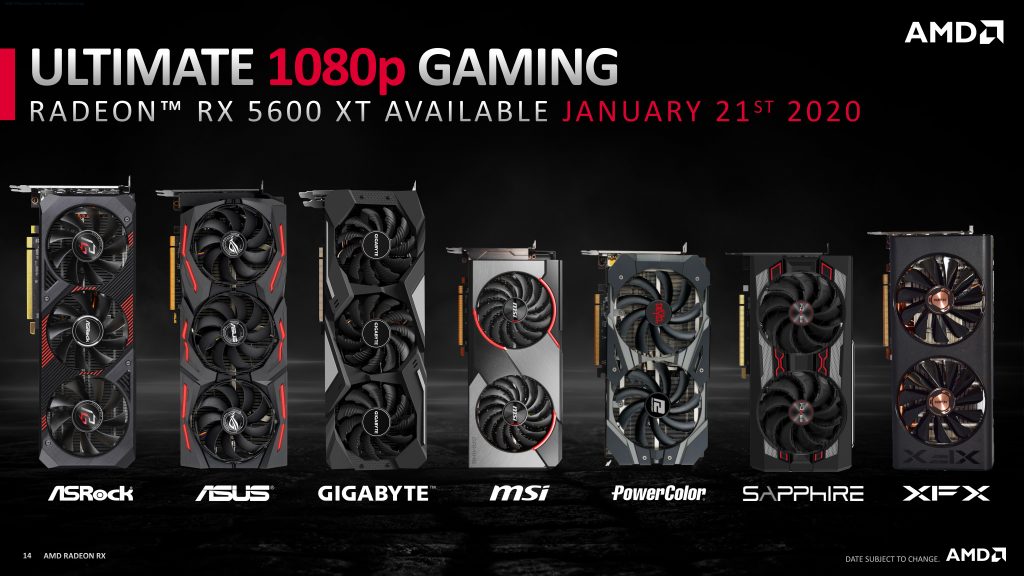 Much to my personal disappointment, a reference card from AMD will not be released. AMD is relying on onboard partners for the RX 5600 XT.  Major brands have launched one if not many variations of the Radeon RX 5600 XT.  The model we received for review is the XFX version.