Storage
TeamGroup PD1000 Rugged Portable SSD Review
With waterproof connector, there's no need for the dust plug
System Configuration & Testing
To test Teamgroup's PD1000 we plugged it on our bench in a USB 3.2 Type-C port. The specification of our system is as follows:
CPU: i9 9900K
Motherboard: Gigabyte Z390 Aorus Pro
RAM: 2 x 8GB Corsair Dominator Platinum RGB @ 3200MHz
GPU: XFX RX 5600 XT THICC II (14Gbps)
OS Drive: Crucial P1 1000GB
OS: Window 10 Professional X64
Before benchmarking the PD1000, I use CrystalDiskInfo to check out some of its details. Not much to note here other then it does seem to run a little bit warm being 49C at idle.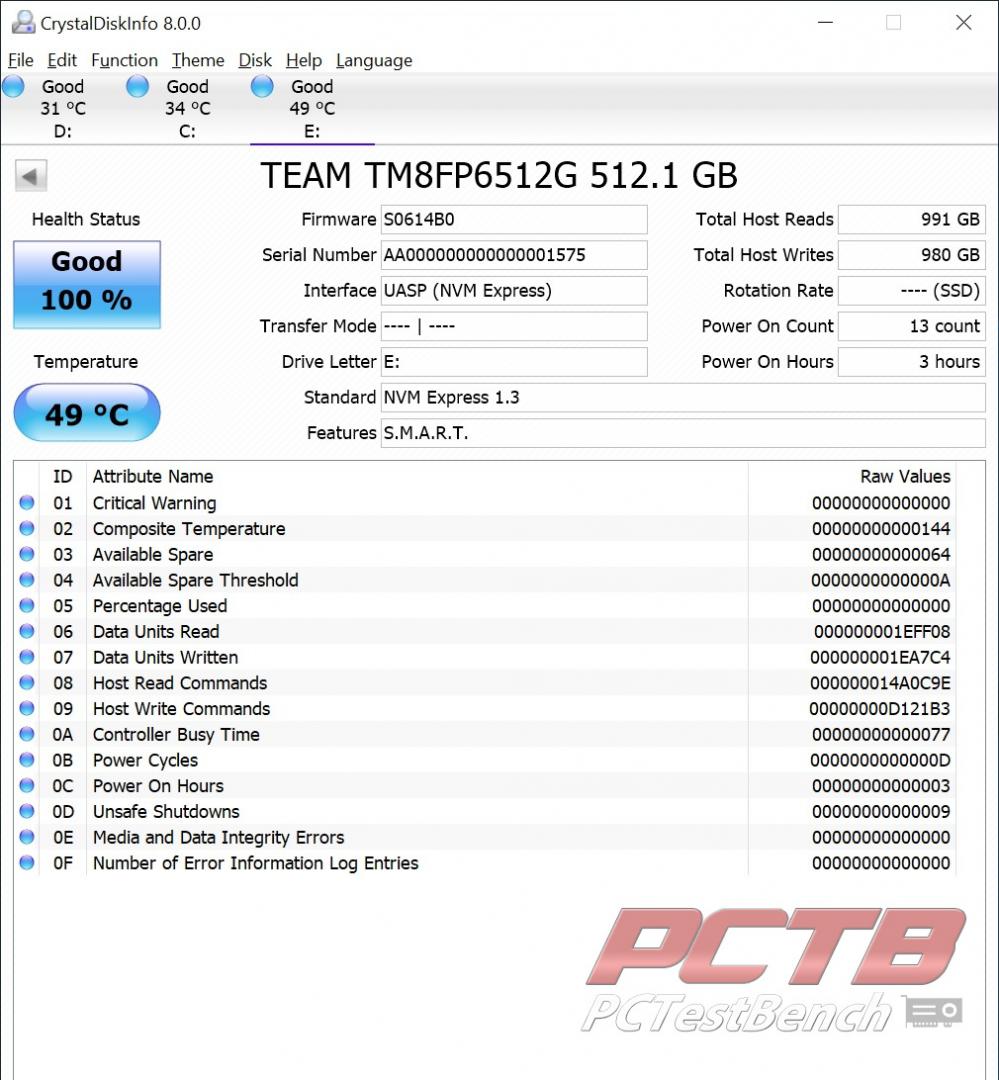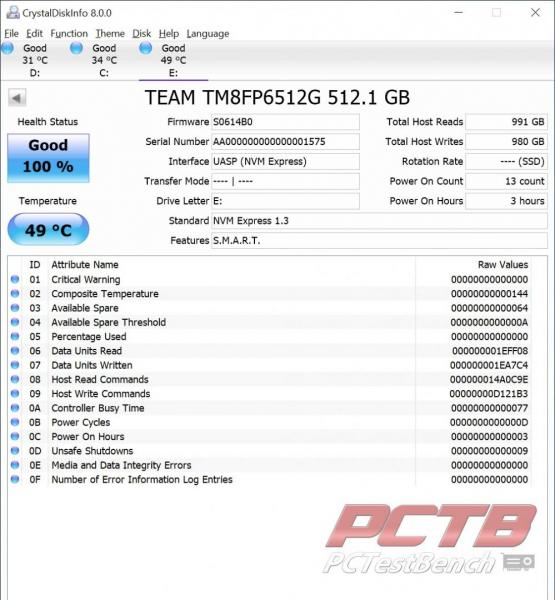 I will be running the drive through various benchmarking applications to see how it fairs under different workloads. These applications include:
ATTO Disk Benchmark
CrystalDiskMark 6.0
Anvil's Storage Utilities
AS SSD
ATTO Disk Benchmark
"As the industry's leading provider of high-performance storage & network connectivity products, ATTO has created a widely-accepted Disk Benchmark freeware utility to help measure storage system performance. As one of the top tools utilized in the industry, Disk Benchmark identifies performance in hard drives, solid-state drives, RAID arrays as well as connections to storage. Top drive manufacturers, like Hitachi, build and test every drive using the ATTO Disk Benchmark"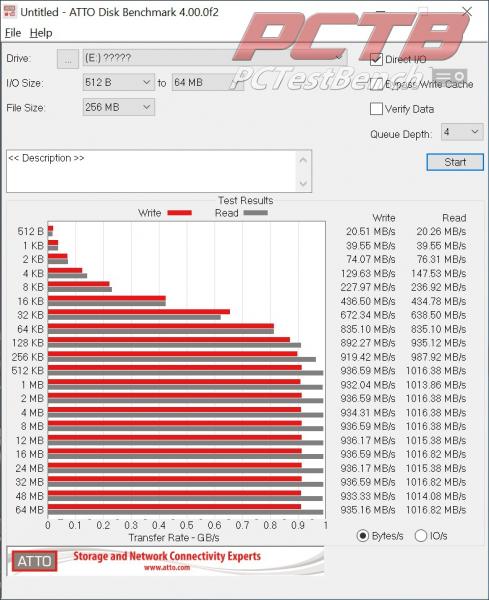 In ATTO benchmark the PD1000 surpassed its rated read/write speed of 1000/900 MBs with it capping out at 936 MB/s write and 1016 MB/s read.
CrystalDiskMark 6.0
"CrystalDiskMark is designed to quickly test the performance of your hard drives. Currently, the program allows measuring sequential and random read/write speeds."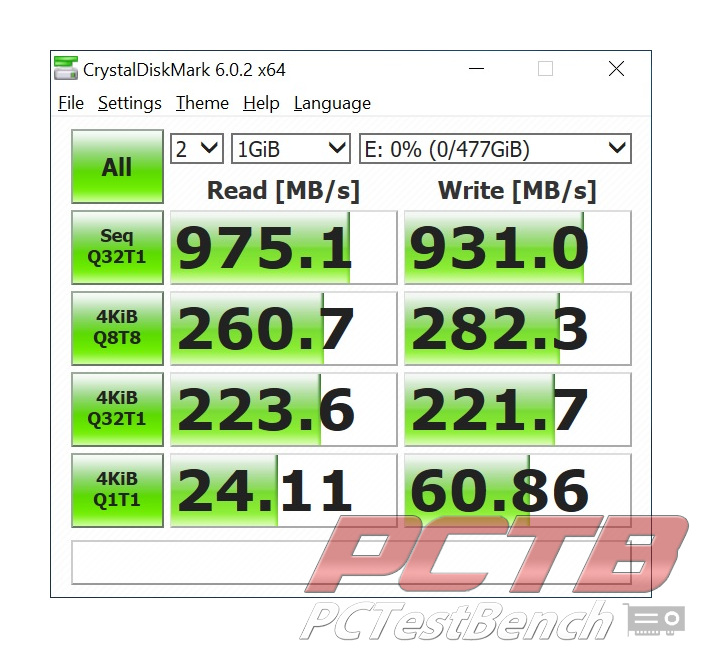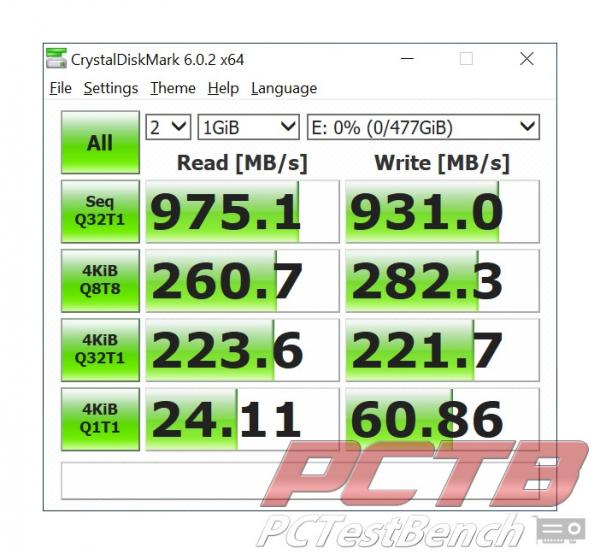 In CrystalDiskMark, we see the PD1000 do exceptionally well with a read speed of 975 MB/s and a write speed of 931 MB/s.
Anvil's Storage Utilities
"Anvil's Storage Utilities is a powerful tool that was designed to provide you with a simple means of assessing the read and write performance of your Solid State Drive or Hard Disk Drive.
The benchmark tool helps you monitor and check the response time of your unit as well as view the system information collected using Windows Management Instrumentation (WMI).
Anvil's Storage Utilities has been designed to be the most comprehensive benchmark tool for Solid State Drives on the market. That does not mean that you can't use it for conventional platter-based drives as well, but you do get the most out of the program when you test the speed and performance of SSDs with it. The program has gone through a series of beta and release candidate builds already and is currently available as Release Candidate 3. It is usually linked from this forum thread, which currently is not the case for the RC build which you can download here directly. You can't use previous builds as they are set to expire automatically.
You can run a benchmark right away by selecting a drive from the menu at the top right or check out the settings first to make sure everything is configured correctly here. Here you can simulate a compression level of the text file, e.g. database, application, or uncompressed, and whether you'd like to use the same test file on consecutive runs or generate a new one every time. As far as benchmarks go, you can run a standard SSD benchmark that is testing read, write, or both performances of the drive, or run threaded IO benchmarks only."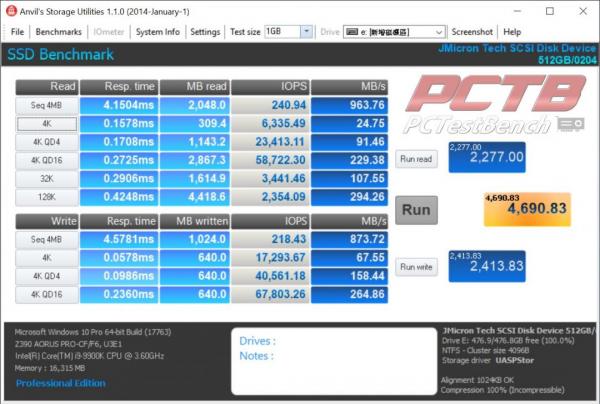 Anvil is showing similar scores of the PD1000 as ATTO/CrystalMark with 963 MB/s read and 873 MB/s write. You may notice the write speed may seem a little slow but that is common to see in this benchmark.
AS SSD
"The AS SSD benchmark determines the performance of Solid State Drives (SSD). The tool contains six synthetic and three copy tests.
The synthetic tests determine the sequential and random read and write performance of the SSD. These tests are carried out without using the operating system cache. In Seq-test the program measures how long it takes to read a 1 GB file to write respectively. 4K test the read and write performance is determined at random 4K blocks. The 4K-64 corresponds to the test Third 4K procedure except that the read and write operations are distributed to 64 threads. This test should SSDs pose with Native Command Queuing (NCQ), differences between the IDE operation mode where NCQ is not supported, and the AHCI mode. The additional compression test can measure the power of the SSD in response to the compressibility of the data. This is especially for the controllers that use to increase the performance and life of the cell compression, important.
In the first three synthetic tests and the compression test, the size of the text file 1 GB. Finally, the access time of the SSD is calculated, wherein the access to read over the entire capacity of the SSD (Full Stroke) is determined. The write access test, however, is done with a 1 GB big test file."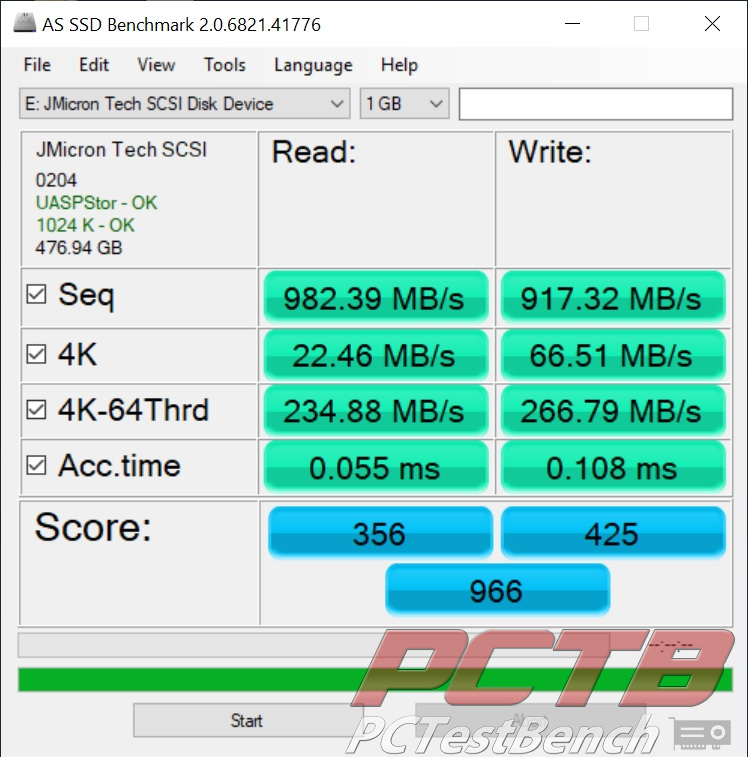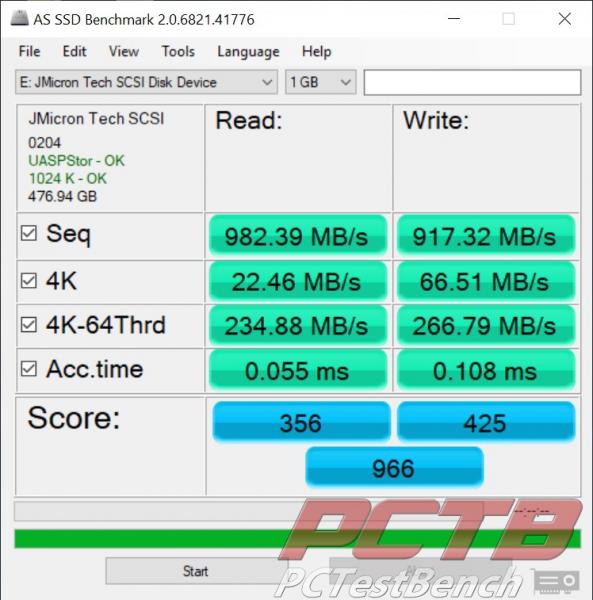 Again you see the PD1000 pretty much running to spec with it scoring a 982 MB/s read and 917 MB/s writing in the AS SSD benchmark.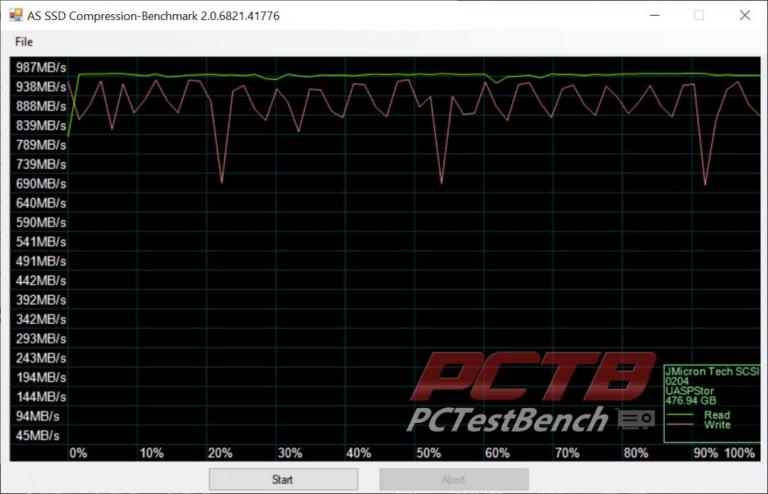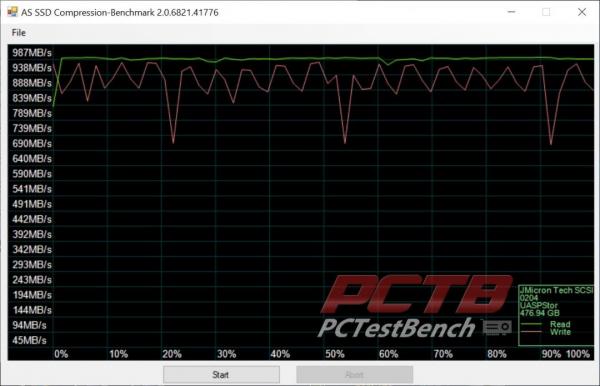 Looking at AS SSD compression benchmark we see a steady read speed of about 980MB/s and write speed between 850MB/s and 938 MB/s with a few dips into the 700 MB/s.