Storage
TeamGroup PD1000 Rugged Portable SSD Review
With waterproof connector, there's no need for the dust plug
A Closer Look
Taking the Teamgroup's PD1000 out of the packaging we loved the look of the unit with its dark blue with gold accents as well as its relatively small size. The casing on the PD1000 is fully aluminum which feels quite nice and is incredibly durable with it being able to handle 1600Kg of force before deforming. With it being both durable and its small footprint makes the PD1000 perfect to bring around in your pocket.
To the side of the PD1000, we find a gold plate covering the interior electronics with a single USB Type-C port in the center. When you are not transferring data to the PD1000 you can use the included rubber insert to protect the port from dust.
In addition to the PD1000 also included in the box were 2 USB cables with one being a USB3.2 Type-C to Type-C and the other a USB3.2 Type-C to Type-A.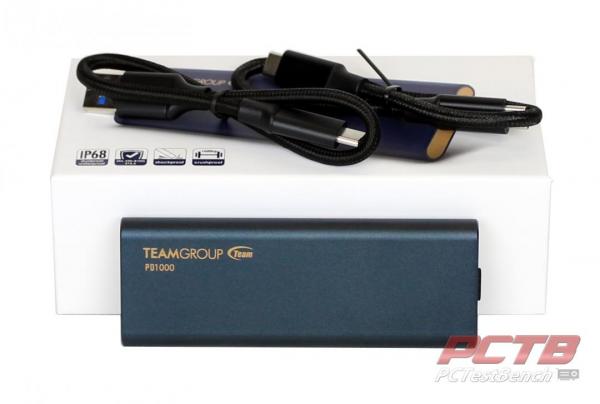 Both USB cables have a braided sleeve which is a nice touch that gives them a premium feel.