Storage
Silicon Power US70 1TB M.2 PCIe Gen4x4 SSD
Race into the Future: PCIe 4.0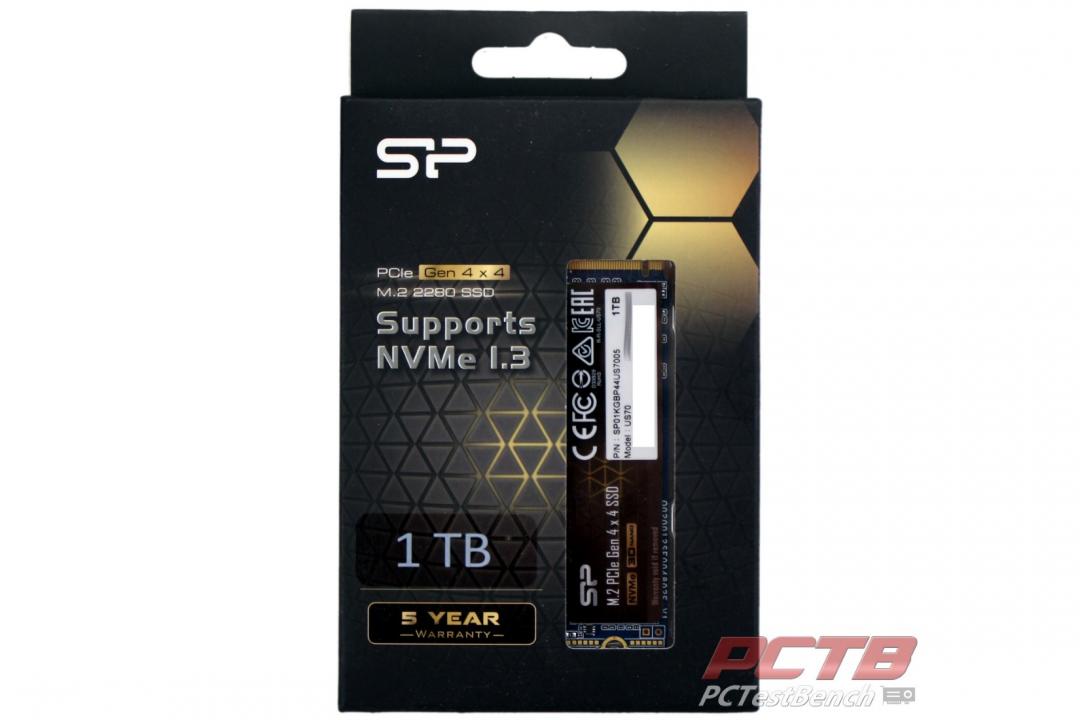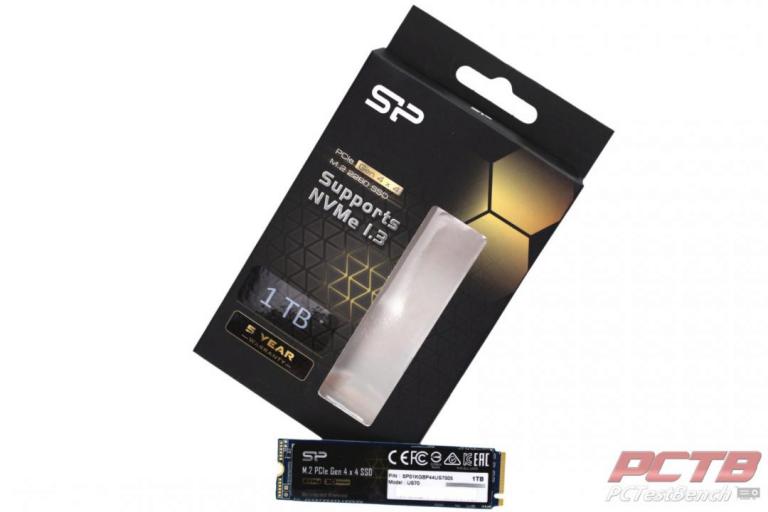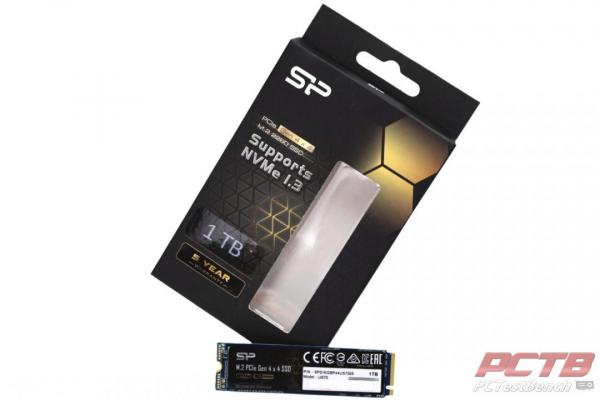 For the past several generations, a new PCIe generation launch was pretty lackluster. Sure, upcoming video cards might support it, but it didn't really mean much in day to day use for consumers. That was before the widespread adoption of PCIe-based storage though. When PCIe gen 4 doubled the bandwidth of gen 3, consumers were drooling about new storage aspects. Silicon Power takes advantage of this with its new US70 M.2 drives that use PCIe gen 4.0 to hit speeds of up to 5GB/s. If you are a content creator working with high-resolution video, a performance-hungry gamer, or just don't like to wait on your computer, the US70 gen4 drive gives you a mix of raw speed with 1TB or 2TB worth of space.
PC Test Bench would like to thank Silicon Power for sending us the US70 SSD drive over to check out!
Silicon Power's take on the US70 M.2 PCIe Gen4x4 SSD:
Offering a standard data transfer rate that's double that of the previous 3.0 version, the US70 PCIe Gen 4×4 with 3D NAND flash memory and NVMe 1.3 support is exactly what combative gamers, competitive overclockers, professional designers/editors, and high-end business users crave. With incredible read and write speeds up to 5,000MB/s and 4,400MB/s, respectively, the US70 is nearly 10 times faster than traditional SATA III SSDs. It provides next-level specs that will be competitively relevant for the future, while also being backward-compatible with PCIe 3.0 too.
Long-Lasting Performance with NVMe 1.3 Support
The US70 packs the storage capacity, either 1TB or 2TB, to put its unmatched performance to good use. Featuring 3D NAND flash memory stacks, the Total Bytes Written (TBW) is substantially improved to meet the demanding needs of storage applications with ease. TBW for the 1TB version is 1,800TB and 3,600TB for the 2TB version. NVMe 1.3 support allows for higher performance, lower latency, and lower power consumption to maximize the power and lifespan of this SSD.
Powered By Multiple Technologies For Optimum Performance
The US70 supports SLC Caching and DRAM Cache Buffer to improve sequential read/write and random read/write performance. It is engineered with low-density parity-check (LDPC) coding and an ECC algorithm to ensure the accuracy of transmission and reliability of data access. Featuring E2E data protection and support for TRIM commands, the US70 efficiently manages reusable space and significantly reduces hard drive wear out. And if all that's not enough, our proprietary S.M.A.R.T. software enables operational monitoring of the SSD at any time.
Wear leveling
Wear leveling equalizes the wear of each NAND flash block, avoiding damage or data loss caused by excess use.
Over-Provision (OP)
The built-in over-provision (OP) increases the SSD's reserved space and reduces NAND flash wear to ensure reliability and stability as well as achieve an optimal lifespan.
Bad Block management (BBM)
A bad block management mechanism detects and marks bad blocks to avoid storage in those blocks and eliminate access errors. And, even if errors do occur in new blocks during an erase, this mechanism can move the data to other effective blocks to prevent data loss resulting from the failed erase.
A Powerful System Upgrade With Room For More
With an M.2 2280 (80mm) form factor, the US70's compact size allows for easy installation in laptops, small form factor PC systems, and some ultrabooks. Coupled with its massive storage capacity options, blazing speed, and numerous advanced technologies, it makes for an easy upgrade that will significantly improve your system's performance and storage potential, while also saving space for other components.
Features
PCIe Gen 4×4 interface with read speeds up to 5,000MB/s and write speeds up to 4,400MB/s
NVMe 1.3 support allows for higher performance, lower latency, and lower power consumption
Features wear leveling to equalize the wear of each NAND flash block, ensuring longer reliability and stability of the SSD
Built-in bad block management (BBM) mechanism detects and marks bad blocks in the NAND flash to avoid storage in those blocks and eliminate access errors
Includes over-provision (OP), which increases the SSD's reserved space to improve performance and durability as well as to reduce NAND flash wear, therefore extending the lifespan of hard drives
Supports SLC Caching and DRAM Cache Buffer to improve sequential read/write and random read/write performance
Built-in E2E data protection for enhanced data transfer integrity
Engineered with low-density parity-check (LDPC) coding to ensure accuracy of data transmission and reliability of data access
Supports TRIM commands, enabling the SSD to efficiently manage reusable space as well as significantly reduce hard drive wear out
Features our proprietary S.M.A.R.T. software for operational monitoring at any time
Small form factor M.2 2280 (80mm) allows for easy installation in laptops, small form factor PC systems, and some Ultrabooks
Specs
Capacity
Dimensions
Weight
Interface
Performance Read(max.)
Performance Write(max.)
MTBF
Operating Temperature
Shock Resistance Test
Warranty