Graphics Cards
Nvidia GeForce RTX 3070 Founders Edition Review
PC GAMING – AN INFINITE PLAYGROUND
System Config & Synthetic Performance
CPU: AMD Ryzen 9 3900X
GPU: Nvidia GeForce RTX 3070 Founders Edition
Mobo: MSI MEG X570 Godlike Gaming
Ram: 32GB HyperX Fury RGB 3200MHz C16
SSD: Corsair MP600 2TB
Chassis: Streacom Open BenchTable
OS: Microsoft Windows 10 Professional 1909
Nvidia Driver: 456.16
Testing was performed at stock settings except for system memory which had its XMP profile applied.
Power consumption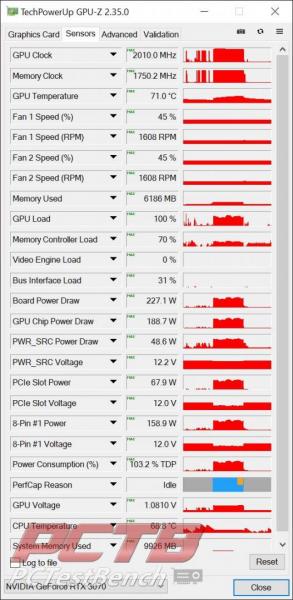 New to the RTX 3000 series cards are some detailed power measurement readouts available to programs like GPUz. We see the card max out at ~227W, with around 188W of that consumed by the GPU core. This leaves around 35W that is used by everything else on the board, the fans, Video output ports, PCIe communications, and inefficiency losses in the various VRM stages and PCB itself. Our system consumed a maximum of 455W from the wall, or around 410W from the PSU itself with a full system stress test running. Real-world usage will be lower.
Clock Speeds
From the GPUz screenshot above, we see the RTX 3070 top out at 2040Mhz on the core, with it hovering around 2010MHz steady-state with a few dips into the upper 1900MHz range.
Temps
At stock settings, the GeForce RTX 3070 Founders Edition tops out in the lower 70C range and usually hangs out in the upper 60C range under load.
Futuremark 3DMark
3DMark includes everything you need to benchmark your PC and mobile devices in one app. Whether you're gaming on a smartphone, tablet, notebook, or a desktop gaming PC, 3DMark includes a benchmark designed specifically for your hardware.
When the RTX 3070 was announced, Nvidia proposed it would be in a similar class of performance as the outgoing RTX 2080Ti with it holding a slight edge most of the time. That appears to be the case across the board in Fire Strike.
Time Spy shows a similar pattern with the 3070 Founders Edition holding a small lead over the 2080Ti Founders Edition and around a 50% lead over the RTX 2070.
Port Royal
test and compare the real-time ray tracing performance of any graphics card that supports Microsoft DirectX Raytracing—including multi-GPU systems.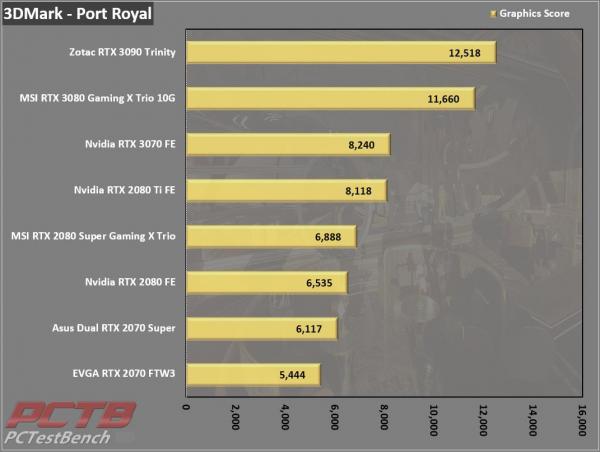 The same holds again for the Ray Traced Port Royal benchmark.
NVIDIA DLSS Feature Test
The NVIDIA DLSS feature test runs in two passes. The first pass renders Port Royal with DLSS disabled to measure baseline performance. The second pass renders Port Royal at a lower resolution then uses DLSS processing to create frames at the output resolution. The result screen reports the frame rate for each run.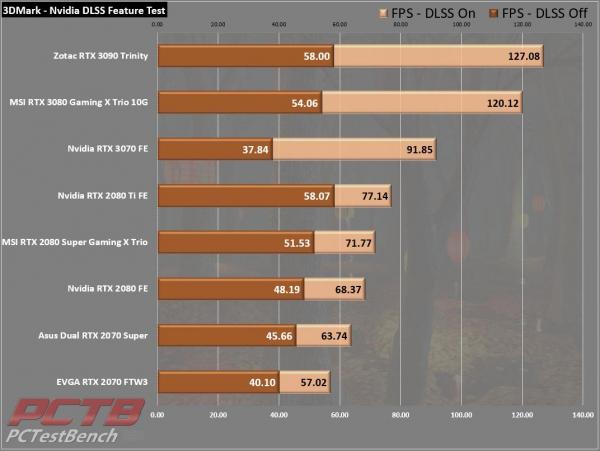 On the DLSS feature test, we run into a somewhat surprising result. With DLSS off, the 3070 falls quite a bit behind the 2080Ti, and even the RTX 2070. We ran the test repeatedly, and this holds. We are using pre-launch drivers, so it could just be a driver anomaly. Once DLSS is enabled, we see it fly back up the leaderboard to hold a place firmly between the RTX 2080Ti and RTX 3080 as expected.
3DMark – VRS Feature Test
The 3DMark VRS feature test is designed to help you compare differences in performance and image quality when using variable-rate shading. The test also offers an interactive mode for experimenting with different VRS settings and exporting frames for comparison.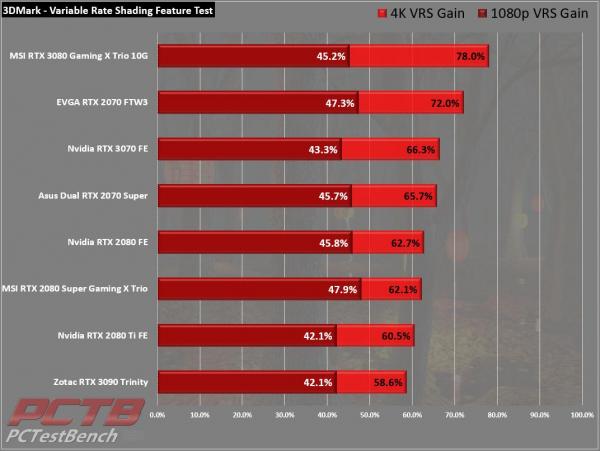 Variable-rate shading can ease the workload for cards so we see larger gains out of lower-end cards here than the flagships that have the raw power to muscle through. The Geforce RTX 3070 Founders Edition sees respectable gains in performance using VRS.
Futuremark VRMark
The performance requirements for VR games are much higher than for typical PC games. So if you're thinking about buying an HTC Vive or an Oculus Rift, wouldn't you like to know that your PC is ready for VR?
VRMark includes three VR benchmark tests that run on your monitor, no headset required, or on a connected HMD. At the end of each test, you'll see whether your PC is VR ready, and if not, how far it falls short.
Orange Room Test – The Orange Room benchmark shows the impressive level of detail that can be achieved on a PC that meets the recommended hardware requirements for the HTC Vive and Oculus Rift. If your PC passes this test, it's ready for the two most popular VR systems available today.
Cyan Room Test – Cyan Room is a DirectX 12 benchmark. It features a large, complex scene and many eye-catching effects. Cyan Room shows how using an API with less overhead can help developers deliver impressive VR experiences even on modest PC systems.
Blue Room Test – The Blue Room is a much more demanding test. It's ideal for benchmarking the latest graphics cards. With its massive 5K rendering resolution and spectacular volumetric lighting effects, the Blue Room sets the bar for future hardware generations.
The RTX 3070 FE does a spectacular job in VR workloads, knocking the orange and cyan test levels out of the park. It can't quite hit the recommended frame rate for the incredibly demanding blue room test though.
Unigine Superposition
Extreme performance and stability test for PC hardware: video card, power supply, cooling system. Check your rig in stock and overclocking modes with a real-life load! Also includes an interactive experience in a beautiful, detailed environment.
A lone professor performs dangerous experiments in an abandoned classroom, day in and day out. Obsessed with inventions and discoveries beyond the wildest dreams, he strives to prove his ideas.
Once you come to this place in the early morning, you would not meet him there. The eerie thing is a loud bang from the laboratory heard a few moments ago. What was that? You have the only chance to cast some light upon this incident by going deeply into the matter of quantum theory: thorough visual inspection of professor's records and instruments will help to lift the veil on the mystery.
We see great scores across the board in Superposition. The 3070 FE edges out the 2080Ti in lower resolutions, but the wider memory bus on the 2080Ti gives it a slight edge once we hit 4K. It leaves the RTX 2070 so far behind it can't even see the taillights.
Crytek – The Neon Noir Benchmark
Neon Noir was developed on a bespoke version of CRYENGINE 5.5, and the experimental ray tracing feature based on CRYENGINE's Total Illumination used to create the demo is both API and hardware agnostic, enabling ray tracing to run on most mainstream, contemporary AMD and NVIDIA GPUs. The feature will ship in CRYENGINE in 2020, optimized to take advantage of performance enhancements delivered by the latest generation of graphics cards from all manufacturers and supported APIs like Vulkan and DX12.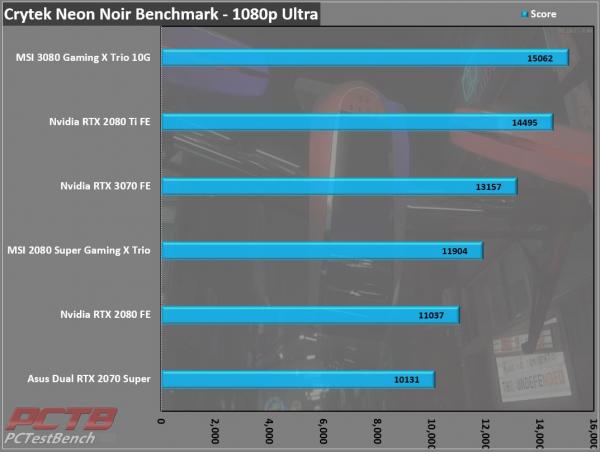 Taking advantage of new features in the DX12 API, the RTX 3070 Founders Edition falls a tiny bit behind the 2080Ti, but far ahead of lower end cards.
Passmark Performance Test – GPU Mark 3D
"Fast, easy to use, PC speed testing, and benchmarking. PassMark Performance Test ™ allows you to objectively benchmark a PC using a variety of different speed tests and compare the results to other computers."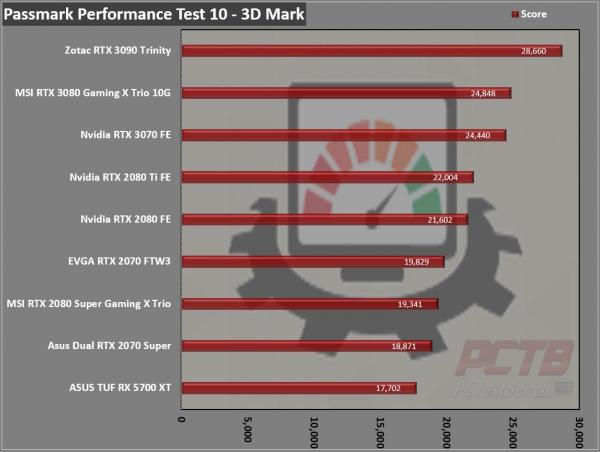 Passmark actually puts the RTX 3070 Founders Edition quite a way ahead of the RTX 2080Ti and close on the heels of the RTX 3080.
Blender Benchmark 2.83 – BMW27
A new platform to collect and display the results of hardware and software performance tests. Aimed at an optimal comparison between system hardware and installations using open source software and testing content in the public domain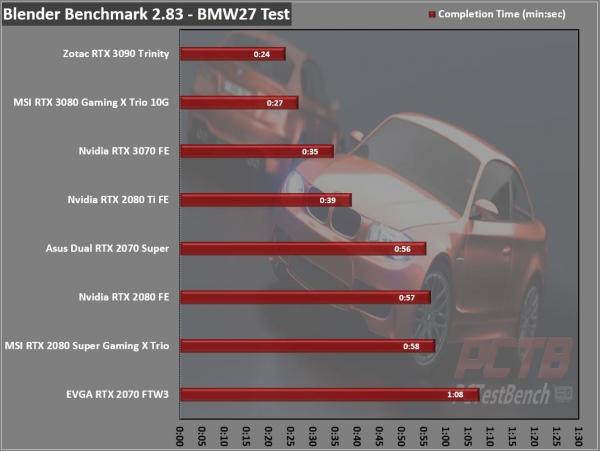 With more and more users multi-tasking into the productivity world, seeing results like this gives us a warm fuzzy feeling.