Graphics Cards
Nvidia GeForce RTX 3070 Founders Edition Review
PC GAMING – AN INFINITE PLAYGROUND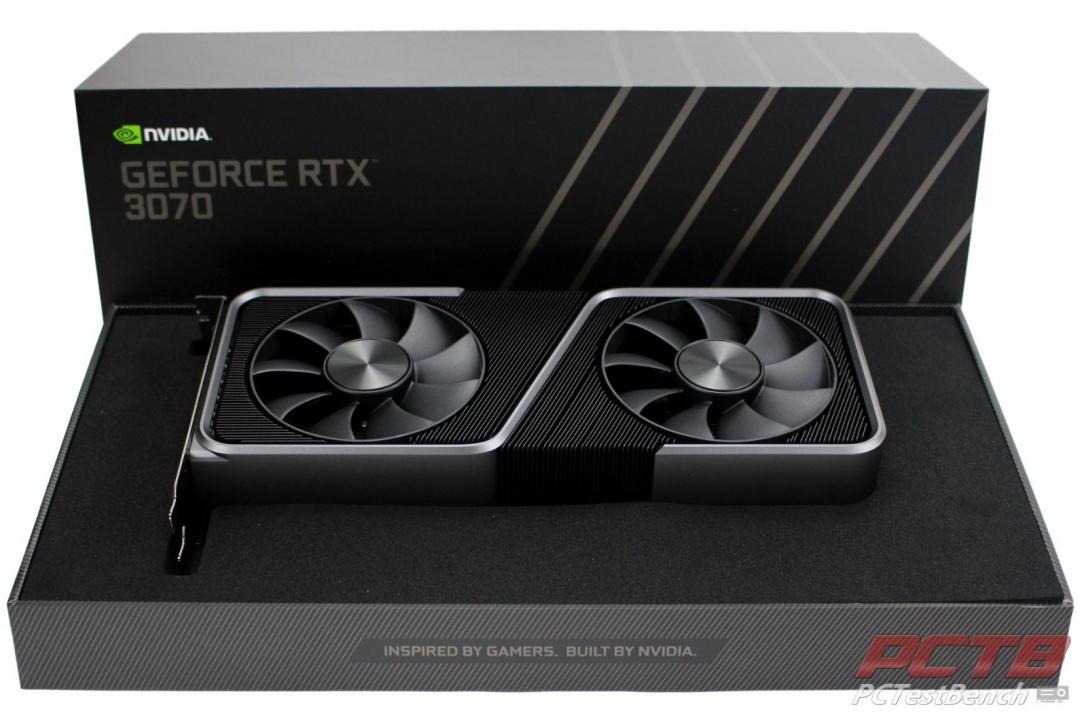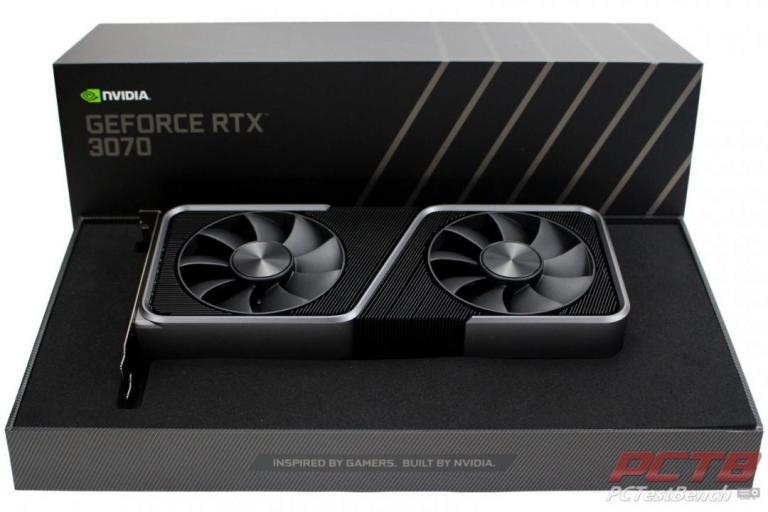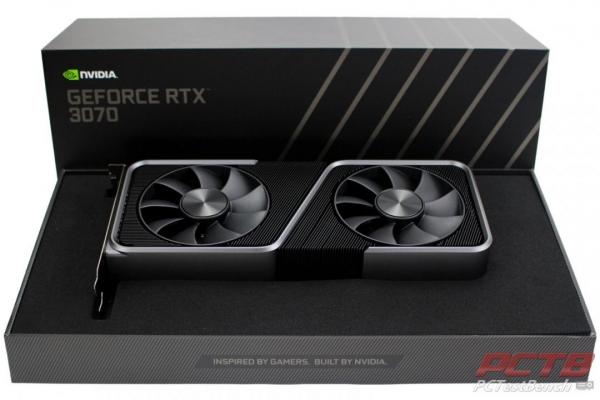 Nvidia's RTX 30 series launch has been one of those rare 'revolutionary' launches rather than your semi-annual evolutionary launch. Insatiable demand and availability issues aside, the RTX 3080 and RTX 3090 cards have delivered a game-changing performance leap. The xx80 and above cards have traditionally made up a small percentage of gamers due to the flagship pricing though. The more modest, but still powerful xx70 series has been popular with gamers for many generations now, and that is what we will be looking at.  The RTX 3070 Founders Edition card includes new technologies like Nvidia Reflex and Broadcast and features 5888 CUDA cores, more than twice the RTX 2070, second-generation RT cores, HMDI 2.1. Nvidia's GeForce RTX 3070 FE launches today and allegedly packs the horsepower of last generation's doubly-expensive flagship RTX 2080Ti, let's see if that proves true!
PC Test Bench would like to thank Nvidia for sending us the GeForce RTX 3070 Founders Edition to check out!
Nvidia's take on the GeForce RTX 3070 Founders Edition:
The GeForce RTX 3070 GPU is the most advanced GPU ever created in its class. It enables gamers, creators, and developers to experience entirely new worlds of gaming and imagination. It isn't just performance, either. There are NVIDIA features to make gamers faster, to broadcast more seamlessly, and to create more effortlessly.
So, what makes the RTX 3070 so special?
The GeForce RTX 3070 delivers incredible performance and features, including NVIDIA Reflex and Broadcast, for $499. It has second-generation RTX architecture and delivers a staggering 20.3 shader TFLOPs, 39.7 RT TFLOPs, and 162.6 Tensor TFLOPs (using the new sparsity feature) of computational horsepower. It makes games more beautiful and true-to-life. Ray tracing, DLSS, high resolutions, ultra-low latency, new AI-enhanced NVIDIA Broadcast streaming, accelerated digital content creation—the RTX 3070 runs it.
Quick Specs:
CUDA Cores: 5888
RT Cores: 46 2nd generation
Tensor Cores: 184 3rd generation
SM's: 46
ROPs: 96
Base Clock: 1500 MHz
Boost Clock: 1725 MHz
Mem Clock: 7000 MHz
Memory: 8GB GDDR6
Memory Bus: 256-bit
Memory Bandwidth: 448GB/s
TGP: 220 Watts
PCIe: 4.0 x16
Video Outputs:

3x DisplayPort 1.4a
1x HDMI 2.1

Length: 9.5" (242mm)
Width: 4.4" (112mm)
Slot: 2-slot
Aux power connections: 1x Nvidia 12-pin (1×8-pin PCIe to 1×12-pin adapter included)
Features:
DLSS AI ACCELERATION – MAX FPS. MAX QUALITY. POWERED BY AI.
NVIDIA DLSS is a groundbreaking AI rendering that boosts frame rates with uncompromised image quality using the dedicated AI processing Tensor Cores on GeForce RTX. This gives you the performance headroom to crank up settings and resolutions for an incredible visual experience. The AI revolution has arrived in gaming.
RAY TRACING
Ray tracing is the holy grail of gaming graphics, simulating the physical behavior of light to bring real-time, cinematic-quality rendering to even the most visually intense games.
NVIDIA REFLEX – VICTORY MEASURED IN MILLISECONDS
NVIDIA Reflex delivers the ultimate competitive advantage. The lowest latency. The best responsiveness. Powered by GeForce RTX 30 Series GPUs and NVIDIA® G-SYNC® gaming monitors. Acquire targets faster, react quicker, and increase aim precision through a revolutionary suite of technologies to measure and optimize system latency for competitive games.
HDMI 2.1
GeForce RTX 30 Series GPUs are the first available to feature HDMI 2.1 support, for single cable output on 8K HDR TVs. This is critical for 8K HDR 60 FPS gaming since you need at least 71.66 Gbps before compression. This was not possible on TVs using HDMI 2.0b. Previous generation GPUs had HDMI 2.0b (18.1 Gbps) or DisplayPort 1.4a (32.4 Gbps), so an 8K TV would require 4 HDMI 2.0 cables, or a specialized DP-to-HDMI 2.1 converter, making the setup more complex and expensive. Now, one HDMI 2.1 cable simplifies connection for 8K HDR gaming.
8K HDR Capture
Available with the launch of RTX 3080, the latest update to GeForce Experience delivers the first-ever software capture solution capable of 8K HDR recording. GeForce Experience can now capture up to 8K 30 FPS and support HDR capture at all resolutions, so you no longer need to buy a separate and expensive capture card for 8K HDR. You can also simply select Manual or Instant Replay from within the GeForce Experience overlay, record 8K 30 FPS HDR content, and share directly to YouTube.
AV1 Decode
Traditionally, 8K streaming using H.264 required up to 140 Mbps of internet bandwidth for smooth real-time playback. With new AV1 decoding, bandwidth is reduced by more than 50%. However, even high-end CPUs struggle to keep up with AV1 decode. With AV1 GPU hardware acceleration on RTX 30-Series GPUs, users can consume up to 8K60 HDR content in AV1 seamlessly from YouTube.
NVIDIA STUDIO – UP YOUR CREATIVE GAME
Take your creative projects to a new level with GeForce RTX 30 Series GPUs. Delivering AI-acceleration in top creative apps. Backed by the NVIDIA Studio platform of dedicated drivers and exclusive tools. And built to perform in record time. Whether you're rendering complex 3D scenes, editing 8K video, or live streaming with the best encoding and image quality, GeForce RTX GPUs give you the performance to create your best.
NVIDIA BROADCAST – STREAM LIKE A BOSS
Steal the show with incredible graphics and smooth, stutter-free live streaming. Next-generation hardware encoding and decoding combine to show off all your best moments in exquisite detail. And the all-new NVIDIA Broadcast app takes your livestreams to the next level with powerful AI capabilities to improve audio and video quality with effects like virtual background, webcam auto frame, and microphone noise removal. GeForce RTX 30 Series GPUs deliver the performance and image quality necessary to give your audience your best—every time.
NVIDIA G-SYNC
Get smooth, tear-free gameplay at refresh rates up to 360 Hz, plus HDR and more. NVIDIA G-SYNC gaming monitors are the ultimate go-to equipment for enthusiast gamers.
DIRECTX 12 ULTIMATE
Developers can now add even more amazing graphics effects to Microsoft Windows-based PC games. GeForce RTX graphics cards deliver advanced DX12 features like ray tracing and variable-rate shading, bringing games to life with ultra-realistic visual effects and faster frame rates.
GEFORCE EXPERIENCE
Capture and share videos, screenshots, and live streams with friends. Keep your drivers up to date and optimize your game settings. GeForce Experience lets you do it all. It's the essential companion to your GeForce graphics card.
NVIDIA ANSEL
Turn your screenshots into art with NVIDIA Ansel, a powerful in-game photo mode that captures 360, HDR, and super-resolution photos.
GAME READY DRIVERS
NVIDIA GeForce Game Ready drivers provide the highest level of performance and the smoothest experience possible, from the moment you start playing.