CPU
Intel Core i5-11600K CPU Review
Designed to Game
Overclocking, Power & Thermals
Intel's Core i5-11600K typically runs at 4.9GHz lightly loaded and 4.6Ghz with all cores in use, we'll see if we can get any more out of it.
We always like to try any automatic tools available to us first and Intel's latest XTU versions include a 'Speed Optimizer'. Turing this on gets us an all-core speed of 4.8GHz.
This gives us a nice jump to 4400 points even from the stock run of 4277.
From here we'll carry on manually to 4.9GHz.
We see another decent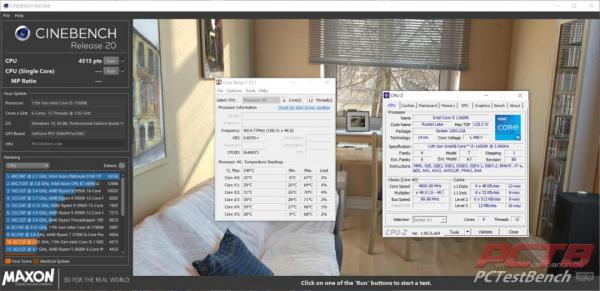 jump of 115 points to 4515. Temps are still barely touching the 70C mark and we haven't even tried to fine-tune voltage, we're just letting our Asus board sort it out on its own.
Next up is 5.0 GHz but this requires a modest core voltage bump of +0.15V to get stable.
Our score actually falls just a touch…
.. and the culprit is power limits.
Since our temps were good and the power limit is a software setting we can fix in the BIOS, we went ahead and jumped to 5.1GHz on all cores. This requires another voltage bump, up to +0.23V on the core offset.
Our final score lands at 4601, about a 7.5% increase over stock. Temps are sitting around the 90C mark and power draw is landing about 285W in this configuration. 5.2GHz just refused to work for us, so this is the final OC we achieved.