CPU
Intel Core i5-11600K CPU Review
Designed to Game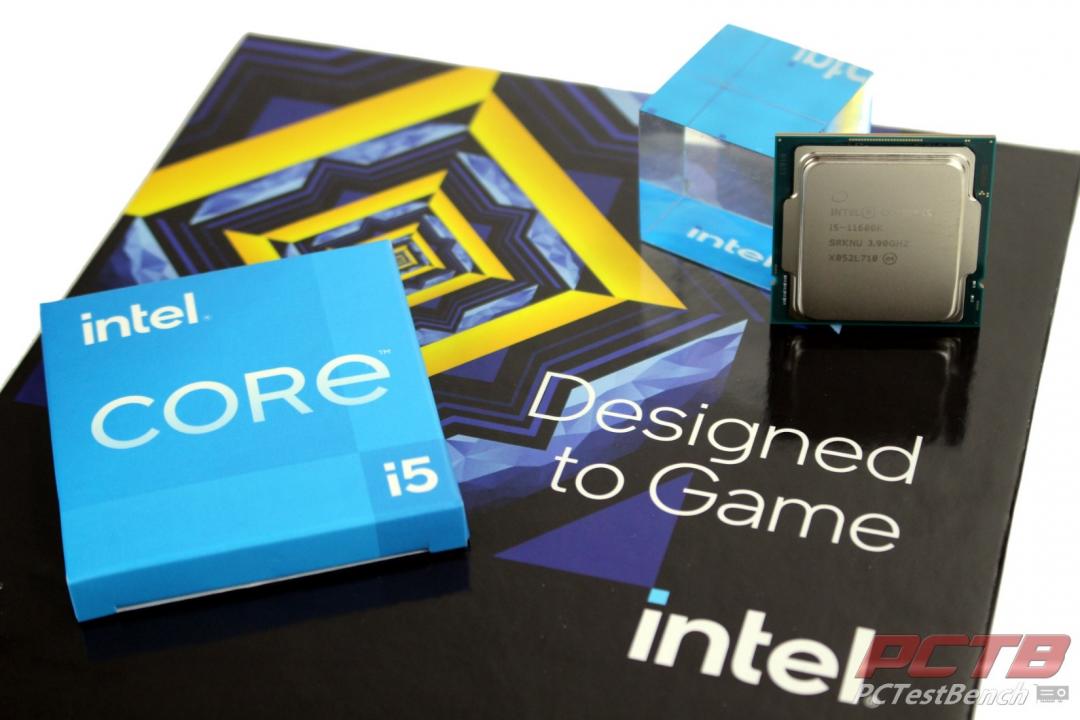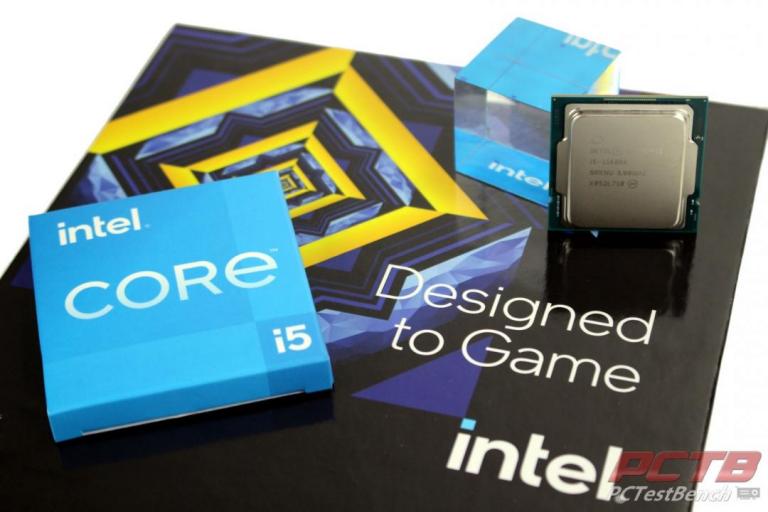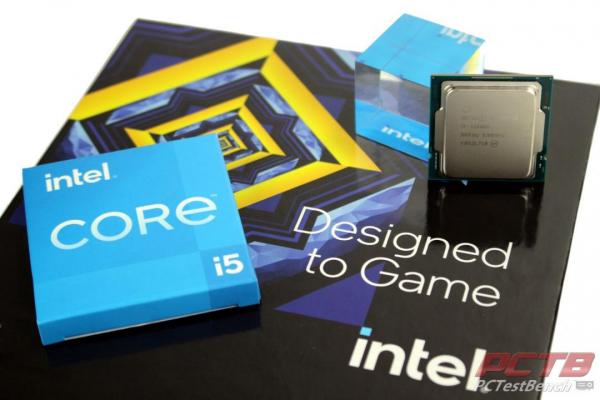 Hot on the heels of our recent Core i9-11900K review comes its little brother, the Core i5-11600K. It features the same new architecture and improvements, as well as connectivity support, but in a more cost-effective 6-core package. We also find optional platform support for USB 3.2 gen2x2 20gbps USB, Intel Thunderbolt 4, USB4, and WiFi 6E support for maximum speed connectivity to, well, everything. New overclocking features such as a new memory controller with real-time memory overclocking from your desktop, memory overclocking support on H570 and B560 chipsets, AVX enable/disable options, and even AVX2 and AVX-512 guard-band overrides, you can tune like never before.
We want to thank Intel for sending us over the new Core i5-11600K to test out!
Intel's take on the Core i5-11600K:
The 11th Gen Intel® Core™ desktop processor family puts you in control of your computing experience. It features an innovative new architecture for reimagined performance, immersive display and graphics for incredible visuals, and a range of options and technologies for enhanced tuning. When these advances come together, you have everything you need for fast-paced professional work, elite gaming, inspired creativity, and extreme tuning. The 11th Gen Intel® Core™ desktop processor family gives you the power to perform, compete, excel, and power your greatest contributions.
Performance: Reimagined Performance
11th Gen Intel Core desktop processors are intelligently engineered to push the boundaries of performance. The new processor core architecture transforms hardware and software efficiency and takes advantage of Intel Deep Learning Boost to accelerate AI performance. Key platform improvements include memory support up to DDR4-3200, up to 20 CPU PCIe 4.0 lanes, integrated USB 3.2 Gen 2×2 (20G), and Intel Optane Memory H20 with SSD support. Together, these technologies bring the power and the intelligence you need to supercharge productivity, stay in the creative flow, and game at the highest level.
Creativity: Immersive Display & Graphics
Experience rich, stunning, seamless visuals with high-performance graphics on 11th Gen Intel Core desktop processors. Enhanced Intel UHD Graphics featuring Intel Xe graphics architecture offers powerful media and graphics capabilities to bring your virtual world to life. Key platform advances enable complete immersion—with integrated HDMI 2.0 and HBR3 for up to three simultaneous 4K HDR displays at 60Hz; 12bit HEVC/VP9 decode and E2E compression for efficient, enhanced quality of media; and 10bit AV1 Codec decode support that provides true fixed function-based decoding for fast, energy-efficient performance with video calling and screen share. Just sit down and dive in—to uncompromised in-game performance while streaming and recording, seamless multi-tasking across multiple screens, or fast creating and editing for even the most demanding tasks.
Tuning: Enhanced Tuning & Control
11th Gen Intel Core desktop processors offer you the flexibility and control to power your greatest contributions. Unlocked 11th Gen Intel® Core desktop processors enable you to overclock confidently with enhanced features3 like Intel® Performance Maximizer, Intel Extreme Tuning Utility (Intel® XTU), Solder Thermal Interface Material (STIM), and improved overclocking customizations. Now you can push your CPU to the limits, open new performance horizons, or re-imagine streaming and recording. 11th gen processors also simplify connectivity through Intel® Thunderbolt 4 (discrete USB4 compliant), enhance expandability through high-speed PCIe lanes and USB 3.2 Gen 2×2 (20G), and advance wireless connectivity through discrete Wi-Fi 6E. Take control and push ahead with the processors that maximize whatever matters most to you.
Intel Z590 Chipset Block Diagram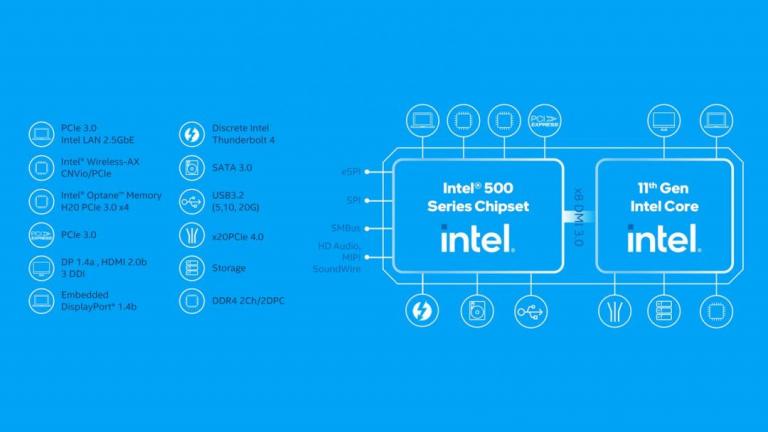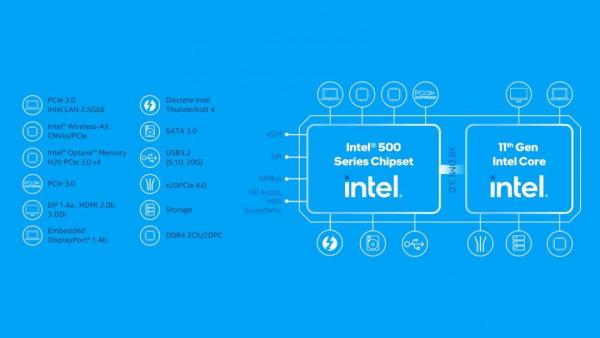 A few key takeaways here. The first thing to note is the updated DMI Bus. Intel has used a PCIe 3.0 x4 based DMI bus for a handful of generations now, Z590 with a compatible 11th gen chip doubles this to PCIe 3.0 x8. Next is 4 more PCIe 4.0 lanes from the CPU for a total of 20.
Important features:
New Processor Core Architecture
PC improvements transform hardware and software efficiency and increase real-world performance for smooth gameplay, immersive productivity, and fast creation.
Intel® Deep Learning Boost (VNNI)
Accelerates AI inference—vastly improving performance for deep learning workloads.
Gaussian Neural Accelerator 2.0 (GNA 2.0)
Runs AI workloads on the accelerator to more efficiently blur video background and suppress background noise.
Intel® UHD Graphics featuring Intel® Xe graphics architecture
Rich media and intelligent graphics capabilities enable amplified visual complexity, enhanced 3D performance, and faster image processing.
Enhanced Display (Integrated HDMI 2.0, HBR3)
Immerse in up to three simultaneous 4K displays at 60Hz or a pair of 5K displays at 60Hz8 with increased connectivity to enhance display support.
Enhanced Media (12bit HEVC, 10bit AV1 decode, E2E compression)
Greater system-wide performance and support for enhanced quality of media encode and decode, efficiently.
New Overclocking Features and Capabilities
A range of enhanced overclocking capabilities, including Intel Performance Maximizer,4 Intel® Extreme Tuning Utility, Intel Extreme Memory Profile—and, on unlocked processors, per-core hyperthreading, enhanced voltage frequency control, and PCle overclocking.
Discrete Wi-Fi 6E (GIG+)
Wi-Fi connection that is 3 times faster and with 40% higher peak data rates compared to the standard 802.22ac 2×2 and dual spatial stream 802.11ac, respectively.
Increased DDR4 speeds
Smooth media editing, fast multitasking, and enhanced productivity with memory support up to DDR4-3200.
20 CPU PCIe 4.0 lanes
Additional lanes (compared to previous generations) increase PCIe throughput and flexibility for fast connection of next-gen PCIe devices.
Intel® Optane™ Memory H20
Performance improvements and power reduction over Intel® Optane™ memory H10 with SSD.
Integrated USB 3.2 Gen 2×2 (20G)
Up to twice the USB bandwidth (vs USB 3.2 Gen 2×1 (10G)) for fast data transfers.
USB Audio Offload
Deep sleep states are possible with the USB Audio Offload.
Discrete Intel Thunderbolt 4 (USB4 compliant)
Universal cable connectivity for a simple, reliable connection that provides incredible performance.
Quick Specs:
# of Cores – 6
# of Threads – 12
Processor Base Frequency – 3.90 GHz
Max Turbo Boost 3.0 Frequency – 4.90 GHz
Cache – 12 MB Intel Smart Cache
TDP – 125 W
Max Memory Size – 128 GB
Memory Speed – DDR4-3200
Max # of Memory Channels – 2
Processor Graphics – Intel UHD Graphics 750
Scalability – 1S Only
PCI Express Revision – 4.0
Max # of PCI Express Lanes – 20
Sockets Supported – FCLGA1200
Intel 11th Gen Comparison Table