Tech News
ASUS Launches New Intel Z490 Motherboards Ahead of Upcoming Intel 10th Gen CPU Launch
All of your favorites are back, better than ever with a few new additions to the family!
For many enthusiasts, new CPU generation launches are every bit as exciting for the new motherboards coming out as they are for the chips themselves. I mean, what good is a new flagship CPU if you don't have an awesome motherboard to put it in? ASUS has quite the lineup in store for Intel's upcoming 10th gen chips with a slew of new boards from your favorite ROG, STRIX, TUF, and Prime product families. If you care a little more about productivity, you might also be excited to see the new ProART family which replaces the WS series workstation oriented boards. No matter your needs or budget, ASUS has you covered!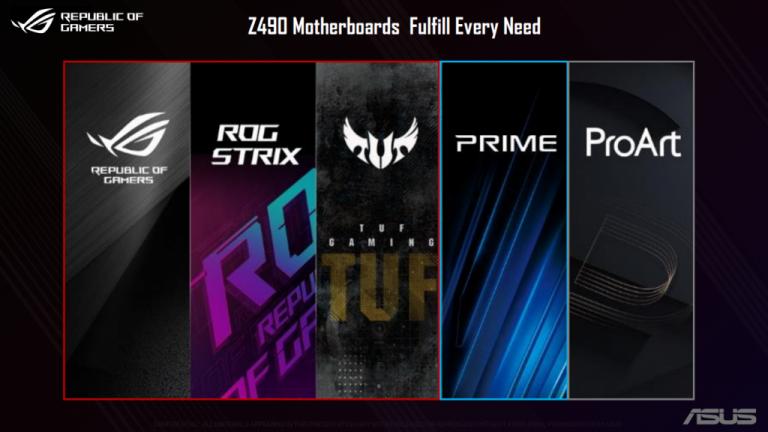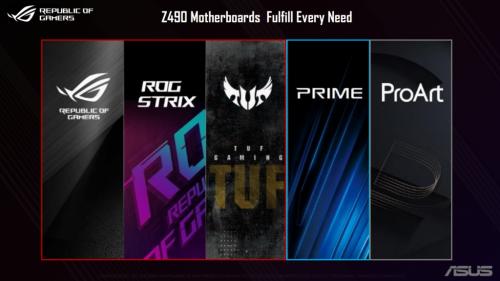 Intel 10th Generation 'Comet Lake-S'
Before we get Into the new boards, we first need to cover what we know of the upcoming generation of chips these boards are meant for.  Intel's Comet Lake-S is the mainstream desktop version of the already released Intel 10th Gen mobile processors. Based on the highly refined 14nm process, it is expected to be the last such generation to use 14nm before Intel transitions to a 10nm node.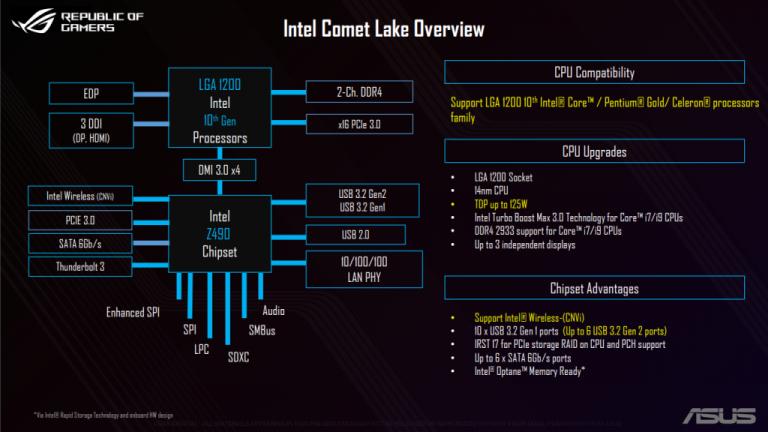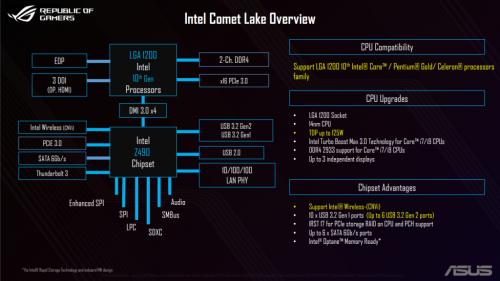 While the overall block diagram hasn't changed much from the last few generations, there are a few notable updates. The first is the actual socket. Intel 10th gen will be based on the new LGA1200 socket with 49 more pins. Physical keying prevents backward compatibility as does electrical changes. The Z490 chipset supports Intel Wi-Fi 6 Gig+ 802.11AX over the optional CNVi interface and Asus has opted to use this on most of its upcoming boards for maximum wireless performance.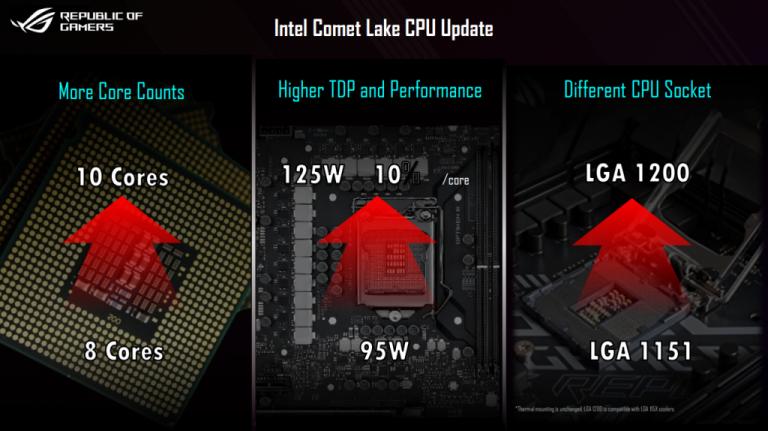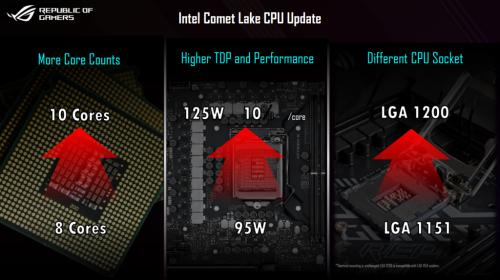 While many enthusiast boards, like the ones we are about to cover below, are built far beyond minimum spec, Intel is planning on TDP's of 125W with this generation, and for good reason. 10th gen chips hit the street with 10 cores, up from 8 last generation.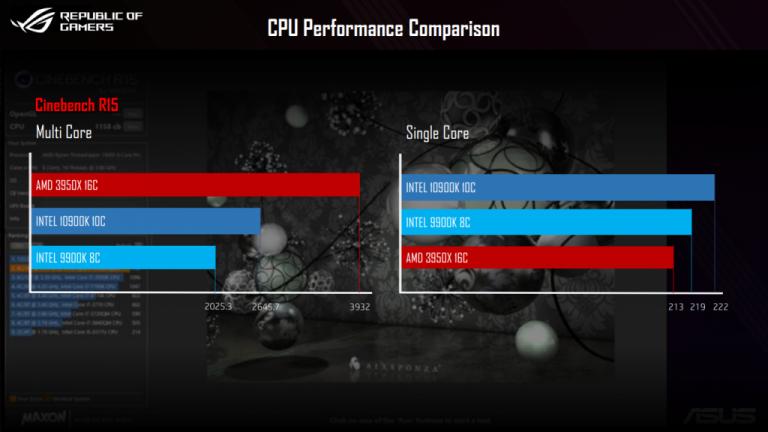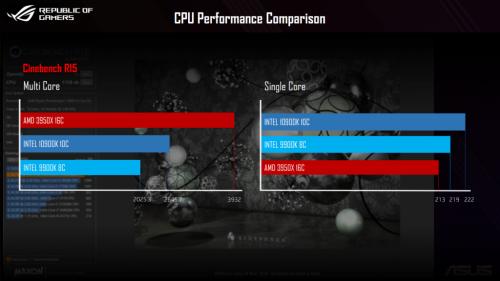 With today's creation heavy workloads, from at-home professionals to content creators to E-sports players streaming their latest matches, the need for more and more cores is apparent. Gaming, along with many other workloads, is still heavily dependent on raw clock speed. Intel still holds a decisive edge here and isn't interested in giving this up to team red just yet and that shows in single and lightly threaded workloads, like most games.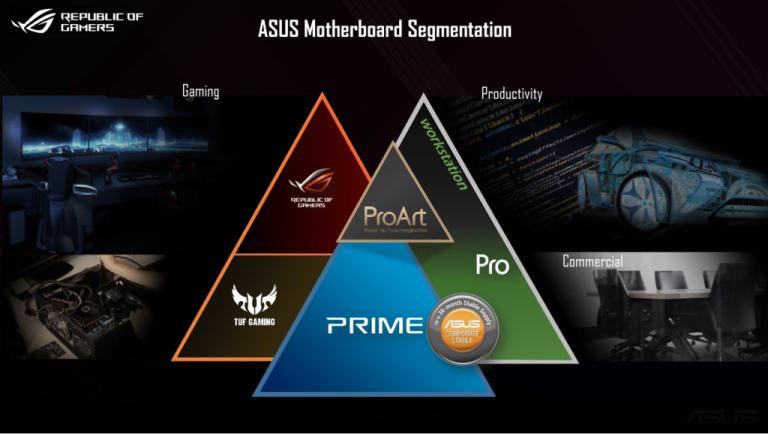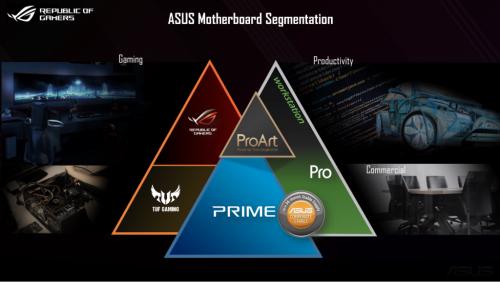 We'll have more detailed coverage of Intel's upcoming chips soon, so let's get back to the main feature here, all that ASUS goodness! Asus is planning a staggered launch with six boards landing launch day and the rest following afterward.
Boards Available at Launch:
ROG Maximus XII HERO (Wi-Fi)
ROG STRIX Z490 E-Gaming
TUF GAMING Z490 PLUS (Wi-Fi)
PRIME Z490-A
PRIME Z490-P
ProArt Z490 Creator 10G
Boards Coming Soon:
ROG MAXIMUS XII FORMULA
ROG MAXIMUS XII EXTREME
ROG MAXIMUS XII APEX
ROG STRIX Z490-H GAMING
ROG STRIX Z490-G GAMING
ROG STRIX Z490-G GAMING (WiFi)
ROG STRIX Z490-A Gaming
ROG STRIX Z490-I Gaming
ROG STRIX Z490-F Gaming
TUF GAMING Z490-PLUS
Let's take a closer look at each family's offerings!
ROG Maximus XII
ROG Strix
TUF Gaming
Prime
ProART