Graphics Cards
Reviews
Zotac RTX 3090 Trinity 24GB GPU Review
Equipped with a more refined IceStorm 2.0 cooling system
Synthetic Testing & Performance
Testing was performed at stock settings except for system memory which had its XMP profile applied.
Futuremark 3DMark
3DMark includes everything you need to benchmark your PC and mobile devices in one app. Whether you're gaming on a smartphone, tablet, notebook, or a desktop gaming PC, 3DMark includes a benchmark designed specifically for your hardware.
We see a notable jump in Fire Strike scores from the RTX 3080 but possibly not as much as you were expecting.
Timespy shows a similar trend. Zotac's RTX 3090 Trinity is easily holding the lead, but not by a wide margin over the RTX 3080.
Port Royal
test and compare the real-time ray tracing performance of any graphics card that supports Microsoft DirectX Raytracing—including multi-GPU systems.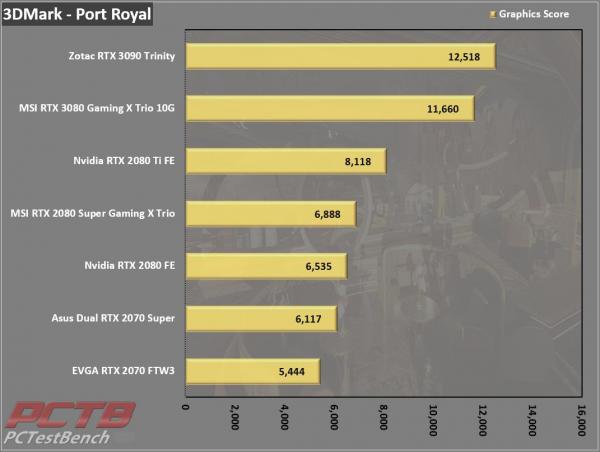 The RTX enabled Port Royal scales similarly.
NVIDIA DLSS Feature Test
The NVIDIA DLSS feature test runs in two passes. The first pass renders Port Royal with DLSS disabled to measure baseline performance. The second pass renders Port Royal at a lower resolution then uses DLSS processing to create frames at the output resolution. The result screen reports the frame rate for each run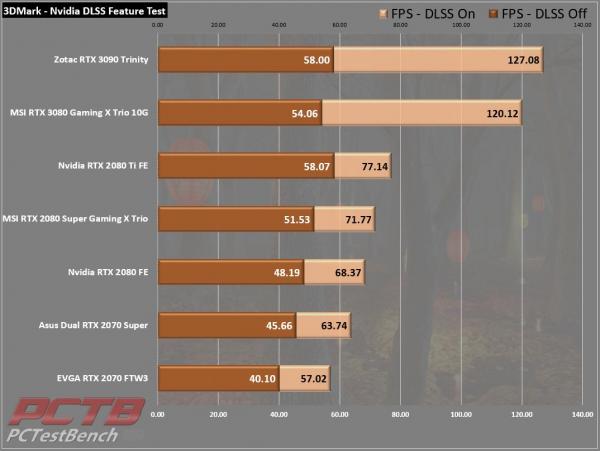 The Nvidia feature test shows just how impressive the new generation of DLSS is on the RTX 30 series with Zotac's 3090 Trinity leading the pack.
3DMark – VRS Feature Test
The 3DMark VRS feature test is designed to help you compare differences in performance and image quality when using variable-rate shading. The test also offers an interactive mode for experimenting with different VRS settings and exporting frames for comparison.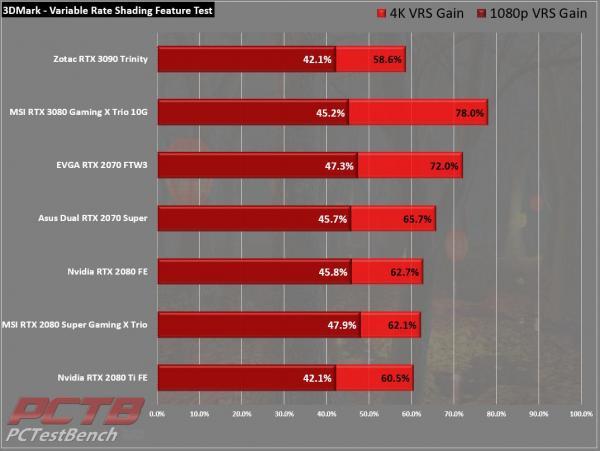 Interestingly, the 3090 Trinity doesn't scale as well at low resolution due to CPU bottlenecking and even upscaling to 4K the card is so powerful that It's hitting our Ryzen 9 3900X pretty hard.
Futuremark VRMark
The performance requirements for VR games are much higher than for typical PC games. So if you're thinking about buying an HTC Vive or an Oculus Rift, wouldn't you like to know that your PC is ready for VR?
VRMark includes three VR benchmark tests that run on your monitor, no headset required, or on a connected HMD. At the end of each test, you'll see whether your PC is VR ready, and if not, how far it falls short.
Orange Room Test – The Orange Room benchmark shows the impressive level of detail that can be achieved on a PC that meets the recommended hardware requirements for the HTC Vive and Oculus Rift. If your PC passes this test, it's ready for the two most popular VR systems available today.
Cyan Room Test – Cyan Room is a DirectX 12 benchmark. It features a large, complex scene and many eye-catching effects. Cyan Room shows how using an API with less overhead can help developers deliver impressive VR experiences even on modest PC systems.
Blue Room Test – The Blue Room is a much more demanding test. It's ideal for benchmarking the latest graphics cards. With its massive 5K rendering resolution and spectacular volumetric lighting effects, the Blue Room sets the bar for future hardware generations.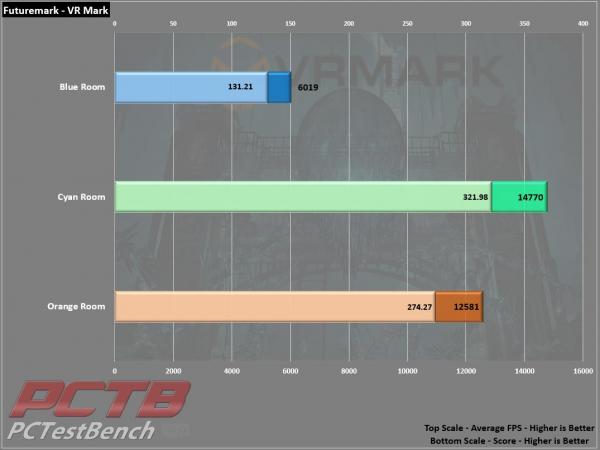 In the extremely demanding Blue room test, the 3090 Trinity averages more than 130 FPS while rendering at a heavy 5K.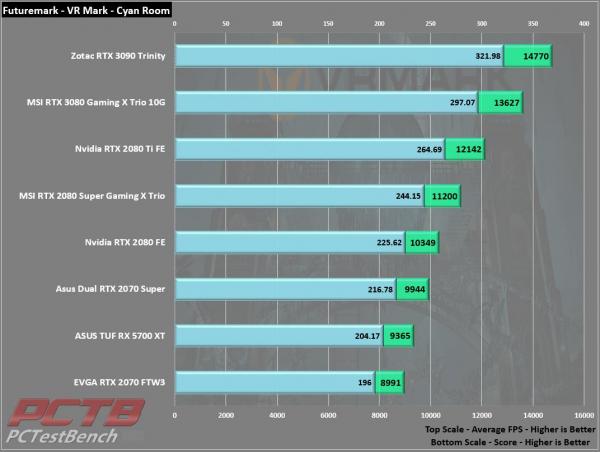 Under a heavy load, we see good scaling out of the 3090 Trinity.
Unigine Superposition
Extreme performance and stability test for PC hardware: video card, power supply, cooling system. Check your rig in stock and overclocking modes with a real-life load! Also includes interactive experience in a beautiful, detailed environment.
A lone professor performs dangerous experiments in an abandoned classroom, day in and day out. Obsessed with inventions and discoveries beyond the wildest dreams, he strives to prove his ideas.
Once you come to this place in the early morning, you would not meet him there. The eerie thing is a loud bang from the laboratory heard a few moments ago. What was that? You have the only chance to cast some light upon this incident by going deeply into the matter of quantum theory: thorough visual inspection of professor's records and instruments will help to lift the veil on the mystery.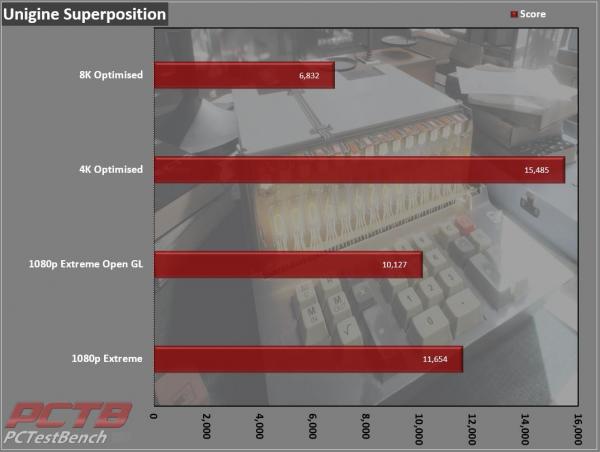 Can you tell that the RTX 3090 Trinity is designed to handle demanding loads? Just look at that 4K score!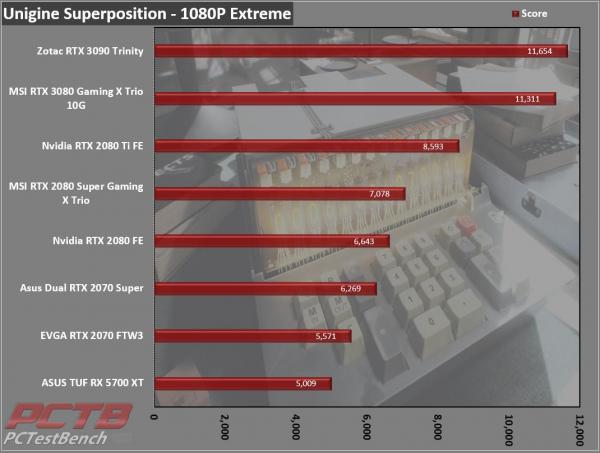 With eye-candy maxed out in 1080P, the 3090 holds a small lead over the RTX 3080 but just demolishes the RTX 20 series cards. We're talking a commanding 50% lead here.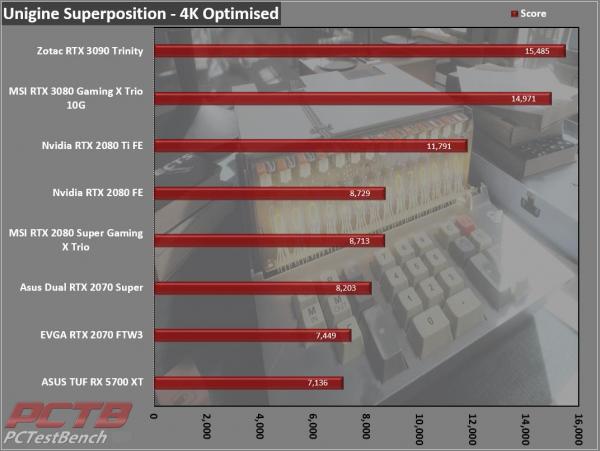 When we move up to 4K, the lead widens even more with the scores approaching double.
Passmark Performance Test – GPU Mark 3D
"Fast, easy to use, PC speed testing, and benchmarking. PassMark Performance Test ™ allows you to objectively benchmark a PC using a variety of different speed tests and compare the results to other computers."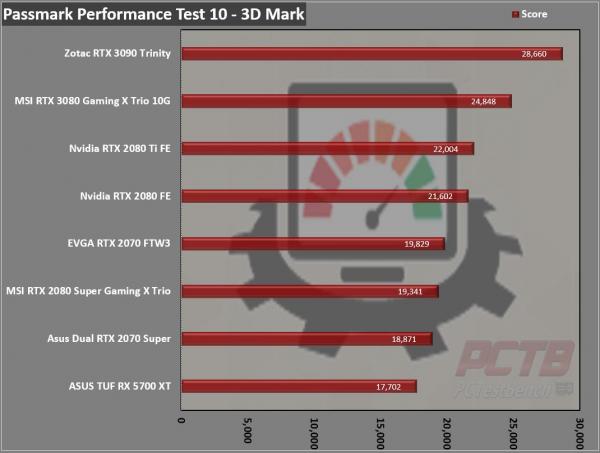 When you consider all the uses cases Passmark checks, the RTX 3090 Trinity jumps a long way ahead.
Blender Benchmark 2.83 – BMW27
A new platform to collect and display the results of hardware and software performance tests. Aimed at an optimal comparison between system hardware and installations using open source software and testing content in the public domain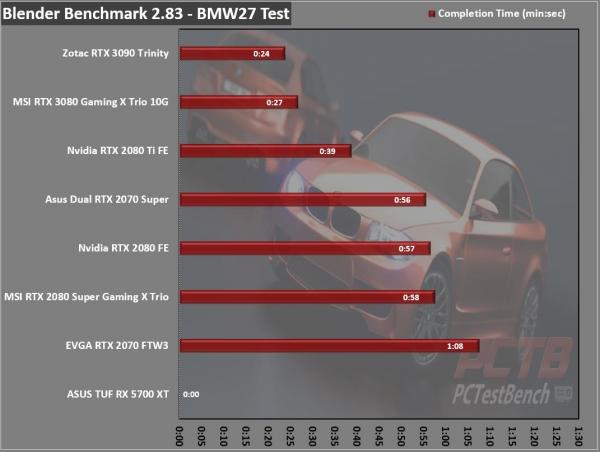 Blender is a popular tool for 3D content creation and can place a demanding load on any system. Here we use the built-in benchmark to check a short render and find the 3090 Trinity finishes fastest as expected.