Graphics Cards
Reviews
Zotac RTX 3090 Trinity 24GB GPU Review
Equipped with a more refined IceStorm 2.0 cooling system
System Config, Software, and PCIe
CPU: AMD Ryzen 9 3900X
GPU: Zotac RTX 3090 Trinity
Mobo: MSI MEG X570 Godlike Gaming
Ram: 32GB HyperX Fury RGB 3200MHz C16
SSD: Corsair MP600 2TB
Chassis: Streacom Open BenchTable
OS: Microsoft Windows 10 Professional 1909
Nvidia Driver: 456.38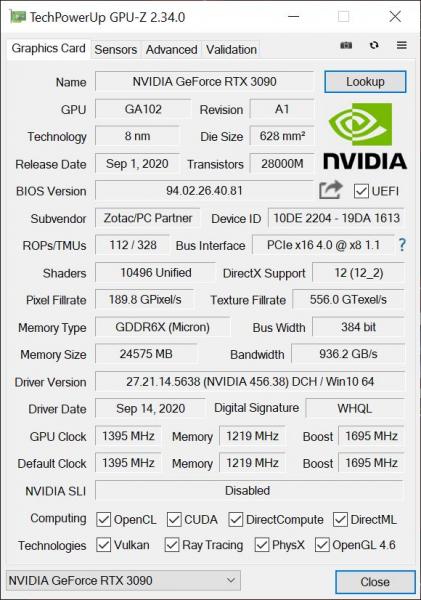 A quick peek at the GPUz readout for those curious.
Power consumption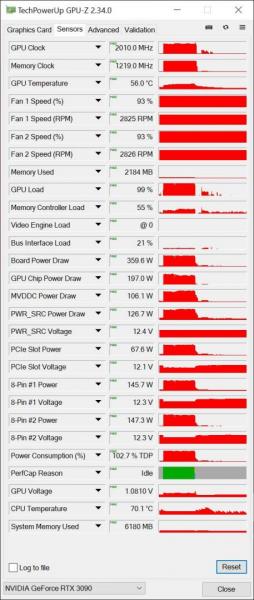 New to the RTX 3000 series cards are some detailed power measurement readouts available to programs like GPUz. We see the card max out at ~360W, with around 105W of that consumed by the 24GB of GDDR6X itself and roughly 200W consumed by the GPU core. This leaves around 55W that is used by everything else on the board, the fans, lighting, Video output ports, PCIe communications, and inefficiency losses in the various VRM stages. Our system consumed a maximum of 560W from the wall, or around 515W from the PSU itself. Minus the GPU, this leaves us at around 155W from the rest of the system, which is about right. We'll wager these readings are pretty accurate.
Clock Speeds
From GPUs above, we see the RTX 3090 Trinity top out at 2010Mhz on the core, with it hovering around 1900 MHz steady state out of the box.
Zotac Firestorm
The advanced fine-tuning software utilizes a simplified design allowing easy and immersive control of your ZOTAC and ZOTAC GAMING graphics card. Fine-tune adjustments from clock speed, memory speed, fan control, fan profile, Spectra LED customization, GPU monitoring functions, and much more with just a few clicks.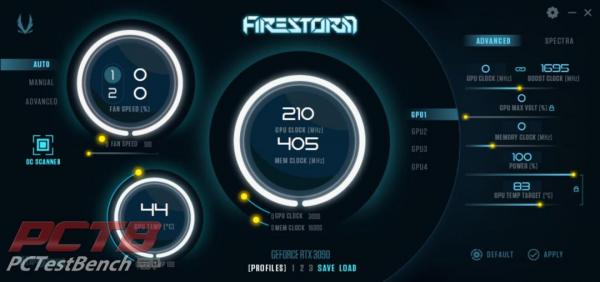 The landing page gives you a view of basic statuses like clock speeds, temps, and fan speeds.  You have some overclocking controls on the right-hand side.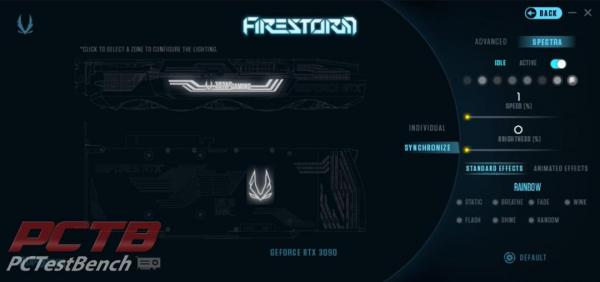 The top right corner has the Spectra Lighting tab, which gives you a live preview of the card and the applied effect.
There is another pile of customizable lighting effects under the animated effects group on the right.