PC Memory
Viper Steel Series DDR4 64GB 3600MHz Kit Review
32GB DIMM's Arrive with Speed to Match
System Configuration & Performance Testing
Testing Hardware:
ASUS ROG Strix B550-I Gaming
AMD Ryzen 9 3900X
Kingston KC2000 1TB
64GB (2x 32GB) Viper Steel 3600MHz
Testing Software:
Microsoft Windows 10 Professional 1909
Thaiphoon Burner
CPU-Z
AIDA64 Extreme Edition
Passmark Performance Test 10
SiSoft Sandra
Blender Benchmark
Shadow of the Tomb Raider
CPU-Z is a freeware that gathers information on some of the main devices of your system:
Processor name and number, codename, process, package, cache levels.
Mainboard and chipset.
Memory type, size, timings, and module specifications (SPD).
Real-time measurement of each core's internal frequency, memory frequency.
CPUz shows us we have a single XMP profile available, running 3600MHz effective at 18-20-20-40 at 1T command rate. This is already pretty decent, but once you remember how dense these modules are, its pretty awesome!
Thaiphoon Burner
Thaiphoon Burner is the number one solution on the software market to work with SPD firmware of DRAM modules of PC. Thaiphoon Burner provides powerful features for reading, modifying, updating, and reprogramming SPD firmware of SPD EEPROM devices. The program fully supports all popular JEDEC standards for Serial Presence Detects and third-party enhancements, such as NVIDIA EPP and Intel XMP. Comparing to other software Thaiphoon Burner creates the most completed reports for any of the following SDRAM types of DIMM modules: PC SDRAM, DDR SDRAM, DDR2 SDRAM, DDR3 SDRAM, DDR2 FB-DIMM, DDR4 SDRAM, LPDDR3, and LPDDR4. This is achieved due to the universal built-in SPD decoding engine.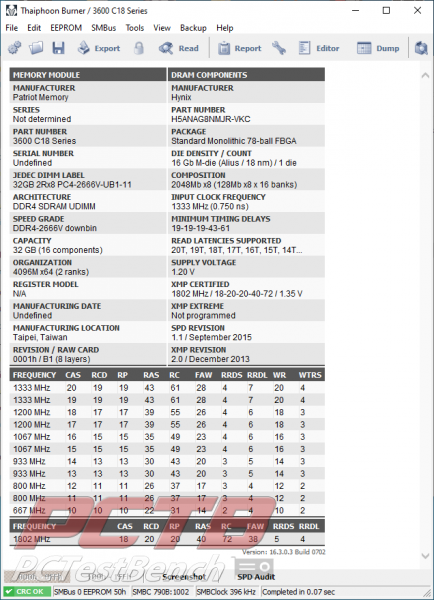 Thaiphoon shows us Patriot is utilizing DRAM modules from Hynix distributed across 2 ranks.
Here is the full readout if you want to look deep into the specs.
AIDA64 Engineer Edition
"AIDA64 Engineer has a hardware detection engine unrivaled in its class. It provides detailed information about installed software and offers diagnostic functions and support for overclocking. As it is monitoring sensors in real-time, it can gather accurate voltage, temperature, and fan speed readings, while its diagnostic functions help detect and prevent hardware issues. It also offers a couple of benchmarks for measuring the performance of individual hardware components or the whole system. It is compatible with all 32-bit and 64-bit Windows editions, including Windows 10 and Windows Server 2016."
The higher density of the 64GB Viper Steel kit manifests as a slightly higher latency for the same speed and CAS latency, but overall bandwidth is pretty similar to other 3600MHz kits.
Passmark Performance Test – Memory Mark – Threaded
"Fast, easy to use, PC speed testing, and benchmarking. PassMark Performance Test 10 allows you to objectively benchmark a PC using a variety of different speed tests and compare the results to other computers."
Here again, we see the higher overall latency impacting the score in a small but noticeable way. Given the massive capacity available with this kit, it's pretty easy to excuse.
SiSoft Sandra
"SiSoftware Sandra provides a robust package of diagnostic tools for testing your system and teasing out its problems–or potential headaches."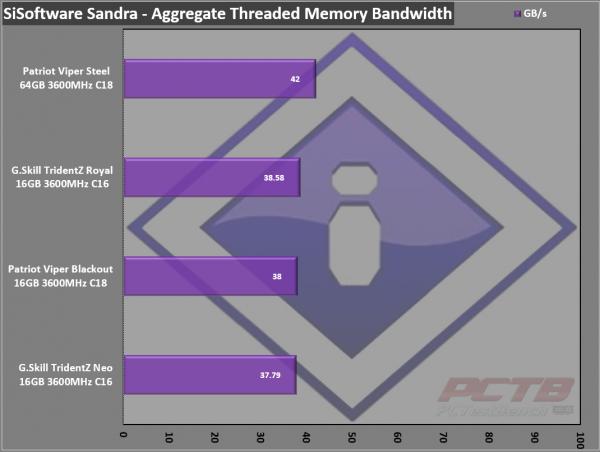 SiSoft shows a completely different picture. The massive Viper Steel 64GB kit pulls a noticeable lead here in the Aggregate Memory Bandwidth test.
Blender Benchmark 2.82 – BMW27
A new platform to collect and display the results of hardware and software performance tests. Aimed at an optimal comparison between system hardware and installations using open source software and testing content in the public domain.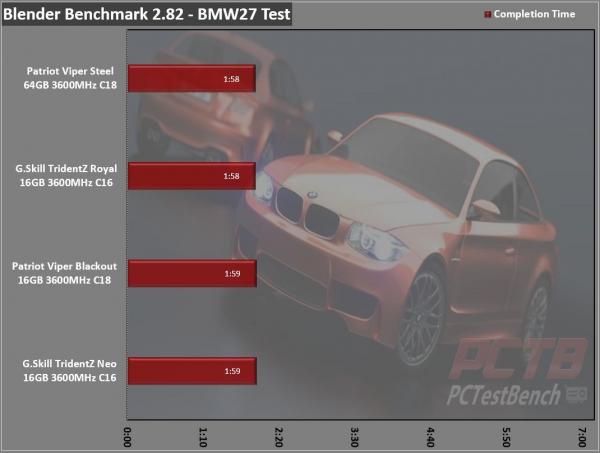 For professional workloads, the raw capacity is going to be the key factor, as long as you have enough. Overall latency doesn't seem to be much of a factor in this type of workload.
Shadow of the Tomb Raider
Experience Lara Croft's defining moment as she becomes the Tomb Raider. In Shadow of the Tomb Raider, Lara must master a deadly jungle, overcome terrifying tombs, and persevere through her darkest hour. As she races to save the world from a Maya apocalypse, Lara will ultimately be forged into the Tomb Raider she is destined to be.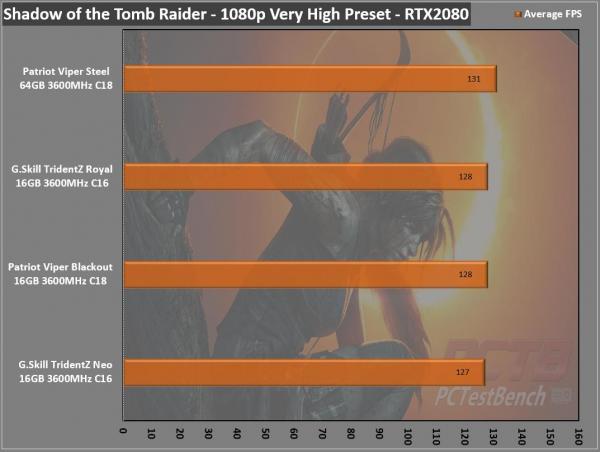 Shadow of Tomb Raider is one of the few games that like extra space and while it doesn't come close to filling up a 64GB memory kit, it does seem that the near-universally accepted 16GB being "enough for gaming" doesn't quite hold up here. Granted, 3-4 FPS isn't much, but to gamers, every frame matters, especially when you are streaming or otherwise multi-tasking.