Storage
TEAMGROUP CARDEA ZERO Z340 512GB M.2 PCIE GEN3X4 SSD REVIEW
Final Thoughts and Conclusion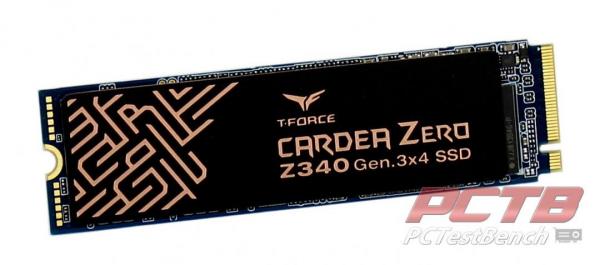 So did TeamGroup's CARDEA ZERO Z340 live up to its claims of improved cooling performance? In our testing, we would 100% agree with this statement. Not only did the CARDEA ZERO exceed its rated speeds at an extremely fast 3458 MB/s read and 2467 MB/s write it also ran 12C cooler than our other NVMe. This extra cooling can most likely be attributed to TeamGroup's patented graphene heatsink which easily achieved the marketed 9% cooling performance. Also, the attached heatsink is thin enough where I could still apply the M.2 heatsink that came with my motherboard with improved the temperatures by another 8C.
Performance isn't the only thing the CARDEA ZERO has going for it as it's no slouch in the looks department. With its dark blue PCB and copper accented black heatsink, it looks great installed in the GigaByte Z390 Aorus even without the heatsinks included with the motherboard.
TeamGroup's CARDEA ZERO Z340 has the trifecta everyone is looking for in an M.2 drive with excellent performance, great cooling, and the looks to match.
Great Job TeamGroup!
More Teamgroup Products we have reviewed