Storage
Patriot Viper VPR100 NVMe SSD RGB 1TB Review
Too Fast Too Furious
Introduction
OK, let's face it, read and write speeds of SSD modules are getting ridiculous. Just a few weeks ago at CES 2020, we were able to see what PCIe Gen 4 is capable to deliver. We saw transfer speeds way over 5000MB/s (sequential read/write) and that is just the beginning. For many of us who still using PCIe Gen 3 motherboard, we can still get great performance out of the NVME SSD modules from companies such as Patriot Memory. Patriot Viper VPR100 is a Gen3 x4 NVME 1.3 Solid State Drive with great features such as blazing read and write speeds with a touch of RGB. Viper VPR100 comes in 256, 512GB, 1 and 2TB modules. So it is easy to get what you need and not to worry about performance. VPR100 is strongly oriented toward the gaming community who appreciates RGB. With Viper VPR100 Patriot introduces the world's first RGB APP for M.2 PCIe SSD.
Product Specifications
| | |
| --- | --- |
| Model Number | VPR100-1TBM28H |
| Description | VPR100 RGB M.2 2280 PCIe SSD |
| Certifications/Safety | CE/FCC/RoHS |
| Product Warranty | 5 Year Warranty |
| Unit UPC | 0814914026304 |
| Unit Weight | 0.05 Ibs/ 25 gm |
| Unit Dimensions | 3.15″(L) x 0.98″(W) x 0.28″(H) 8 cm (L) x 2.5 cm (W) x 0.7 cm (H) |
| Packaging Type | Retail Box |
| Packaging Weight | 0.12 Ibs/ 55 gm |
| Packaging Dimensions | 1.0″(L) x 2.98″(W) x 4.83″(H) 2.5 cm (L) x 7.6 cm (W) x 12.3 cm (H) |
Packaging
Packaging of Viper VPR100 is very slick and just by looking at the packaging you get a great sense of what you are looking at. The aluminum heatsink, which sits on top of the module, speaks for itself. Patriot promises Read speed up to 3300MB/s and Write speed up to 2900MB/s. If it's on the box in must be true right? Absolutely!
On the back of the packaging, detailed specifications are displayed in multiple languages. Since this module is being sold in multiple countries around the world I think it is a great idea to display specs in the county's native language. My sample comes in 1 TB capacity however Patriot also offers 250, 500GB and 2TB modules.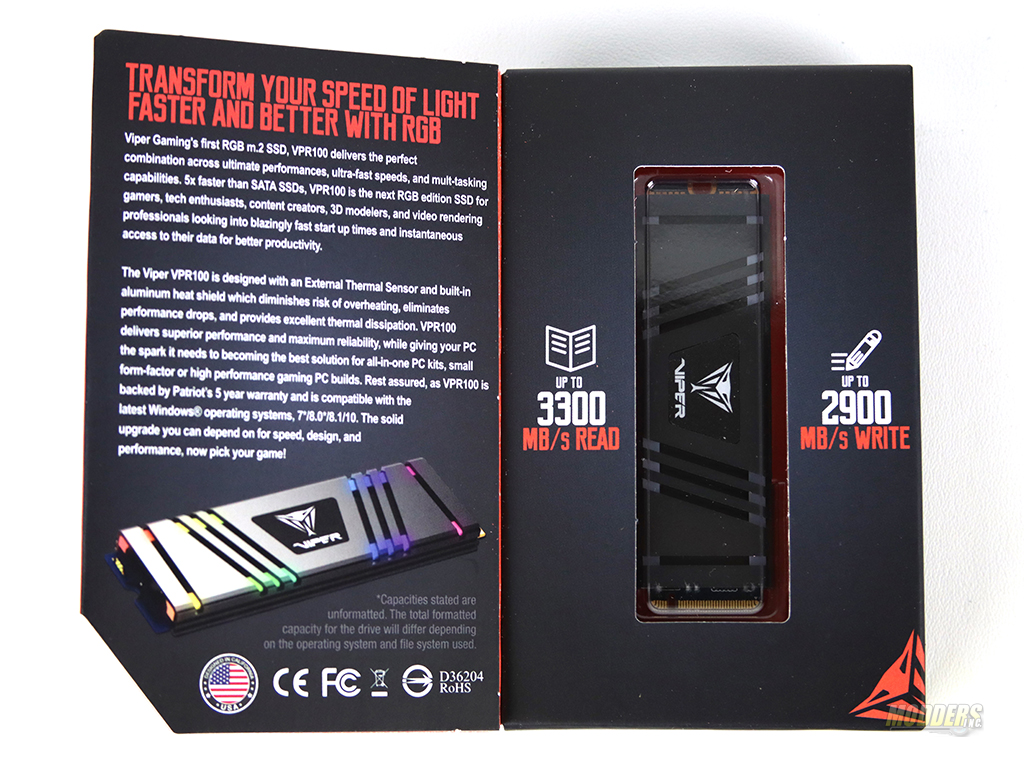 The top cover can be easily opened to see the module inside behind plastic. Even here Patriot has the Read and Write speeds listed. You can also read some marketing material on the external thermal sensor and builtin aluminum heatsink which keep the IC chips cool.
VPR100 has a standard size of 22x80mm and has aluminum heatsink only on one side. The heatsink is secured to the IC chips only by the thermal pads. Micro RGB LEDs are also only on one side of the module.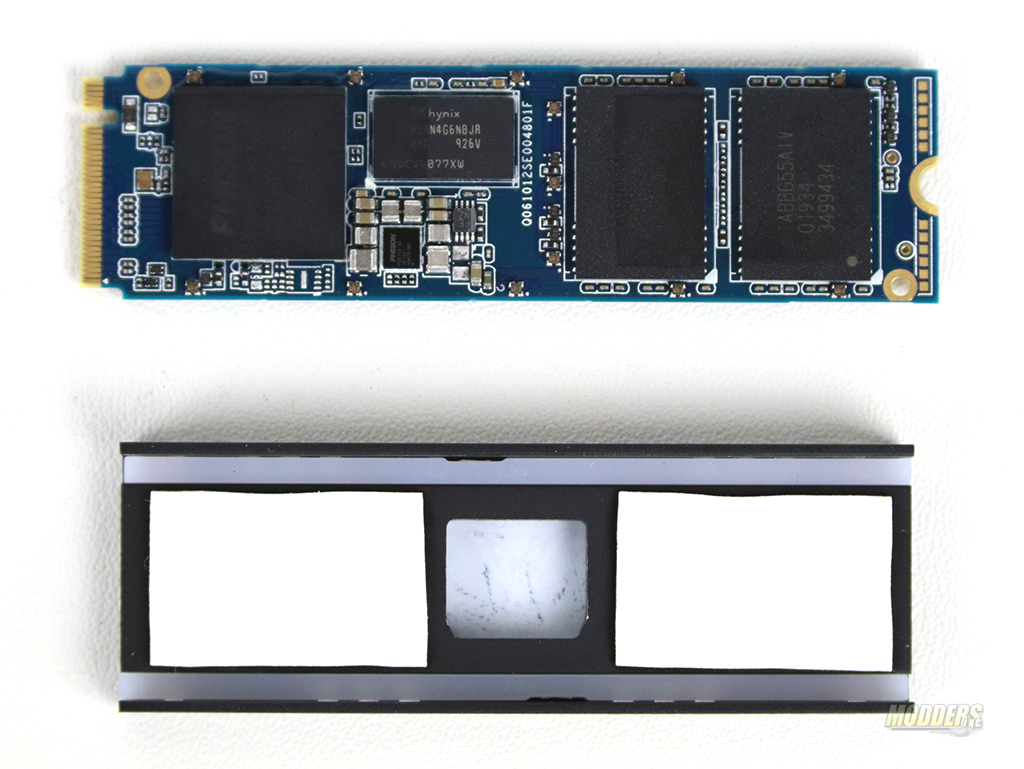 The heatsink comes off relatively easily and has two separate thermal pads. Looking closely at the onboard chips you can see that the thermal pads only cover some of the chips and now all.
Closer Look at the Patriot Viper VPR100
There are two SK Hynix H5AN4G8NBJR 4GB DDR4 DRAM cache chips (one on each side of the module).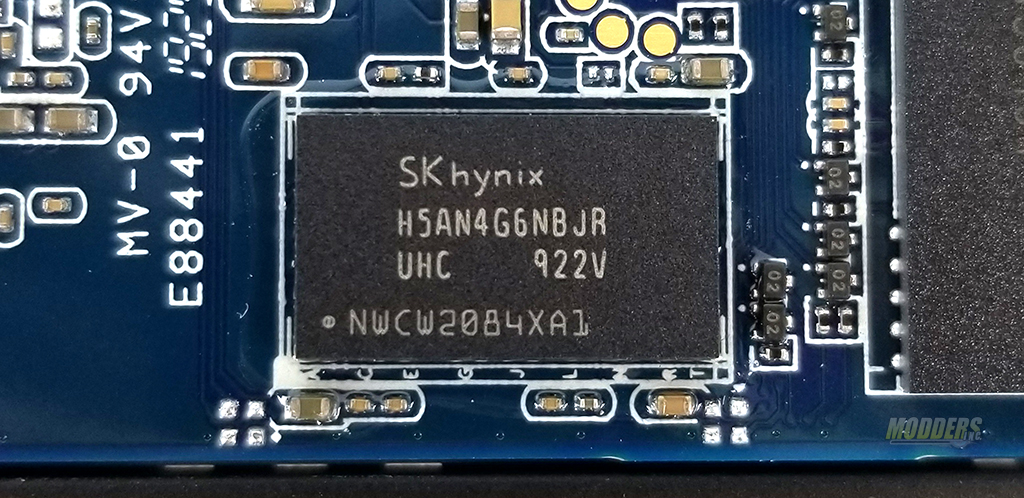 There are four NAND 256GB chips which bring total capacity to 1TB. I couldn't find more information on these chips.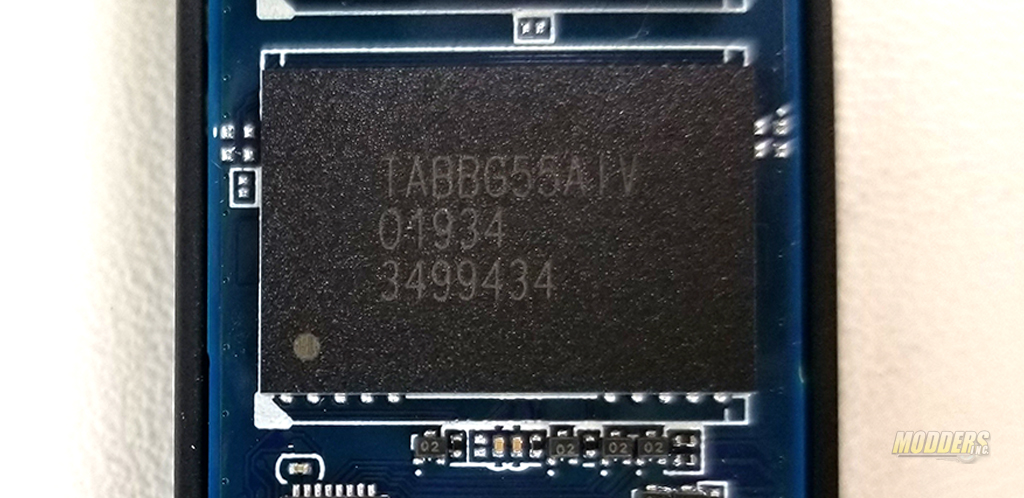 Phison E12 Series Controller (PS5012-E12) is the heart of VPR100 and is responsible for its transfer speeds. This controller supports capacities from 256Gb to 2TB with approximate 3000MB/s Read/Write Sequential speeds. 4K Random Read/Write has 600K IOPS.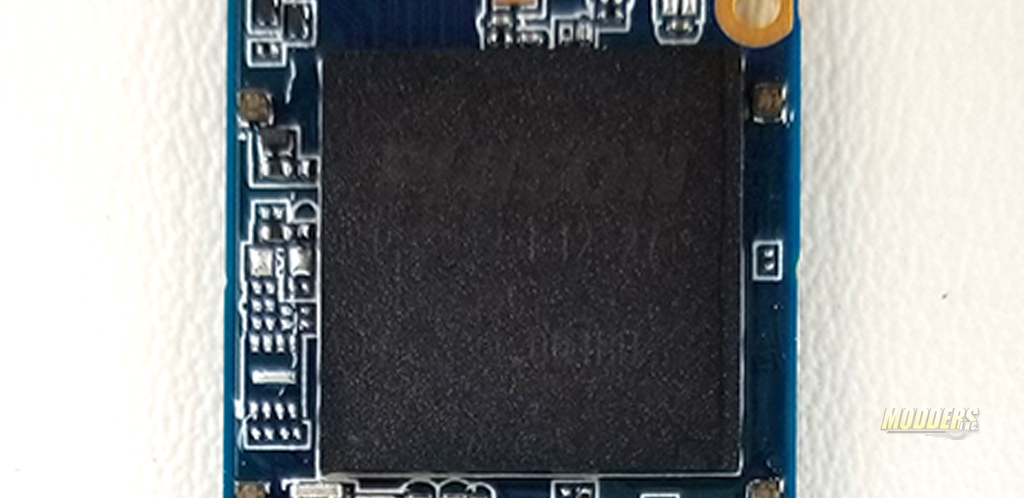 To accelerate flash operation VPR100 has a Holtek 32 bit ARM processor F52231.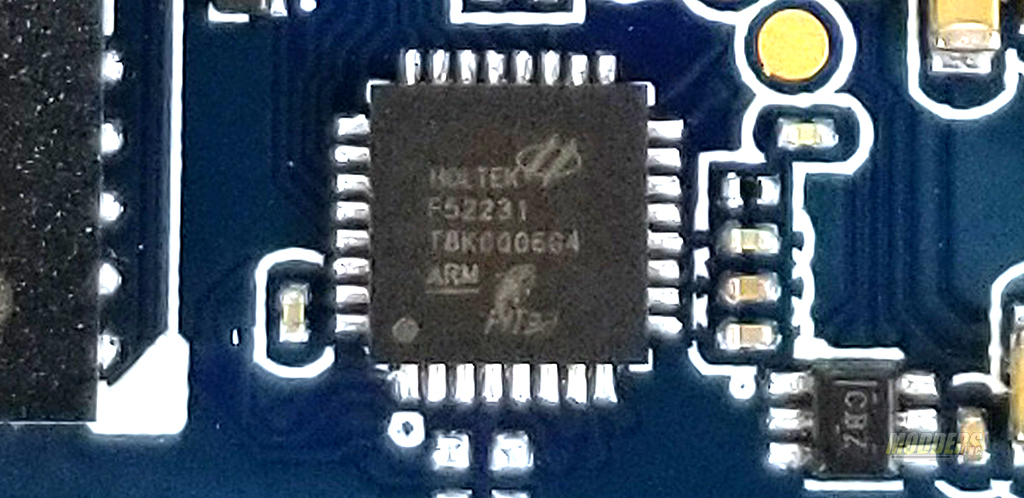 Benchmarking
System Configuration
Case
Open Test Table
CPU
Intel Core i7 9700K
Motherboard
EVGA Z390 FTW
Ram
(2) 8GB Corsair DDR4-3200 CMW16GX4M2C3200C16
GPU
MSI RTX 2080 SUPER GAMING X TRIO
Hard Drives
Corsair Force MP510 NVMe Gen 3 x4 M.2 SSD (480Gb)

Patriot Viper VPR100 NVMe Gen 3 x4 M.2 SSD (1TB)

Power Supply
Thermal Take Tough Power RGB 80 Plus Gold 750W
Crystal Disk Mark benchmark at 1GB test size:
AS SSD uses incompressible data for benchmarking and can measure read/write performance in MB/s or in IOPS. AS SSD also has a Copy Benchmark which simulates ISO, Game and program performance, providing both speed and access time results.
Unlike AS SSD, the ATTO disk benchmark is a 32-bit compressible data benchmark that measures read and write speeds across various file transfer sizes from 512B to 64MB to show SSD behavior.
Anvil Storage Utilities is a comprehensive storage testing program that provides plenty of information and option for each test. For this review, the SSD test was selected.
Crystal Disk Mark benchmark at 1GB test size with RGB SYNC on.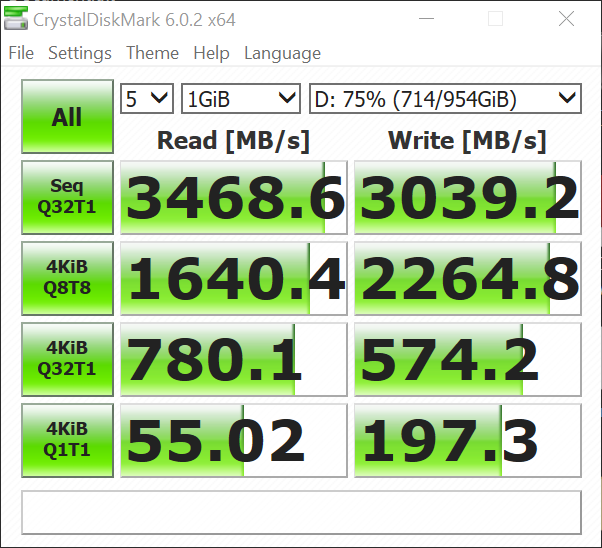 Software
Viper VPR100 comes with its own RGB SYNC software that allows you to customize the appearance of the module. Currently, the version of the RGB Sync software is 2.1 and it has a decent amount of customization you can do with just a few clicks.
Just like many RGB devices our there on the market VPR100 has multiple presets like Breathing or Heartbeat. You can customize the color of each section of the module, brightness, and speed. Having profiles is a pretty neat feature to have as well.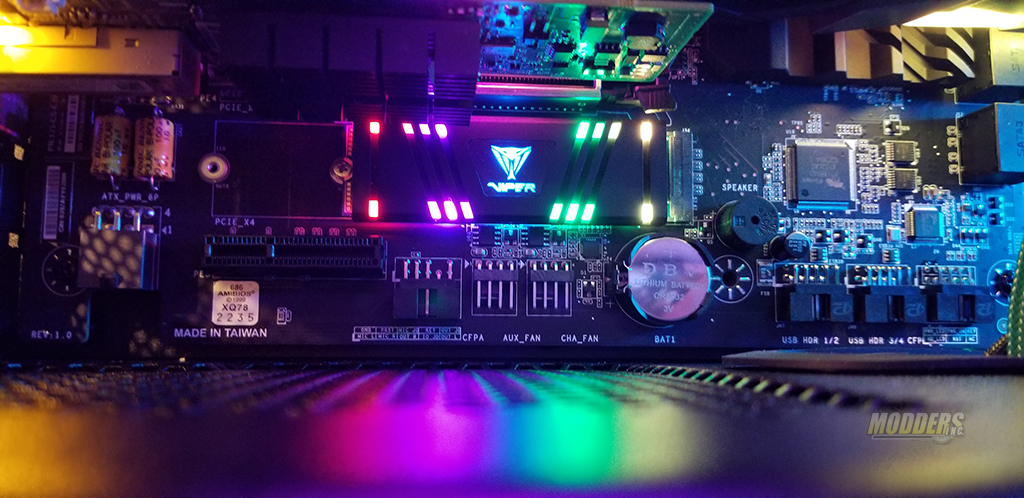 You can set the application to start with your machine and customize the language and other specific settings if you please. Very simple application and it works well.
Conclusion and Final Thoughts
I am genuinely impressed by the performance and stability of Patriot Viper VPR100 NVMe SSD. Based on the benchmarks I ran the module performed as promised by Patriot. Fast Read and Write speeds really felts like there was little or no time to perform basic operations. While loading module with larger files I saw a little slowdown but nothing that would cause an alarm or question performance. Gaming from this drive has improved my experience as well. The load times were short and noticeably fast. When the drive as 75% full write performance did take a hit but only for about 10%.
RGB portion of VPR100 depends on if you need it or not. If you want RGB to show off your mod then this is a good module to use to really show your creativity. Note that Patriot states if you use RGB Sync you might experience drop a 30% drop in performance. I have tested the module with RGB on and off and did not experience any different behavior in my benchmarks.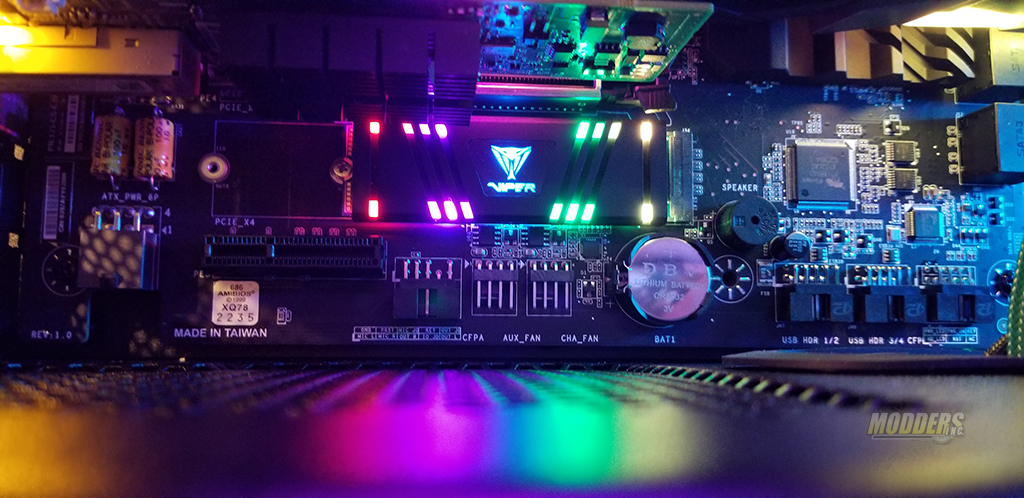 Right now VPR100 retails for about $175 and I feel that this price is a little steep for the current market. Storage is going down in price and there are many alternatives out there for the same type of modules. However, do keep in mind the RGB SYNC portion of VPR100 and a rock-solid performance even with nearly full SSD. If you are looking for well designed RGB NVMe module check Viper VPR100, you won't be disappointed.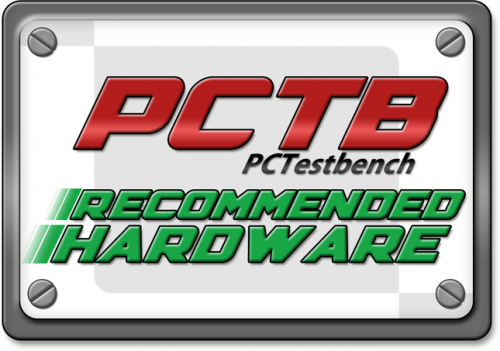 Patriot Viper VPR100 NVMe SSD RGB 1TB Review