Graphics Cards
Reviews
MSI GeForce RTX 3070 Ti SUPRIM X 8G Review
20 Years in the Making - Change the Game
System Config & Software
CPU: AMD Ryzen 9 3900X
GPU: MSI RTX 3070 Ti SUPRIM X 8G
Mobo: MSI MEG X570 Godlike Gaming
Ram: 32GB HyperX Fury RGB 3200MHz C16
SSD: Corsair MP600 2TB
Chassis: Streacom Open BenchTable
OS: Microsoft Windows 10 Professional 1909
Nvidia Driver: 456.16
MSI Center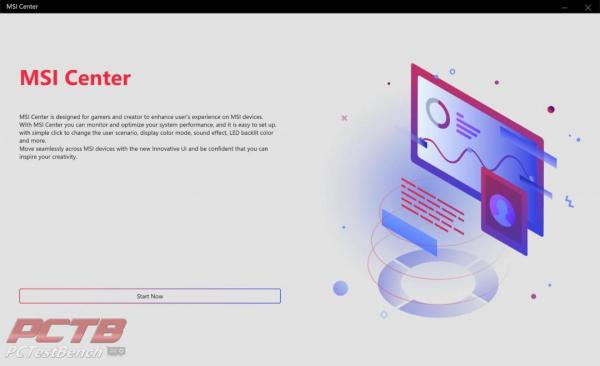 The exclusive MSI Center software helps you get the most out of your MSI products. Monitor, tweak, and optimize in real-time with just a few clicks.
MSI center wraps everything up into one nice interface, you just choose what 'feature sets' you want to install.
While those install, we'll flip over to the Monitor section and check everything out. You get a ton of information here from the usual clocks and temps to fan speeds to voltages.
In Features, you can also do things like turn Zero Frozr off if you prefer your fans to idle with the GPU not used rather than turn off completely.
You can also adjust the fan profile or create your own.
Mystic Light has been absorbed into MSI Center as well, so you'll need to pop in here to tweak the lighting on your new GPU, or almost anything else connected to your system. We're also running an MSI motherboard, but our HyperX Fury RGB memory was fully supported as well.
If RGB is your thing, MSI can also sync up with Nanoleaf panels and even your Phillips Hue home lighting system for total immersion.
You can also use all of the above to increase immersion with supported games.
There are tons of things in here to check out, but one last one we want to point out is the semi-hidden "Extreme Performance" profile under User Scenarios.
Extreme Performance
We can see this profile applies a slight overclock on the CPU base clock, memory, and boost clock of the 3070 Ti SUPRIM X and is not just a software tweak.
MSI Afterburner
Long regarded as the best GPU overclocking tool in existence, MSI's Afterburner allows complete control over every aspect of your GPU, its clock speeds, V/F Curves, Fans, Voltages, and gives live data on every aspect of your card.
This version defaults with a more modern skin that closely matches the aesthetics of the MSI RTX 3070 Ti SUPRIM X, but it can be changed to any of the older skins as well if you please. All your favorite controls and information are still here.