Displays
Gigabyte G34WQC 34" 144Hz Curved Gaming Monitor Review
THE LAST MILE FOR YOUR GAMING SYSTEM
Portrait Displays Calman 2020 Ultimate Testing

This section of our review is sponsored by our friends at Portrait Displays who set us up with a license to use the industry's leading, high-performance benchmark calibration tool, Calman Ultimate.
Calman Ultimate is a comprehensive, all-in-one solution guaranteed to differentiate you from your competition. With specialized hardware support, customized workflows, reports, and more, Calman Ultimate is your one-stop-shop solution that can calibrate and validate displays with an approach tailored to your needs.
Test Setup
CPU: AMD Ryzen 9 3900X
Motherboard: MSI MEG X570 Godlike Gaming
RAM: 32GB HyperX Fury RGB 3200MHz
GPU: Nvidia RTX 2080 Founders Edition.
SSD: Corsair MP600 2TB
OS: Windows 10 Professional x64 2004
We will be testing with the Datacolor Spyder 5 Colorimeter. This is an affordable colorimeter capable of working with light levels up to 5000 Nits. The Gigabyte G34WQWC will be tested in its default or out-of-the-box state.
Terminology
One term you'll see used heavily in the testing of displays in general, and in this section of our review is (ΔE) or DeltaE. This formula comes from The International Commission on Illumination (CIE), founded in 1913 to standardize the fields of colorimetry, photometry, and imaging. There have been several revisions over the years, and we'll generally be talking about the CIE Delta E 2000 here.
DeltaE is an industry-standard formula used to describe how perceptible differences in color to the human eye are and considers how the human eye sees color. For example, our eyes can generally detect much more subtle differences in more neutral and undersaturated colors such and greys and pastels, whereas it takes a much larger shift to be noticeable in heavily saturated colors such as primary Blue or Red. The scale, ranging from zero to one hundred is weighted so that a DeltaE of 1.0 is the theoretical limit of human perception. A value of 1.0 or lower is generally considered imperceptible to the human eye. Values from 1 to 3.0 are generally considered very good and will appear to be correct to all but the most sensitive eyes. As the number grows larger, the difference is easier and easier to determine.
Standard Dynamic Range Testing
Screen Uniformity: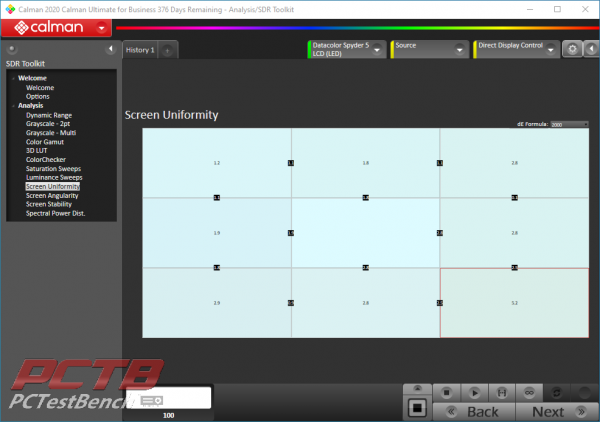 This test measures the difference between the center of the screen out the various other areas. A DeltaE of 3.0 or less is considered good, and a DeltaE of less than 1.0 is considered to be a difference imperceptible to the human eye. This test shows us that Gigabytes G34WQC does a decent job keeping things even across its 34" screen. The one outlier is the lower right corner registers a DeltaE of 5.2, certainly not horrible, but enough to be noticeable to some users in some scenarios. The rest of the screen stays under 3 which is great.
Screen Angularity Measurement
The angularity test measures the display at different angles to measure chromaticity and luminance shifts off-axis. Typically, this would be measured with a spectrophotometer at +/- 10° and +/-15° from perpendicular to simulate different viewing angles, but we are using a colorimeter at five points across the screen horizontally to detect shifts in color reproduction similar to our uniformity test above.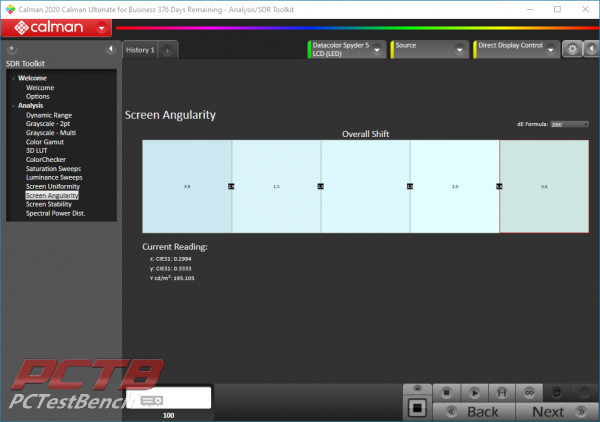 We see barely noticeable shifts on the left edge right up against the bezel and the same mid 5 DeltaE on the right edge.
Color Gamut
This test checks basic color reproduction in the primary Red, Green, and Blue range, as well as secondary colors such as Cyan, Magenta, Yellow, and White.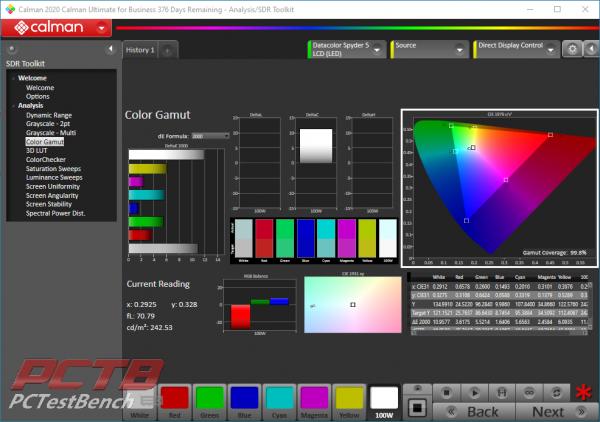 Here we see the G34WQC Wide Screen is a bit skewed towards the cool end of the spectrum with green and blue a bit strong and red, quite weak.
X-rite / Pantone ColorChecker Targets.
This test checks for color reproductions of things you would see in the real world such as human skin tones, foliage, and flowers, and is used as a color reproduction standard for photography and cinema.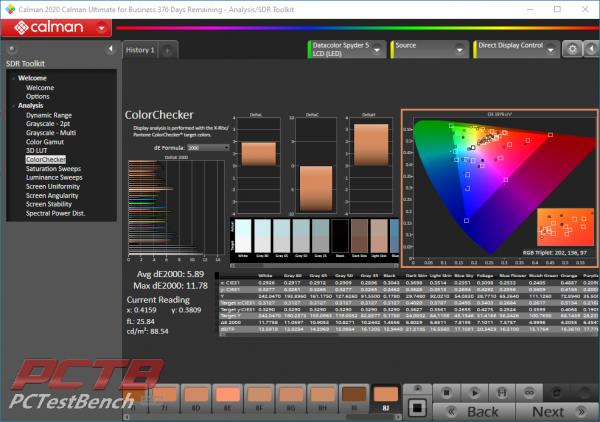 Across the entire spectrum of this test, we get an average DeltaE of just under 6, with a max of nearly 12 in the white and light grey range. A lot of your skin tones and colors you'll see in games hover at an acceptable DeltaE of 4-6.
Multi-point Grayscale
This test checks color accuracy from black to full bright white in 5% steps.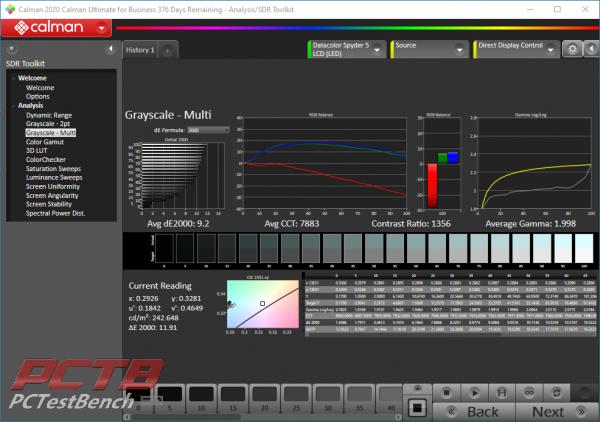 Here we get a little better picture of what is going on. We see that the G34WQC Wide Screen is heavily shifted towards cool colors across the entire range. As the brightness goes up, the red channel just dives off a cliff while blue and green peak about 40% grey and slowly fall back closer to where they should be. This gives us an average color temperature that comes in at almost 7900K, which is a very harsh, cold blue shift.
L*a*b Color Volume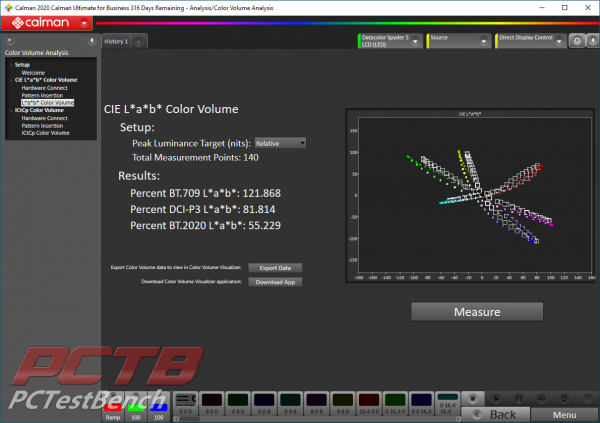 The G34WQC monitor claims to have 90% of the DCI-P3 color space but we measured around 82%. sRGB is almost equivalent to BT.709 and we see that the Gigabyte monitor meets its advertised 120% rating easily enough.
Perceptual Color Volume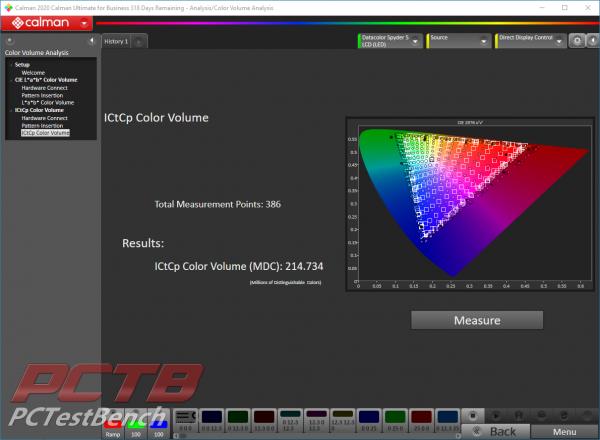 The lCtCp Color space is a more recent metric designed to measure Ultra High Definition displays such as 4KUHD and 8KUHD and beyond while considering the capabilities of Wide Color Gamut and High Dynamic Range. This metric is given in millions of distinguishable colors (MDC).  While 8-bit color can mathematically display just over 16.7 Million colors, we measured an MDC value of just over 214. This means the display in its current state can display around 214,734,000 different discernable colors.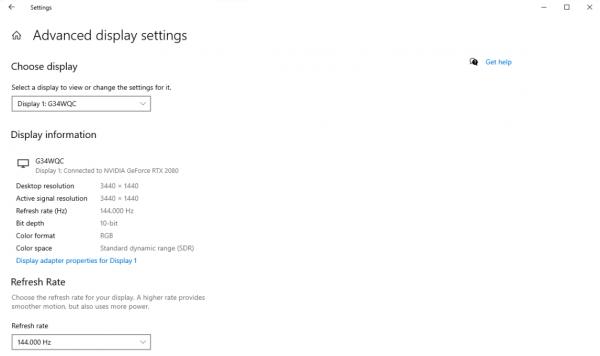 It appears Gigabyte is using dithering to give color reproduction a bit closer to a 10-bit panel, without the cost. It even accepts 10-bit input signals, but this doesn't appear to change much in our testing. Good dithering can add about 2 bits worth of color, so it's often used on very cheap monitors with 6-bit panels to give them decent color reproduction.
Sequential Contrast
A display's sequential contrast performance is more important for darkened room viewing. Note that room lighting of just 30 lux, a dimly lit room, limits the perceivable contrast ratio to about 50:1. A display's sequential contrast ratio is determined by measuring the display's maximum luminance level with a full field white pattern and its minimum luminance lever with a full field black pattern.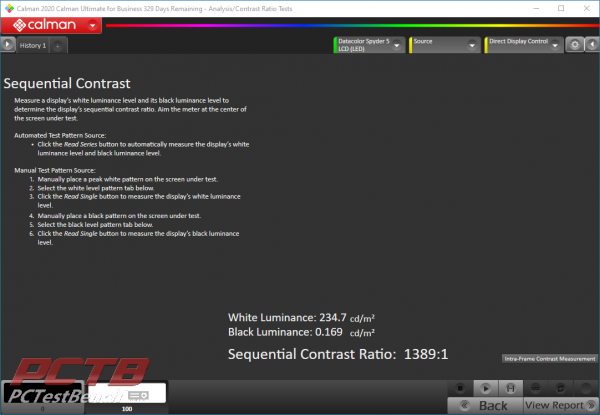 Gigabyte advertises the G34WQC as having a 3000:1 contrast ratio and a peak brightness of 350 nits (cd/m2). Out of the box on the default profile, brightness sits at only 40%, so that can account for the lower readings quite easily.