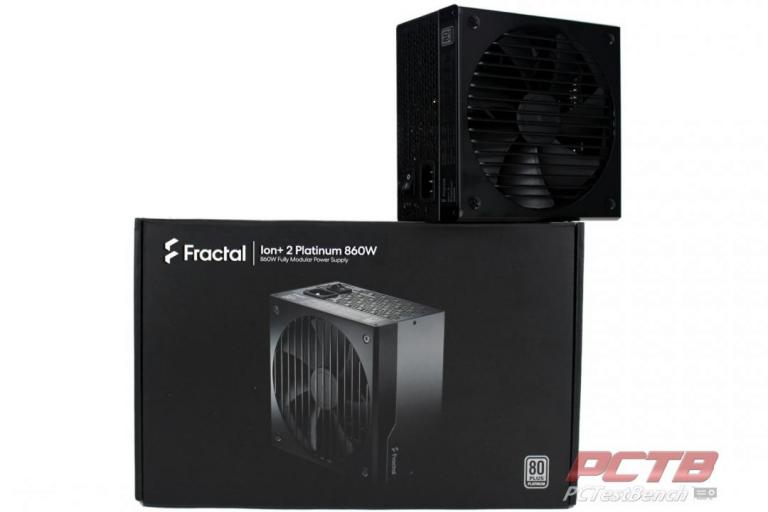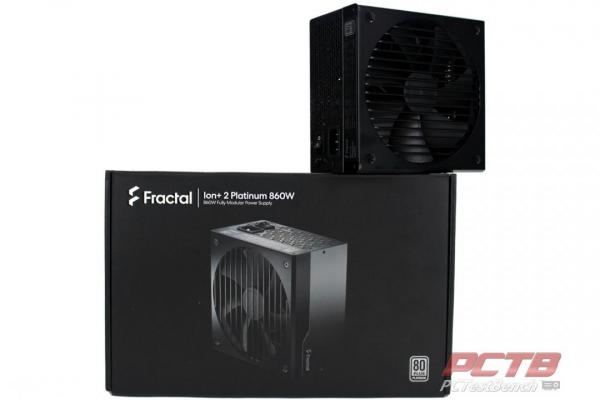 Today we'll be taking a look at Fractal's update to the Ion+ Platinum power supply, the Ion+ 2 Platinum. All of your favorites remain like the iconic UltraFlex cables, fully modular connections, and 80+ Platinum efficiency. One of the new additions is a second 8-pin EPS power cable to handle higher-end motherboards with multiple CPU power connections. An update to ATX 12v v2.52 offers better support for low power modes such as Alternative Sleep Mode (ASM) for high efficiency even when the computer isn't in use. Add in user-selectable semi-passive cooling, and a solid 10-year warranty, and you have the right formula for worry-free power.
PC Test Bench would like to thank Fractal Design for sending over the Ion+ 2 Platinum for us to check out!
Fractal's take on the Ion+ 2 Platinum Power Supply:
The Ion+ 2 Platinum is a high-performance fully modular PSU with whisper-quiet operation, enhanced cable flexibility, and superior output quality. It ships with two 8-pin ATX12V/EPS cables, ensuring compatibility with new motherboards.
A user-selectable semi-passive Zero RPM mode maintains pure silence under light loads, and the custom-tailored 140 mm fan with FDB bearings stays practically whisper-quiet even under heavy load. Revolutionary UltraFlex™ cable with its ultra-high strand count wire and special insulation bends and twists effortlessly to make installation and cable-routing a breeze.
Ion+ 2 Platinum is available in 560, 660, 760, and 860-watt capacities, all with 80PLUS® Platinum Efficiency, 10-year warranty, and a full electrical protection suite for peace of mind.
FEATURES:
80PLUS® Platinum efficiency for optimized electricity use and reduced heat generation
Great electrical output quality with tight voltage regulation and low ripple and noise
Fully modular design for reduced clutter and maximum ease of installation and with Fractal Design UltraFlex™ (extra bendable soft cables) for better cable management
Equipped with a large high-performance Fractal Design Dynamic GP-14 140 mm fan, custom-tailored for power supply use with an exceptionally low minimum speed and a true long-life FDB bearing
User-selectable semi-passive operation allows for either passive operation in low load situations or continuous low-speed fan operation for reduced component stress
Compact 150 mm depth allows for installation in compact cases or provides additional cable management room in larger cases
Premium Japanese 105°C capacitors provide maximum reliability and durability
An extensive 10-year warranty and a full electrical protection suite provides peace of mind
Supports the latest ATX 2.52 standard with improved start-up time and transient load response
Premium storage bags for cables and PSU
All models include two 8-pin ATX12V/EPS cables, ensuring compatibility with a new motherboard
Quick SPECS:
80PLUS – Platinum Certification
Fully modular cables
140 mm FDB bearing Fractal Design Dynamic series fan
Maximum operating temperature (full load) – 50°C
user-selectable (Zero RPM) Semi-passive operation
Japanese Capacitors
Life expectancy – 100,000 hours
PSU specification compliance – ATX12V 2.52; EPS12V 2.92
Cable type

Modular 24-pin cable: Black UltraFlex™ wires in braided sleeve
Other modular cables: Flat black UltraFlex™ wires

Input power – 100-240V, 50-60 Hz, 10A/5A
Protection features

Over-voltage protection, under-voltage protection, Over-power protection, Short-circuit protection, Over-current protection, Over-temperature protection

Standby efficiency – ErP 2013 (<0.45W @230. VAC, 45 mA load on +5Vsb)
Sleep state compliance – Intel C6/C7
Warranty – 10 Years
Connectors
ATX 24-pin
ATX12V 4+4 pin / EPS12V 8-pin
PCIe 6+2 pin
SATA
Peripheral