PC Memory
Corsair Dominator Platinum RGB DDR4 Memory Review
Corsair Redefines Premium Memory
Introduction
When looking for high-end memory, Corsair's Dominator Platinum kits are on the top of many builders' lists. The Dominator Platinum line is well known for its quality components, great build quality, stunning looks, and excellent performance. Corsair has now brought this line of memory into the realm of RGB with the new Dominator Platinum RGB DDR4 memory kit. The new RGB kits are available in both 8GB / 16GB per DIMM configurations with 2 or 4 modules per kit. No matter what your speed preference, Corsair has you covered with the Dominator Platinum RGB's with speeds from 3000MHz to a blistering 4800MHz. Like other Corsair RGB peripherals/hardware the Dominator Platinum RGB kits also fully compatible with Corsair's iCUE software. As with most premium memory kits, the Corsair Dominator Platinum RGB is on the higher end of the price scale with our 3200MHz CL16 kits sitting and an MSRP of $124.99.
Features & Specifications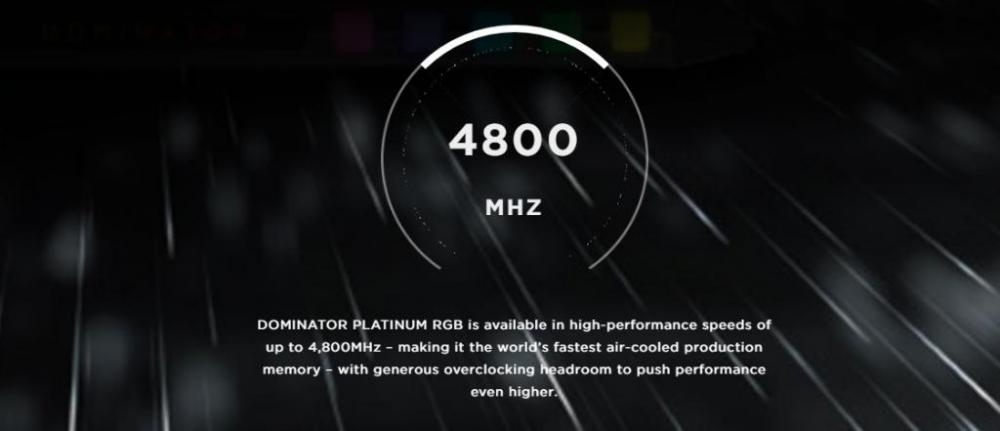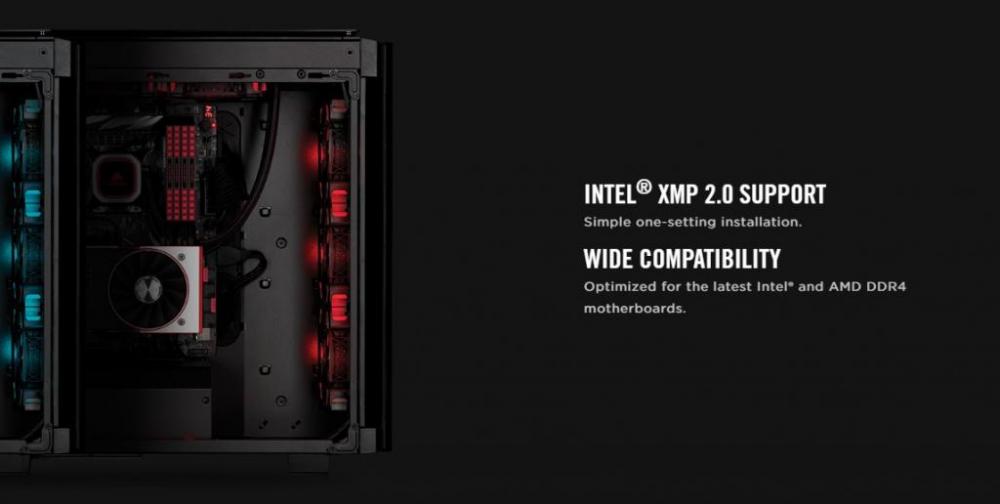 Notable Features:
Hand-sorted and tightly screened memory chips
Available up to speeds of 4800MHz
Limited Lifetime Warranty
Supports Corsair iCUE
Supports XMP 2.0
Technical Specifications:
| | |
| --- | --- |
| Fan Included | No |
| Memory Series | DOMINATOR PLATINUM RGB |
| Memory Type | DDR4 |
| Memory Size | 16GB Kit (2 x 8GB) |
| Tested Latency | 16-18-18-36 |
| Tested Voltage | 1.35V |
| Tested Speed | 3200MHz |
| Memory Color | BLACK |
| LED Lighting | RGB |
| Single Zone / Multi-Zone Lighting | Individually Addressable |
| SPD Latency | 15-15-15-36 |
| SPD Speed | 2133MHz |
| SPD Voltage | 1.2V |
| Speed Rating | PC4-25600 (3200MHz) |
| Compatibility | Intel 100 Series, Intel 200 Series, Intel 300 Series, Intel X299, AMD 300 Series, AMD 400 Series, AMD X570 |
| Heat Spreader | Anodized Aluminum |
| Package Memory Format | DIMM |
| Performance Profile | XMP 2.0 |
| Package Memory Pin | 288 |
Packaging & Unboxing
The Dominator Platinum RGB kit arrives in an all-black octagon-shaped sleeve with protective foam visible on each corner. On the front of the package, is a glossy embossed photo of a Dominator Platinum RGB module showcasing is RGB LEDs with a rainbow type effect. Looking to the upper-right corner we find that our kit is 2 x 8GB modules with a speed of 3200Mhz. Also, in the lower-left corner, we see that the Dominator Platinum's are iCUE compatible and Intel XML certified.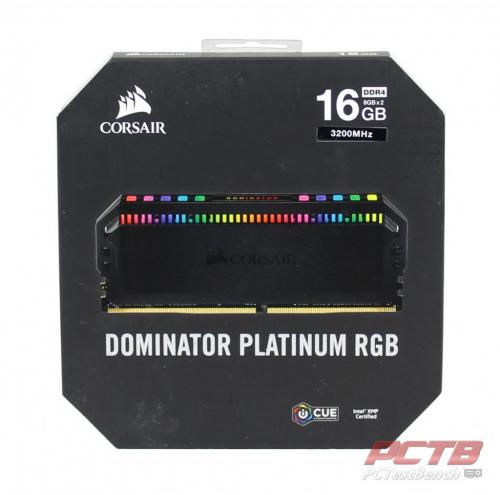 Flipping to the back of the package, we find a few notable features which are written in 6 different languages. These features include:
Iconic and refined design perfectly complements the world's best PC's
Hand-sorted, tightly-screened memory chips for high performance
12 ultra-bright, individually addressable RGB LEDs per module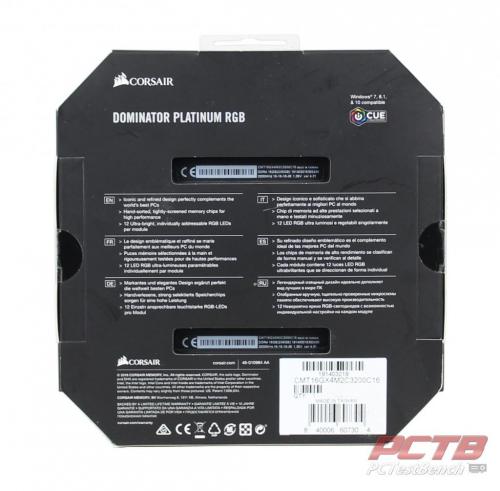 Removing the outer sleeve, we find the Dominator Platinum's are stored in individual plastic shells and secured in a protective form insert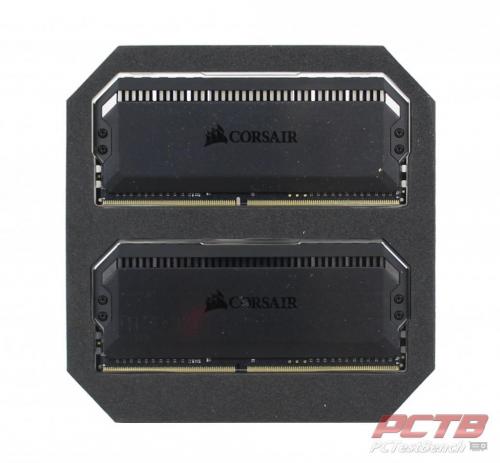 Now that the modules have been removed from their packaging, we are ready to install them on our test bench!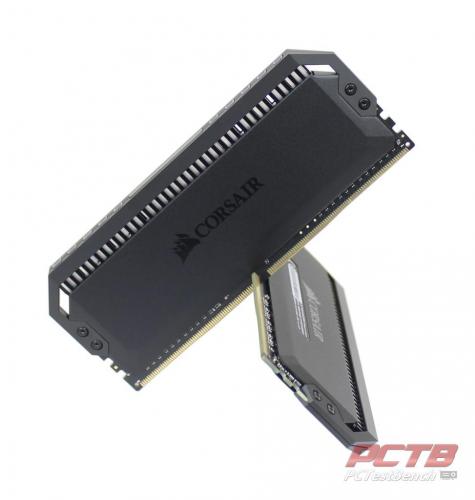 A Closer Look
Taking the Dominator Platinum RGB memory out of the packaging the first thing that we noticed was the weight of each module. They certainly have a bit of heft to them most likely thanks for the black anodized heat-spreader and attached lightbar. Looking in the center of the heat-spreader is a glossy black Corsair logo/branding which looks silver at certain angles. Above the heat-spreader is the attached lightbar which helps defuse the included 12 RGB LEDs.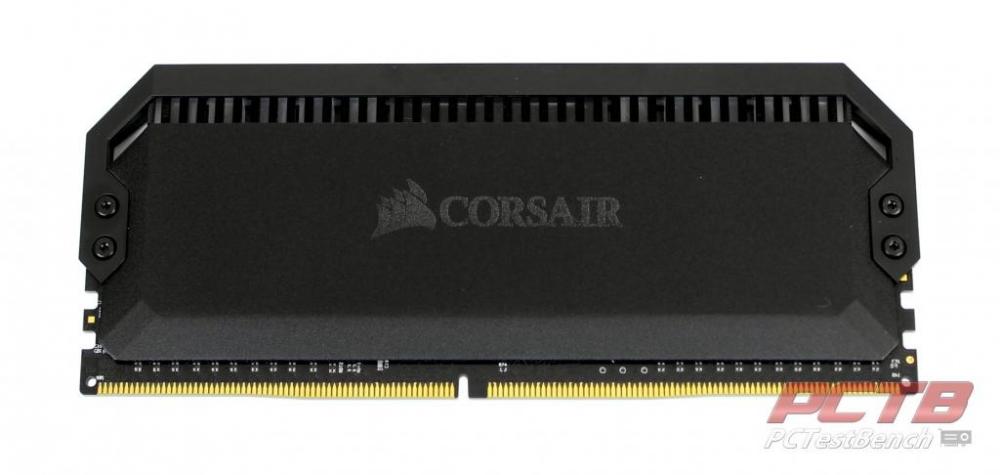 Flipping the module to its other side we see the same black branding in the center of the heat-spreader as well as a black and white sticker below it. Shown on the sticker is the memories model number, speed of 3200MHz, timings of 16-18-18-36, and a voltage of 1.35v.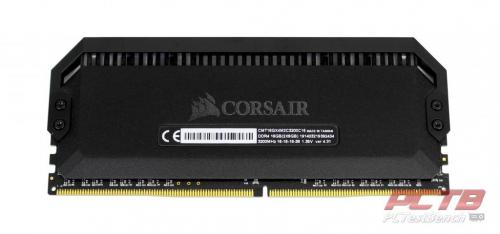 Looking to the top of the Dominator Platinum's lightbar we find the backlit "DOMINATOR" written in the center with 5 LED cutouts on each side.

Once the Dominator Platinum RGB's were installed in out testbench we were amazed by how bright the LEDs were. The top of the kit looked amazing with its default rainbow preset and the backlit lit "DOMINATOR" really adds a sense of style.

Looking to the side of the Dominator's the open slits along the length of the memory do a great job on diffuse the light that gives the modules a nice look.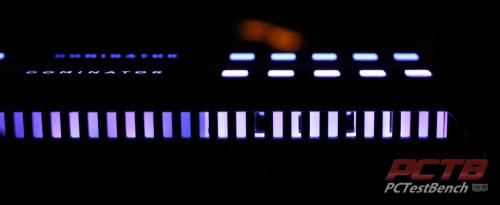 The H115i Platinum AIO is a perfect match for the Dominator Platinum RGB kit.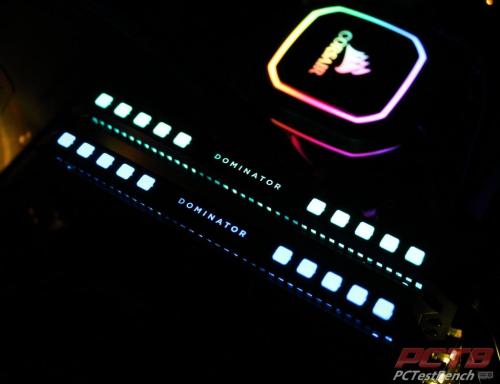 Software
Since the Dominator Platinum RGB kit is an iCUE compatible piece of you can change its lighting effects using the iCUE software. The latest version of the iCUE software can be downloaded from Corsair's website. For this review, we will focus on the elements of the software that pertain to the memory kit itself.
Once you install and run the software, it will automatically detect all your iCUE compatible devices. As you can see, the H115i Platinum, as well as the Dominator Platinum RGB kit, was found. If for some reason you don't see your device verify that you are running the latest version of iCUE and if you try rebooting the software. We have had this happen a few times when introducing new hardware iCUE hardware to the system. These two steps resolved the issue every time.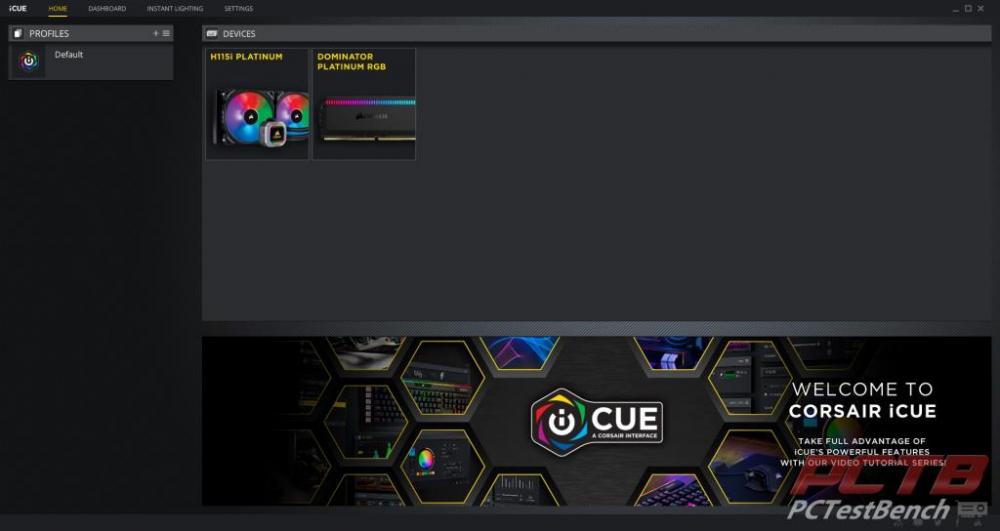 After clicking the "Dominator Platinum RGB" image from the device list you will get an additional navigation bar to the left. From this navigation bar, you can check the timings/speed, adjust the lighting, monitor their temperature, and set up event notifications. To the right, we see a profile shot of the memory module with its current temperature displayed.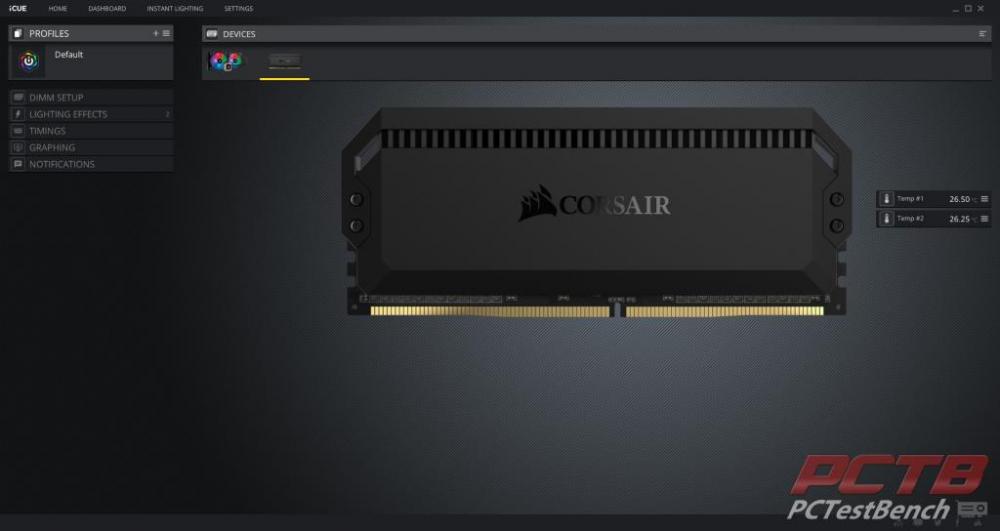 On the first menu item "DIMM SETUP" you can configure the iCUE software to how the memory modules look in your system. This will helps iCUE apply lighting effects correctly to the Dominator Platinum RGB kit.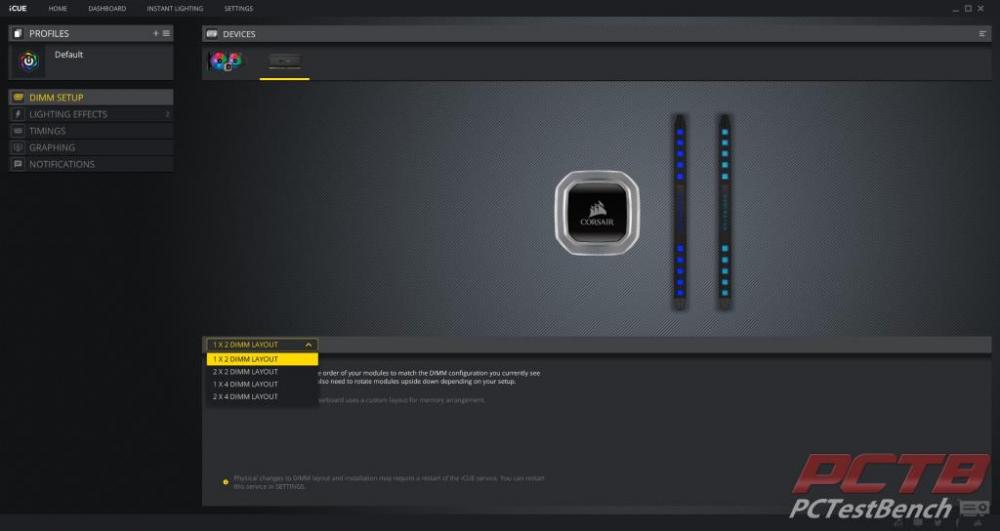 Moving to the "LIGHT EFFECT" menu, iCUE comes with a lot of predefined lighting effects that you can additionally configure settings for, such as speed, color, and direction.
Predefined/Lighting Link:
Spiral Rainbow – Cycling through all the colors of the rainbow in a circular motion
Rainbow Wave – Cycling through all the colors of the rainbow going left to right
Visor – Random/alternating colors across all LEDs of the module
Color Shift – Shifting between random/alternating colors
Color Pulse – Fading random/alternating colors in and out
Color Wave – Random/alternating colors across all LEDs of the module that move from one module to the other
Temperature – Have your key change color based on the temperature of various sensors including CPU, GPU, AIO, and the Dominator Platinum's themselves
Sequential – Coloring each LED one by one and then starting over with a different color when reaching the end
Marquee – Flashing somewhat like a marquee sign
Rainbow – Fading colors through the color spectrum
Stack – Random colors stacking from bottom to top, once all the LEDs are lit it restarts with a different color
Inside Out – Random/alternating colors that start by lighting up the word DOMINATOR then slowly lights up the rest of the LEDs from the center to the edge.
Water – Ripple like effect which 2 different colors
Custom:
Static Color – Solid static color of all LEDs
Multicolor – Set each individual LED to a static color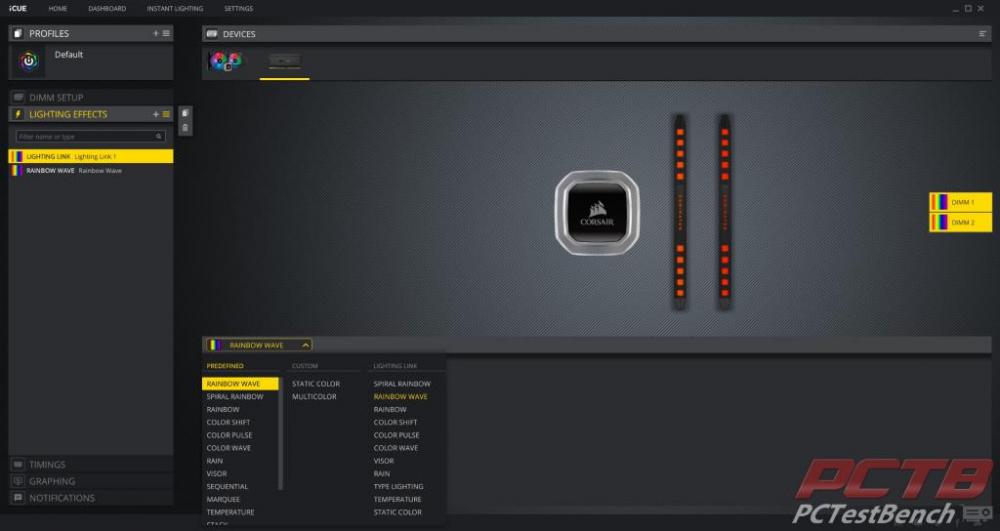 On the "TIMINGS" menu you can view the current timings of the Dominator Platinum RGB's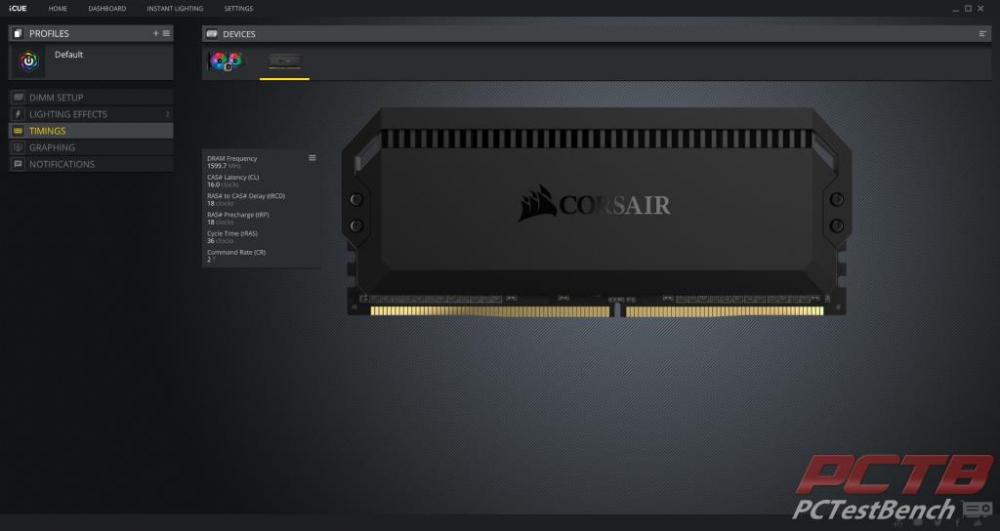 The next menu "GRAPHING" showing you a timeline graph of the temperatures of each of the memory modules.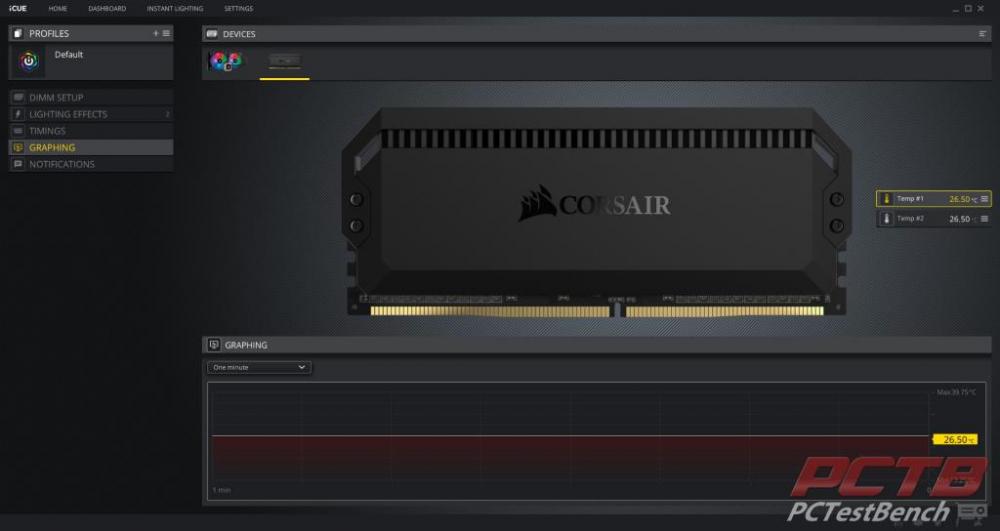 On the last menu "NOTIFICATIONS" you can do various actions once a certain temperature is achieved. These actions include:
Set all fans to 100%
Trigger all RGB LEDs to a selected color
Run a file
Shut the PC down after a set number of seconds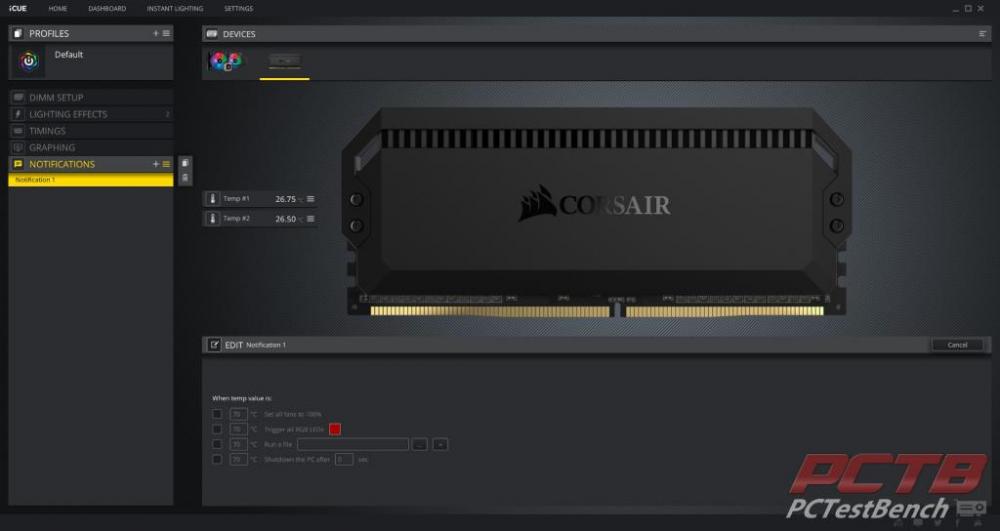 Performance Testing
The test system we are using to benchmark our 2 x 8GB Vulcan TUF Gaming Alliance Ram is:
Open Test Bench
Gigabyte Z390 Aorus Pro Motherboard
Intel 9900K Processor at Stock
Corsair H115i Platinum 280mm AIO
MSI RTX 2060 Super Gaming Z GPU
Corsair HX750 PSU
Microsoft Windows 10 Professional
For testing, we benchmarked with the following pieces of software:
CPU-Z
AIDA64 Extreme Edition
Passmark Performance Test
SiSoft Sandra
7-Zip
Super Pi Modded
7-Zip
"This form allows you to measure the performance of your computer. The benchmark shows a rating of MIPS (million instructions per second). The rating value is calculated from the measured speed, and it is normalized with the results of Intel Core 2 CPU with the multi-threading option switched off. So if you have modern CPU from Intel or AMD, rating values in single-thread mode must be close to real CPU frequency. There are two tests: compression with LZMA method and decompression with LZMA method. Once the total passes reach 100, the score is taken."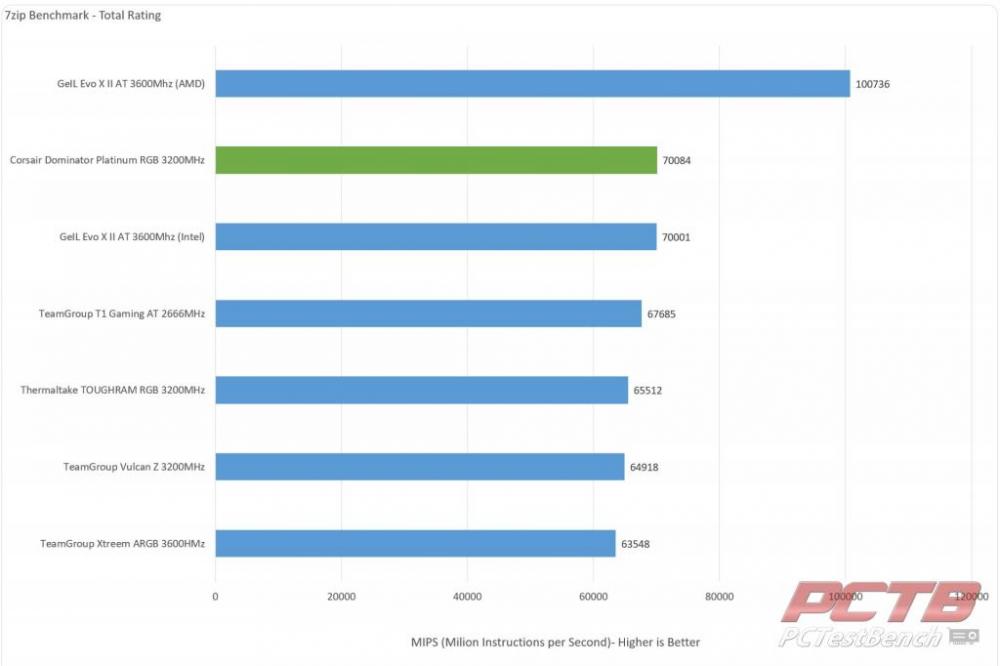 The Dominator Platinum's just edging out the competition taking the top spot in 7-zip on our 9900K test bench.
AIDA64 Engineer Edition
"AIDA64 Engineer has a hardware detection engine unrivaled in its class. It provides detailed information about installed software and offers diagnostic functions and support for overclocking. As it is monitoring sensors in real-time, it can gather accurate voltage, temperature and fan speed readings, while its diagnostic functions help detect and prevent hardware issues. It also offers a couple of benchmarks for measuring the performance of individual hardware components or the whole system. It is compatible with all 32-bit and 64-bit Windows editions, including Windows 10 and Windows Server 2016."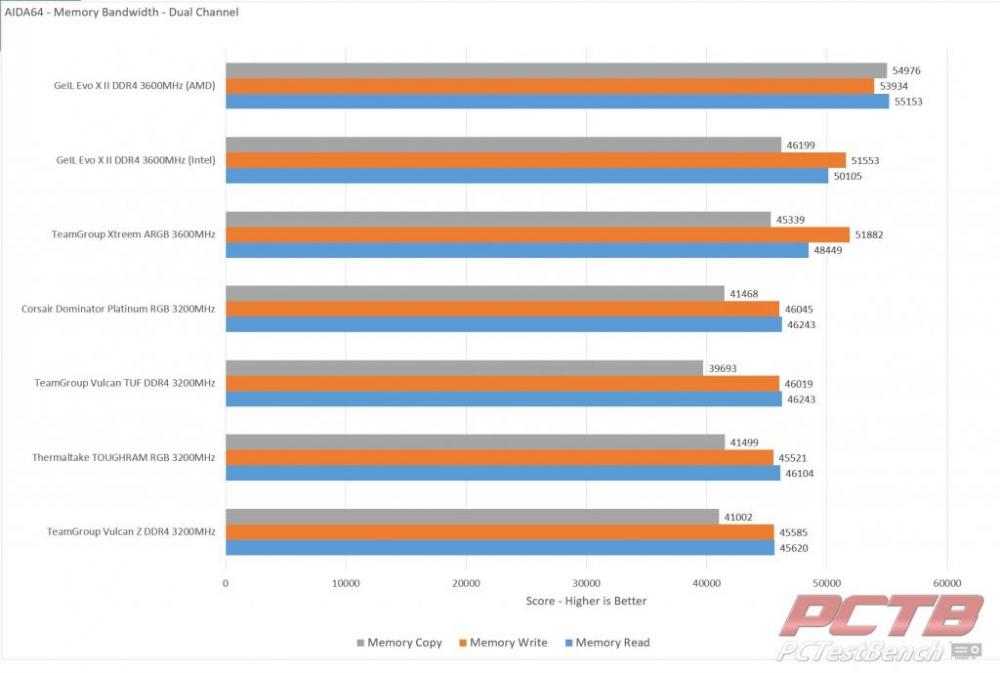 In AIDA64's bandwidth test, we see its pretty much a dead heat among the 3200MHz modules.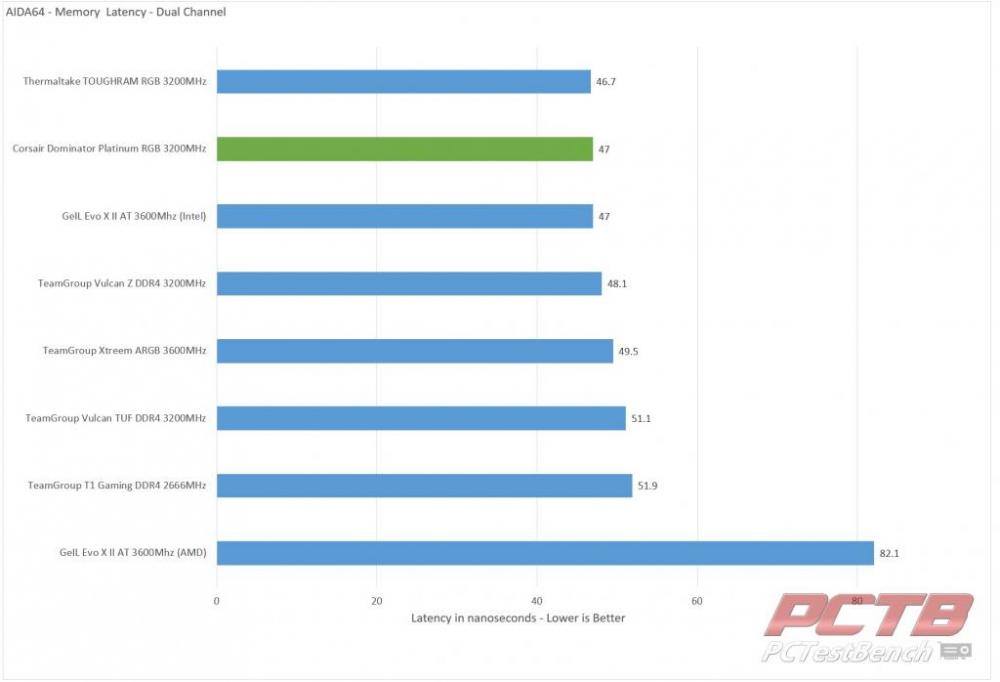 The Dominator Platinum RGB takes second place in the AIDA latency benchmark with an extremely fast 47ns.
Passmark Performance Test – Memory Mark – Threaded
"Fast, easy to use, PC speed testing and benchmarking. PassMark PerformanceTest ™ allows you to objectively benchmark a PC using a variety of different speed tests and compare the results to other computers."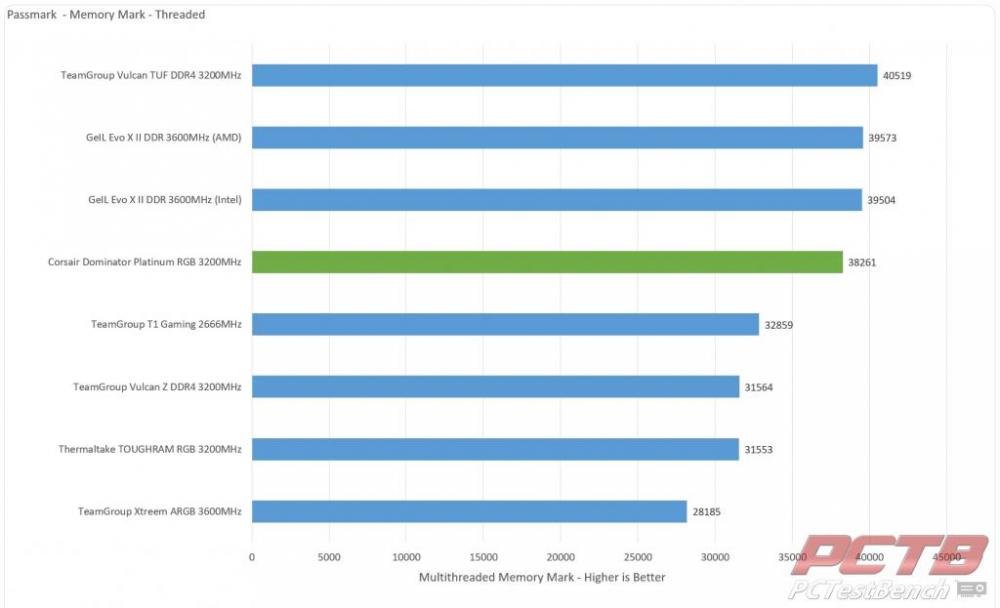 The Corsair Dominator Platinum's post an impressive score of 38261 in the Memory Mark – Threaded benchmark taking second place in the 3200MHz category.
SiSoft Sandra
"SiSoftware Sandra provides a robust package of diagnostic tools for testing your system and teasing out its problems–or potential headaches."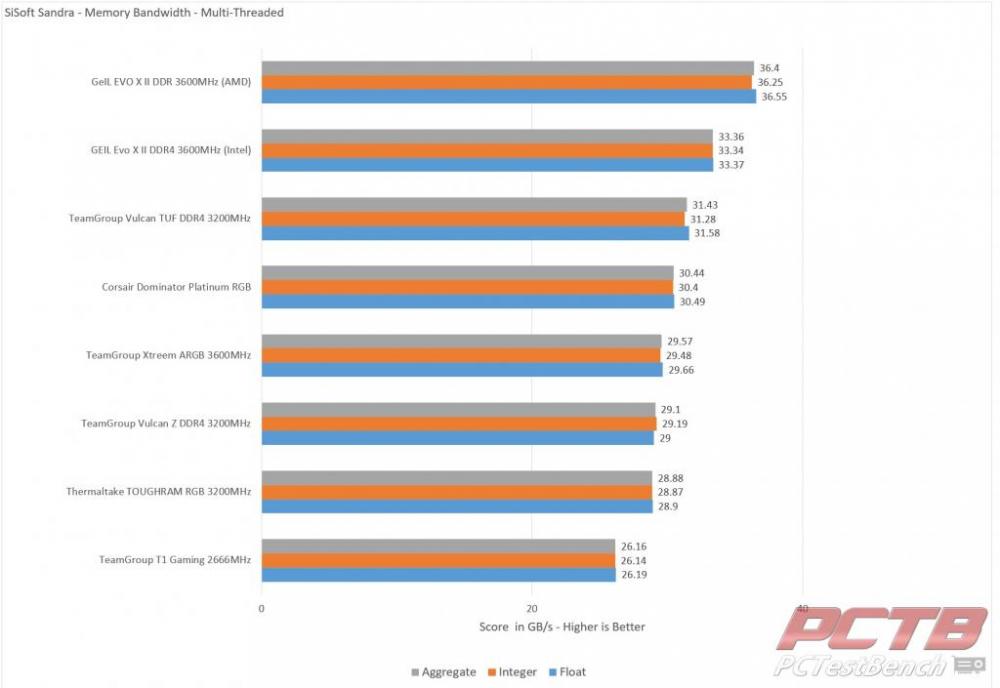 We see similar results in the SiSoft memory bandwidth test, with the Dominator Platinum's again in second place.
Super Pi Modded 1.5
"In August 1995, the calculation of pi up to 4,294,960,000 decimal digits was succeeded by using a supercomputer at the University of Tokyo. The program was written by D.Takahashi in collaboration with Dr.Y.Kanada at the computer center. This record should be the current world record. (Details are shown in the windows help.) This record-breaking program was ported to personal computer environments such as Windows NT and Windows 95. In order to calculate 33.55 million digits, it takes 3 days with a Pentium 90 MHz, 40 MB main memory and 340 MB available storage."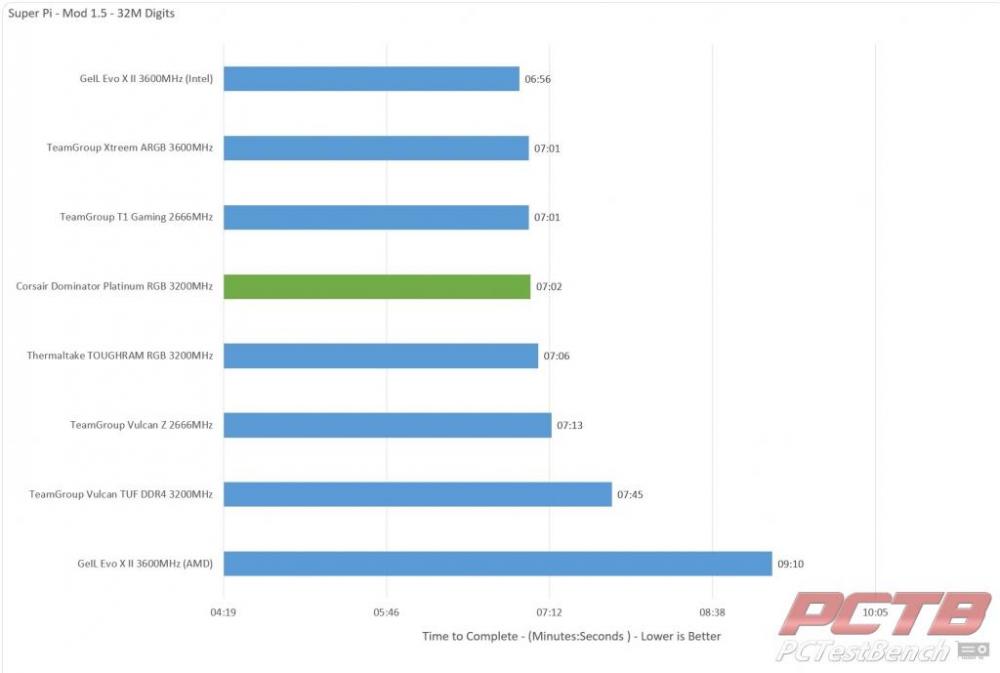 The Dominator Platinum takes top spot among the other benched kits with a time of 7 minutes and 2 seconds.
Overclocking
Now that the stock benchmarks have been completed, let's see how much farther we can push the Dominator Platinum RGB kit. At stock, this kit runs at a speed of 3200MHz at a voltage of 1.35v with CL16-18-18-38 timings.
Taking a look at the SPD tab we see the various timing tables of the kit.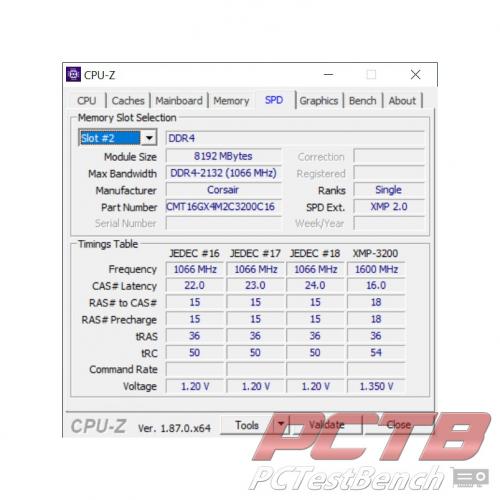 To overclock the Dominator Platinum's, I first increased the speed until the system wouldn't post then I slowly increased the voltage up to 1.5v. At stock voltage I managed to get the kit to boot with a 400MHz overclock, giving us a speed of 3600MHz. No matter which voltage I applied the kit refuse to boot at anything higher than 3600MHz. Now that we have successfully overclocked the Dominator Platinum's I verified their stability by running some more benchmarks including Cinebench R15, Super PI, and AIDA 64 Bandwidth benchmark.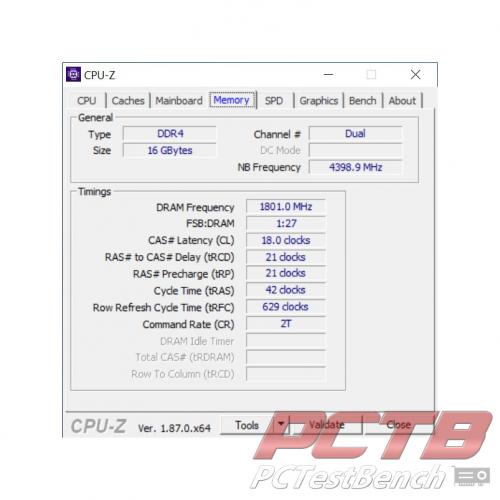 Now that we have proved the applied overclock of 3600MHz is stable, let's see our improvements in our read/write/copy speeds. Using the AIDA Cache & Memory Benchmark, we found improvements across the board with the stock Read/Write/Copy being 46.3/46.4/42.1 GBs and with the overclock applied, we were able to hit 49.7/52.6/45.7 GBs. That's an increase in performance of approximately 9.3% in read, 13.3% in write, and 9.2% in copy with no change to the kit's voltage. That's a pretty impressive increase in performance with no change to the kit's voltage.
Final Thoughts & Conclusion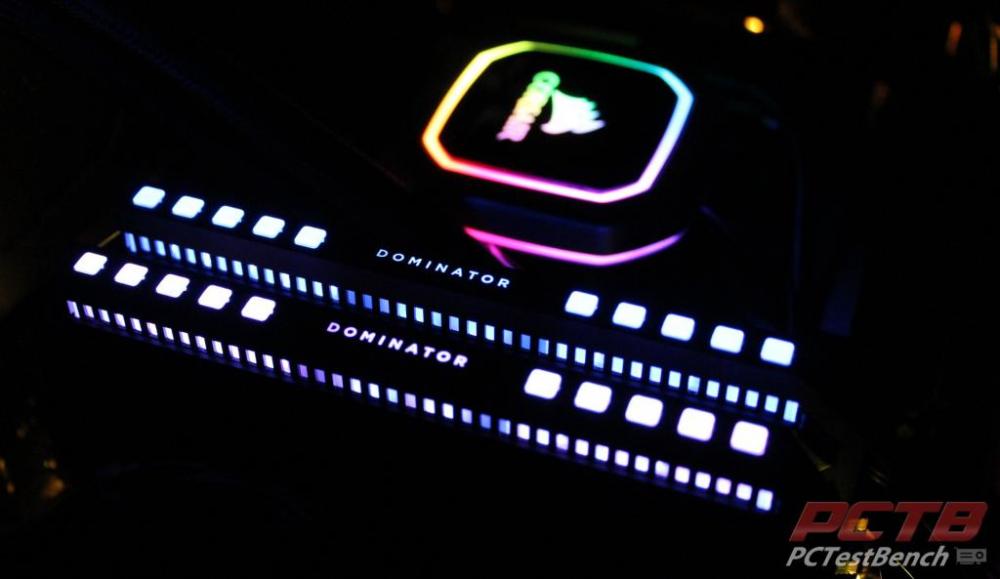 Corsair's Dominator Platinum RGB had huge shoes to fill thanks to its highly popular non-RGB predecessor. I'm pleased to announce The RGB version is just as impressive in the performance department and hits a home run with its new RGB aesthetics.
In our benchmarks, the Dominator Platinum's impressed us taking many first/second places among other 3200MHz kits and even edging out a few 3600MHz kits. After I finished benchmarking the kit it had no issues running at 3600MHz which required no additional voltage. With the kit running at 3600MHz we saw significant improvement in its read/write/copy with a 9.3 to 13.3% uptick in performance.
In the looks department, the Corsair Dominator's looked great on my test bench with crazy bright RGB LED's and matched my H115i Platinum AIO perfectly. Even if I decided to turn off the RGB the black anodized aluminum body and black PCB still looked stunning. Also, just like other Corsair RGB hardware I have reviewed the iCUE software easily allowed me to configure the Dominator Platinum's to my liking with the plethora of lighting effects and settings.
Corsair's Dominator Platinum RGB's have taken the highly sought-after performance from its predecessor and turned the aesthetics to 11. From the black anodized heat-spreaders to the 12 ultra-bright RGB LEDs the Dominator Platinum RGB's would look stunning in pretty much any build. From start to finish I was truly impressed with this kit and can't wait to see what Corsair comes up with for its successor.
Amazing Job, Corsair!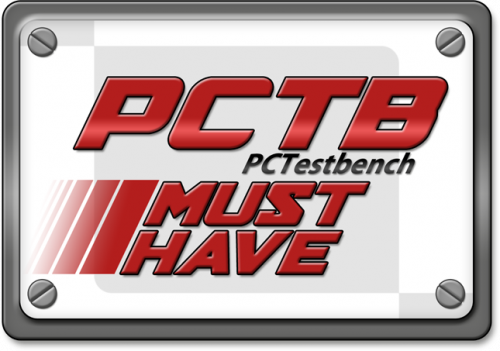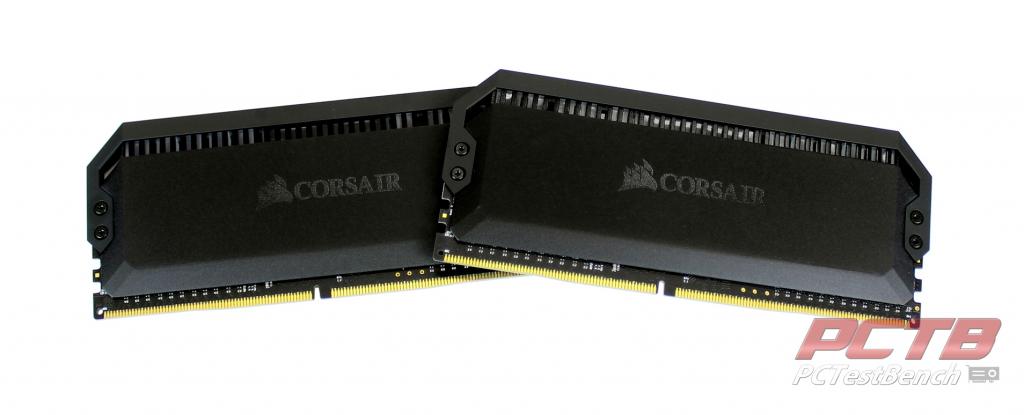 Corsair Dominator Platinum RGB
Pro's
Performance
Aesthetics
RGB of course