Cooling
ThermalTake Water 3.0 240 ARGB All In One CPU Cooling Solution
Water 3.0 240 ARGB
Introduction
ThermalTake has been a leader in cooling solutions for a very long time. It seems that every time they come up with a new cooler it is better than the previous one. Over the years I learned to trust ThermalTake products as they rarely fail to perform to my expectations. One of the All In One cooler series "Water" has been around for a very long time and ThermalTake has recently released its Water 3.0 All In One CPU cooler with ARGB features. If you are new to Addressable RGB LEDs then you should know that Addressable LEDs are capable of displaying color independently than its neighbored LED as apposed to standard RGB LEDs where color spectrum is consistent across the whole array. The Thermaltake Water 3.0 ARGB series of AIO coolers come in three different sizes of radiators 120, 240 and 360mm. Every model of Water 3.0 ARGB comes with ARGB fans and ARGB CPU block.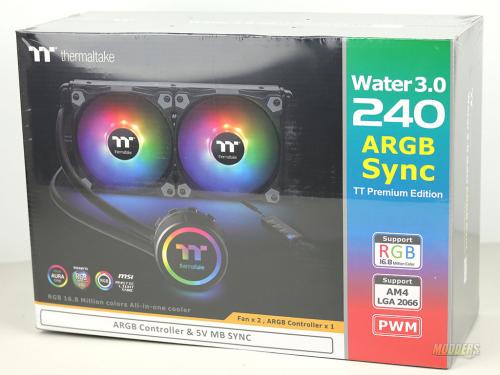 Technical Specifications
P/N
CL-W233-PL12SW-A
WEIGHT
1230 g
PUMP
Motor Speed: 3600 RPM
Rated Voltage: 12 V & 5V
Power Input: 12V – 3.9 W , 5V – 1.06 W
WATER BLOCK
Material: Copper
FAN
Dimension: 120 x 120 x 25 mm
Speed: PWM 500~1500 R.P.M (2510-4PIN)
Noise Level: 25.8 dB-A
Rated Voltage: 12 V & 5V
Power Input: 12V- 1.44 W, 5V – 1.6W (one fan)
Max. Air Flow: 56.45 CFM
Max. Pressure: 1.59 mm-H2O
LED Control: ARGB controller or 5V addressable RGB header on motherboard
TUBE
Length: 326mm
Material: Rubber
RADIATOR
Dimension: 270 x 120 x 27 mm
COMPATIBILITY
Intel
LGA 2066/20113/2011/1366/1156/1155/1151/1150
AMD
TR4/AM4/FM2/FM1/AM3+/AM3/AM2+/AM2
*AIO Cooler bracket adapter comes in the AMD Threadripper CPU box.
Note: Please connect Water 3.0 ARGB 240 Sync to the correct port on your motherboard. Make sure you are using ARGB or +5V headers on your motherboard. Plugging Water 3.0 ARGB 240 Sync into incorrect headers may result in malfunction or damage.
Water 3.0 ARGB comes in a stylish shipping box and what I like here is that just by looking at the box, you can get a pretty good idea of what kind of device you are looking at. On the back of the shipping box, ThermalTake displays multiple operational modes of ARGB system along with some of the cooling performance data. Water 3.0 ARGB is compatible with ASRock Polychrome RGB, Asus Aura Sync, Biostar VIVID LED DJ, Gigabyte RGB Fusion 2.0 and MSI Mystic Light Sync. Besides standard Intel and AMD sockets Water 3.0 ARGB also supports Intel LGA 2066 and AMD AM4 sockets. If you are looking for AMD Threadripper support this AIO has an included adapter.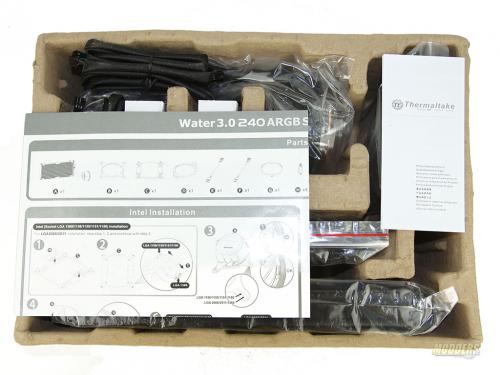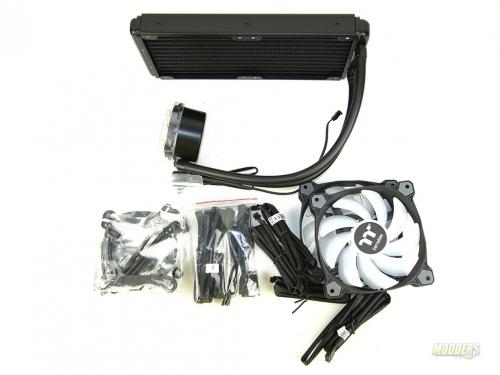 Internal components are secured in the recyclable box. To keep items free of scratches all of the components in Water 3.0 ARGB are wrapped in plastic bads. Contents of Water 3.0 ARGB are Two ARGB fans, Y splitters for ARGB connections, ARGB controller, a bad with Intel and AMD mounting hardware and Water 3.0 ARGB AIO cooler itself.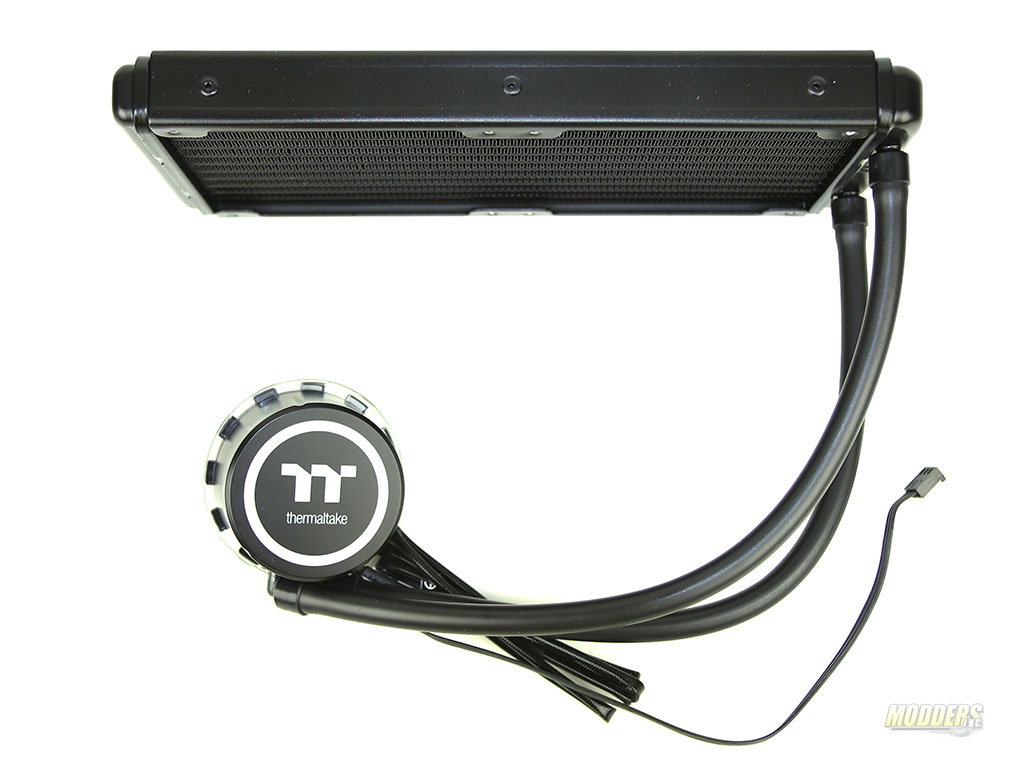 The color of the radiator and hoses of Water 3.0 ARGB is Pure Black. The radiator is made from lightweight aluminum and the hoses that connect the pump to the radiator are made from rubber and do not have any texture to them. The full list of supported sockets is Intel LGA 2066/20113/2011/1366/1156/1155/1151/1150 and AMD TR4/AM4/FM2/FM1/AM3+/AM3/AM2+/AM2.
Closer Look at ThermalTake Water 3.0 240 ARGB
Dimensions of Thermaltake Water 3.0 ARGB 240 radiator are 270x120x27mm. The radiator has the same mounting holes as any other 240mm radiator on the market. Upon closer examination, I discovered that the radiator used here in Water 3.0 ARGB was originally designed for Water 3.0 Extreme S RGB.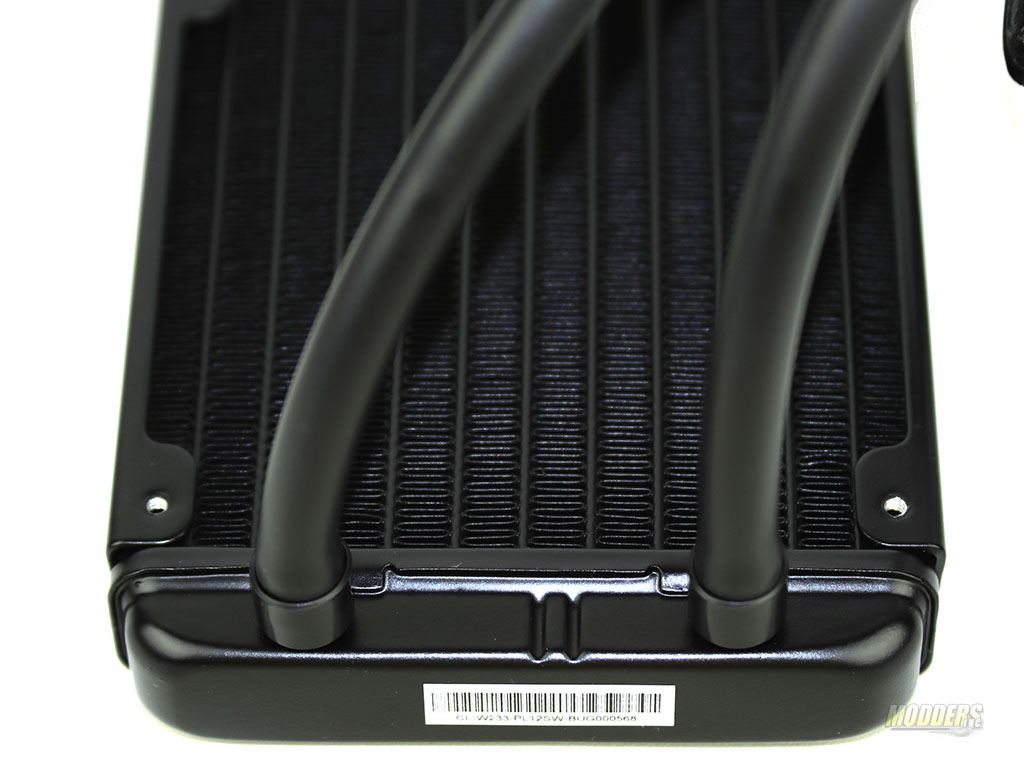 Just like we see in most AIO units the hoses are none removable. Water 3.0 ARGB also does not have a drain plug so it would be close to impossible to perform a full system flush.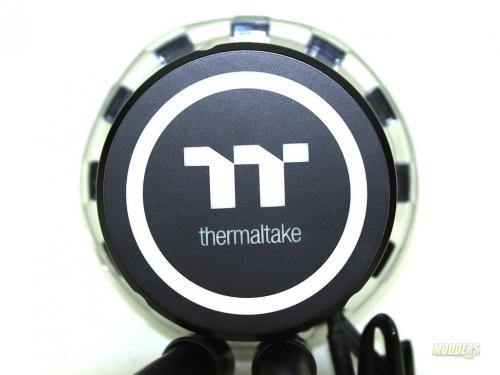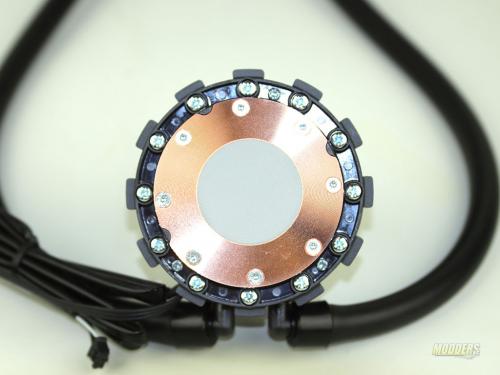 On top of the pump, there is a stylish white transparent "TT thermaltake" logo. Underneath this logo is a set of ARGB LEDs. As you guessed it, this pump and the attached ARGB Fans will be synced together. The base of the CPU pump is made from copper and already has a thin layer of thermal paste on it. The surface of the copper base is somewhat reflective.
Both CPU Pump and ARGB fans have similar connectors. The CPU pump has a simple 3 pin pump connector with ARGB connector and Fans have 4 pin PWM connector with ARGB connector. You can with ease link these fans and CPU pump together by just connecting all of the connectors to the proper headers or use provided ARGB Sync powered module.
Fans included with Water 3.0 ARGB are TT-1225. These are brushless fans that operate at maximum RPM of 1500. Their Max. Air Flow is 56.45 CFM and Max. Static Pressure is 1.59 mm-H2O.
Blade geometry here is based on the standard curved blade fan. No special ridges or indentations here in the blade.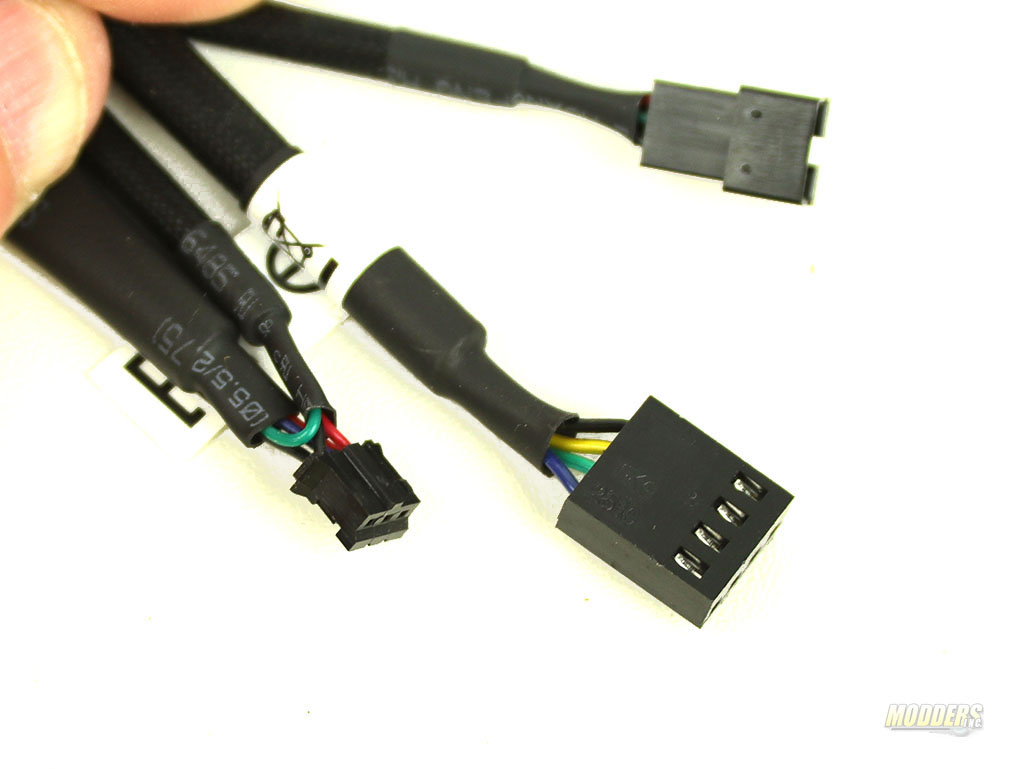 Each fan comes with an ARGB extension cable and a PWM connector which should be connected to your motherboard header.
Installation and Clearance Issues
The accessory bags in this kit could be overwhelming. But there is nothing to worry about as Water 3.0 ARGB comes with an easy to read and following the instructional manual on how to get this unit installed. This kit comes with everything you need to mount the motherboard tray socket and secure the CPU pump in place. The whole installation takes just under 5 minutes. Once you have secured the CPU cooler bracket in place you are pretty much done at this point. You have an option to mount the CPU block in any directions you would please and still have plenty of clearance for the hoses. For this installation, I have chosen to mount the radiator hoses to the bottom of the CPU socket.
The CPU I am using in this review is i7 9700k. Water 3.0 ARGB covers the entire CPU socket and to be honest, looks great! There is about 20mm of clearance on each side of the CPU block so you shouldn't face any space issues with this AIO cooler.
Test System and Benchmarks
Test System and Benchmark Results of the ThermalTake Water 3.0 240 ARGB
Temperatures are averaged (last minute) from individual core temperature results monitored by AIDA64 System Stability Test after 15 minutes of the run time.
FPU load average is used to simulate worst-case scenario load levels similar to Intel Burn Test or OCCT, results marked "0″means thermal limit was reached and the CPU was throttled and thus the results were discarded.
Stock settings have all power saving features enabled in the motherboard with Vcore set static to 1.232V and set to "Balanced" in the OS. Multiplier at 46 at a stock speed of 3.6GHz.
Overclocked settings have Vcore voltage automatically set to 1.328V with the adjusted multiplier set at 52 to gain overclock at 5.2GHz.
All tests were taken at least three times to get the final result.
TDJ 834 was used for noise level measurement in dBA, 20CM away from the center fan exhaust.
The Stock test was run with the CPU set to the stock settings in the BIOS. The radiator fans and pumps were set to the normal setting in the Arous BIOS. This allows the fans and pump to spin up and down based on temperature. The stock temperature curves in the BIOS were used. CPU pump and the radiator fans are controlled by PWM controller so the pump and fans are controlled by the motherboard as needed. Stock Vcore was set to 1.232V. (Stock speed of 3.6GHz)
The Overclock test was done with custom settings. I set the voltage for the CPU at 1.328V for Vcore and set the multiplier on all cores at 52. To hit stable 5.2GHz. Pump was set to PWM and radiator fans were set to full speed in the EVGA BIOS settings.
TDJ 834 was used for noise level measurement in dBA, 20CM away from the center fan exhaust.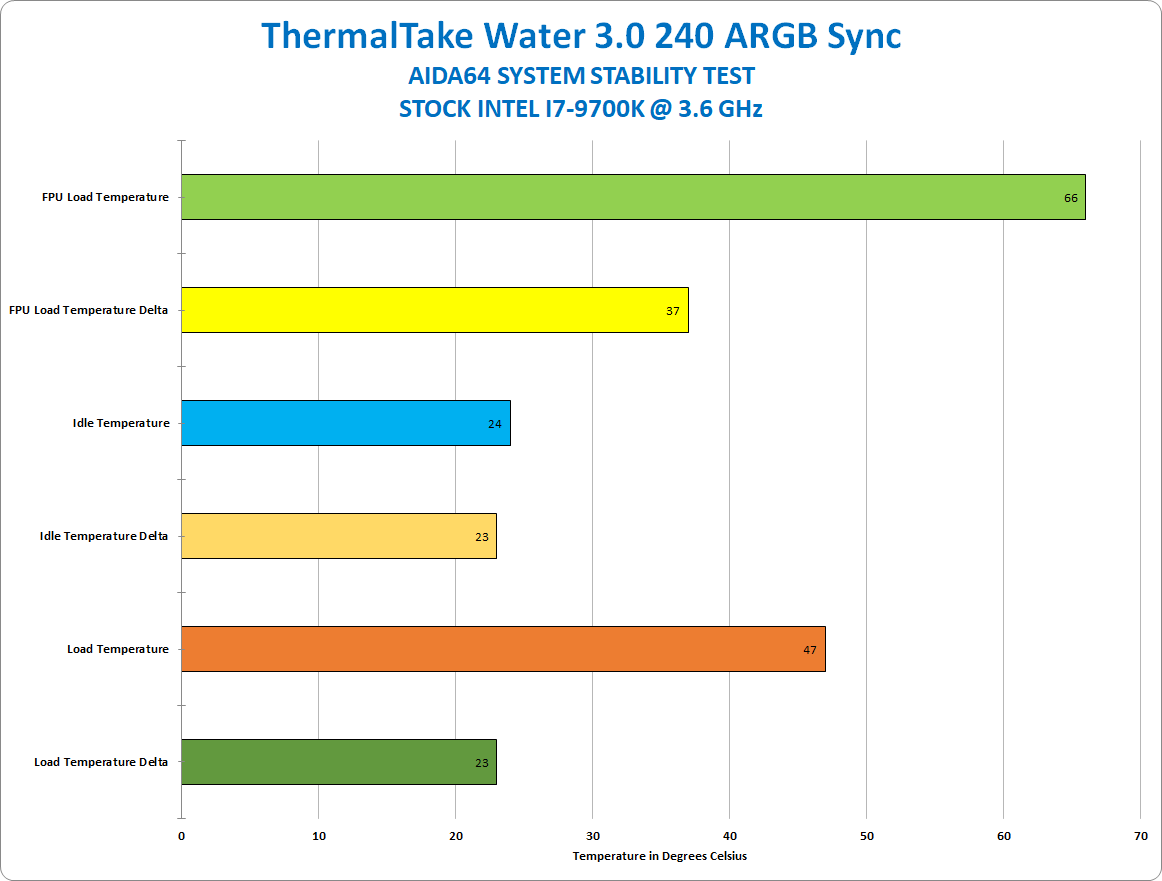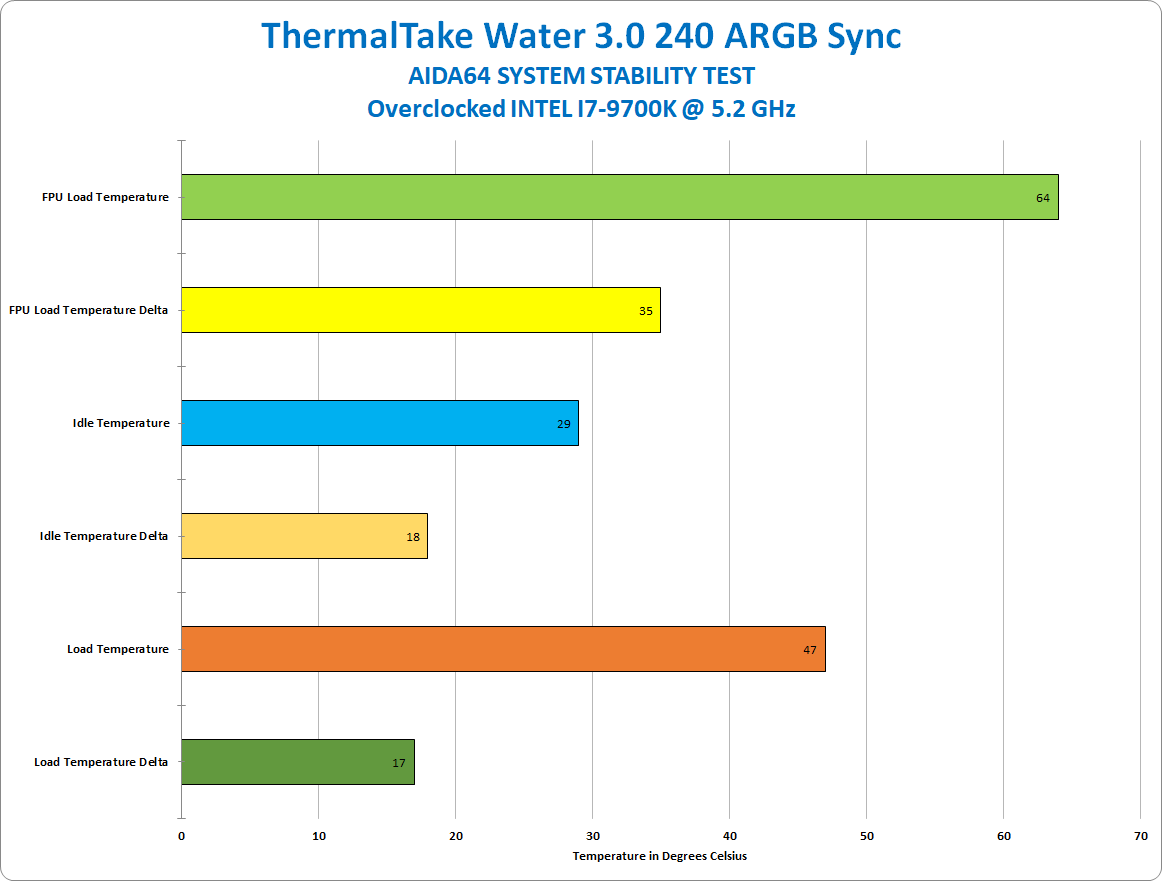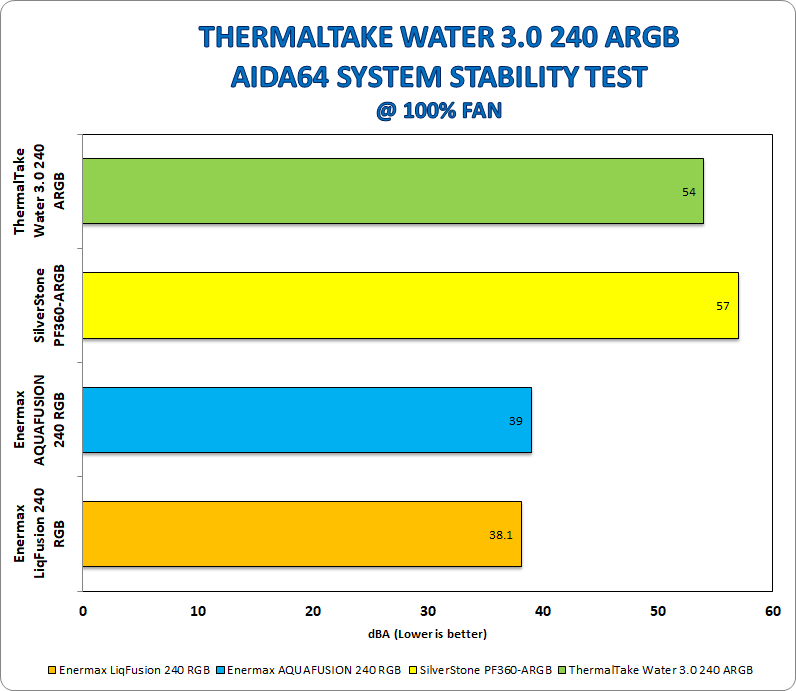 The sound level of Water 3.0 240 ARGB was measured by TDJ 834 sound tester. Testing was done with both fans at 100% RPM and about 20 cm away. Maximum noise was produced by about 54dBA.
Performance Summary:
I performed multiple system stability tests while testing AIO units like this one. From the data which I took while running in the stock CPU speed I can comfortably say that Water 3.0 ARGB does a pretty good job keeping temperatures as low as possible however I was expecting FPU temperatures in mid 50s C but saw temperatures reaching 66C.
In overclocked mode, the CPU temperature was exactly the same as the stock speed. I thought this was strange however after multiple tests the actual temperature reached 47C. FPU temperatures were actually better and were stable at 64C.
Running fans at 100% really didn't generate much of a noise. And the CPU pump was whisper silent as well.
Final Thoughts
ThermalTake coolers have always performed as I expected. With Water 3.0 240 ARGB, I was pleasantly surprised how well it did cooling my overclocked configurations. I do strongly believe I would achieve lower temperatures with a 360mm radiator rather than with 240mm however I am not one bit disappointed in Water 3.0 240 ARGB performance in my test rig.
ARGB configuration is pretty easy to set up and get going. Some of the older motherboards do not have ARGB headers but don't worry you can still take the advantage of ARGB by using an enclosed ARGB controller module which could be easily used to controlled pre-defined settings of Water 3.0 240 ARGB.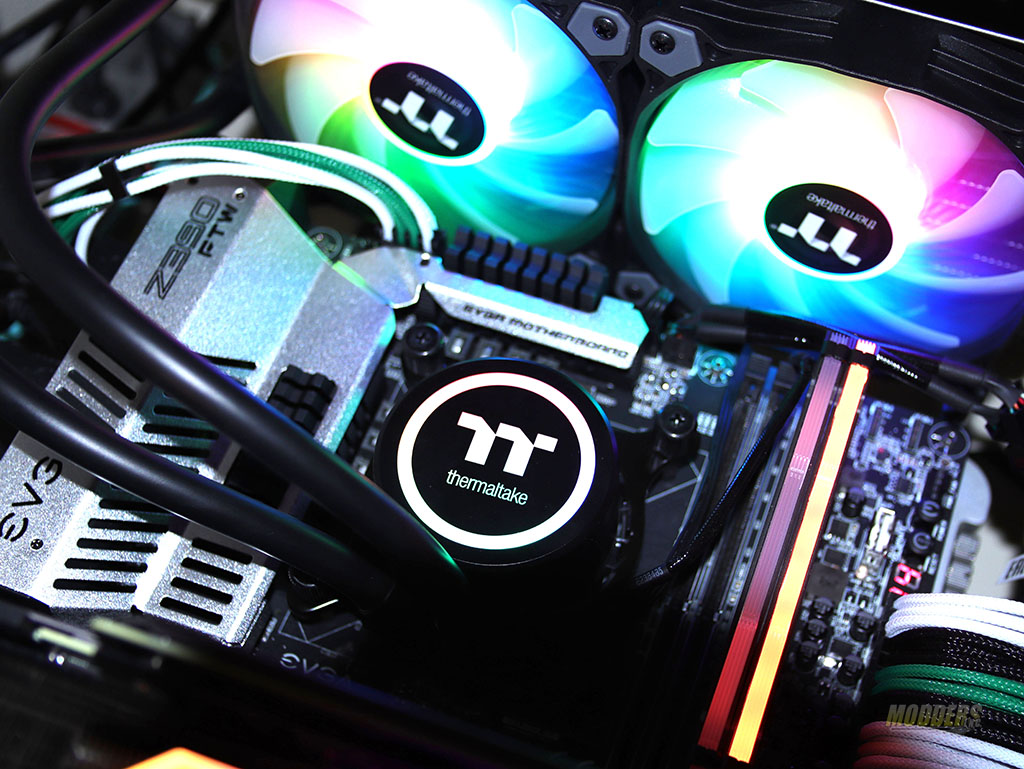 Water 3.0 240 ARGB is comfortably priced at $ 140 USD. The price seems fair however there are similar 240mm AIO systems that are priced for about $ 40 less and 360mm AIO units for about $140 price. The 360mm version of Water 3.0 ARGB retails for about $ 160. So if you absolutely want to use TT products, prepare to pay a little bit more money than the competition.
My experience with Water 3.0 240 ARGB was a short but pleasant one. I didn't find any issues with mountings or the flexibility of the hoses. Everything seemed to fit in its own place and that made installation a breeze. Great All In One cooler.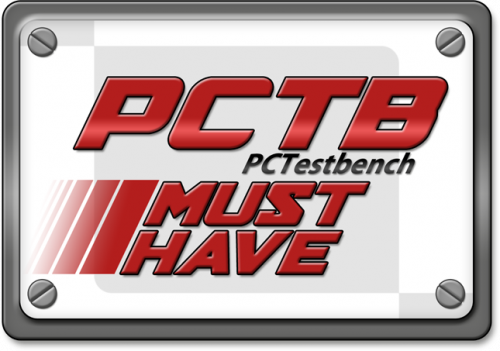 ThermalTake Water 3.0 240 ARGB All In One CPU Cooling Solution