Tech News
Thermaltake Announces the Core P6 TG and Core P6 TG Snow PC Cases
Transformable, innovative, and stylish mid-tower chassis
Thermaltake Announces the Core P6 TG and Core P6 TG Snow PC Cases
|Transformable, innovative, and stylish mid-tower chassis.
More live demonstration at 2021 Thermaltake Expo June.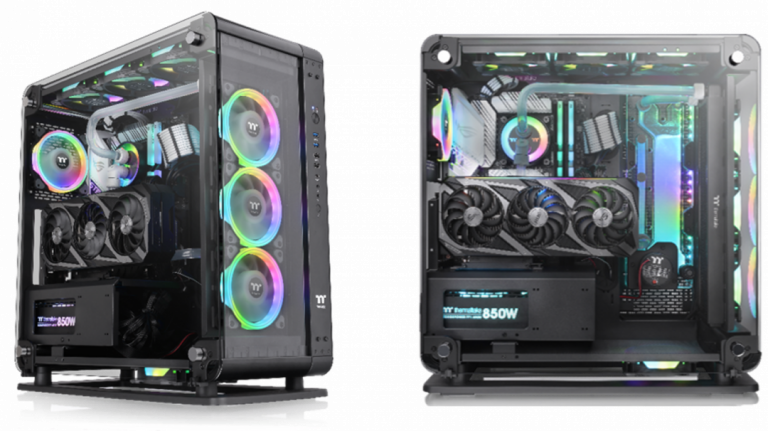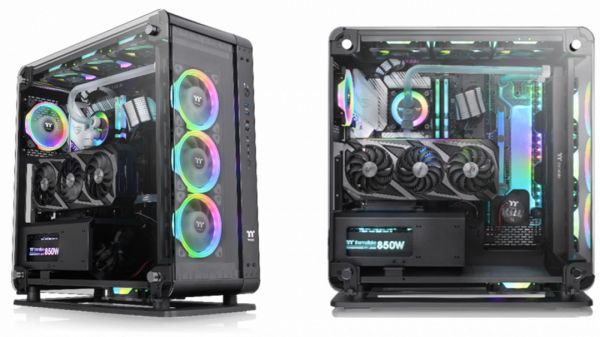 Walnut, California-June 2nd, 2021-Thermaltake, the leading PC DIY premium brand for Cooling, Gaming Gear, and Enthusiast Memory solutions, is pleased to introduce their new mid-tower chassis, the Core P6 TG, and Core P6 TG Snow. Inheriting classic features from the existing Core P5, the Core P6 TG can be either used as a closed or open configuration and giving users the option to switch from a regular mid-tower design to an open frame by simply removing the top and front panels. The 4mm thick tempered glass side panels give users a quality viewing platform to display chassis cooling components and RGB while offering stability and protection. The smaller size combined with two-way chassis placement gives users more options on how their builds are displayed, either in a traditional tower configuration or vertically using the innovative wall-mount. Two graphics card support brackets are included supporting both vertical and traditional GPU mounting configurations. The bracket helps to remove weight from the motherboard and prevent heavy graphic cards from sagging.
 Closed and Open Frame Design
The Core P6 TG Mid-Tower Chassis allows users to display their build in two different ways. The case can be converted between a closed and open frame design by removing the front, top, and side panels.
Handy I/O Ports
Connectivity is enabled over a single Type-C port, two USB 3.0 and two USB 2.0, and HD Audio ports on the front panel.
Tempered Glass Panels
4mm tempered glass panels comprise on the top, front, and left of Core P6 TG. The tempered glass panels are thicker and more scratch-resistant compared to standard acrylic panels.
Vertical GPU Mount
Specially designed with dual GPU placement options, the Core P6 TG has support for both vertical and horizontal graphics card layouts. With dual PCI-E slot designs and a PCI-E riser cable, the included riser GPU support bracket can prevent graphics card sag while reducing the overall weight on the motherboard.
Excellent Dust Reduction
Magnetic fan filters located on the top, side, and bottom panels provide an easy solution to collect and reduce dust buildup inside vital cooling components. These filters provide excellent ventilation even when the case is configured as a closed chassis.
High-End Expansion Possibilities
Core P6 TG Mid Tower Chassis contains excellent expandability options; it can support motherboards up to an E- ATX, a CPU cooler with a maximum height of 180mm, VGA placement of up to 300 (with LCS reservoir) and 335 (without LCS reservoir). The Core P6 TG also provides seven expansion slots and supports up to four 3.5″ or eight 2.5″ storage devices.
Optimized for excellent cooling, the Core P6 TG supports a total of thirteen 120mm and seven 140mm fans. There are three 120mm fans on the front, top, right, and bottom, and a single fan at the rear. Radiator compatibility matches the fan placement with one 360mm at the front, one 360mm on the right, and one 360mm at the top.
Availability, Warranty, and Pricing
Core P6 TG and Core P6 TG Snow are backed by a limited 2-year warranty supported by the Thermaltake worldwide customer service and technical support network. Please stay tuned on Thermaltake Core P6 TG and Core P6 TG Snow for up-to-date release and pricing of Thermaltake's official web pages and contact the local Thermaltake sales or PR representative.
2021 Thermaltake Expo June
About Thermaltake
Thermaltake launched in 1999, first specializing in air cooling and successfully debuting the world's first turbine air cooler, the "Golden Orb". Since then, Thermaltake has taken the world by storm and become the leader in computer hardware and peripherals in the DIY PC market. Homing in on their 3 main lines ("Key 3"), Thermaltake delivers seamless cases, power supplies, and cooling products. The "Key 3 Spirit" represents Thermaltake's promise toward its users; the promise to provide products that display "Quality Performance & Reliability." The "Key 3 Spirit" is the foundation for all Thermaltake products and is the reason for Thermaltake's continuous success worldwide.
Follow Thermaltake USA
Facebook: https://www.facebook.com/ThermaltakeNA
Instagram: https://www.instagram.com/thermaltakeusa
Twitter: https://twitter.com/Thermaltake
YouTube: https://www.youtube.com/c/ThermaltakeNorthAmerica
Website: https://www.thermaltakeusa.com
LCGS (Liquid Cooling Gaming Systems): https://lcgs.thermaltakeusa.com